Lego Upcycling Projects to Nurture Your Inner Child
Legos aren't just for little kids. Embrace your love of these iconic building blocks with home decor and wearable accessories that pay tribute to your inner child.
Lego Vase
Create a stylish vase for your favorite flowers with the tutorial from Fab Art DIY. The contrast between the white top and rainbow stripes on the bottom give this design a modern look, but you can experiment with different color combinations if desired.
Lego Terrarium
Add a few Lego mini figures to a terrarium for home decor that's playful yet sophisticated.  Canadian Family has the details.
Lego Flower Pot
If you have a large collection of potted plants, customized Lego flower pots will create a unique display. Learn more at Lego Ideas.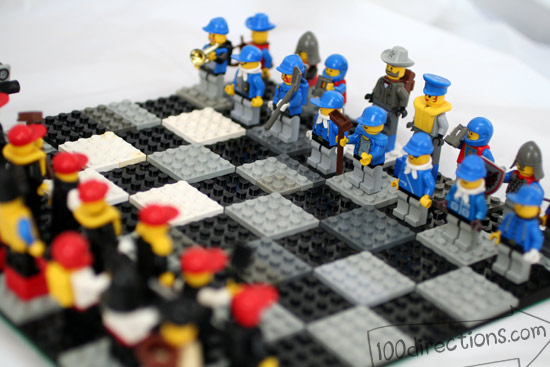 Lego Chess Set
This Lego chess set will provide hours of fun and makes a cute home decor item when it's not in use.  100 Directions has the tutorial.
Lego Clock
If minifigures are the center of your Lego obsession, turn your favorites into a colorful clock. Learn how at Wise DIY.
Lego Bookends
Display some of your favorite Lego creations by making one-of-kind bookends. This photo is from MakeZine. There's no instructions, but advanced builders might be able to figure out how to do something similar on their own.
Lego Lamp
Hack on IKEA lamp to turn it into amazing mood lighting.  Impatiently Crafty has the tutorial for this Lego upcycling project.
Lego Charging Station
Keep your electronics tidy by constructing a custom charging station from your Lego bricks.  Instructables has the tutorial.
Lego Desk Organizer
Who says a day at the office has to be totally boring? Bring some fun to your workday with this DIY desk organizer complete with working drawers. Check out the tutorial at Frugal Fun 4 Boys.

Lego Tissue Box Cover
This Lego tissue box cover can be made from a rainbow of bricks or you can choose colors that match your home decor. One Artsy Mama has the project instructions.
Lego Soap
Add a little color to your bathroom by suspending bricks in soap or hand sanitizer bottles. Learn more about this project at  The Rockin Boys Club.
Lego Key Holder
You'll never lose your keys again with this Lego key holder at your front door.  Instructables has the building details.
Lego Clutch
Make yourself a runway inspired clutch with Legos and an old pencil box. Learn how at Studs and Buttonholes.
Lego Bracelet
Accessorize your favorite casual outfit with a whimsical Lego bracelet. The full instructions for this DIY project are at JaMonkey.
Lego Stud Earrings
Dainty yet playful, these stud earrings are the perfect choice for the woman who's totally in touch with her inner child.  Coupons Are Great has the tutorial.
Lego Cuff Links
The special man in your life will flip when he sees these Lego cuff links. Kate's Creative Space has the tutorial.