Upside Down Plum Oatmeal Cake Recipe You Need To Do Before Summer Ends
You won't believe this upside-down plum oatmeal cake recipe is healthy enough to eat for breakfast! Filling oats, sweet plums, and walnuts create a hearty and sweet cake. There are few things in life better than eating cake for breakfast. Especially when that slice of cake is as healthy as it is tasty.
This upside-down plum oatmeal cake starts with a hearty oat batter that is swirled with walnuts. The plums are sliced thin and cooked with coconut sugar until they get soft and jamy, before being layered into a mosaic pattern in the bottom of the baking dish.
The plums are then topped with the oat batter and the cake gets baked to perfection. The result is a hearty oat cake topped with a sweet caramelized plum topping.
This upside-down plum oatmeal cake is healthy enough to be called breakfast thanks to a few MVP ingredients:
Plums are in the same family as prunes and have many of the same digestive benefits. They aid in digestion and promote regularity. Plums can also lower cholesterol. They are a low glycemic fruit, which can keep your blood sugar levels steady and even promoting a healthy weight.
Walnuts contain a host of cardiovascular benefits. They lower cholesterol, improve blood pressure, and even prevent coronary heart diseases. These nuts also increase metabolic function, help manage diabetes, and prevent cancer.
Beyond the scientific health benefits in this upside-down plum oatmeal cake, it also makes having a healthy breakfast all week a breeze. One cake contains 8 servings, meaning you can cook this cake on a Sunday, and eat well all week long.
No need to cook breakfast each morning, because let's be honest, carving out the time for that can be a chore. Just grab a slice of this upside-down plum oatmeal cake from the fridge and a fork, and breakfast is served.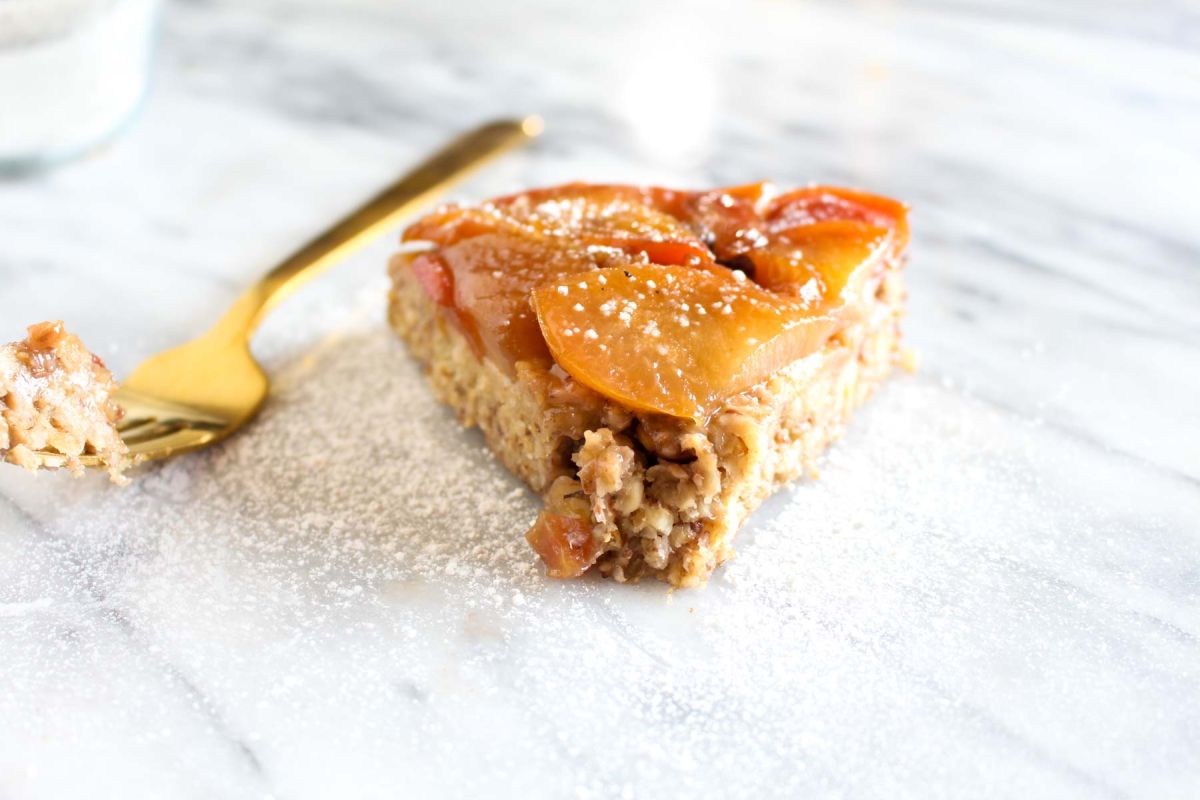 Upside-down plum oatmeal cake ingredients:
3 tablespoons flax seed meal
4 plums, sliced thin
1 tablespoon coconut oil
1/4 cup coconut sugar
2 cups quick oats
1/4 teaspoon salt
1/2 cup chopped walnuts
1/2 cup applesauce
1/4 cup honey
3/4 cup almond milk
1 teaspoon vanilla
How to make the upside-down plum oatmeal cake (Step By Step Guide)
Preheat the oven to 350 degrees and line the bottom of an 8-inch cake pan with parchment paper.
In a small bowl, whisk the flaxseed with 3 tablespoons of water and set aside to thicken.
Heat the coconut oil in a skillet over medium. Add in the plums and coconut sugar and cook until the plums are softened and the liquid they release is reduced, about 10 minutes.
In a large bowl, stir together the oats, walnuts, and salt.
In another bowl, stir together the applesauce, honey, almond milk, and vanilla.
Add the liquid ingredients into the dry and stir to combine.
Once the plums are cooked, add them to the cake pan and orange them in an even layer.
Spoon the batter over the plums and spread it out gently, so not to disturb the plum layer.
Bake for 40 minutes. Let the cake cool in the pan for 10 minutes, then invert and serve. Store in the fridge for up to 1 week.
Conclusion
This upside-down plum oatmeal cake recipe is a surprisingly healthy breakfast treat! The whole family will love having cake for breakfast, and you can rest easy knowing that this fiber and nutrient filled breakfast will keep you full and satisfied until noon.