Tasteful Butternut Squash Risotto Recipe – Great As A Side Dish or Main Course
This butternut squash risotto recipe is a surprisingly easy gourmet tasting that is perfect for any holiday gathering or any other season! Butternut squash risotto is my back-pocket holiday recipe.  Few people make it at home, so it is the perfect "wow" dish to serve to guests.
This butternut squash risotto is made like any good risotto. The vegetables get sautéed and then the rice is added. Next, we toast the rice for a minute in the oil to give it a nutty flavor that adds a nice touch to the finished dish. Then it is time to add the stock, in 1 cup increments, and stir continually as the rice absorbs the liquid – this is what makes the dish nice and creamy.
It is a hearty winter dish that feels like comfort food, but this dairy-free version of the classic butternut squash risotto is surprisingly healthy. It is made from whole foods and is a nourishing dish that you can feel good about serving.
The rice gives off starch as it cooks, making this dish creamy without needing any cream. A good splash of olive oil at the end gives our butternut squash risotto a silky smooth texture. Top it with some cracked pepper and thyme and this dish is ready to serve.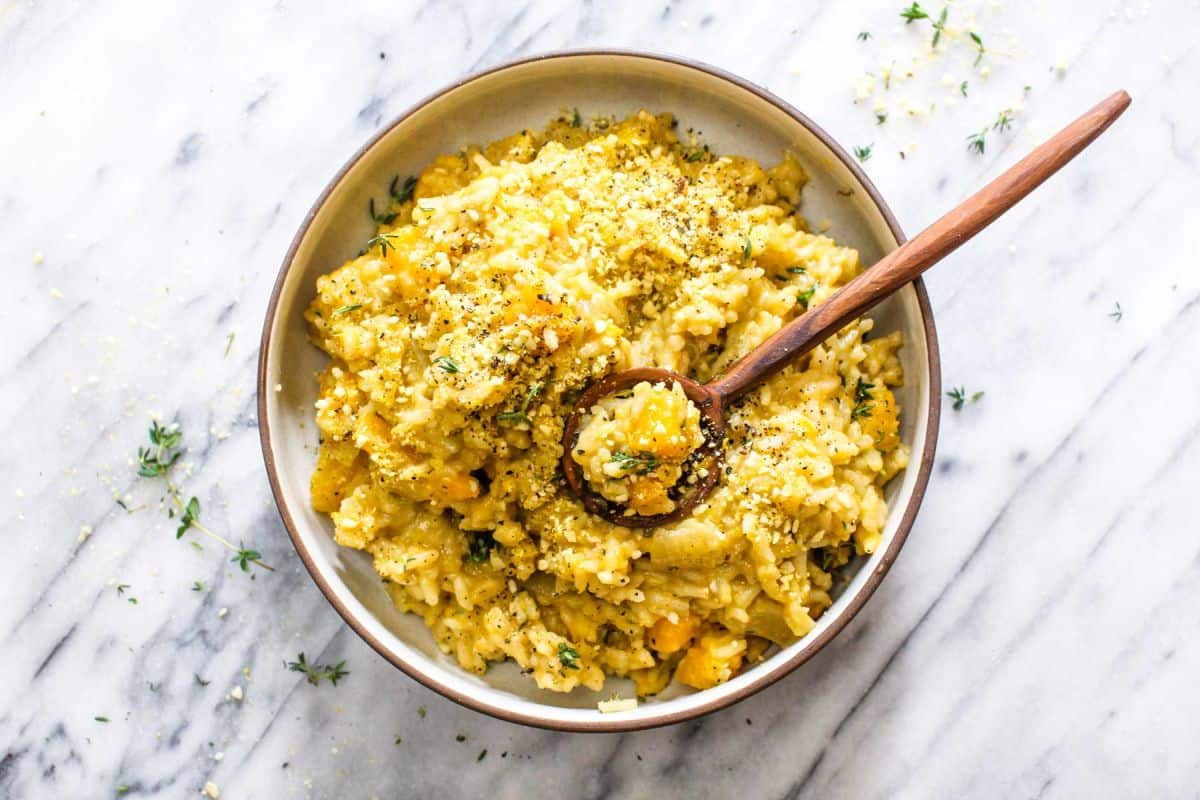 Butternut Squash Risotto Ingredients:
3 tablespoon extra-virgin olive oil, divided
1/2 onion, chopped
2 teaspoons salt
12 oz. butternut squash
1/2 teaspoon pepper
1/4 teaspoon allspice
4 cloves garlic, minced
1 1/2 cups Arborio rice
4 cups stock
1/2 cup full-fat canned coconut milk
2 teaspoons fresh thyme leaves, removed from the stem
1 tablespoon nutritional yeast (optional)
Butternut Squash Risotto Recipe Step By Step Preparation:
Heat one tablespoon of olive oil in a large pot. Add in the onion and salt. Sauté until the onion has softened and is translucent.
Add in the butternut squash, pepper, and allspice. Sauté until the squash softens slightly, about 5-7 minutes. Add the garlic and sauté another 30 seconds, or until fragrant.
Then add the rice and sauté until the rice is coated with oil and toasted, some pieces will start to turn a light golden brown and will smell nutty, about 2-5 minutes.
Add in 1 cup of stock and stir well to combine. Stir frequently until the rice has absorbed the stock. Repeat, adding 1 cup of stock at a time and cooking until the rice has absorbed the liquid.
Once all of the stock has been absorbed and the rice is creamy, add in the coconut milk, thyme, and nutritional yeast. Cook, stirring frequently until the rice has absorbed the coconut milk. Remove from the heat and stir in the last 2 tablespoons of olive oil.
Serve topped with more nutritional yeast, thyme, and black pepper, if desired.
Conclusion
Butternut squash risotto is an impressive dinner that is full of big flavors. This dish has the perfect creamy texture without using any dairy and is both easy and impressive.
Butternut Squash Risotto.
It tastes impressive.
It looks impressive.
But let's just keep this secret between the two of us: it is surprisingly easy to make!
Did you make this recipe?