DIY Floral Ice Bowl for Valentine's Day
If you want to wow your guest at your Valentine's Day party or event, try making this adorable ice bowl, created with rose petals and tulips. It's a great way to keep a beverage chilled and on display throughout your evening dinner.
For this DIY, you'll need:
One large bucket (but small enough to fit in your freezer)
A smaller bucket (to fit inside the larger bucket)
Small rocks or stones (Or something to weigh down the smaller bucket)
Rose petals or flowers
These buckets, a large plastic and small metal one, were picked up from my local dollar store. Because plastic is a malleable, I found it easier to remove the ice from a plastic bucket as opposed to a metal one (similar to way a silicone ice cube tray works). Sit the smaller bucket in the larger bucket.
Fill the larger bucket with water, being sure not to get any water into the smaller bucket. The smaller bucket may start to float as you fill up the larger one, so add a weighty object (something that's okay to freeze) in the smaller one to hold it down. Be sure to fill your bucket with enough water. If you are planning to sit a wine bottle or a tall-bottled beverage in the bowl, you'll want to make sure the bowl is deep enough to hold it. Keep that it mind when you are searching to buy the larger bucket. Begin to submerge any flowers or whatever fun objects you'd like to freeze in the water. You can get very creative here, strategically placing the petals and flowers where you like to create a specific pattern.
Place the bucket in the freezer and let it all freeze overnight.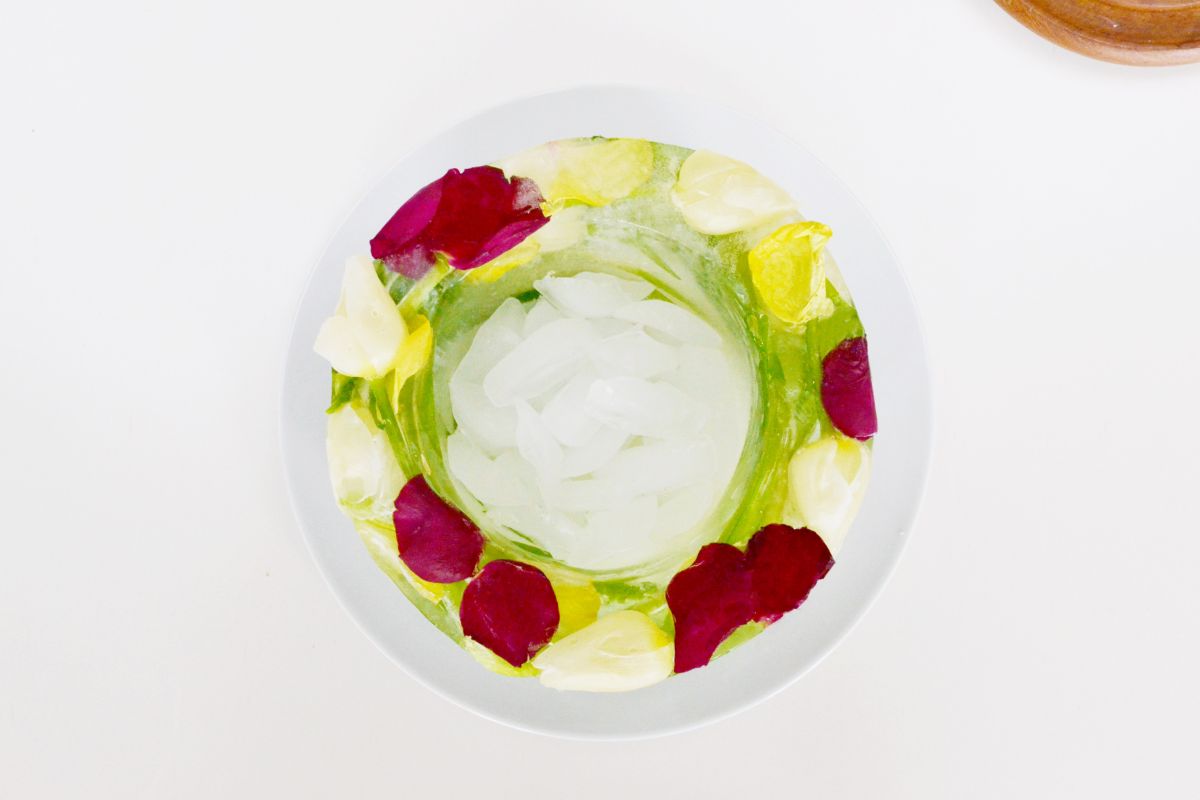 The next day, let the bucket sit outside of the freezer for a bout 5 minutes before attempting to remove the ice bowl. It will melt a little bit, and the smaller bucket should slide out easily. If you aren't serving your beverage immediately, put the bucket back in the freezer until time to serve. This ice bowl lasted about 30-45 minutes before the flowers started to poke out of the sides due to melting.
I hope you enjoyed this post! I love working with flowers because there are so many different crafts and fun floral arrangements and displays that make a great addition to any party or event.