20 DIY Paper Flowers To Craft This Weekend
There are endless possibilities when it comes to paper crafts. From scrapbooking to oodles and oodles of kid-friendly projects, it's an easy medium to work with. And today we're showing off 20 DIY paper flowers that can breathe artistic, fresh life into spaces of your home. Get crafty over the weekend with some of the ideas below!
1. Spring Bouquet
Instructables shows off how to make this beautiful medley of florals. Use them for all kinds of crafty projects – on cards or on presents even!
2. Polka-Dot Buds
Over at Skip To My Lou, you'll learn how to put together some quick paper florals with some help from classic cupcake liners! Then, as a bonus, you'll be taught this super cute DIY thank you gift as well!
3. Crepe Roses
We Lived Happily Ever After grabbed some crepe paper for her project. Learn how to make some roses in the most realistic way possible to decorate your home.
4. Painted Florals
You'll get to use a bit of paint along with your paper with this project from Love Grows Wild. These beautiful, watercolor pieces are a great way to gift your best friend or decorate the house for spring!
5. Coffee Filter Petals
Doodlecraft uses coffee filters with their flowers. To get a plusher more voluminous flower, check out this tutorial!
6. Persimmon Flowers
We're loving these persimmon roses from Simply Kelly Designs. They look great in a vase or given as a crafty thank you gift!
7. Blushing Filters
Two Shades of Pink made some coffee filter flowers too! We're loving this beautiful blushing and cream petals.
8. Orchid Plant
Lia Griffith shows us how to turn paper into a realistic orchid plant. Style the countertops, console tables or even your home office desk with this one.
9. Giant Crepe Roses
Studio DIY utilized some crepe paper too. But this time, you'll be following along and learning how to make an extra large flower instead of small bits.
10. Dahlia Wreath
Check out this funky dahlia wreath over at Love, Pomegranate House! It's a great way to decorate the doors come springtime.
11. Extra Vines
You can always add a bit of greenery to your paper flower bouquets. And there are lots of different shapes and styles to get inspired from. (via)
12. Metallic Camellias
Lia Griffith had us falling in love with these metallic camellia blooms. Decorate doorways for events or your mantle at home!
13. Flower Backdrop
Here's another backdrop or doorway creation that you can make right at home with some help from Ash and Crafts. And choose any color combination you love or need!
14. Metallic Gardenia
If you visit Lia Griffith again, you'll learn how to make some sweet gardenias too. There's a host of possibilities with these beauties!
15. Mother's Day Buds
We're loving these little "Mother's Day" buds as well. It gives such great inspiration for DIY gifts that are fun, personalized and pretty to boot! (via)
16. Daffodil Wreath
Classic Play! made an entire wreath out of paper daffodils and we're smitten! Check out the tutorial after the jump!
17. Crepe Peony
Who loves peonies? Make some extra big and extra plush designs over at Carte Fini.
18. Watercolor Roses
Capital Romance whipped up some beautiful roses as well. And there's a bit of watercolor that you'll get to add here too!
19. Spider Mums
These spider mums could be fun for the entire family to make. We love the extra funkiness behind these Live Laugh Rowe florals.
20. Rolled Centerpiece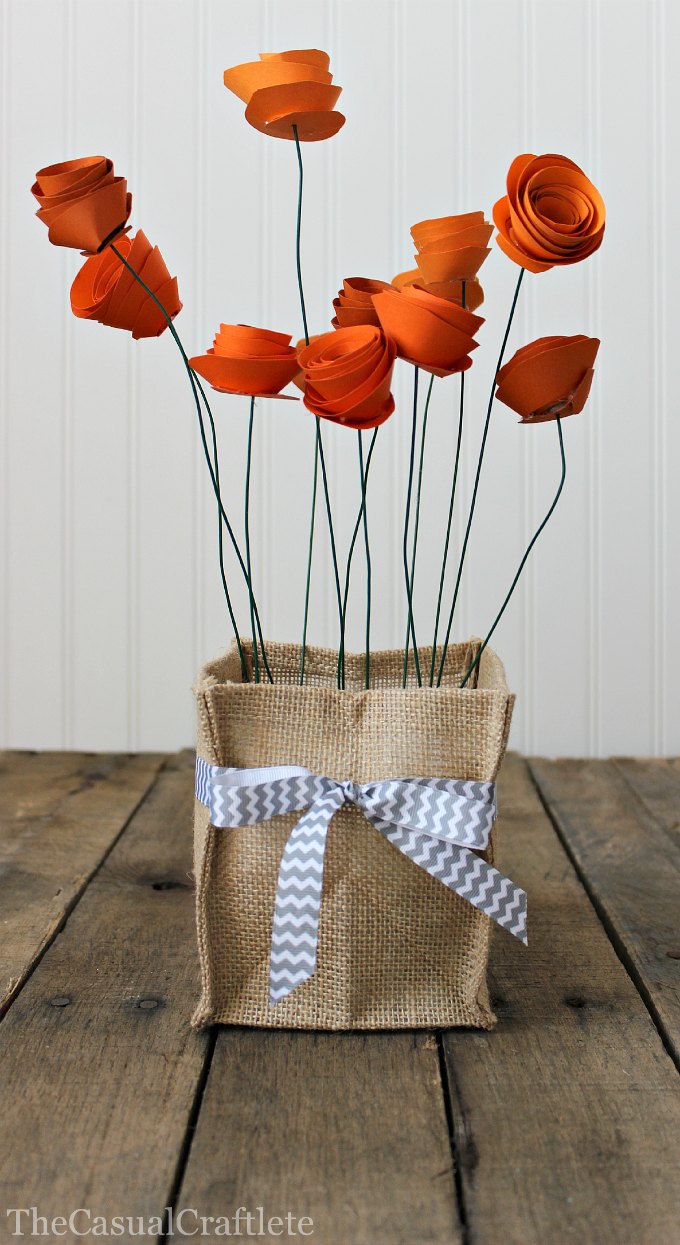 And finally, there's this rolled flower centerpiece from The Casual Craftlete that you can jump over to and learn how to make by the weekend! We love it's personality-filled style!