These 50 Finger Food Recipes Are Both Easy-To-Make and Tasty Too!
Bite-sized but packing a punch in the flavor department, these 50 finger food recipes are both easy-t0-make and tasty too! Whether it's a Friday night get-together at the house with friends or maybe you're hosting your sister's bridal shower, these yummy little recipes will help round out the night's menu. Take a peek!
1. Bacon-Wrapped Potatoes
Martha Stewart knows what we all love. And we all love bacon and we all love potatoes. This plate brings them together seamlessly for the perfect bite.
2. Parmesan & Spinach Twists
Little Grazers bring up some parmesan and spinach twists that even the kiddos will love. They're great for holiday parties or tea time!
3. BBQ Chicken Skewers with Blue Cheese Crumbles
Over at Stacy Homemaker you'll find another bunch of fan favorite flavors stuck on a kebob. Buffalo chicken, bleu cheese, ranch dressing and some celery all play together nicely.
4. Hawaiian Chicken Bites
Or you could go with some tropical flavors. Pineapple and chicken will satisfy a lot of different taste buds. (via)
5. Mini Cheeseburgers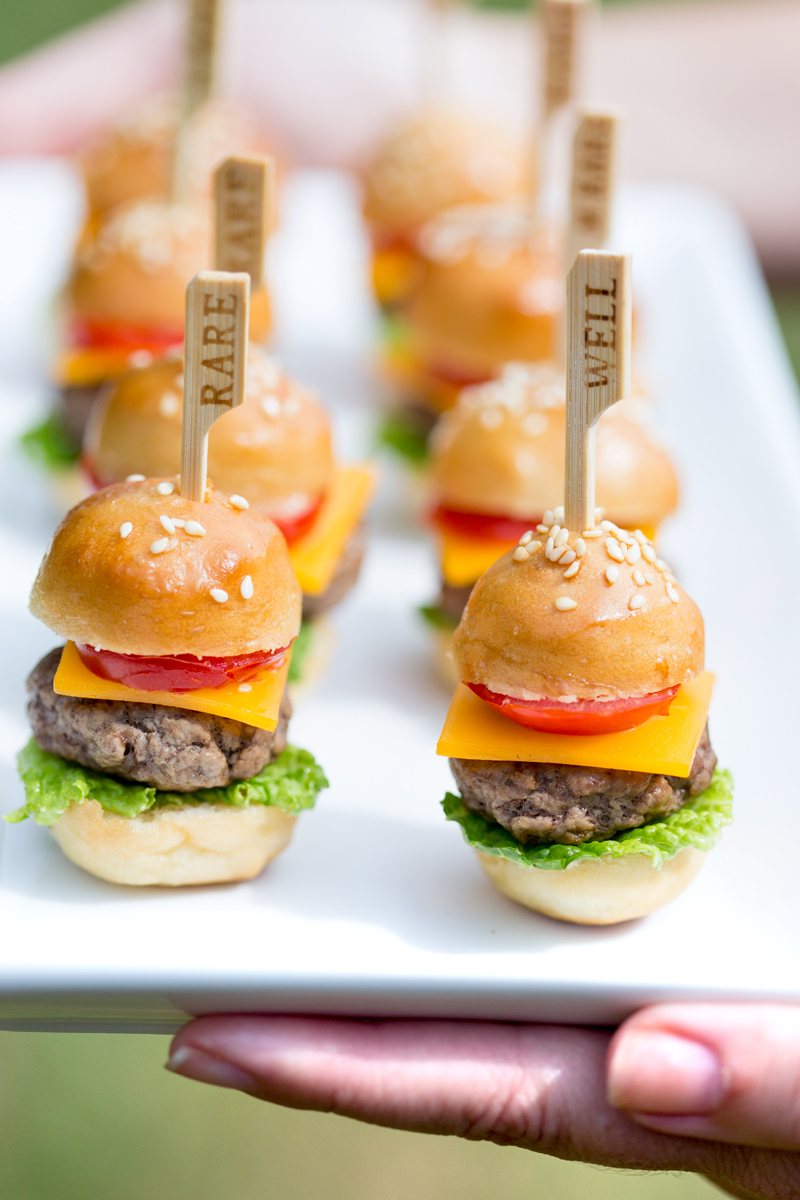 Why not learn how to make mini cheeseburgers that every one will love! Pizzazzerie has all the details behind these tiny showstoppers.
6. Saucy Asian Meatballs
Gimme Some Oven provided us with a recipe for some saucy Asian meatballs. Your guests will be able to grab and go with ease.
7. Mini Pancakes with Various Toppings
Why not have some fun and serve up finger-size pancakes with lots of fun toppings? Sweet or savory, there are endless possibilities here. (via)
8. Panko Crusted Shrimp with Chive Aioli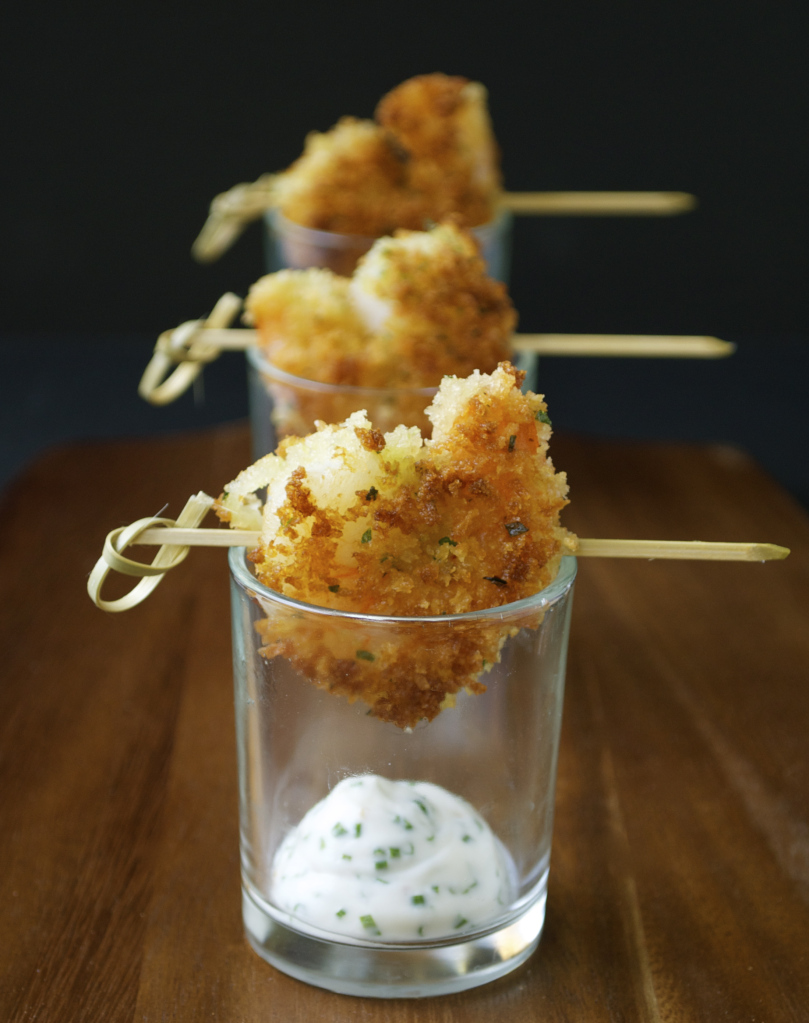 For those that love shrimp, Mama's Gotta Bake has all you need to round out your evening. These panko-crusted shrimp with chive aioli are quite tasty.
9. Endive Spears with Smoked Salmon
The Yellow Table took endive spears and filled them up with seaside goodness. This "finger food" as a bit more of an upscale and healthier feel for evening retreats at home.
10. Cheesy Nacho Cups
And then if you hop on over to Brit + Co, you'll be able to grab all the details behind these adorable and delicious nacho cups! They're perfect for movie nights, birthdays or sleepovers with the kiddos' best buds.
11. Baked Tortilla Hummus Cups
If you're looking for a vegetarian option, look no further! The Conscientious Eater shows us how to cup our hummus in a bite-sized and stylish way.
12. Cheeseburger Caramelized Onion Purses
Cheeseburgers will always be a fan favorite, but Fork Knife & Love shows us how to take all the flavors we love from the classic dish and turn it into the perfect appetizer. Take a peek now!
13. Roasted Garlic Chipotle Deviled Eggs
Natural Comfort Kitchen teaches us how to make deviled eggs but with a twist! Dive on in make these for brunch this weekend.
14. Mac and Cheese Bites
Chef in Training took a comfort food and turned it into a finger food! Check out these mac and cheese bites after the jump.
15. Roasted Rep Pepper & Bacon Goat Cheese Truffles
Do cheese truffles sound like heaven or is that just us? How Sweet It Is mixed up some bacon, red pepper and goat cheese for these delicious bites.
16. Classic Bruschetta
Notey knows that classic bruschetta will always be a dinner party hit. Serve these up before the main course is served.
17. Fried Dill Pickles
Spend with Pennies fried up some pickles and called it a day! Take the jump and serve these crispy bites up with some Ranch at your next friendly get-together at the house.
18. Roasted Red Pepper Italian Pinwheels
These pinwheels will be a hit too! Whether it's at a neighborhood potluck or a party at the kiddo's school, Simply Sissom serves up the details.
19. Crab, Bacon & Guacamole Crostinis
That Square Plate packs a giant punch with their filled-up crostini recipe. Crab meat, guac and bacon all play nicely together.
20. Squash and Ricotta Sandwiches
Here's another vegetarian options that even carnivores will love. Check out these squash sandwiches at Food Republic.
21. Zucchini Parmesan Crisps
Ellie Krieger got some zucchini extra crispy too. Top them with parmesan and you'll quickly realize why they're so addictive.
22. Chicken Cordon Bleu Bites
Pack everything you love about chicken cordon bleu into one easy bite. This is just another great example of a finger food that will satisfy all bellies. (via)
23. Garlic Shrimp Skewers
Simply Recipes featured a classic, easy-to-follow recipe for garlic shrimp. This is definitely a staple you'll want to have in your recipe book.
24. Antipasti Pizza
Check out these fun antipasti pizzas from Martha Stewart! Whether it's game night at your house or something you're making for the guys while they enjoy the latest football, it's a unique yet delicious bite!
25. Chicken Caesar Pinwheels
Food Fun Family has another pinwheel recipe to whip up in the kitchen. This time it's got all the delicious ingredients in a chicken Cesar salad!
26. Fried Egg and Bacon Puff Pastries
Martha Stewart gives us a finger food that includes some breakfast favorites. Everyone loves bacon, anytime of the day.
27. Mini Italian Club Sandwiches
Mini sandwiches will always be a hit of the night as well. When it's time to serve up some finger foods, why not whip up these little Italian clubs first? (via)
28. Caprese Corn Muffin Sandwiches
Brit + Co made some fancy corn muffin sandwiches that we're drooling over. Caprese surprise inside, it's another yummy, vegetarian option!
29. Blackberry and Brie Mini Pizzas
Saving Room for Dessert made these gorgeous blackberry and brie mini pizzas that would serve great at your next dinner party. Take the leap and check out the recipe now.
30. Shrimp Ceviche Bites
Lemons for Lulu has all the info you need to create this shrimp ceviche bites. A bit of lime goes a long way with these ones.
31. Avocado & Grapefruit Triscuit
Grab a box of Triscuits and get to work on this duo. Grapefruit and avocado goes surprisingly well together, just ask Platings & Pairings.
32. Pepper Jack and Bacon Stuffed Cherry Tomatoes
A Latte Food brings a great option to the table as well. These cherry tomatoes will be the hit of the evening when stuffed with a bit of bacon and pepper jack.
33. Hot Ham & Cheese Crescents
Plain Chicken made miniature version of hot ham and cheese crescents. Don't forget the poppyseed topping!
34. Bacon Cheeseburger Cups
Here's another variation of everyone's favorite: cheeseburgers! Grab all the details behind these burger cups at The Recipe Rebel.
35. Sausage and Pineapple Bites
Here's a summer favorite that would be great for a neighborhood BBQ or potluck celebration. A bit of sausage and some pineapple make for a tasty duo. (via)
36. Mini Spaghetti and Meatballs
We already drooled over tiny mac and cheese cups and now we have spaghetti and meatball bites! This one is a showstopper too! (via)
37. Lobster Stuffed Mushrooms
Who loves lobster? Now with the help of Go Go Go Gourmet, you'll learn how to stuff some mushrooms with the meat!
38. Tiny Grilled Cheeses
Inspired By Charm served up some finger-sized grilled cheeses with a side of tomato basil soup for dipping! The kids will love these. It's a perfect sleepover idea!
39. Veggie Rolls with Peanut Ginger Sauce
Veggie rolls with peanut sauce will go over well too. Just visit Tomato Boots and learn how to whip these up in the kitchen.
40. Salsa Roll Ups
The Country Cook made some pinwheels that we're loving too! Dip them in salsa and satisfy everyone that came over for the afternoon!
41. Grilled Honey Sriracha Wings
A bit of honey, a bit of sriracha Cake n' Knife, these wings are quite the trendy treat! Check out the recipe after the jump.
42. BBQ Chicken Pockets with Creamy Cilantro Dip
How about learning how to make some BBQ chicken pockets the family can grab and go with? Spiced gives us some great ideas for the next big game and what to serve during the commercials.
43. Fried Ravioli
Fried ravioli seems like a popular bite as well. The Brewer and The Baker serves it up and provides us with the recipe we need to make it happen at home.
44. Hazelnut-Crusted Brie
Babble served up brie in a crispy, crunchy way. Encrusted in hazelnuts, it's just another finger food that packs quite the punch of flavor.
45. Steak & Egg Bruschetta
Baker by Nature gives us a unique bruschetta idea. Made with steak and egg, you'll get a heartiness with this appetizer that others can't pull off.
46. Wedge Salad Skewers
Instead of an entire salad course, make the salads a grab-and-go type of option. Check out the layering at Love & Zest.
47. Mini Chicken & Waffles
Almost Makes Perfect showed off how they made some mini chicken and biscuits. Usually served in large portions, we love the finger food edition.
48. Bacon Cream Cheese Bites
Garnish with Lemon knew that bacon was a winner as well. And that's why we're sitting here absolutely drooling over these.
49. Beet Salad on a Stick
Here's another salad on a stick that will serve your guests well. The ingredients with this one are just a bit more unique, thanks for the idea Salty Canary!
50. Sausage Cheddar Balls
And finally, Martha Stewart brings us a southern favorite. Satisfy everyone with these bite-sized sausage balls filled with heartiness and comforting flavors.