These 22 Pallet Wall Art Ideas Will Have You Busy By The Weekend
If you like the organic nature of wooden pallets or you like how personalized and creative you can get with the simple material, you'll love this quick list of fun projects. These 22 pallet wall art ideas will have you busy by the weekend and you're house filled with a bit more handmade style.
1.  Star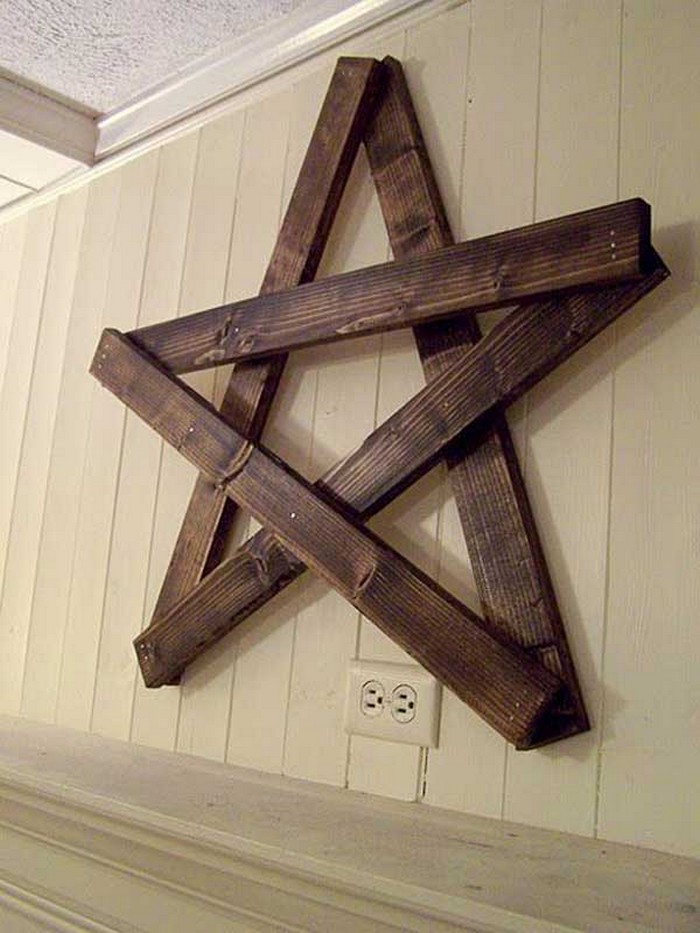 Recycled Things featured a bunch of great ideas when it comes to wooden pallet art. Did you know that you can even make a rustic star out of just a few pieces?
2. Arrows
Little Brick House has these chic, wooden arrows rounding our their living room's style. We love its simplistic and natural beauty.
3. Mantle Frames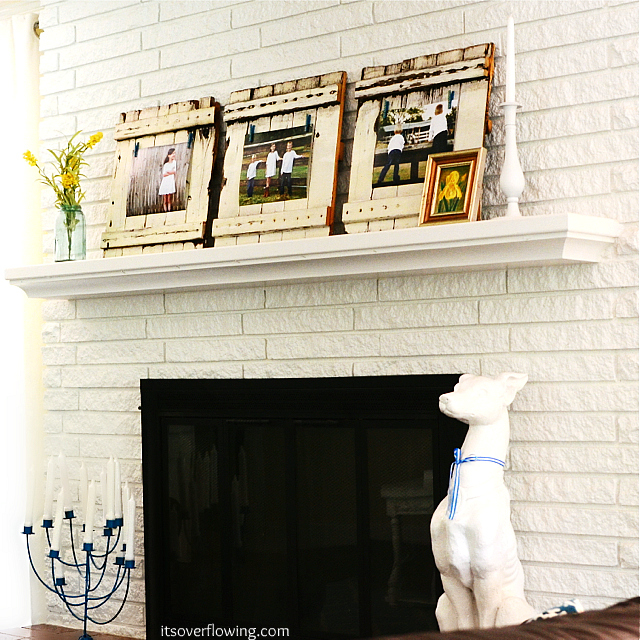 You could even make some funky frames to show off your favorite family photos. Create them with the help of It's Overflowing.
4. Abstract Ocean
We're swooning for this DIY abstract ocean art. It's perfect for bathrooms or beach houses with a subtle, natural flavor. (via)
5. Vertical Garden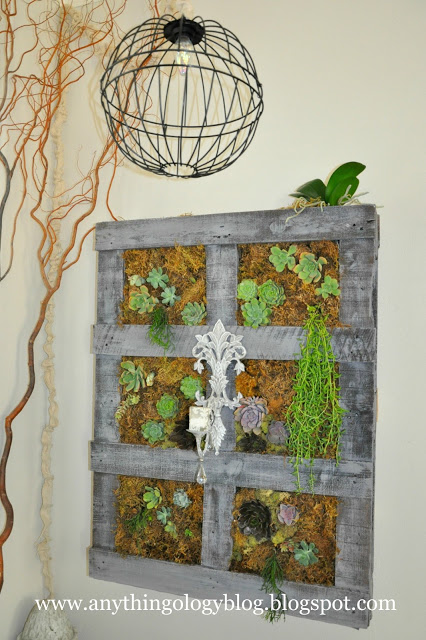 Anythingology has one of the most unique ideas on the list. You can a two in one project here, both art and a garden to grow!
6. Sharks
For the kid's room, the bathroom or a cottage with a beach vibes, this shark works. Check out the details over at Sand and Sisal.
7. Red Lips
My personal favorite on the lips, we are loving these red lips and how easy it would be to recreate this at home. Grab some pallets and red paint and get to work! (via)
8. Pumpkin
Beyond The Picket Fence made a piece of pallet art with some fall flavor in mind. We're loving this fun, pumpkin addition for the house.
9. Love Headboard
Okay, so this may not be exactly wall art but it's definitely art for the bedroom. Jazz up your bedroom and private space with a bit of extra love. (via)
10. EAT
Here's another easy idea to grab some inspiration from and make your own at home. We found this fun idea on Pinterest and we're loving all the possibilities it gives us.
11. Chevron
Paint a fun print onto your pallets and add a frame for a fun, fresh take on a classic project. Grab the details at The Craft Patch.
12. Family
Houzz featured this beautiful, family-inspired quote and we had to turn around and show you too. Grab your pallets and a paintbrush!
13. Bicycle
The Cottage Market had this featured on their site, providing us another charming idea to display in our home. Stencils or freehand works, just add paint.
14. Starfish Flag
Of course, you can turn those pallets into an American flag quote easily. And if you add starfish the piece will fit right into your rustic, nautical home. (via)
15. Bottle Vase
Here's a smaller piece to recreate at home. Add a vase and some flowers for a breath of fresh air inside your home. Follow along at Shanty 2 Chic.
16. Hello
Colors and Crafts displayed this simple "hello" pallet wall art and we're loving it. It mixes modern style with rustic charm seamlessly.
17. Chevron Stripes
Here's another design that utilizes the chevron trend. Found at Nicole Dianne, a few slime geometric lines could really make a wall stand out.
18. Peace Sign
Zulily had this beauty on their site and it gave us an idea. This is totally doable at home if you have some experience with wood and you'll have a ball painting it!
19. Mason Jar
Here's another way to spread your freehand drawing and painting skills. Thanks for the great idea First A Dream!
20. Nautical Patches
Domestically Speaking made another nautically-inspired piece that we're loving. It's patchy and colorful and fits right into a beach house with ease.
21. Clock
We've fallen in love with this sweet and chic clock from Liz Marie. On the mantle or hanging solo, it's a great addition to any home.
22. Accent Wall
And finally, make an entire wall a piece of art. Thanks for the inspiration from Julia Robbs, we've just found our favorite new way to create an accent wall.