28 Super Fun Things To Make With Paint Chips!
The best part about these projects is that the main material is free! Run to your nearest store and grab some of those freebie paint chips to get started on these mini adventures. From wall art to usable pieces to sprinkle around the house, you'll love the fun that these projects create! Check out these 25 super fun things to make with paint chips and dive into the creativity!
1. Gift Tags
Real Simple uses paint chips and turns them into the most charming gift tags around! Personalize and add pops of color to your friends' and family's presents.
2. Geometric Art
Are you not absolutely in love with this geometric art DIY from Decor Fix? We love the ombre effect and overall, modern geo-print it makes!
3.  Calendar
PopSugar makes a super adorable calendar that works for crafty offices or moms that need somewhere to fit everyone's schedule. Keep track of it all and use your favorite color to set the tone.
4. Checkerboard Art
Have you completely fallen for this checkerboard art yet? She Loves Happy makes it pretty simple to recreate right at home in colors that compliment your style.
5. An Entire Wall
Papery & Cakery made an entire wall of paint chips that completely transformed the space for the better. And you can tweak this easily to fir your home's style too.
6. Flowers
Check out HGTV to learn how to turn those paint chips into flowers that can dawn the dining room table and the kitchen countertop! Just think of all the wonderful color combinations you could try!
7. Necklace
DIY Ready makes a funky, tribal necklace out of some teal paint chips and we're in love with this innovation. Who knew those freebies at the store could add to your wardrobe?
8. Heart Garland
Decorate the mantle, banisters or walls with some delicate heart garland. Whether it's for a holiday, themed event or just spreading some love around the house, check this out at The Celebration Shoppe.
9.  Hanging Decor
Check out this awesome hanging decor from Piece O' Cake blog! Sew your paint chips together to create these magical bits and if you put enough together you could make a room partition!
10. Utensil Holder
Create place settings with a bit more creativity with help from Sew Many Ways. We love the idea of using paint chips as a way to jazz up the utensils at your next themed party or dinner get-together!
11. Chandelier
Yes, you can even turn those little bits of inspiration into a full on chandelier that your office or baby's nursery would love to have. Grab the details at Hey Gorgeous!
12. Table Runner
Over at Full House you'll find another snazzy way to spruce up the dining room table with paint chips. Create a table runner out of them! And just look at this one created with a "peacock" theme in mind!
13. Bunting
You could even make some classic bunting out of paint chips you have collected over the years! Birthday parties and other fun events can be adorned in this fun creation. Find the tutorial at Hello Mess.
14. Matchbook Notebooks
Capital B did something really innovative and made small matchbook notebooks out of them! Use them as favors or little thank you gifts!
15. Animal Friends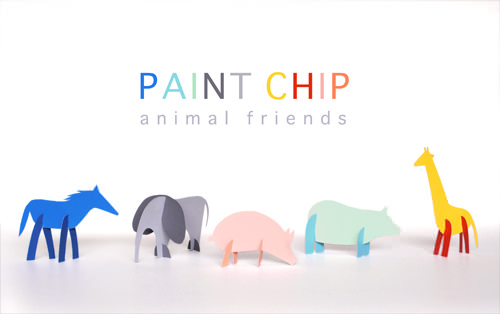 How in love are you with these animal friends from Handmade Charlotte? The kids will love getting involved in this craft and love playing with it afterwards too!
16. Bookends
Dawanda made some 5-minute bookmarks that will come in handy as fun thank you gifts, encourage the kiddos to read or just a little something fun for yourself to enjoy!
17. Feather Crowns
These whimsy and charming feather crowns are just too perfect not to feature and fortunately for you, if you visit Mer Mag, you'll be able to make them too!
18. Spy Game
Teach your kids all about the color wheel with this DIY paint chip spy game found at Treehouse Parents. We love this idea and we know your kids will too!
19. Coasters
Add some color to your coasters with this easy idea from 645 workshop. Keep the water rings off the coffee table in a cute and stylish way!
20. Gift Wrap
Top off your gifts with a paint chip tag or do what Pretty Handy Girl did and completely cover it! We love this unique gift wrapping idea, don't you?
21. Wreath
Spruce up the craft room, home office or front door with this paint chip wreath from Style At Home that is full of unique appeal and imagination!
22. Dividers
Broke & Healthy gives us a simple idea for jazzing up the office but adding some pop of color as well. Use paint chips to divide your files, important papers and the like.
23. Matching Game
Here's another game to get the kids involved with. First, they'll help you make it and then you'll have them mixing and matching in the afternoon. Check it out at Sew Fantastic.
24. Napkin Holder
You can make utensil holders but you can make napkin holders in a bit of a different way if you follow some of the ideas at Rustic Wedding Chic! How charming!
25. Cat Bookmarks
You can make more traditional bookmarks, yes, but you can also make these adorable cat bookmarks from DIY Candy as well. How cute are they?!
26. Food Picks
The Celebration Shoppe also made these absolutely precious food picks that can top off some cupcakes, sandwiches or any other party food. And all you need are some paint chips to get started.
27. Giraffe Nursery Art
Right At Helm took paint chips and turned them into adorable giraffes! This is great artwork to spruce up the brand new nursery with, don't you think?
28. Ombre Wall Art
Craftaholics Anonymous gives us a super easy wall art DIY with an ombre effect! It's trendy, it's fun and you can truly style this to your liking.