25 Different Ways To Create Your Own Bookmarks
Avid readers, DIY gift givers and book advocates, we've compiled a list of projects for you to get your hands dirty with. Of course a simple piece of paper or store-bought bookmark can do the trick at keeping your place while diving in to one of your favorite, classic reads. But why not personalize and create that same reader's necessity on your own?
DIY Bookmarks Ideas
Here's 25 different ways to make your own bookmarks, whether for yourself or a friend!
1. Quoted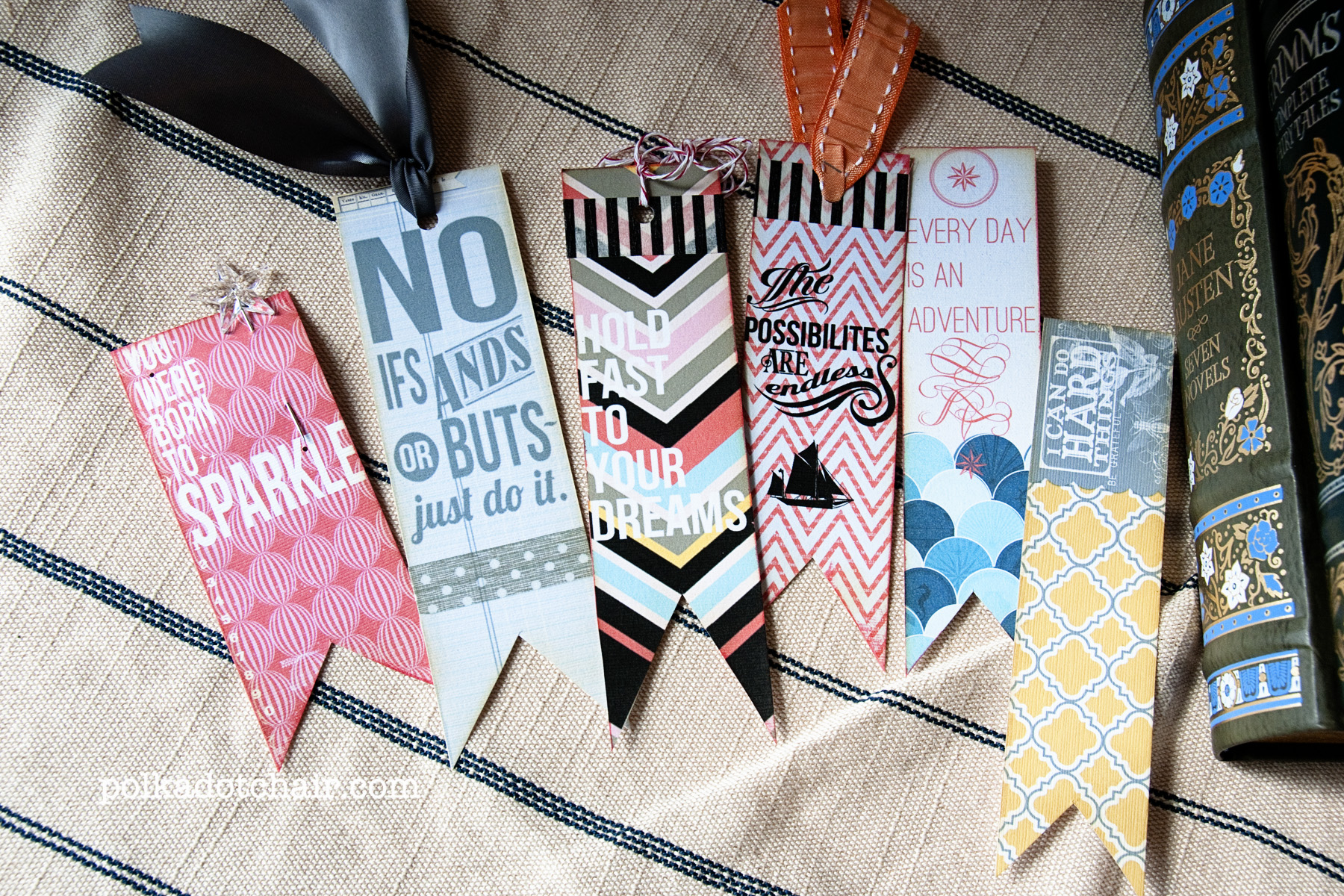 These printed quotes are so adorable for a sweet back to school treat or even to freshen up and get excited about your summertime reading list. {found on Polkadot Chair}
2. Heart
Create a felt, corner bookmark in a variety of adorable shapes. This heart is an adorable book "charm" and would be such a great gift as well. {found on Wake and Whimsy}
3. Duct Tape
Use some duct tape to create fun, chic designs. Start with some cardboard or thicker construction paper and then get to work! {found on and we play}
4. Arrow
We're in love with this little arrow bookmark. It not only holds your place but it can also hold the exact line you left off at! {found on Onelmon}
5. Buttons
Some adorable buttons and paper clips can come together to make the simplest and more charming of bookmarks. All you need is some glue! {found on Inside & Out}
6. Dressed
This "dressy" bookmark is just too cute for words. Pardon the extra pun but, you'll really be "dressing" up your books with this tutorial! {found on Amora's}
7. Tea Cups
There's nothing better than reading a good book, curling on the couch with a warm cup of tea, coffee or hot chocolate. So why not create a bookmark with that idea in mind. {found on Genuine Mudpie}
8. Dino
Is that a little dinosaur sticking out of your book? Not only is this unique, but it's quite the adorable idea. {found on My White Idea DIY}
9. Paper Clips
A simple paper clip can make a charming addition to your book as well. Just create heart out of some of your extras! {found on How About Orange}
10. Tassel
A pretty tassel can make for a great bookmark. It keeps your spot with ease and adds some jazz to your nightstand! {found on Projektila}
11. Harry Potter
Who loves Harry Potter? If you're a Potterhead, then this DIY was made for you. Next time you crack open the Chamber of Secrets, have this cutie to hold your place. {found on Wednesdays Wear Pink}
12. Hand-drawn
These beautiful, hand-drawn bookmarks are full of inspiration. Take a peek at the DIY to see how to create some of your own patterned cuties. {found on tpk}
13. Fox
Who doesn't love an adorable fox? Check out this tutorial and learn how to recreate this charming little fellow. {found on Just Smile}
14. Stars
Bright and fun, this is a great project for teachers to partake in and create for their classroom. Or have fun creating with your little one who is on his way back to school! {found on NorthStory}
15. Spine
The spine of old books can make the best bookmark around. When books are falling apart, utilize its part for some up cycled projects like this! {found on Books, Booze & Beauty}
16. Elastic
Cool pieces of paper and cardboard put with a bit of elastic make for the easiest and most simplistic of bookmarks. Try this one out to get your DIYing started. {found on BumbleBreeBlog}
17. Fabric
Fabric scraps can also turn into quite stylish bookmarks. We love the bow and charm embellishments as well, making them even more personal. {found on Born in 82}
18. Patterns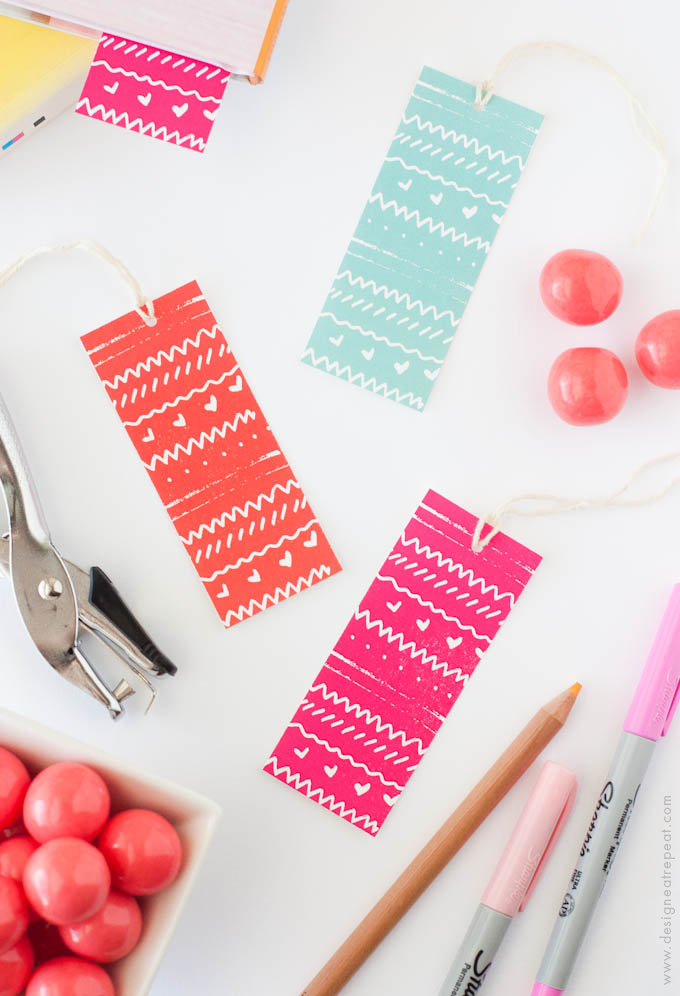 These free, printable bookmarks are full of life and style. Adorable patterns and brilliant colors, go grab yourself one! {found on DesignEatRepeat}
19. Color Blocked
For a more modern, yet easy, look, take a peek at these color blocked bookmarks. Choose your colors and then get to crafting! {found on Jade & Fern}
20. Gem
Here's another super trendy bookmark. Recreate this one for a special addition to your favorite summertime read. {found on Pop & Soda}
21. Magnetic
Some magnets and washi tape can come together to create a small, but mighty little function. Holding your spot with easy, you can create these in a variety of colors and patterns. {found on Lemon Squeezy Home}
22. Leather
Pieces of leather? Who expected that to be the material of choice in bookmark DIYing. This is a more masculine choice, perfect for a Father's Day gift or birthday gift for your beau. {found on and we play}
23. Paper
Of course paper is always a great crafting choice. And that is especially true when you're creating these silly little corner pieces. {found on Youth Are Awesome}
24. Pom-Pom
Pom-poms are so fun and festive. They make anything look more youthful and alive, including your afternoon reading! {found on Projektila}
25. Monster
Just like the felt corner heart, this monster piece can keep your place and add fun personality to your daily reading sessions. {found on Wake and Whimsy}