20 Best Cute DIY Bookmark Ideas to Get You Reading
Creating cute DIY bookmarks is a great way to practice not only your crafting skills but also a way to make reading far more enjoyable.
While typical bookstores do sell cutesy bookmarks will all kinds of motifs and decorations, they tend to be overpriced and aren't always the most practical. So, if you're the kind of person who loves both reading and crafting, then making your own bookmark is the way to go!
In today's article, we will showcase 20 different cute DIY bookmark ideas that you can try for yourself.
You can make them for yourself, or you can gift them to your friends and family. Those of you that are particularly skilled can even try making some money by selling them on Etsy as well!
20 Cute DIY Bookmark Ideas for Cutesy Presents
The next section of our guide will list some of the cutest bookmark ideas you could make as presents. These ideas come from all over the Internet, and we've compiled them here to save you some time!
1. DIY felt flower bookmark
ThisDIY felt flower bookmarkis of our own design, and it deserves the number 1 spot on our list simply because of how it successfully blends elegance with cuteness.
The most noticeable feature of this DIY felt flower bookmark is its felt leaf, which has very intricate vein-like stitching. Replicating that pattern is the only challenging part of this design, but we managed to explain how we did it in our original article; it comes with step-by-step instructions, illustrations, and even a video tutorial.
2. DIY heart bookmark
ADIY heart bookmarklike the one illustrated above acts as a corner bookmark, so unlike typical bookmarks, you don't have to slide it between pages.
The great thing about this DIY heart bookmark is that you can make one in less than 10 minutes, and all you need is some felt, scissors, a sewing machine, and maybe some textile glue.
It's the perfect gift idea for Valentine's Day or any other special occasion you want to show your significant other how much you care.
3. Sequinned felt bird bookmark
Oursequinned felt bird bookmarkis a great present for kids, especially thanks to all the sparkling sequins that cover its surface. It looks like a typical songbird and helps mark the page you left off reading using a paperclip.
This design is fairly easy to put together, and it's a perfect way to use up some of those scraps of felt you have lying around. You could also use different felt colors to create a whole flock of these little birds!
4. DIY polar bear corner bookmark
ThisDIY polar bear bookmarkis yet another example of how you can decorate a typical corner bookmark.
Unlike the previous heart bookmark, this design uses plain A4 printing paper instead of felt, and it looks like the face of a cartoon polar bear. This choice of materials makes it easier to craft for kids and a lot more inexpensive since everyone has white paper at home.
5. DIY scratch-and-sniff bookmark
ThisDIY scratch-and-sniff bookmarksmells like your favorite dessert and is a great way to make reading much more enjoyable.
To make these scented bookmarks feel more authentic, you'll use actual dessert powders to make them, such as Jel-O, cake mix, or Kool-Aid powder.
It's a great bookmark idea if you're looking for ways to coax your kids into reading more, just as long as you ensure they don't try eating them.
6. DIY popsicle stick flower bookmark
ThisDIY popsicle stick flower bookmarkis yet another one of our creations. It successfully mixes the art of repurposing used materials (e.g., popsicle sticks) with creating cute and original designs.
You'll also work with cardstock, colored paper, and ribbon, so make sure your supplies are ready before you start working on this project.
7. Handmade bookmarks using vintage linens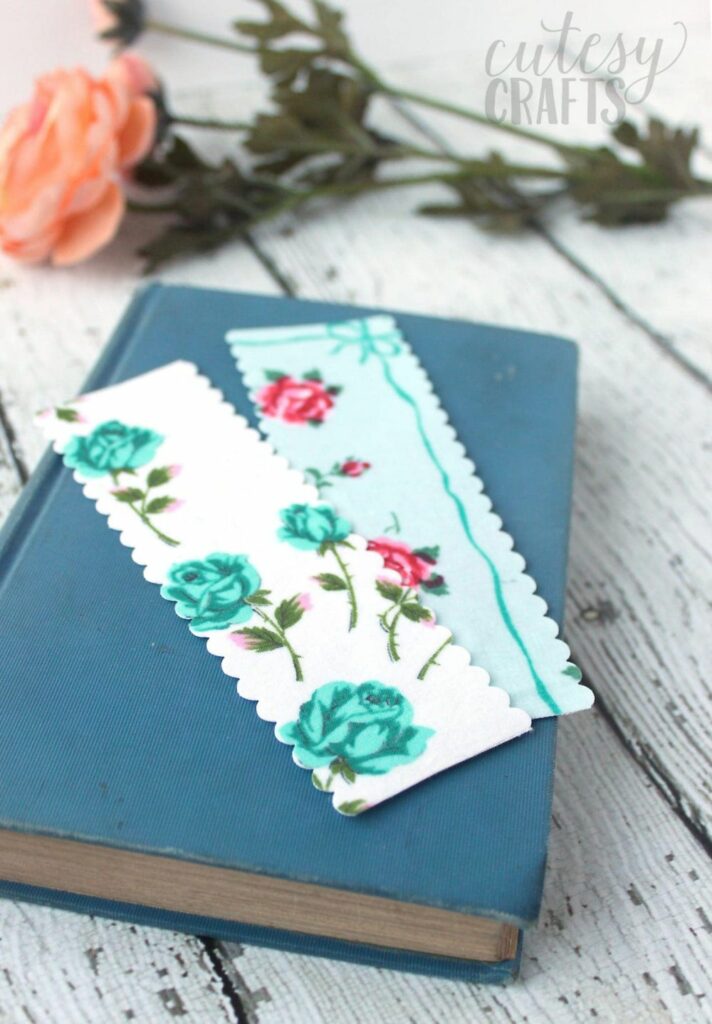 Handmade bookmarks using vintage linensscore high in elegance, especially if you craft them using old hankies or other items with an interesting history.
This design is a great way to repurpose some of those old linens you have lying around, and it's perfect if you're looking for a more sophisticated bookmark design.
To learn more about making these bookmarks, head over toPolka Dot Chair, where they include everything you need to know about crafting these bookmarks. They have a great tutorial waiting for you.
8. DIY silhouette bookmarks
ADIY silhouette bookmarkfromPolka Dot Chairmakes for an excellent Mother's Day gift. It's a simple yet elegant design uses a cutting machine to achieve its signature look.
The DIY silhouette bookmark with the profile silhouette looks like one of those antique cameo brooches, and it would make for a great gift for anyone who loves vintage-inspired jewelry.
9. Origami heart bookmark
Thisorigami heart bookmarkidea fromThe Spruce Craftsuses the Japanese art of origami to create a cute and unique bookmark design. Because of this, those who aren't experienced with origami should first practice doing the folds with regular paper before moving to work with your scrapbook paper.
This origami heart bookmark makes for an excellent St. Valentine's gift, or even an anniversary gift, for that matter.
10. Origami butterfly bookmark
Like the previous entry, thisorigami butterfly bookmarkrelies on using origami folding techniques to create an incredibly realistic design. The folding process is indeed a bit more complicated, but as you can see from the image above, the effort will be well worth it.
Go toGathering Beautyif you want to learn how to make this bookmark, as they have a great step-by-step tutorial that will walk you through the entire process.
11. Cute monster bookmark
Thesecute monster bookmarksare terrifying enough to keep your place in any book, yet they're still cute enough to make you want to cheer with delight.
This design is brought to us byKids Craft Room, and they'll become your kids' favorite bookmarks in no time. All you need is some faux fur, felt scraps, googly eyes, scissors, and glue, and you can start making a bundle of these in no time.
12. DIY paperclip bookmarks
ADIY paperclip bookmarkis, without a doubt, one of the simplest types of bookmarks that you can craft at home. These DIY paperclip bookmark designs fromA Creative Cookieincorporate simple paperclips together with decorative elements, such as colorful buttons, ribbons, or flower cabochons.
They're great when you need to make a lot of bookmarks in a short time, and they're perfect for personalizing your unique style.
13. DIY Avengers bookmarks
TheseDIY Avengers bookmarksyou can make for your kids bring some of the most beloved Marvel superheroes to life with just a few simple craft supplies, including popsicle sticks, paint, and enough skill to make the drawings.
The original idea belongs toCrafts By Amanda, and if you plan on going through this craft, we suggest you create one bookmark for each Avenger in the team.
14. Hand-drawn bookmarks
Hand-drawn bookmarkslet everyone know how good you are at drawing, and they make for an excellent gift for that friend or family member who loves to read.
If you need inspiration for your bookmark designs, head toThe Postman's Knock. They have a great tutorial that will show you how to make these bookmarks and a printable gift label that you can use.
15. DIY teacup bookmarks
ADIY teacup bookmarklike the one illustrated above has a certain charm. This design fromGenuine Mud Pieuses a downloadable cardstock template to create the teacup shape, and it's up to you to add all the other accessories, like the twine and the button.
You can use whatever cardstock you like or even repurpose old tea boxes for more authenticity.
16. Handwoven bookmark
Handwoven bookmarksare popular with people that want to feel that handcrafted touch. This design fromAunt Annie's Craftsuses a cardboard loom and some yarn to create a bookmark that's as unique as it is stylish.
This handwoven bookmark design takes advantage of the variegated colors in the yarn to create a beautiful ombre effect. Still, you can use whatever yarn you like to achieve a different look.
17. Quacktastic duck bookmark
Thisquacktasticduck bookmarkcombines two things people love: knitting and ducklings. This design fromHearthook Homerequires that you learn a thing or two about knitting before making it, but it's definitely worth the effort.
Their article includes everything you need to know about making this bookmark, including the required materials and the knitting pattern for every row.
18. Trapped dino DIY bookmarker
Atrapped dino DIY bookmarkeris not only cute, but it's also hilarious to watch, especially when you see it for the first time.
The original idea came fromMy White Ideaand has been translated into English so everyone can enjoy it. The required supplies include a small toy dinosaur, a paperclip, and a lighter, so it's certainly not like any other bookmark you've ever crafted.
19. DIY photo burlap bookmarks
DIY photo burlap bookmarkshelp preserve your fondest memories by combining them with your love of reading.
This design fromMod Podge Rocksis perfect for those that want a more rustic and earthy look to their bookmark collection. All you need is some burlap, photos, scissors, and mod podge, and you can start creating these unique bookmarks in no time.
20. Fun photo bookmarks
Thesefun photo bookmarksadd a bit of comedic relief to an otherwise ordinary bookmark.
Just take a photo of someone while holding something up, print it, make a cut-out, and then glue it to a long piece of string with a tassel at the end. It will look as if that person is hanging onto your bookmark for dear life, which is bound to get you a few laughs.
You can find the tutorial for these bookmarks over atCome Together Kids.
Frequently Asked Questions
The next section of our article will answer some frequently asked questions about bookmarks, including how to make them and what materials you'll need.
How do I make cute bookmarks?
There are plenty of ways you can make a bookmark look cute. For example, you can try using cutesy colors such as pastels, or you can add some embellishments like beads or buttons.
For a more cartoonish appeal, you can even try adding things like faux fur, googly eyes, or pom-poms.
How do I make a cute bookmark out of paper?
If you want to make a cute bookmark out of paper, we recommend using construction paper or cardstock. You can then decorate it with markers, crayons, glitter, paint, and you can add a tassel to make it stand out.
Closing Thoughts
As you can see, there are plenty of ways to make your own cute DIY bookmarks; you just need the right materials and inspiration to get you started.
However, not everyone may be into cute crafts since some of you may be looking for some DIY bookmark ideas that are a bit more sophisticated. If that's the case, we suggest checking out our article on thebest DIY bookmark ideasfor some more inspiration.
We hope you enjoyed reading this article, and please feel free to share it with your friends or family if you found it helpful. Thanks for stopping by!