50 Ways To Subtly Incorporate Neon Into Your Home
If you were a kid in the 80's like I was, then you remember the neon craze – it was everywhere. And then it went away for a good two decades. But it's been back with a vengeance recently! If you like the look, but are hesitant to use too much neon, here are 50 ways to subtly incorporate it into your home decor.
1. Neon Rope Coasters
Make a set of these eye-catching coasters using bright neon cord accents, and you'll smile each time you pick up your cup! All you'll need is some drawstring cord, a glue gun and some thinner cord in a neon hue. Make your way over to A Beautiful Mess to find out how to make a set of neon rope coasters yourself.
2. Neon Wood Knob Photo Holders
If you have lots of photos laying around but no way to display them, here's the perfect solution. Make a bunch of these adorable neon knob photo holders using a variety of different paints and you'll finally be able to show off all of your pretty pictures. Head over here to check out the tutorial.
3. Neon Rock Succulent Planter
Here's a super easy way to infuse your home with a bit of perky, colorful personality… simply add a layer of neon colored aquarium rocks to the top of your succulent planters. You can find the rocks at your local pet store. Make your way over to Hey Love Designs to find out more.
4. Neon Ombré Vases
Turn any clear glass jar into a beautiful neon ombré vase with this incredibly simple technique. Simply grab a can of spray paint and get to work! Make your way over to She Knows to read some tips and tricks about how to create your own gorgeous neon vase out of a glass jar.
5. Neon Cord Magazine Holder
Hang your magazines in style by making one of these totally gorgeous neon wall-mounted magazine racks. You'll need some wooden dowel rods and a bunch of hot pink cord. Head over here to check out the directions for this clever and unique wall-mounted magazine rack.
6. Neon IKEA Kallax Hack
If you're a fan of IKEA's accessible pricing structure, but not the fact that everybody and their mother has the same stuff – it's time to try some IKEA hacks! Here, add some pops of florescent to the Kallax bookshelf to create a totally unique look. Find out more over at Flax & Twine.
7. Neon Animal Hooks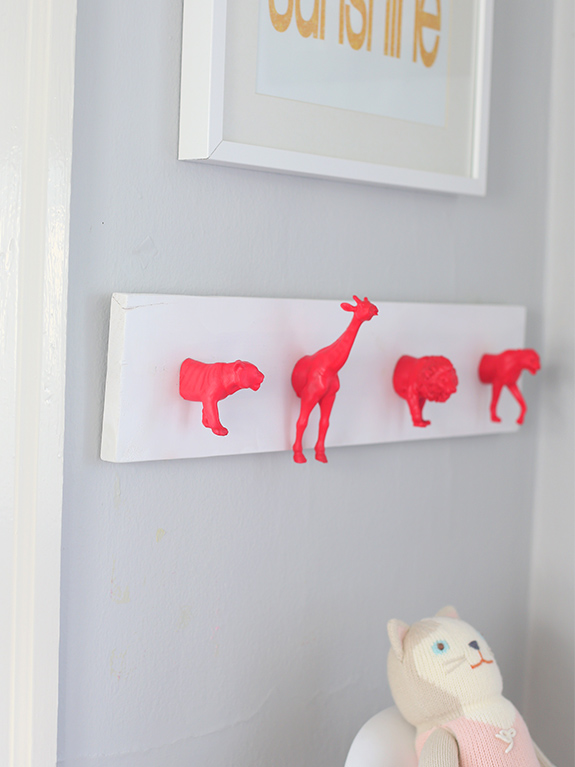 This is a great project for a nursery (or any other room of the house, really). Simply buy a few plastic animals and spray paint them any bright, bold color. Make your way over to the Say Yes blog to find out exactly how to make your own set of neon animal hooks for the wall.
8. Yarn Wrapped Monogram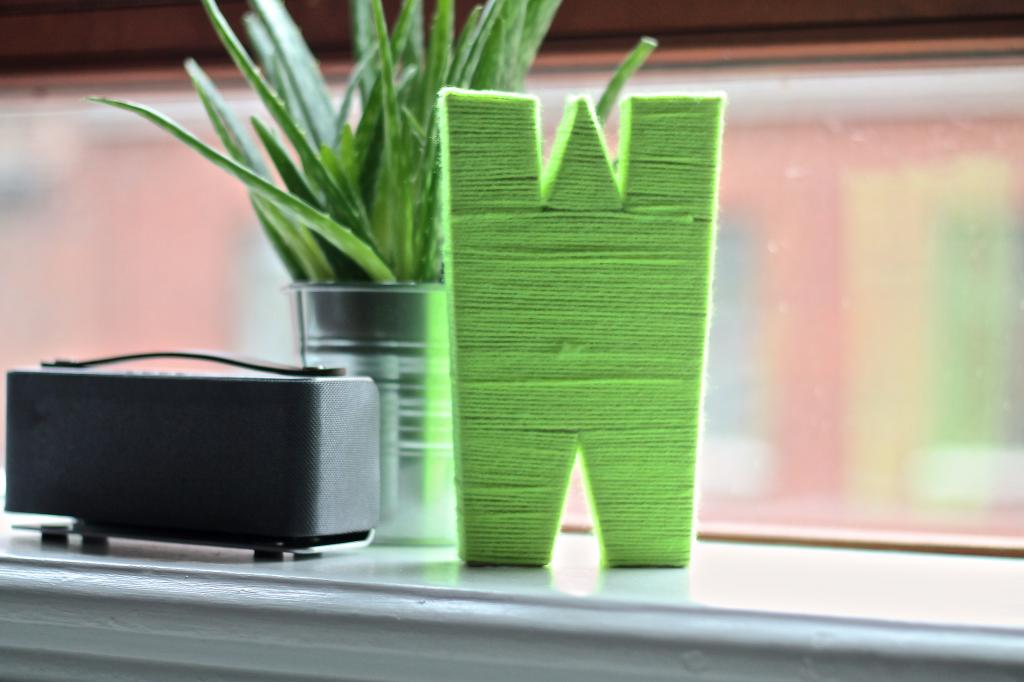 Create a fun monogram for your desk or bookshelf using a cardboard letter shape and some neon yarn! The trick is to create a base of glue underneath, and then wrap the yarn around and around. Head over to Flair to find out all the details about this super easy little project.
9. Embroidered Wall Art
Use your embroidery skills to create a lovely piece of neon wall art. The instructions are in Dutch, but the project looks relatively straight forward. Simply poke holes in a thick piece of paper and thread the embroidery floss through. See more helpful images over at Miss Monday.
10. Neon Macrame Wall Hanging
Try your hand at macrame with this easy beginner project that only uses two different types of knots (believe it or not). Just grab a skein of neon cord and a wooden dowel rod and get to work using these simple instructions from Crafts Unleashed. You'll want to make one for every room!
11. Patterned Clothes Hanger
Let your creative juices flow by going crazy with some paint and a clothes hanger! Pink, yellow and black look lovely together here, but any color will work. And don't feel like you need to hide it in the closet with a shirt over it – consider hanging it in plain sight as a sunglasses or scarf holder. Get the tutorial here.
12. Neon Cement Planters
This is one of those "why didn't I think of that?" kinds of projects, when it's simple yet so brilliant. Basically all you'll need are 6 cement bricks to complete this one, along with some neon paint and a few other easy-to-find materials. Head over to Modernly Wed to find out how to complete this project.
13. Painted Heart Pillows
This is a great way to add a pop of neon to your bed. Just grab an old set of white pillow cases, along with some neon fabric paint and you'll be well on your way to recreating this whimsical look. Make your way over to the ONR blog to get the full set of instructions, along with helpful photos.
14. Neon Edged Trivet
This neon edged trivet is a subtle yet fun way to incorporate bright colors into your space. And although it looks fancy, it's really made out of a slate tile that you could buy at your local home improvement store. Head over to Madigan Made to find out all the details about this lovely neon edged trivet.
15. Fabric Coil Pots
These adorable little vessels are made out of strips of fabric along with thinner cord – one or both can be neon, whatever your heart desires. It is coiled from the bottom up, similar to a clay coil pot. Make your way over to The Red Thread to check out the full tutorial for this project.
16. Neon Word Light
How about this for a statement piece for your wall?! Surprisingly, this is easier than you might think to make. The first step is to twist and bend wire into the shape of the word that you'd like to use… head over to I Spy DIY to find out the rest. Wouldn't this look great in an entryway?
17. Neon Animal Pushpins
Turn a bunch of boring old plastic toy animals into a colorful set of pushpins for your office! The process is really quite simple, and it won't take long to accomplish. Make your way over to A Bubbly Life to find out exactly how to make your own set of florescent animal pushpins.
18. Neon Furniture Feet
Dress up your furniture with this super simple project that is sure to give your space some pizzazz. Simply remove the legs from your chair or sofa, spray paint them, and then re-attach them once everything is dry. Head over to Mr. Handsome Face to find out all the details.
19. Polka Dotted Tray
This is another easy one… can you tell what the dots are made of? That's right, they're garage sale stickers that you can find at the office supply store! Check out the full tutorial over at Making It Lovely to find out how to seal the tray so it will stand up to some wear and tear.
20. Yarn Wrapped Wire Word
Here's another cool way to include neon text into your decor… this one is made by wrapping bending wire into a cool shape (in this case the word "hello" in a speech bubble) and then wrapping yarn around the wire. Head over to Tuts+ to find out how to make one of these yourself.
21. Pineapple Airplant Holder
Pineapples are hot these days, so this clever little planter would look oh-so-stylish on a desk or bookshelf. The bottom of the pineapple is made out of air dry clay with neon paint, and the "leaves" of the pineapple are the airplant! Genius. Get the full tutorial over at I Spy DIY. 
22. Pom Pom Throw Pillows
Spice up your sofa with a few of these fun, whimsical pom pom throw pillows. The pom poms themselves are actually made out of yarn, so they are bigger than traditional pom pom trim. Make your way over to Honestly WTF to get the low-down on how to make your own pom pom pillows.
23. Neon Light Bulb Cord
Even your lighting can be neon! This one looks difficult, but it's actually not all that hard to do. You'll need some brightly colored yarn again for this one. Make your way over to Pour Mes Jolis Momes t0 see the step-by-step photos and text that will show you how to accomplish this one.
24. Neon and Natural Baskets
For this fun project, you'll need to know the basics of crocheting… but beyond that, it should be pretty straightforward. Just grab some hemp, neon cord and a crochet needle to get started. Click over to Construction Documents to find out more about the process and pattern for these baskets.
25. Macrame Hanging Planter
Hang your plants in style with one of these lovely hot pink macrame planters. The cool thing about macrame is that it doesn't require any needles or tools really, other than your hands. And a pair of scissors. Check out the full photo tutorial for this macrame planter over at Mollie Makes.
26. Neon Trim Tea Towels
Spice up your kitchen with a pretty set of toile tea towels with neon trim. They're quite simple to make – all you'll need is a few scraps of fabric and some neon bias tape. You can even make the bias tape yourself if you can't find the right color. Check out the tutorial at Ohoh blog.
27. Concrete Candle Holder Set
Okay, so maybe this DIY is more about the concrete… but don't they look so fantastic with the hot pink candles? These are easier to make than they might sound. Make your way over to the So Fancy blog to find out exactly how to make your own set of concrete candle holders.
28. Neon Dot Pillow
What's better than polka dots? Neon polka dots of course! This playful throw pillow is made by printing fabric paint onto white fabric using a potato stamp. Head over to My Attic to find out how to make recreate this fun printed pillow for your own living room.
29. Pot Scrubber
Scrub your pans in style with one of these colorful crocheted pot scrubber. Just grab some tulle ribbon, a crochet hook and some fabric adhesive. Allison over at Dream A Little Bigger will show you the rest. You'll want to make a ton of these cheerful little scrubbers!
30. Neon Light Fixture
This rainbow bright light fixture has a nice combination of neons and pastels. And guess what it's made out of? Ping pong balls! Make your way over to Poppytalk to find out how to make one of these happy hanging drum shades for your kitchen or dining room.
31. Neon Accent Wall
Okay, so maybe this neon accent wall isn't so subtle. But it's a gorgeous example of the power of color. It marks a clear divider between the two rooms, and gives visitors something to talk about, too! Simply tape off the edges and cover with a semi-matte latex paint. A hue this bold may take a couple of coats! Found here.
32. Paint Dipped Pot
Sure, you could plant a couple of cacti in a plain old terra cotta pot and call it a day. But why not take it a step further and give it a fresh coat of paint? Here, they've painted the bottom white and then taped off the top and painted a strip of neon color. Read more about the process here.
33. Fancy Legs
Give your dresser a makeover with this crazy simple technique – grab a cool new set of furniture legs, paint them a bright color, and attach them to the bottom of an existing bureau. Talk about a statement piece! Head over to Meyer Lavigne to see more pretty interior design ideas.
34. Painted Crate
A strip of neon paint completely transforms this wooden crate from a boring box into a gorgeous display piece. And all you'll need is some paint and a couple of feet of rope. Make your way over to Brit + Co. to find out more about this simple, colorful project.
35. Neon Concrete Stool
This small stool is the perfect spot to place a couple of succulents or a few books. It is made of concrete and wood, and of course some seriously bright paint. Make your way over to The Casual Craftlete to find out how to make your very own neon concrete stool for your home.
36. Neon Wall Decal
If you're nervous to add any neon permanently to your home, give this idea a try… buy a set of neon decals and stick them to your wall. That way, you can take them off if you ever start getting sick of them. Head over to Brit + Co. to see this and many other ideas for adding neon to your home.
37. Neon IKEA Hack
If you're a big fan of IKEA hacks, then this might be the one for you. All you'll need is a plain step stool and a can of neon paint to complete this one. Make your way over to The Debrief to find out more about this fun project. It makes a great side table too!
38. Neon Phone Stand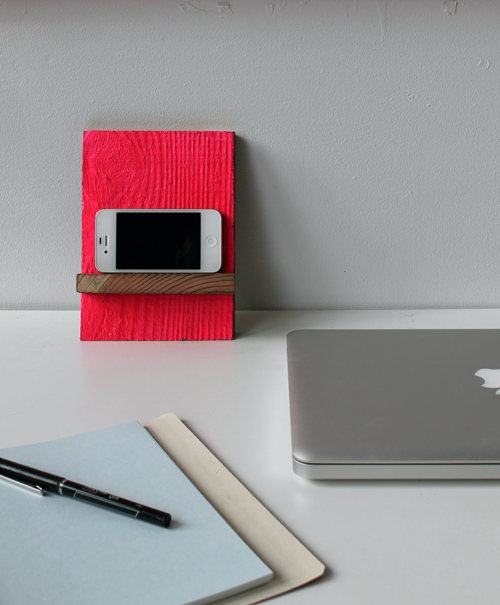 Give your phone a stylish holder to stand on… just grab a few pieces of scrap wood and (again) some neon paint to create this trendy little piece. Head over to Design*Sponge to check out the full tutorial. You'll want to make one for your iPod, your iPad, and all of your tech!
39. Neon Door
And if you're feeling gutsy, consider painting an entire door a bold hue… it certainly will be a memorable look. You can always paint over it later if you don't like it! Just be sure that the color you decide on coordinates with both rooms on either side of the door. Found over at the Desire To Inspire blog.
40. Striped Glitter Clock
Give an existing wall clock a makeover by adding some neon glitter… the facelift is sure to make your friends smile when they check the time. Grab some glitter, and some glittery paper to recreate  this look in your own home. Click over here to find out how to make it yourself.
41. Marbled Hanging Planters
If you like the look of marbling, try your hand at marbling hanging planters using neon shades of nail polish (believe it or not!). Make your way over to Oh Joy! to find out more about this marbling technique and how to create a set of these beautiful marbled hanging planters.
42. Washi Wall Art
This neon wall art couldn't be any easier… you'll use neon artist's tape to create a unique pattern of overlapping lines on a piece of brown kraft paper. Head over to Making It Lovely to find out some tips and tricks about this clever little project. You could make a larger version too!
43. Neon-Edged Boxes
These wooden boxes are lovely on their own, but they are quite plain. Spice up any raw wooden item using a bit of neon paint. The crisp edges are achieved by using strips of painters' tape.  Get the full tutorial over at Caught On A Whim. You'll want to make one in every color!
44. Heart String Art
String art is having a moment again, and it looks especially stylish in a bright neon color. You'll need lots of nails, some wood, string and lots of patience to accomplish this project. Head over to Green Wedding Shoes to find out how to make one of these beauties yourself.
45. Polka Dotted Planters
Neon garage sale stickers can be used to create a polka dot pattern on just about anything, and they look particularly lovely on white succulent planters… make your way over to For The Love Of to find out more details about this simple, fun little DIY project.
46. Neon & Kraft Paper Banner
If you're celebrating a birthday or a holiday, this fun banner would be a great decoration for your wall. You'll need some brown kraft paper, lots of neon paper and a few other basic materials to complete this one. Head over to Studio DIY to see the full photo tutorial and description.
47. Decorative Lace Bowl
For those of you who enjoy the look of lace, you'll love this one. The key ingredient used here is wallpaper paste – it will give the bowl its firm texture and rounded shape. Head over to the Lybstes blog to find out how to make your own lace bowl (use Google Translate if you need it!).
48. Striped Wooden Spoons
Dress up a set of plain old wooden spoons with some neon paint. These are great for any kitchen, and would make a great housewarming gift too. Just grab some painter's tape and you'll be ready to go! Head over to My So Called Crafty Life to find out how to make them.
49. Neon Dipped Candlesticks
These funky ombré style candlesticks are not made by dipping them into messy wax, believe it or not; they are done using paint and cotton balls! So much easier, right? Make your way over to Kate's Creative Space to find out how to make your own set of pretty paint dipped candlesticks.
50. Neon Bird Houses
If you're a fan of avian life, then perhaps this last project is the one for you. Turn existing raw wood bird houses into stylish abodes for your feathered friends! Because after all, they need pretty houses too. Or you can keep them inside your home to use as whimsical decor. Head over to Alice & Lois to find out how to make them.