Mouthwatering Recipes Made with Nutella
It's not secret that we love Nutella. In fact, "love" might not even be a strong enough work. We literally adore it. This is true any time of year, but for some reason, we're especially fond of Nutella and Nutella flavoured things around the holidays! Maybe it's because we're okay with letting our sweet tooth take over for a while in honour of celebrating the Christmas season. Whatever the reason, we'll take any excuse to enjoy more Nutella in our lives.
Check out these 15 utterly delicious Nutella recipes that practically have us drooling just writing about them!
1. Braided Nutella star bread
One of our biggest baking trend obsessions lately is "pull apart" bread. This is a type of bread that's baked in a shape that makes it easy to pull into pieces, which in turns makes it nice and easy to share with the people around you! We know it can be difficult to share your Nutella, but this recipe for star shapes pull apart Nutella bread from Handimania is so darn good that you'll actually want want share it with your friends, just so they can experience it too.
2. Nutella and banana "sushi"
Okay, okay, so beyond being rolled around its ingredients in a rounded shape, this recipe doesn't actually have many features in common with real sushi. Did you really think we're crazy enough to make ourselves real sushi with Nutella? Don't answer that. Kid Spot's cute "sushi" idea involves slathering a tortilla wrap with hazlenut chocolate spread and rolling a banana inside, then cutting it into pieces, just like a sushi chef does.
3. Nutella S'mores pizza
Just like with the recipe above, we promised we haven't actually slathered Nutella on a piece of real pizza (but don't tempt us). Instead, follow Thistlewood Farms' guide for making a sweet version of pizza that replace sauce with deliciously rich Nutella spread and substitutes cheese and veggies with a gooey layer of perfectly toasted marshmallows!
4. Nutella hot chocolate
Just in case regular hot chocolate isn't quite rich and delicious enough for you, The Hungry Housewife has blow our minds completely by suggesting adding Nutella to our regular hot chocolate recipe. Perhaps you're not a huge fan of hot chocolates that are too rich but, if you ask us, the delicious hazelnut flavour balances the double chocolate taste so perfectly that we don't even mind.
5. Nutella swirled banana bread
Are you sensing a pattern yet? We're such big fans of Nutella that we'll incorporate it into just about any classic recipe for a rich, chocolatey variation that would make anyone's mouth water. Not even traditional banana bread is safe from our Nutella cravings! If you like banana bread and chocolate chip banana bread, then you simply must try this Nutella version by Pastry Affair!
6. Sweet & Spicy Bacon Coated with Nutella
Are you a huge fan of trying novelty foods that are totally trending right now, even though they almost sound a little too weird to be yummy? Please note here that we said almost! Nine times out of ten we're willing to try any novelty combination food recipe at least once. Well, let us tell you, we've never been so happy to have taken a food risk as we were the first time we tried chocolate covered bacon. Imagine our excitement, then, when we stumbled across this Nutella version by Bell'alimento! It's pure sweet-and-salty heaven.
7. Nutella donuts
Category is: gourmet takes on classic treats. Nutella, hands down, is the winner of this category! We're so thankful to Damn Delicious for this Nutella donut recipe that we're having trouble finishing this article in its entirety instead of abandoning it temporarily so we can run to the kitchen to bake these immediately.
8. Chocolate Nutella stuffed pancakes
If you're anything like us, there's a lot you would do for a delicious stack of sticky, sweet chocolate chip pancakes. Do you know what's even better than chocolate chip pancakes, though? We know, very few things are, but if you haven't tried Nutella filled pancakes then, in our opinion, you've never lived. Head on over to Munchkin Munchies to see how the magic is made.
9. Nutella freezer fudge
For some fudge flavours, we're pretty big fans of leaving the sugary sweet on the counter so it's gooey and delicious when we take a bit. When it comes to rich flavours like chocolate Nutella, however, then freezer fudge is the only way to go, if you ask us! The temparature change that happens with each bite makes the fudge positively melt in your mouth. Check it out in more detail on Damy Health.
10. Nutella sticky buns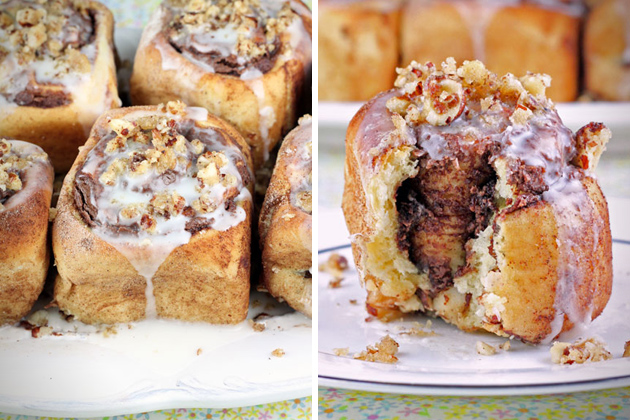 Just in case a warm, how cinnamon bun wasn't enough of a rich, decadent taste for you, Cinnamon Spice and Everything Nice has a recipe that really takes sweetness to the next level! These sticking buns are filled in the centre with delicious Nutella spread and, to be honest, now that we've had these, we'll probably never go back to the regular kind!
11. Nutella filled sugar donuts
Did you love the idea of the Nutella drizzled donuts you saw above, but you hesitated because your favourite kind of donut is actually the filled kind? Then you definitely need to follow Buns in My Oven's recipe for Nutella filled sugar donuts! You'll love the way a cascade of Nutella gushes out with each and every bite.
12. Nutella instant iced coffee
Were you slightly intrigued by the idea of the Nutella hot chocolate but you're not sure you'll make it through your entire day without a quick caffeine boost? We don't blame you! You can add some gourmet sweetness by making the coffee into a Nutella treat, just like Plateful did here!
13. Nutella stuffed chocolate chip cookies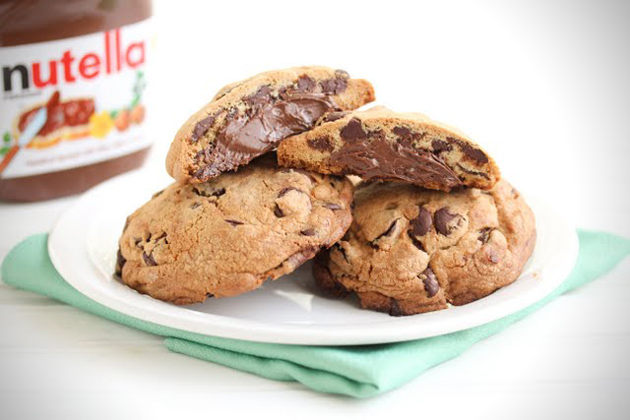 Have you really liked the ideas you've sseen so far but your mouth waters most at the idea of a simple, classic treat? Well, in case you're having a Nutella craving but you're not feeling quite adventurous enough for chocolate covered bacon, check out how Kirbie's Cravings made these delicious Nutella cookies.
14. Banana and Nutella stuffed French toast
There is so much going on in this sandwich that we practically have to take a moment to think about it in silence before we can fully conceptualize it! You're certainly in luck if you love French toast, but Just a Taste also suggests adding bananas and- you guessed it- Nutella.
15. Nutella pudding
When you think of the richest treat you've ever had, we'd be willing to bet that homemade treats that incorporate Nutella are the first thing that comes to mind. An extra sweet, slightly nutty undertone style makes the pudding smell just about as great as it tastes. Check out Minimaly Invasive!
Do you know someone who loves Nutella as much as we do and is always on the lookout for more ways to enjoy it? Share this post with them so they can try even more delicious treats!