DIY Modern Landscaping Ideas
Where we live, the season for yard work, which is one of our favourite home improvement things to do, is rather short. That's why we often spend the whole year searching for the projects we'd like to try; it makes us feel prepared and ready to go once the good weather arrives and we can actually get started! Right now, we're busy bookmarking all the different DIY modern landscaping ideas we're interested so we can get right down to business the second the yard has dried up and the ground is ready to be worked on.
1. Waving garden bed border
Does your yard have great space for garden beds but you're just not feeling convinced that their current straight line layout is quite as decorative as you'd like when it comes to your dream garden display? In that case, we'd absolutely suggest taking a look at this tutorial from Jenna Burger that teaches you how to give your garden beds a pretty waving border instead.
2. Wooden frame to hide your AC unit
Do you actually already have a gardenscape in your yard that you're quite happy with indeed but you can't help wishing that the AC unit you had to place right outside your house to cool it in the summer didn't look like such an eyesore in the middle, since that's not really the kind of "modern" atmosphere you were aiming for in your outdoor space? Then check out how Ugly Duckling House talks about hiding theirs in a wooden frame that they built themselves!
3. Teapot floral water fountain
Are you quite happy with the garden beds you already have built into your lawn and yard but you're absolutely open to the idea of adding an external display that will host more flowers and add a little extra to the outdoor space? Well, if fountains have ever interested you, then we think you might appreciate the way Hometalk outlines the steps for making this beautiful floral fountain using an old teapot!
4. DIY hose-holder with a built-in planter
Did you really like the idea of making a wooden unit that improves the look of your garden by hiding non-floral things that interrupt the view, but you don't have an external air conditioner to contend with? Then maybe you'll find more use for this version that not only houses your garden hose so it's not laying around all over the patio, but also gives you an extra planter for even more flowers! Get the fill details on DIY Candy.
5. Wood and concrete steps for a garden pathway
Do you actually have a garden that you're very pleased with indeed but that no walkway currently exists in for easily showing it off when you have guests? Then perhaps it's time to take on a small challenge and built one yourself! We're very impressed with how clearly this tutorial from Ohio Thoughts lays out the process for making a pathway and steps from concrete and wood.
6. Link a path to a lawn through the garden with a wooden walk
Maybe you actually have both a path and a garden, but there isn't really an easy transition between the two as far as getting to the cleared lawn to enjoy the grass is concerned? In that case, we'd be willing to bet that you'll find more of what you need in this tutorial from Funky Junk Interiors that outlines the steps for making a little wooden walkway that'll fit right where you're currently lacking one.
7. Build a stone retaining wall
Are you actually having some trouble figuring out how best to level the land around your house because you'd really like to add some flowers where people enter and exist, besides just the planters on the porch, but you're also hesitant to change things too much near the home's foundation? Then we have a feeling what you really need is a retainer wall! Take a better look at this tutorial from A Crafted Passion to see how they made a simple but professional looking one from flagstone.
8. How to clean up your dirty stone walk
Perhaps your house actually does have a path leading through the garden or yard but it's an old gravel one that has certainly seen better days? Well, there's no need to get rid of it, replace it entirely, or start from scratch! Instead, check out the techniques that Rain on A Tin Roof used to clean and improve theirs so it looks as good as new without too much effort.
9. Spiralled stone vegetable garden
Maybe you're just looking for a way to built a very small new plot or create a separate plot within your existing garden bed so that different plants can grow without their roots and varying needs or behaviours interfering with each other? In that case, we'd absolutely suggest taking a look at how Oh My Creative made their very own vegetable garden from stones, letting both vegetables and flowers flourish in their backyard without trouble.
10. How to build a berm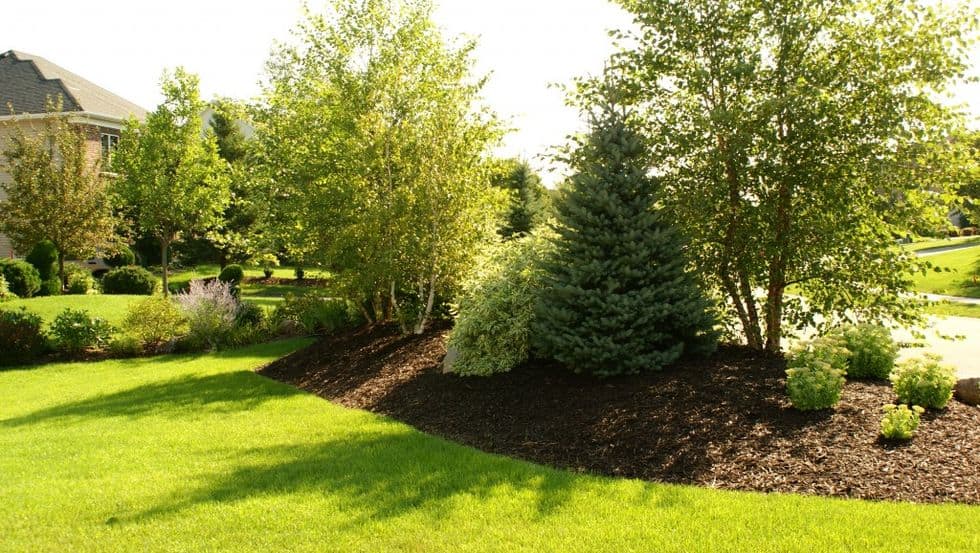 If you're a little bit newer to the whole gardening and landscaping game, then you might not already know that a raised garden plot or bed, like the kind you might see outside professionally landscaped buildings, is called a berm! You also might not realize that the visually appealing effect of a berm is simply to recreate yourself at home than you might think. See how it's done in more detail on SF Gate.
11. Modern sloped backyard makeover on a budget
Just in case you're working on a yard that has a slope or hill to it and you feel like you could use some guidance, here's an awesome tutorial that gives you some tips and trips for ensuring that your garden beds don't shift with the seasons! Check out how Simple Home Improvement and Decor Ideas created raised stone gardens that are nice and solid, but also with a bit of slope and wave to their design themselves, just for decorative appeal.
12. How to install a brand new paver walkway
When we started talking about the idea of installing and creating your very own garden or yard walkway, did you actually have something quite a bit larger and more professional looking in mind than the little and simpler solutions we've shown you so far? In that case, we think you'll find more of what you're looking for in this very thorough paver style walkway detailed with neat instructions thanks to Lowes.
13. DIY tiered herb garden boxes
Did you really love the idea of building separated or tiered garden boxes because you want to grow all kinds of different things without interference, but you're also more interested in herbs than just vegetables? Maybe you'd just rather work with wood than stone! Either way, we'd definitely encourage you to take a look at how Intructables outlines these lovely separated and tiered herb garden boxes.
14. DIY wooden modern planters
Just in case you're still thinking about how you'd like to build some wood framed extras that will help you extend the look of your garden past just wear your beds and lawn end, here's another idea that suits an outdoor garden space but also looks a little more modern! Kleinworth & Co. outlines the steps for making these easy planter boxes that will sit easily on walks, drives, porches, and more.
15. DIY lamp post garden upgrade
Do you live in the kind of house that has one of those old fashioned novelty light posts of its own in the lawn, but you can't help wishing it had a little more presentation around it, since you love its aesthetic and want it to be noticed? In that case, we think you simply must take a look at the way Sew At Home Mummy shows you how to build a garden bed around it and add a house number as well, upgrading the whole space and idea entirely.
Do you know another avid home crafter or DIY enthusiast who has been looking to do a bit of simple, modern landscaping in their yard lately but who you also know could use a little bit of guidance along the way? Share this post with them so they have all kinds of inspiration and tutorials to choose from!