DIY Crafting Table and Storage Solutions
As the avid, multi-faceted crafters we are, we've decided that DIY and crafting is a big enough part of our lives now that it's time to create our own space in the house for it. That's why we've been on the lookout lately for tutorials that will help us put together our own custom crafting table! We looked at different pre-made options in stores but none of them had quite as much storage as we were hoping for, so we've decided that the DIY route is the best way to go, as usual.
1. Modern DIY craft table with side shelves
If you're the kind of person who primary finds yourself making smaller projects and doesn't feel the need for any kind of sprawling table much bigger than the average home desk, then we might have already found the perfect tutorial for you right out the gates. Check out how Ana White made this modern looking crafting desk compete with useful shelves on the front and width of each side!
2. Huge quadruple seater craft table with shelves
Are you actually so deep into the crafting game that you often have more than one large project on the go at once, or maybe even other people there helping you work on things? Then we'd be willing to bet that you have need of way more shelving and space for more seats around the table! We'd suggest taking a look at how Infarrantly Creative made this quadruple seater crafting table that sits in the middle of the room so you can work all the way around it.
3. IKEA hack Kallax shelf craft table
Are you absolutely interested in having a 360 style crafting table with cubbies all the way around but you don't think you have the skills to build it from scratch? In that case, we think you might get along better with something like an IKEA hack project, where you built something new from multiple pieces of usefully laid out shelving or furniture! This awesome Kallax shelf crafting table hack outlined in simple steps on Family Handyman is the perfect example of what we mean.
4. One-hour saw horse crafting table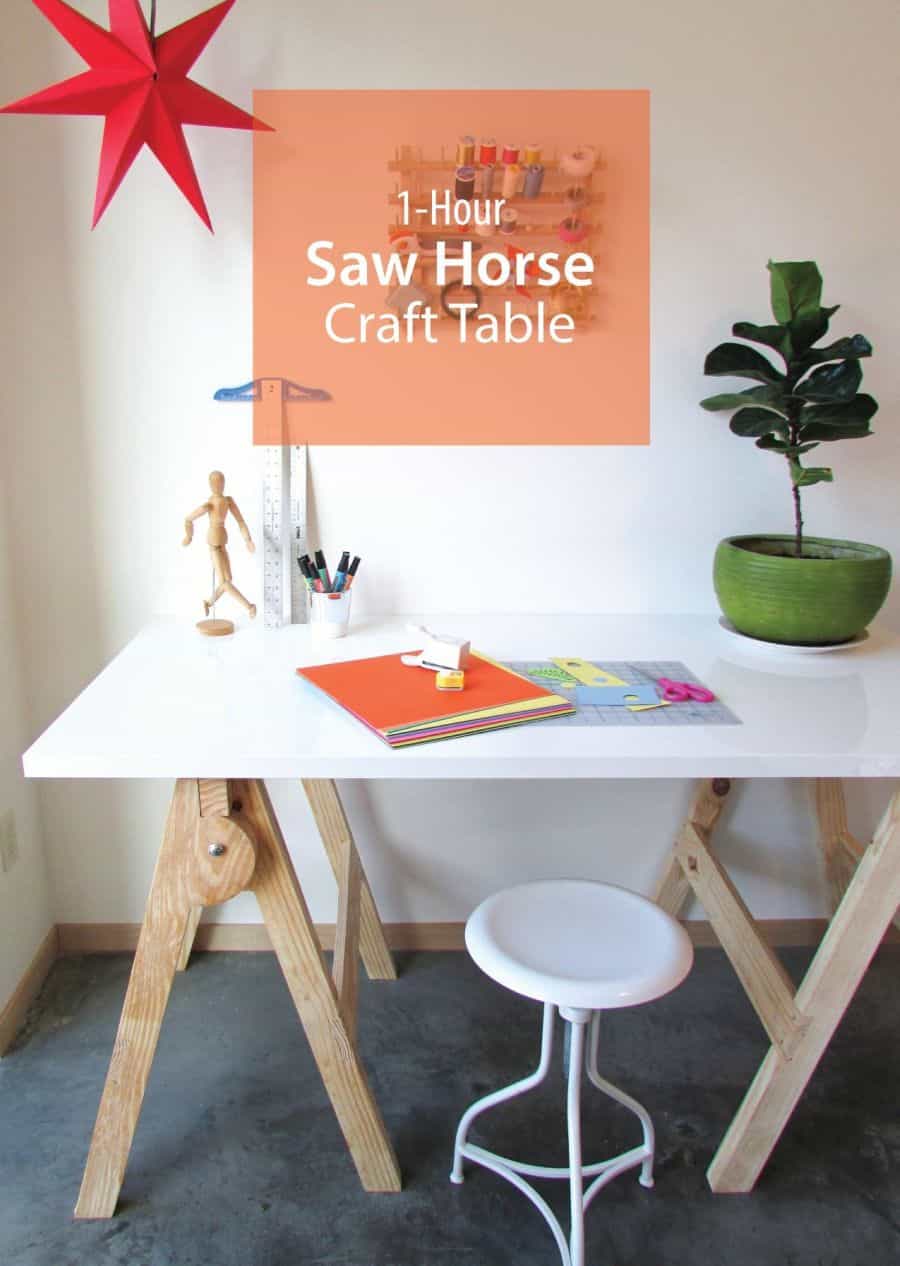 Maybe you've actually already got a lot of efficiently set up storage for your crafting or art supplies installed on the walls and cupboards elsewhere in your crafting room or office and now all you really need is a nice, flat surface to work on? Then we'd be willing to bet that you'll get along just fine with something a little more minimalist that'll take up a lot less space. This saw horse crafting table featured in detail on Homedit is a great option.
5. Chalkboard top crafting table with cubby shelves