DIY Crafting Table and Storage Solutions
As the avid, multi-faceted crafters we are, we've decided that DIY and crafting is a big enough part of our lives now that it's time to create our own space in the house for it. That's why we've been on the lookout lately for tutorials that will help us put together our own custom crafting table! We looked at different pre-made options in stores but none of them had quite as much storage as we were hoping for, so we've decided that the DIY route is the best way to go, as usual.
1. Modern DIY craft table with side shelves
If you're the kind of person who primary finds yourself making smaller projects and doesn't feel the need for any kind of sprawling table much bigger than the average home desk, then we might have already found the perfect tutorial for you right out the gates. Check out how Ana White made this modern looking crafting desk compete with useful shelves on the front and width of each side!
2. Huge quadruple seater craft table with shelves
Are you actually so deep into the crafting game that you often have more than one large project on the go at once, or maybe even other people there helping you work on things? Then we'd be willing to bet that you have need of way more shelving and space for more seats around the table! We'd suggest taking a look at how Infarrantly Creative made this quadruple seater crafting table that sits in the middle of the room so you can work all the way around it.
3. IKEA hack Kallax shelf craft table
Are you absolutely interested in having a 360 style crafting table with cubbies all the way around but you don't think you have the skills to build it from scratch? In that case, we think you might get along better with something like an IKEA hack project, where you built something new from multiple pieces of usefully laid out shelving or furniture! This awesome Kallax shelf crafting table hack outlined in simple steps on Family Handyman is the perfect example of what we mean.
4. One-hour saw horse crafting table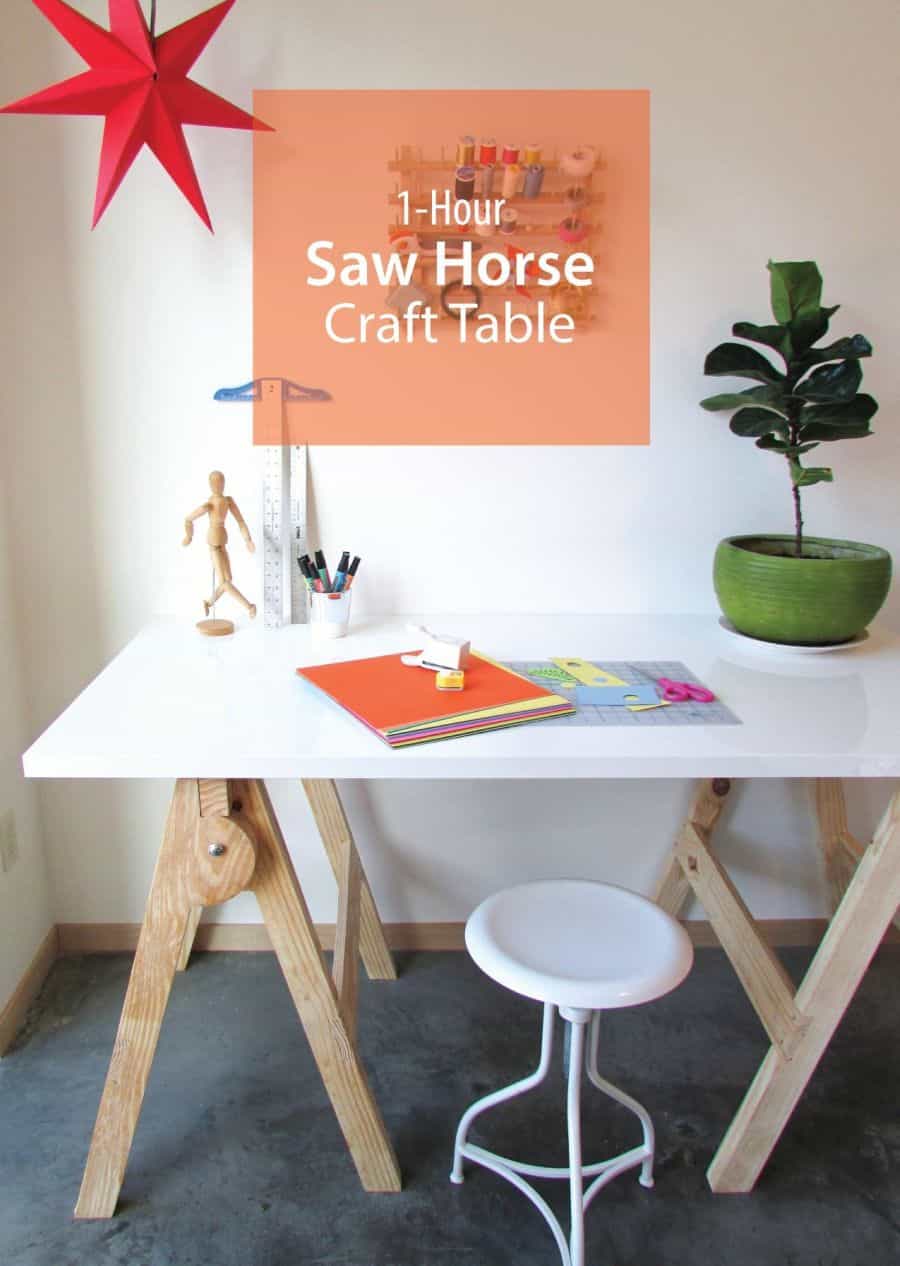 Maybe you've actually already got a lot of efficiently set up storage for your crafting or art supplies installed on the walls and cupboards elsewhere in your crafting room or office and now all you really need is a nice, flat surface to work on? Then we'd be willing to bet that you'll get along just fine with something a little more minimalist that'll take up a lot less space. This saw horse crafting table featured in detail on Homedit is a great option.
5. Chalkboard top crafting table with cubby shelves
Are you the kind of scattered crafter who is always working on several things at once, making lists, and trying to keep yourself organized in any way you can? In that case, we think you might have a little more luck with a crafting desk that not only gives you a good working surface and some storage, but also a spot to make notes! We can't get enough of this chalkboard desktop crafting table idea outlined in full detail on The Creative Imperative.
6. Tall counter height crafting table with basket storage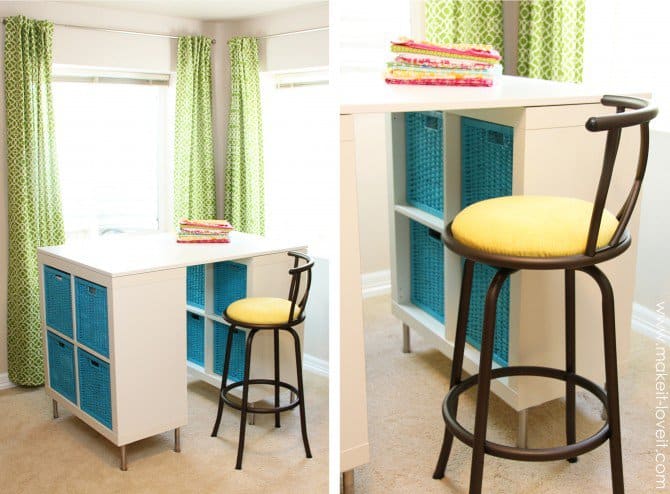 Are you the kind of person who tends to get up and move around a lot while you're crafting, rather than staying still in your seat for long periods of time? In that case, we can only imagine that you'd rather work at a higher desktop than a lower one, just to make getting up and down all the time a little easier! That's why we thought this counter height crafting table with side cubbies, outlined in full on Make It, Love It, was such a great idea.
7. IKEA Rast crafting dresser with full length drawers
Are you actually feeling totally intrigued by this whole concept of building a crafting desk out of creatively combined IKEA furniture but you're just not sure the cubby shelves of the Kallax design are the best way to store your things? Then we'd suggesting taking a look at how Addison Meadows Lane created a similar table using the Rast dresser instead, giving the desk proper drawers!
8. Modular craft table with double cubby sides
Have you really found yourself intrigued by the square 360 shape of the modular crafting tables that sit in the middle of the room, but you're just not sure you need one quite as big as the designs we've shown you here? Then perhaps you'll have better luck with this slightly smaller version from Ana White that gives you access to a square tabletop from all sides and cubby storage down two, only without taking up quite as much space as the others.
9. Craft table double ended with bookshelves
Just in case you loved the layout of the design we showed you above but the small square cubbies simply won't work to store the supplies you work with most often, here's an alternative that uses bookshelves instead! This way, you can still access all sides with storage, but your available space is longer. You'll find full instructions on Organize & Decorate Everything.
10. Crafting, sewing, and, fabric cutting table made from IKEA Expedit shelves
Rather than just being a DIY enthusiast, are you actually in the process of becoming a full seamstress who takes commissions and needs a near-professional space in which to sew things? In that case, we think you simply must take a look at the way IKEA Hackers outlines the steps for making this extremely useful, spacious, and storage laden crafting, sewing, and fabric cutting combination table that's actually a lot easier to do than it looks.
11. Four-station jumbo crafting desk with drawers
Are you actually still finding yourself searching for precisely the kind of large 360 crafting desk we've been talking about so far, but you're not concerned with keeping the size conservative, since you have the space to work with, and you'd rather make sure it has actual drawers? In that case, we're pretty sure this version outlined step by DIY step on Ana White might be just the kind of thing you're looking for!
12. Baskets and shelves crafting table for under $75
Just in case you're looking for something a little closer to the writing desk sized tables you've seen so far but are also interested in keeping things affordable and adding a bit more creative storage, here's an awesome design that Mommy Makes Things shows you how to keep under $75! Shelves and baskets play a huge role in keeping everything organized here.
13. Standing-height craft table
Do you find that you really do spend a lot of your crafting time standing in order to reach and move properly while you work, so you're looking for a design that's even a little higher than the tall one we showed you before? In that case, we'd suggest looking at this standing-height alternative design instead! Find out how it's made in full on Yes Spaces with Barbara Miller.
14. DIY crafting table with cubbies and wheels
Are you fortunate enough to have a rather large room indeed to put your crafting things in but, even though you'd also like a nice, large table to work on and store things in, you're just not sure that you want to permanently dedicate the whole centre of that space to just crafting at all times? In that case, we think you'll really get a kick out of the way Country Living Downunder made this version of the 360 crafting table that has wheels!
15. Little IKEA hack craft desk for a small space
Are you still totally loving the idea of making a customized IKEA hack crafting desk for your space but you're actually working with a much more limited area and hoping to come across a design that's a little more space efficient? In that case, we're pretty sure this crafting table with sliding drawers down each side is precisely the kind of thing you're looking for. See how you can make your own version on Feeling Nifty!
Do you know another avid crafter or DIY enthusiast who has been talking for a long time about making their very own crafting table for their creative room but who you also know could use a little bit of guidance along the way? Share this post with them so they have all kinds of inspiration and options to choose from.