25 Microgreens Recipes – How To Take Healthy Mircogreens Eating To The Next Level
Microgreens are tiny, edible greens that make some of the most beautiful and delightful meals. Although we see them used mostly in fine dining, you can create some of your very own dishes using these immature bites right at home. And they're packed with fun flavors! Take a peek at these 25 microgreens recipes and take your healthy eating to the next level.
List of 25 Healthy Cooking Recipes with Microgreens
1. Parm & Ricotta Cheese Pizza with Bacon, Pistachios & Microgreens
What We LOVE Mostmakes a pizza full of fun ingredients. But, it's top with a sprinkling of microgreens that adds an extra bite but also a pop of color too!
2. Microgreens Salad with Garlic Mustard Vinaigrette

Over atThe Crankin' Kitchenyou'll find a delightful recipe for a light salad dish that works perfectly for lunchtime! And it's topped off with a vinaigrette you'll love too!
3. Mushroom Burger with Fried Egg and Microgreens Recipes
Even you're burgers could use a bit of microgreens. Check out this bite fromApartment Homesteadingthat's complete with a fried egg too.
4. Fresh Tomato and Mozzarella Salad with Microgreens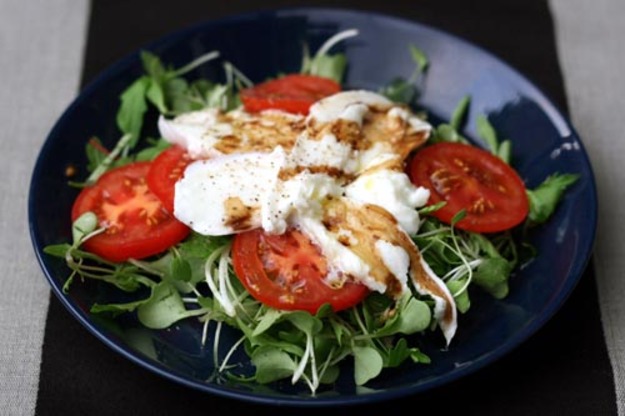 Serious Eatswhipped up a tomato and mozzarella salad. This is one of these dishes that is sure to be a hit among the family. But it's punched up a hit with a bout of microgreens hidden underneath.
5. Roast Beef Tea Sandwiches with Micro Arugula
These little tea sandwich dishes are perfect for serving up at brunch time or at your next bridal or baby shower celebration. When you want something plated pretty and delicious – microgreens are the perfect garnish. (via)
6. Roasted Acorn Squash, Microgreens and Quinoa Salad
Here's a salad that speaks to our fall-loving flavors. Check out this squash and quinoa creation over atChef de Home.
7. Egg White Omelet with Avocado, Goat Cheese & Microgreens
The Merrythoughtknows that even your breakfast could use a punch of microgreens. Your omelette just got more colorful.
8. Tomato Tartare and Microgreens with Shallot Vinaigrette
Emeraldshows us how to make this fancy little tomato tartare. It's a great treat for dinner parties when you're trying to impress your guests.
9. Leftover Roast Chicken Sandwich with Microgreens
What should you do with your leftover roasted chicken from dinner last night? Turn them into these scrumptious sandwiches fromHungry Wanderlust!
10. Three-Cheese Arugula Microgreens and Spinach Pesto
Here's a little bite that you'll want to try out this weekend. Check outDash and Bellafor all the details behind this meal starter.
11. Peach and Goat Cheese Salad with Kale Microgreens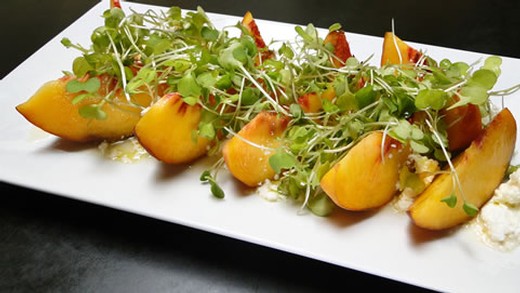 Peach and goat cheese salad, it sounds delicious enough to dive right into, doesn't it?Westerlyhas all the details and why you should be topping it off with microgreens.
12. Roasted Root Veggie Fajitas
With Food and Lovemade some roasted veggie fajitas that look absolutely divine. Just don't forget to end the recipe with some microgreens for a pop of color, texture and fun flavor.
13. Scallops, Farro, Microgreens in Lemon Basil Sauce
Here's a dinner that's punched up to a new level with its use of microgreens as well. If you're a fan of scallops, dive into this recipe atTaste with the Eyes.
14. Microgreens with Strawberry-Lime Vinaigrette
Vegetarian Timesmixed up this fun salad that's perfect for spring and summertime. Lighten the mood with this fruit-filled, green plate.
15. Scallops and Black Beluga Caviar Lentils with Microgreens
Nancy's Cravingshas a plate that was made for you to conquer and whip up for your next dinner party with friends. Hop on over now and grab all the details!
16. Crispy Hashbrowns, Eggs, Bacon & Microgreens
We're absolutely loving this breakfast idea fromCooking on the Weekend. Fried eggs, hashbrowns and more come together to make something satisfying and healthy too!
17. Charred Rainbow Beet & Pistachio Salad
Here's a fun salad to learn making and enjoy with the beau this weekend. Snag the recipe atSunday Morning Banana Pancakesand serve it up with a glass of wine.
18. Microgreens Fruit Salad
Even your fruit salad can be taken to a new level with a bed of microgreens. Learn how over atA Harmony Healing.
19. Mini Zucchini Tarts with Microgreens
Shiny Happy Brightmade some mini zucchini tarts that will make all the dinner party guests smile. Use these at any kind of celebration – from showers to brunches!
20. Seared Tuna Rolls with Microgreens
These too can be a great appetizer to learn how to create.Chef Morgangives us all the easy-to-handle directions.
21. Microgreens Salad with Shallots, Cucumber and Radishes
The Intentional Minimalistwhipped up another light salad that can act as a great meal starter or even a healthy lunch at work. Jump on over and see if you've got the ingredients to make it happen.
22. Grilled Cheese with Ham, Brie, Microgreens, Apple & Dijon
This grilled cheese is making us drool. Even the most indulgent sandwiches could use a fresh bite of microgreens, rightFeed Feed?
23. Lemon and Pea Tendril Risotto with Saffron & Microgreens
Blue Apronshows us how to make a delicious risotto. But this one is a bit more special than most since there are some microgreens coming out to play.
24. End of Summer Salad
A House in the Hillsmade this "end of summer" salad that's, well, perfect for the summer! Those blackberries and microgreens not only look beautiful together but taste great too!
25. Mini Strawberry Chocolate Tarts with Goat Cheese and Basil Microgreens
And finally, you'd be surprised that microgreens can be used in our desserts too. Check out this idea fromVegetarian Ventures.