48 Messy Bun Ideas For All Kinds of Occasions
Whether you've got long or short hair, a messy bun is a go-to look for any day of the week. Whether you're dressing up for a wedding weekend or lounging around with a new crush, there are lots of ways to style this easy undo. Let's take a peek at 50 messy bun ideas that rock all kinds of occasions and show off its versatility a bit.
1. With Dutch Braids
Missy Sue makes an adorable messy bun, but it's embellished a bit. Learn how to create some Dutch braids alongside it!
2. Looped
Over at Pop Haircuts, you'll find out how to loop-de-loop your bun for extra fun and texture. This one can be casual or be dressed up a bit as well.
3. Not Average
Here's a quick little tutorial that will help you create a messy bun with some spunk. It's a bit different than what we're used to and fun to embellish! (via)
4. Double Braids
Pop Haircuts has a great tutorial featuring two braids as the accent to a classic, messy bun. This look too can be dressed up or made to be more casual.
5. Casual

Here's a simple and sweet messy bun tutorial that works for everyone. It's casual and perfect for any day of the week! (via)
6. Sideswept
Pretty Designs featured this perfectly sweet bun tutorial and we're in love. It's a sideswept wonder that isn't too polite but still perfect for something a bit more special.
7. Twist & Tuck
The Beauty Department has another easy undo that lends its hand to the "messy bun" umbrella. Check out the quick and easy steps now!
8. New Mom
Over Aisle Style you'll find a how-to for new moms all around. Gather up your hair and get it out of your face for a day with the kiddos.
9. Double Dutch
Lauren Conrad always has great beauty tutorials and this one is no exception. Take a peek at this messy bun with double dutch braid accents!
10. One Minute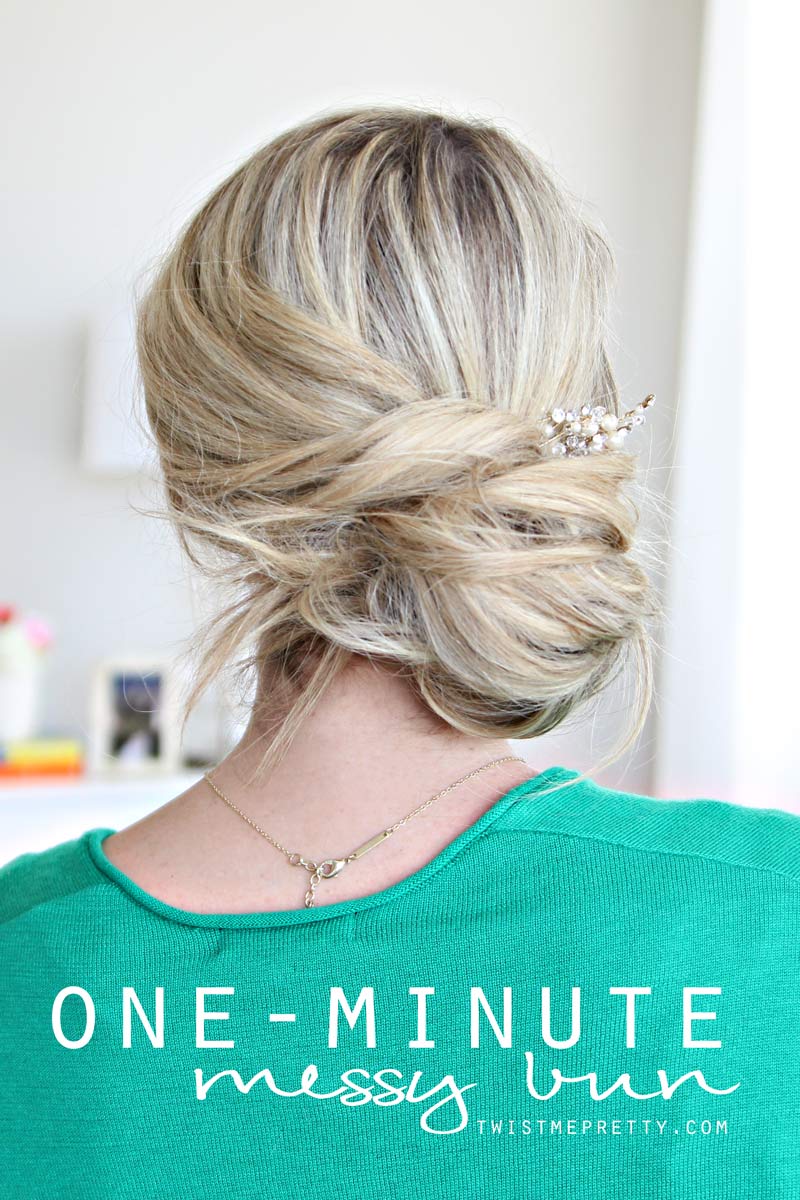 Twist Me Pretty has a pretty special tutorial for you to take a look at as well. Learn how to pin up your hair into a classic messy bun in just one minute!
11. Simple
If you're looking for more of a top knot look, then run on over to Treasures & Travels. It's a messier version than the ballet bun we're all used to.
12. Tuxedo
MW has another messy bun that can be easily worn to a fancy celebration or toned down for a casual date night. This tuxedo style is one of our favorites!
13. Messiest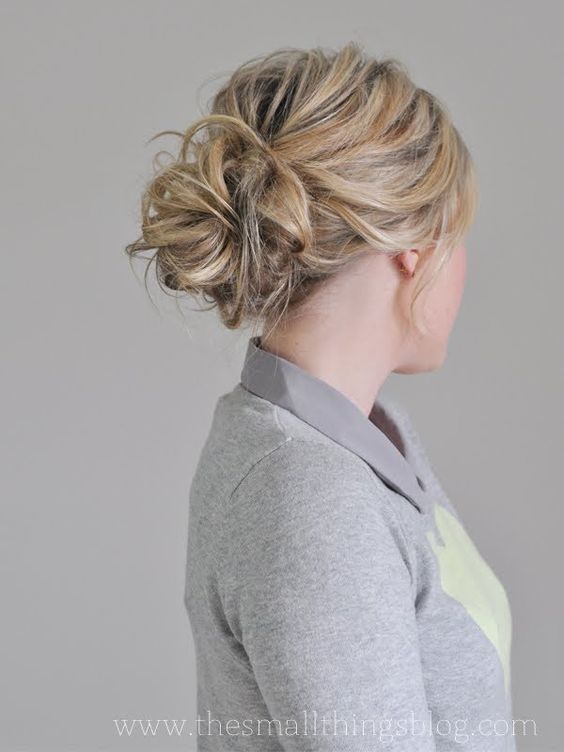 Check out this YouTube video and get to work with experimenting. Learn how to create the messiest of messy buns this afternoon!
14. Flipped
Sitting in our Tree shows us how to create a messy bun with long hair – and you'll be flipping some of it up top! Check out this fun tutorial now!
15. Fishtail
Add some fun texture to your look with this fishtail addition. Start out with the fun braid and then learn how to twist it into a messy bun! (via)
16. Shoulder-Length
Bye Bye Beehive has some fun stuff to take a look at too. If you have shoulder-length hair, grab the easy directions after the link.
17. Doubled
Visit Bye Bye Beehive just one more time and snag this tutorial too. It's just another take on the classic messy bun and we're loving it!
18. Sexy
B.A.S has the directions on creating a sexy, loose bun for any occasion. From weddings to date night, take a chance on this romantic style.
19. Fancy
For something fancier, but with that same messy, offbeat effect, try out this tutorial. Add some waves or curls for that more polished look. (via)
20. Music Festival
The Freckled Fox has a messy bun that will be rocking the next music festival you attend. Add some florals and BAM, perfect boho vibes.
21. Study Break
Over at The First Lime, you'll find this sweet and simple tutorial. Check it out and experiment a bit with your hair if you aren't familiar with these quick updos.
22. Inspired
Missy Sue has a unique messy bun to take a peek at. It's stylish and has a personality all on its own!
23. Uber
For those with voluminous hair, check out this fun "uber" messy bun from Mr. Kate. We are loving the fluff and the funk with this one!
24. Low Braid
Okay has a tutorial that gives you a two-in-one look. Braids and a messy bun .. and you get to gaze at this beauty shade of pink hair while you're at it.
25. Fat
Here's another great tutorial that you can learn in a jiffy. Check out a this messy bun how-to after the jump! (via)
26. Quick
Visit Love, Shelbey and check out her tutorial too. It's quick, it's easy and you can accent it with a headbands or sparkling clip!
27. Bouffant
The Freckled Fox featured this bouffant look and it may be our absolutely favorite of the bunch. You can even wear this one to work!
28. Crown Braid
MW has a crown bun that you'll need to check out. It's got height and it can be styled for any occasion, formal or chill!
29. Date Night
If you're looking for the perfect date night style, visit Sea of Shoes for this particular messy bun tutorial. It really is a great way to feel comfortable but sexy.
30. Boho
We've got a bit of a boho look to learn from here. Dress it up, dress it down or embellish it a bit! (via)
31. With Headband
Loblollies has a tutorial that's perfectly charming as well. With a fun little headband, this look will be great on all women and all different styles.
32. Swirled
Here's a "swirled" take on the classic messy bun. It's a bit more interesting than what we're all used to seeing and even more lovely. (via)
33. Ultimate
Latest Hairstyles gives us the "ultimate" messy bun tutorial and we're, of course, in love with this one too. It's chic but it's still fresh and a bit offbeat.
34. Starburst
MW has another unique take on the classic messy bun. Create a starburst effect right into your hair with the help of this video tutorial.
35. Reverse
Check out this reverse braid over at DIYS. We love the additional texture this adds to your overall look.
36. Sock
The Perfect Pear features a sock bun tutorial and we had to feature it too! This is a must-know for every lady's hair repertoire.
37. 2-Minute
Raw Made shows us how to get a messy bun done in two minutes. And this time it has a bubble effect which adds a bit more charm and polish.
38. Voluminous
For an extra voluminous bun, you'll want to check out this YouTube video. Follow along and play along in the mirror.
39. Scarf
Add a scarf to the mix with the help of Brit + Co. A pop of color or print can really top off your outfit for the day.
40. Yarn
A Beautiful Mess gives us another fun accessory to play around with in our buns. Add some yarn to the mix and make it a bit more artistic.
41. Roll
Tuck and roll buns are a lot of fun and you can add accessories too. Refinery 29 has all the info and we're loving the personalization here.
42. Backbrushed
Wikihow even has a tutorial we can get behind. Check out how to make a messy bun with their help – and the accessories!
43. Curled
How does a sexy, loose bun sound to you? This romantic look is perfect for weddings, date nights or even a day at the office! Check it out at Brunch at Saks.
44. Donut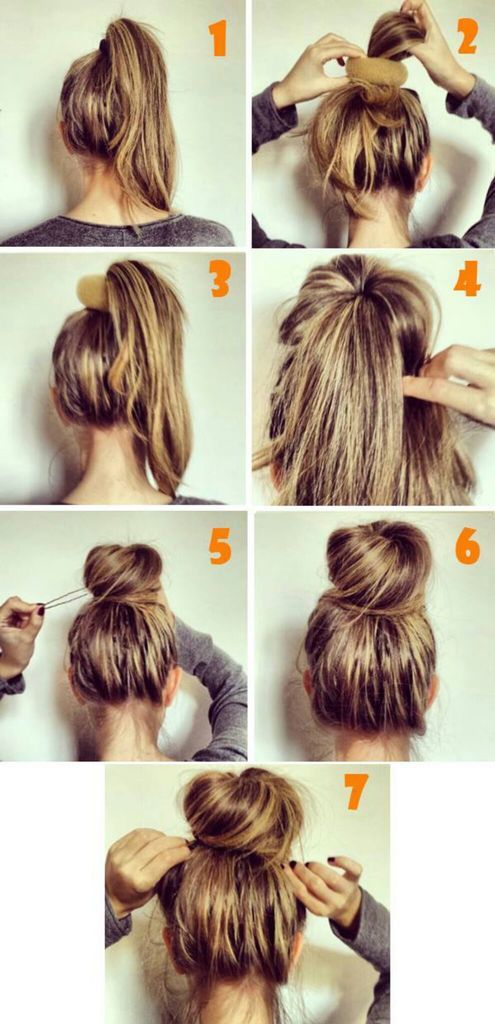 Learn how to use one of those hair donuts with the help of this pictorial. Then, rough it up a bit for that messy look we crave. (via)
45. Textured
Rock My Wedding has this funky, textured bun on display and we're swooning for it too. We love the embellishment and the sexy final product.
46. Cover
More shows off how to upgrade your tuck and cover with the addition of a low messy bun. It's princess-esque but for the everyday girl.
47. Low Low
If you're looking for something a bit lower, then visit The Fashion is Mine. Score all the details on this do in an instant.
48. Wrapped
MW made this 2-minute elegant bun and it's just another swoon-able style we're loving. Wear it as a bride or to the grocery store!