DIY Ways to Store Your Headphones
Regardless of what type of headphones you wear, they're not the easiest things to keep stored properly. Big headphones that cover your ears and go over your head are bulky and might become damaged if you throw them down carelessly, while earbuds headphones with long cords can become knotted, bending the delicate cords inside. Instead of letting your technology get wrecked, use your DIY skills to make yourself a storage solution!
Check out these 15 unique headphone storage ideas that will help you keep things in good condition through crafting.
1. Linked binder clips
Life Hacker suggests linking the silver arms of two binder clips in order to make a very quick DIY stand for a pair of large headphones. Fasten one clip to the desk and link the silver clamp arms through those ones so the black part sits steadily at an angle. The arms should hold against one another so that the headphones can hang comfortably!
2. Empty sewing spool
Ette Studios reminds you that the long tailing cord of a set of earbud headphones coils up neatly and safely just like a length of thread would. With that in mind, grab an empty spool (you could even use a vintage one for some extra style, if you can find one), thread the end through the centre so the earbuds rest contained on the top of the spool, and wrap the cord around the whole thing like a piece of thread. This idea is also nice and compact!
3. Painted mint tins
Would you rather keep your earbuds contained so they're out of the way completely and not unraveling in your pocket or purse if the end comes loose? A small, emptied mint tin is a great storage alternative! You might even want to grab some all surface paint and doodle or stencil a simple headphone image onto the top, just like DIY Not did here.
4. Wood and bungee cord organizer
Brit + Co. has a headphone storage solution that's actually useful for all of your other corded electronics as well, including hone and laptop chargers! Fasten an elastic bungee cord to each of a rectangular length of wood. Fasten the wooden base to the wall like a coat rack and use the bungee cord to slide your headphones and other cords over and around so they hang on it, but are held in place by its elasticity.
5. Glued clothespins
Oh So Organized has an earbud storage solution that will probably cost you under a dollar, if anything! Find two wooden clothes pins and glue them together with their handles and heads facing opposite ways to each other. Clip the earbuds at the neck into one of the clothes pins and then wrap the cord around the space in both tails, clipping the end off in the other clothespin to keep it all in place. If you're feeling fancy, add some dots or another pattern along the backs of the clothespins in sharpie or paint!
6. Cut credit card earbud holder
Apartment Therapy's visa card embroidery floss card idea can take care of two things at once for you! You'll repurpose an old card that you're no longer using so that the plastic doesn't get thrown away, but you'll also create a compact, tangle free way to keep your earbuds contained. Check out the tutorial to see where convenient cuts are made in order to keep the buds and the ends from unraveling and getting tangled.
7. Repurposed tape dispenser
Life Hacker has a quirky solution that you might not have thought of until now, and it's another easy upcycle as well! Instead of throwing out the empty dispenser next time you finish a roll of tape, hang onto it for storing your earbuds. The rounded part where the tape used to wrap is the part where your cord will wrap now instead!
8. Crochet "snitch" headphone ball
Are you an avid crochet enthusiast who will stitch yourself a DIY solution at any chance you can get? Are you also a passionate Harry Potter fan? Then we think we've found the absolute perfect project for you! Asian Freckles
teaches you how to crochet an adorable little golden snitch to keep your earbuds contained in the coolest way.
9. Lego Technics headphone stand
Were you obsessed with Lego, Lego Technics, and other similar toys when you were young? Have you always loved building unique things and solving problems in a technical way? Take a leaf out of Brickshelf's book and dig out your old Lego Technics toys to build yourself a standing storage unit that will your large headphones up off the ground and even make sure the cord doesn't get wrapped around things.
10. Headphone Q-Tip case
Enchanted Yankee suggests using an empty travel Q-Tip case to keep your earbuds contained and untangled. we love the little headphone stencil they've painted on the top of the case, just to make sure people know what it's for so it doesn't get thrown out!
11. Duct tape earbud case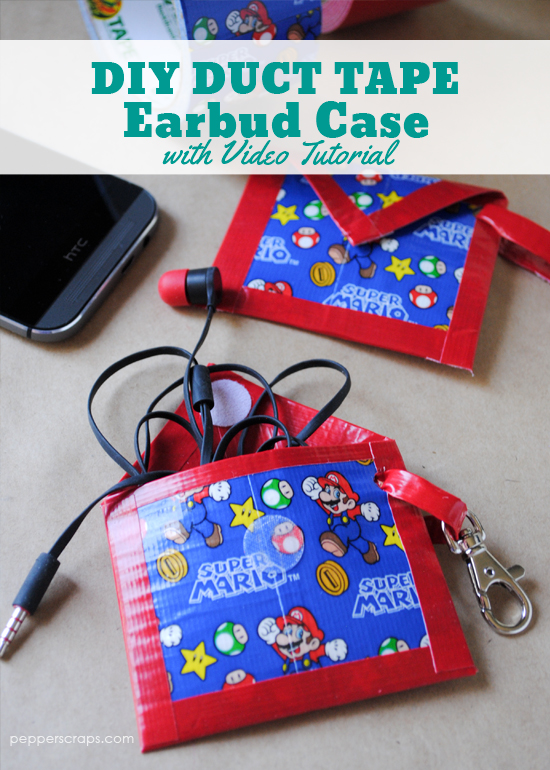 Do you love creating new things with duct tape, one of the DIY world's most diverse tools? We're completely crazy about this hilarious Super Mario themed duct tape earbud pouch. It's got a Velcro flap to make sure things stay where they should and a keyring hand so you can attach the pouch to your lanyard and never lose your headphones! Find out how to make it in detail on Pepper Scraps!
12. Folding snap earbud case
Would you rather something chic, simple, and effective than fancy or novelty? This snapping leather wrap idea from Designer Trapped is exactly what you need! It'll keep things contained without taking up a lot of space in your bag.
13. Key chain mint case holder
Make It, Love Itnsuggests reusing a rounded mint case to store your earbuds, and we're pretty big fans of the idea! Their tutorial shows you how to attach a keyring so you can clip it to your purse, as well as how to replace the mint label with a cute patterned sticker or some scrapbook paper.
14. Circle zip earbud pouch
Are you a pretty decent sewing enthusiast with the knowledge to handle zippers and small loops? This little earbud storage pouch is basically the perfect tangle solution providing you can do all of the things required to make it! Choose any cute colour or graphic pattern you'd like when you make yours, then visit Dog Under My Desk for the pattern.
15. Wine cork earbud organizer
First for Women has one of the simplest earbud solutions we've ever seen, and we're so happy to have learned about it! All you need is a single wine cork. Cut a hole in the bottom of the cork to hold the plug end in place after you've carefully wrapped the cord all the way around the cork, crossing over neck of the buds to keep them from unraveling too.
Have you made yourself another DIY headphone storage solution that you don't see here but that you're very proud of? Tell us about how you did it or link us to pictures in the comments section!