DIY Messy Buns That Only Take Minutes
Messy buns have been stylish for many years now, but they're always evolving. The accessories and techniques get cuter by the day! Getting the perfect balance between messy and cute, however, isn't always easy. Check out these tutorials for getting the perfect style of messy bun for your look in no time!
1. Reverse braid messy bun

Lulu's shows you how to create an adorable reverse Dutch braid leading upwards into a messy bun that contrasts nicely!
2. Back brushed messy bun
Back brushing is a great technique for giving your messy bun some volume and thickness! WikiHow shows you how to back brush the hair without letting things get too out of hand.
3. Dutch braid and low messy bun
Missy Sue shows you how to create a look that is whimsical in its messiness! Braids and buns are a perfect pairing.
4. Three step messy bun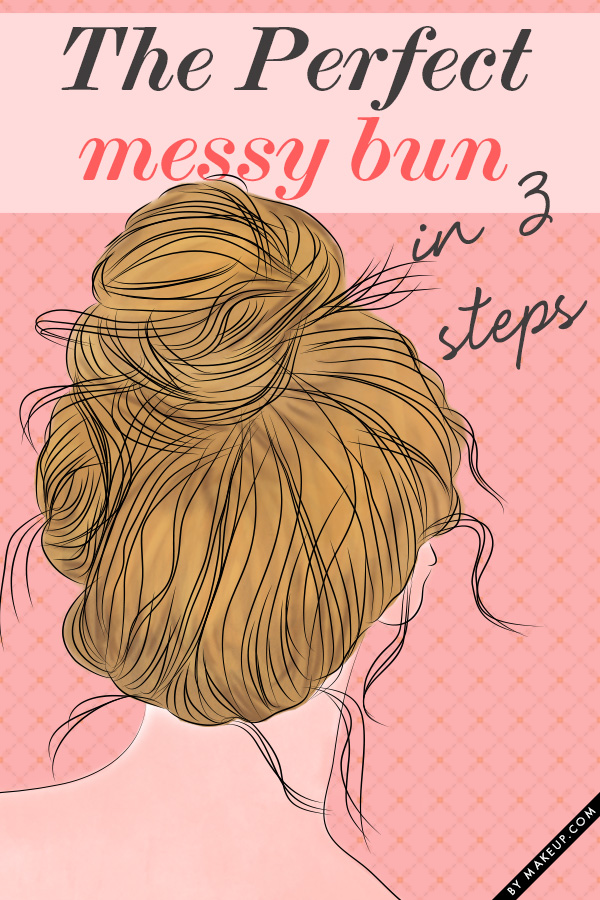 Are you more of a step by step learner than a visual person? Check out Makeup's tutorial that breaks the process down into three simply explained steps.
5. Bouffant bun
The Freckled Fox shows you how to make a slightly messy bun with a classic bouffant at the front for balance and volume. This style is perfect for casual or formal dress!
6. Wrapped messy bun
Makeup Wearables shows you how to create a messy bun by wrapping small sections of hair around your ponytail until all the ends are caught up. The result is clean but textured!
7. Messy top knot
A high messy bun with pieces left hanging blends a vintage look and a modern style perfectly! Three Sweet Peas shows you how it's done.
8. Tucked up messy bun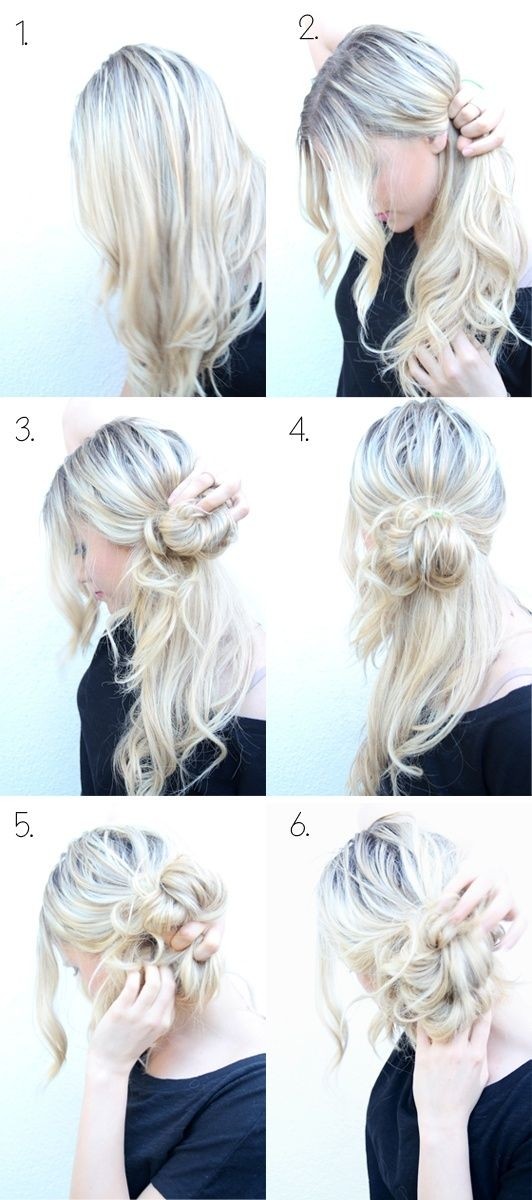 Pophaircuts created this messy bun look by pinching the hair and tucking it up and underneath in sections. The technique is easy as long as you've got enough bobby pins!
9. Knotted messy bun
Get a slightly alternative messy look by trying Marie Claire's knotted technique! Tying the hair around itself repeatedly gives you pretty, messy loops.
10. Looped messy bun
Bye Bye Beehive's technique of looping the hair through an elastic and letting the ends stick out is perfect for medium or shoulder length hair!
11. Multiple loops messy bun
If you hair is a little longer, try Bye Bye Beehive's technique of looping the hair multiple times instead! The result will be a little bigger and bolder.
12. Curled messy bun
Brunch at Saks shows you how to give your bun a little more body by curling your hair first! The voluminous curls will give you more to build around when you start wrapping and tucking sections.
13. Messy donut bun
We Heart It walks you through the process of creating a messy bun look around a foam hair donut. The result is big, bold, and beautiful!
14. Loosely tied messy bun
The Freckled Fox's loose messy bun idea is perfect for people with long, thick hair. Wrap an elastic around the bun once or twice and let it pinch where it wants and stick out wherever it pleases. A couple pins and accessories will help you keep stray hairs in!
15. Reverse side braid messy bun
This idea is stylish, elaborate, and adorable… but still pretty easy! Missy Sue shoes you how to make your swooping sideways braid end in a messy, high side bun.
Do you have a favourite messy bun technique that you don't see here? Tell us how you do it in the comments!