30 Little Boy Haircuts and Hairstyles That Are Anything But Boring
Stay away from those bowl cuts and say hello to suave, stylish young men. These 30 little boy haircuts and hairstyles are anything but boring.
Actually, they're not only fitting for your mini dude but they make him feel like a cooler, more confident version of himself. We suggest you let your little boy check out the pics on his own, in case they find something they really like.
Cutest Little Boy Haircuts
Scroll through and see if any of these trendy, fun hairdos fit your favorite man of the house. We have 30 of them, so plenty of little boy hairstyles to pick from.
1. Basic Crew Cut
Shwin & Shwinshows us how to create basic crew cut for our littlest men. This is a classic, clean style that is always on trend and chic. Your tiny guy will still look like your boy but one with a suave edge.
2. Skater-Inspired Boys Haircuts
Haircut Inspiration gave us this skater-inspired cut that we're loving. Longer bangs and top with some shaved sides, your little guy will be the more stylish dude at preschool with this cut. It's easy to keep up with too, so no worries mom and dad.
3. Uneven Fringes
These uneven fringes – with shortened sides – is a fun look to try out as well. You can style it with gel or leave it loose depending on the day. Check out more like this over atA to Z Hairstyles.
4. Side Swept Bangs
If your little boy wants to go with some longer locks than this longer, tousled look from Macho Hairstyles may be what he wants. We love this easy, breezy look and it looks great both dressed up and dressed down. You just may have to do some extra trimming on those bangs between haircuts.
5. The Johnny Bravo Boys Haircuts
Longer on the top and styled with some product, we're swooning for this Johnny Bravo-inspired hairstyle. It's super on trend right now and we found it featured on Macho Hairstyles. Just think of how great all of this fashionable outfits will look when topped off with this hairdo.
6. Hipster Style Haircut
Here's a hipster style that we're loving and grabbed from PureWow. Again this is a longer on top and shorter on the sides style, except there's even more on top with this one. Allow those bangs to grow out a bit and tousle them for an easy, free-spirited style.
7. Pompadour Haircuts
If you're inspired by vintage looks, then the pompadour may be what you want your little boy to start rocking. Or maybe he's inspired by those old, T-bird dudes. If so, check out this beauty from Bodh Salon!
8. Spiked little boy haircuts
Little boys tend to love those spiked haircuts as well. We found this easy do over at Haircut Inspiration and found it to be an easy to keep up with look that your kiddos will love. And it can even be styled down when he wants a more casual and less-fuss hair day.
9. Medium-Length with Bangs
He could always grow his locks out a bit if he likes this style from Men's Stylists. It's verging on medium length and has that easy, tousled look that's really in style right now. It's perfect for kiddos with more voluminous and thicker tresses.
10. Slicked Back Vintage
Slick his hair back! This is another vintage-inspired look that can be styled differently on a daily basis but we have a feeling your little guy would love to rock it. Check out Beauty Reflections for similar inspiration!
11. Faux Hawk
If your guy is a little edgy and wants to take things to a new level in the hair department, let him go with a faux hawk. You can learn how to do it yourself wit this YouTube video. But don't worry, when styled right you can still let those spikes down for a respectful and dressed-up look for events.
12. Long & Layered
Men's Hairstyle Tipsgives us some great inspiration concerning longer, boy locks as well. Just look at these pretty blonde tresses for example. Layer up his hair for an edgy, in-style hairdo.
13. The Samurai
The "Samurai" or what we all like to refer to as the "man bun" is all the rage right now as well. And your little boy can rock it too, just like this suave dude did! We love this inspiration we found on Instagram especially with those curls!
14. Curly Middle
If your guy has some curly locks to play with, then showcase them. Go with a longer, curly middle and give him some volume. Thanks to Pinterest for the inspiration, where you can find tons more if you want to start looking!
15. Faded with Side Part
Look at this beauty over at A to Z Hairstyles! It's a classic, faded hairstyle with a hard part that will keep his style in line day in and day out. Take the leap if you want even more ideas before you and him hit the salon.
BONUS: 15 More Boys Haircuts You'll Love
Looking for even more inspiration? Well, we have a few ready for you right up next. Just a few to give you more content to show your barber.
16. Poufy
This one gives a bit more length on the sides and plenty of length on top to arrange the hair however you want it. The style may take a bit to set in, especially the twisted strands in the front, but we're sure it will look just fine in just a few days. We love this pic from @ramses.styles.
17. Stylish Top
When you allow the hair on top of the head to grow out a bit, the styling possibilities grow, and you can arrange it in quite a few ways. What do you think of these options from @instagoodhairstyleguideformens?
18. Spiky
This cute little guy has a haircut we just love. It's super easy to do, even on your own, and then you can arrange it up into a mountain top. It works for kids as soon as they have enough hair for this 'do. Pic from @coiffeur._instyle._zell on Insta.
19. Red Top
If your kid is a bit older, you can try a bit of hair coloring. If only for the summer, this can work as a cool way for them to express themselves, especially during school holidays. The sides are trimmed short and come with a bit of a style, and then the top part is done up in red. Of course, you can go with whatever color your kid loves. Check it out on @janjan4ever.
20. Side Style
Since everyone loves these hair styles where the hair is cut shorter on the sides, it's a perfect time to try out a few stripes. This sharp design takes things a step further, and it's not something you can do without a bit of practice, so if you're trying it at home, you may want to stick to something simpler. Love this one from @mancaveend1.
21. Tight Braids
If your kid has been growing out his hair for a while now, you can go ahead and try out some of these really great braids. Look how cute those patterns are! This one comes from @kidshairbyri on Insta.
22. Wavy Locks
If your child wants to try out a bit of length, you can try out this particular hairstyle. The haircut needs a bit of layering, but if they have wavy locks, it will locks similar to this, with a bit of volume.
23. Volume
If your child has curly hair, then this particular hairdo will work wonders. It offers them a bit of length, a bit of volume, and for the shorter kids, a bit of height.
24. Sideswept
By giving your boy a bit of length on the top area of the head, you'll enable them to sweep the hair to one side or another. It comes with a bit of volume, so they'll love that.
25. Boys Short Haircut
If you want to make sure your kid is going to have an easy time with their hair, then going short can be a great option. The style comes with shorter hair on the sides and a little bit of length on top.
26. High Top
With wavy hair, this style looks wonderful as you give the kids a bit of an edge. We just love how it looks!
27. Unruly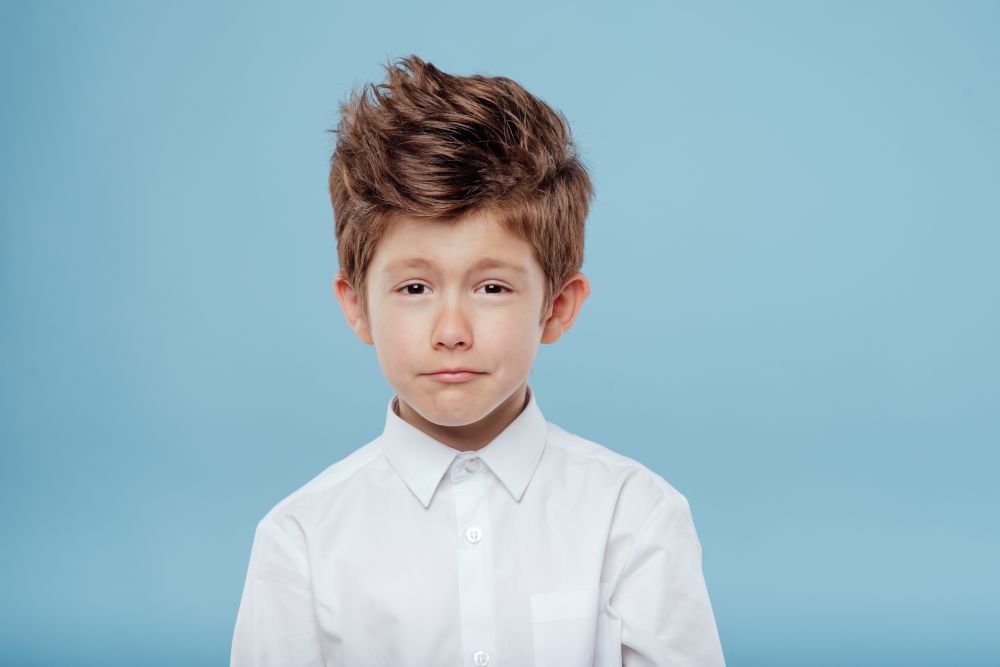 Hairstyles where there's no hair out of place are great, but an unruly cut can also be a great option, especially if it will fit your kid better.
28. Toddler Boy Curly Haircut
For those with curly hair, you can go a bit longer with your cut. The waves will take care of everything when it comes to style.
29. Short and Spiky
For the kids who want to look a bit more grown-up, this short and spiky style will work wonderfully.
30. Poufy
If your child really likes to have a bit of a pouf, you can really give him some length on the top part of the head.
How to Do a Boy Haircut?
Even if you screw up, it grows back. I think it's only fair to start by saying this. So as long as you understand that it takes time to practice … you're good to go. You could be one of the lucky ones and nail it from the beginning, which would be great. But more often than not, you'll need to trial and error a few times before it's perfect.
So the answer to "How to doa boy haircut", if you're not a hairstylist, just get your scissors in and … cut.
A piece of personal advice after being my son's personal hairstylist for the last many months — use a haircut kit that is similar to what you see in a professional hair salon. It really helps making crisp cuts rather than crippled cuts.
Little Boy Hairstyles: Which One You Like Most?
He's your precious. So what do you have in store for him? Which is your favorite hairstyle from these little boy haircuts we've looked at today?
We have a lot of favorites and we hope that you managed to find a few yourself. Even better, we hope your child has found some favorites too, as they should be the ones driving this decision – if they have the right age, of course.
Leave us a comment below, we'd love to hear from you.