Delicious Lentil Shepherd's Pie Recipe
Lentil Shepherd's Pie is a warm and hearty winter dish. Buttery mashed potatoes top a layer of protein and vegetables that are infused with wine, broth, and herbs. This is a complete meal in one dish.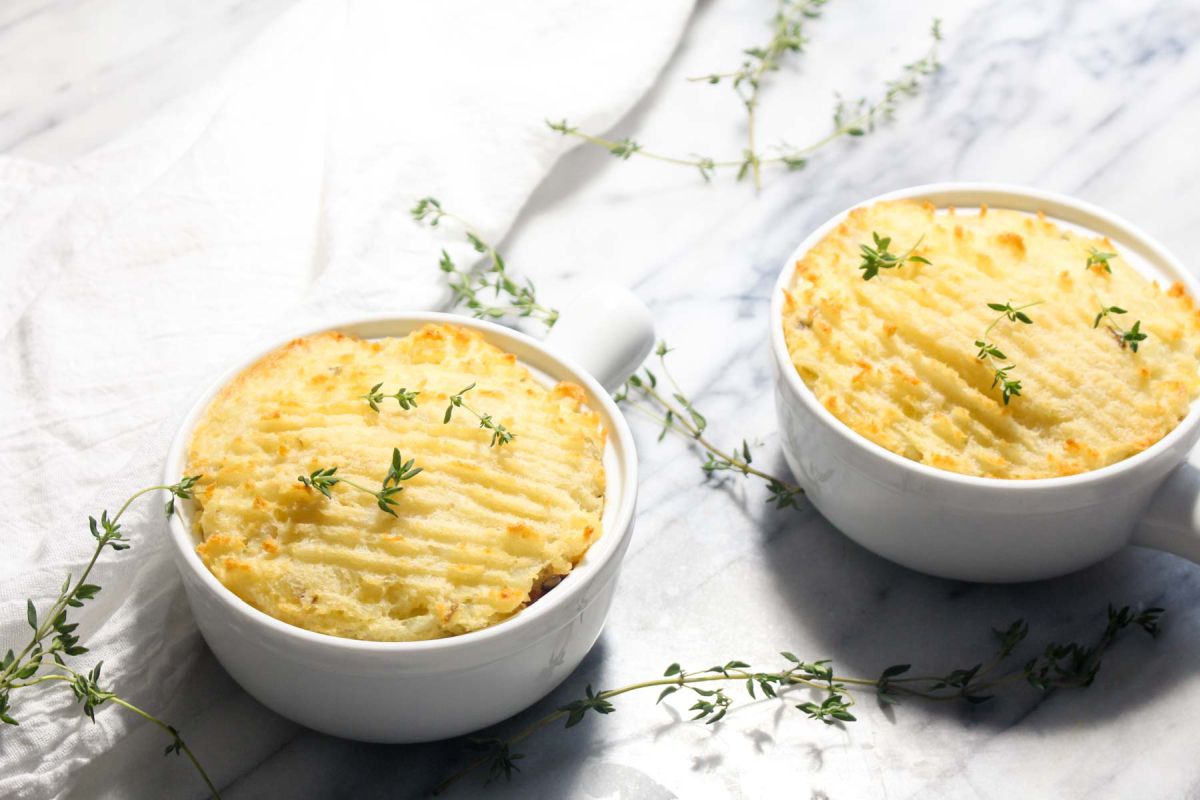 Shepherd's Pie is usually made with ground lamb, but for an easy, convenient, low cost, and healthy alternative, we are swapping the lamb for French Green Lentils. The lentils provide plenty of protein and a nice toothsome texture. They really absorb all the flavors of the cooking liquid, which adds even more flavor to this dish. If you aren't feeling the lentils, you can swap them out for ground beef, turkey, or lamb.
If you choose the lentil route, be sure to purchase French Green Lentils. Some lentils break down during cooking, but French Green Lentils hold their shape and texture, making them perfect for this dish.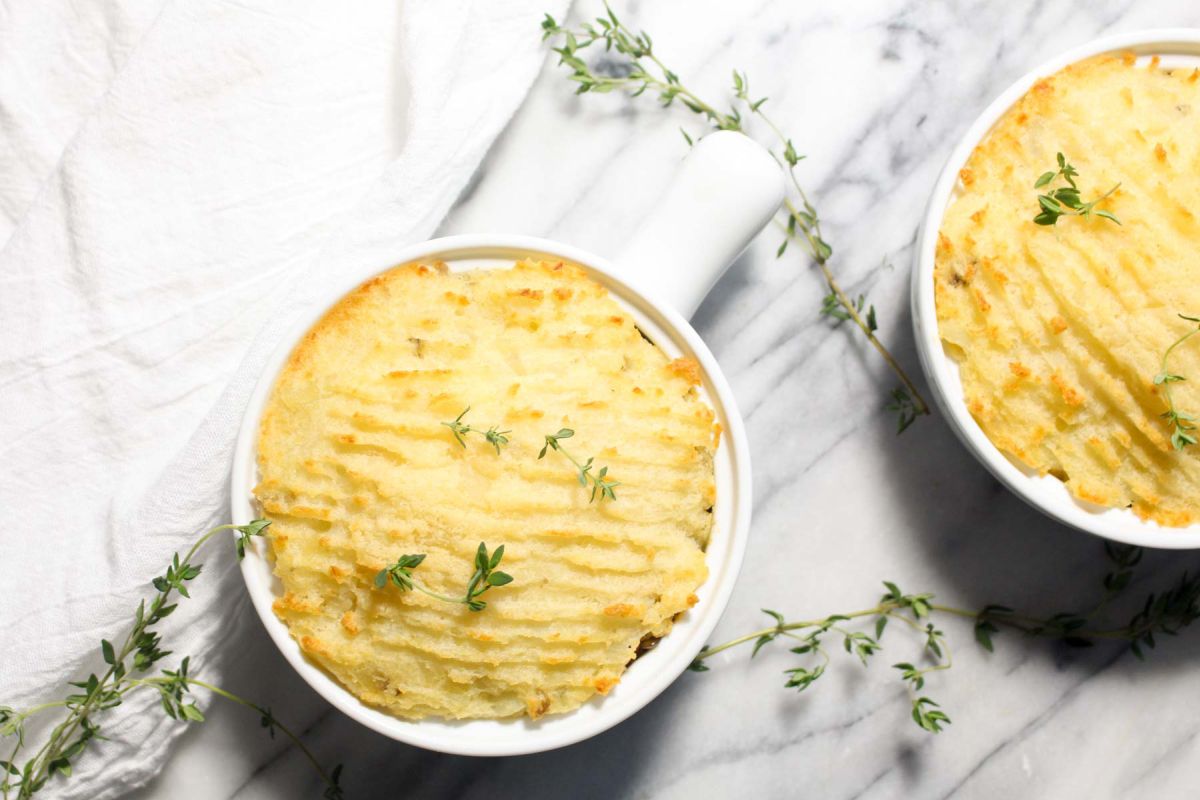 What I love most about Shepherd's Pie is that it is a complete meal in just one dish. You have your protein, carbs, and vegetables all in this pie. There is no need to cook sides since we top the pie with fluffy mashed potatoes. It is an easy dinner to make, albeit a little time consuming, but you are rewarded with a complete meal, and the leftovers heat up like a dream.
If you are looking to speed this up for a weeknight meal, you can prep it ahead on the weekend and then freeze it until you are ready to use it. Let it thaw in the fridge and then bake until warmed through and the potatoes are crusty golden brown.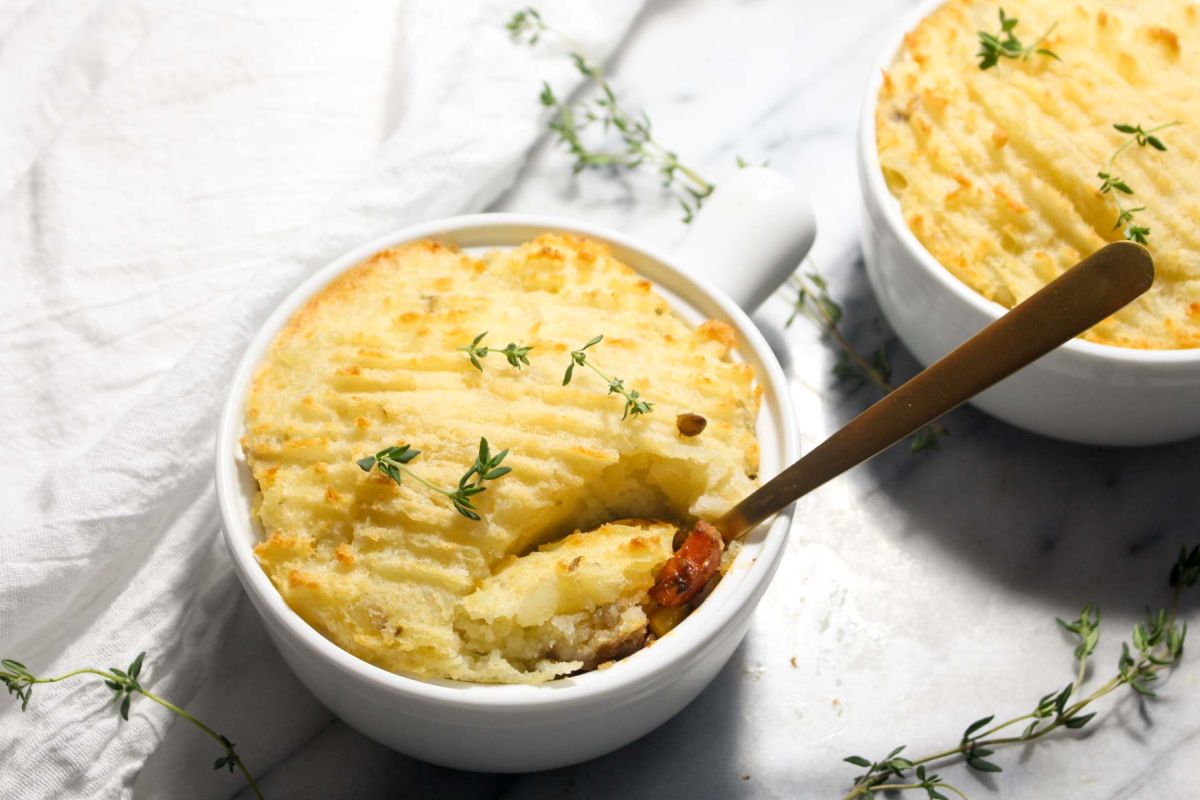 This one dish meal also packs a mean amount of nutrition.
Lentils are one of the highest known sources of Folate, an essential B vitamin. Just one serving contains 90 percent of your daily needed intake. This vitamin promotes a healthy brain, nervous system, and heart.
While white potatoes might get a bad rap, but they contain many nutrients that boost our overall health. Like lentils, they are a good source of B vitamins, in this instance, B6 and B3. Plain old potatoes can lower your blood pressure, build your cells, and increase athletic performance.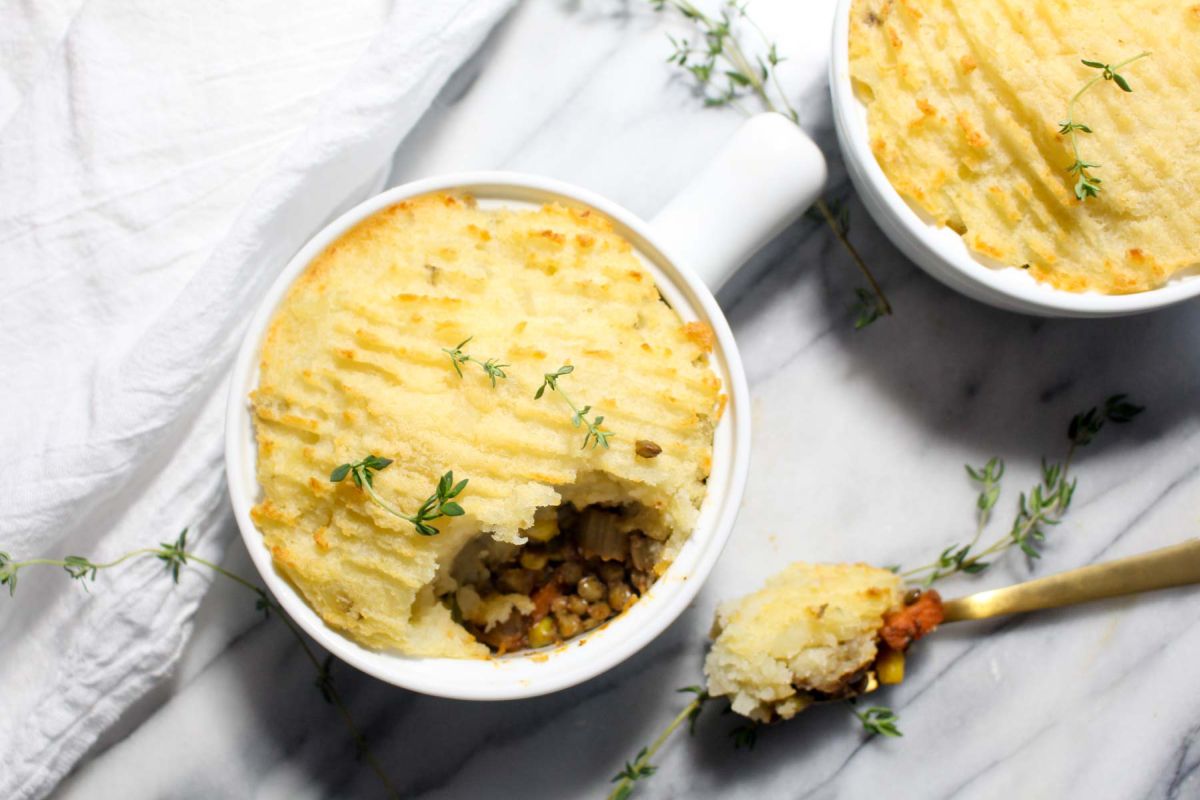 Ingredients for Lentil Shepherd's Pie:
1 cup dry French Green lentils, rinsed well
1 tablespoon coconut oil
2 ribs of celery, chopped
2 carrots, chopped
1/2 of a large white onion, chopped
1 1/2 teaspoons salt
1/2 teaspoon pepper
1/8 teaspoon allspice
3 cloves garlic, minced
1/4 cup tomato paste
1/2 cup red wine
2 tablespoons fresh thyme leaves
1/2 teaspoon dried oregano
1 cup frozen peas
1 cup frozen corn
1/2 cup vegetable broth
6 cups peeled and cubed potatoes
1/4 cup butter OR vegan butter, plus more
1/2 cup vegetable broth
1/2 teaspoon salt
Directions to prepare the Lentil Shepherd's Pie:
Preheat the oven to 350 degrees.
Add the lentils to a pot and cover with water. Simmer until tender, about 20 minutes. Drain off any excess water and set aside.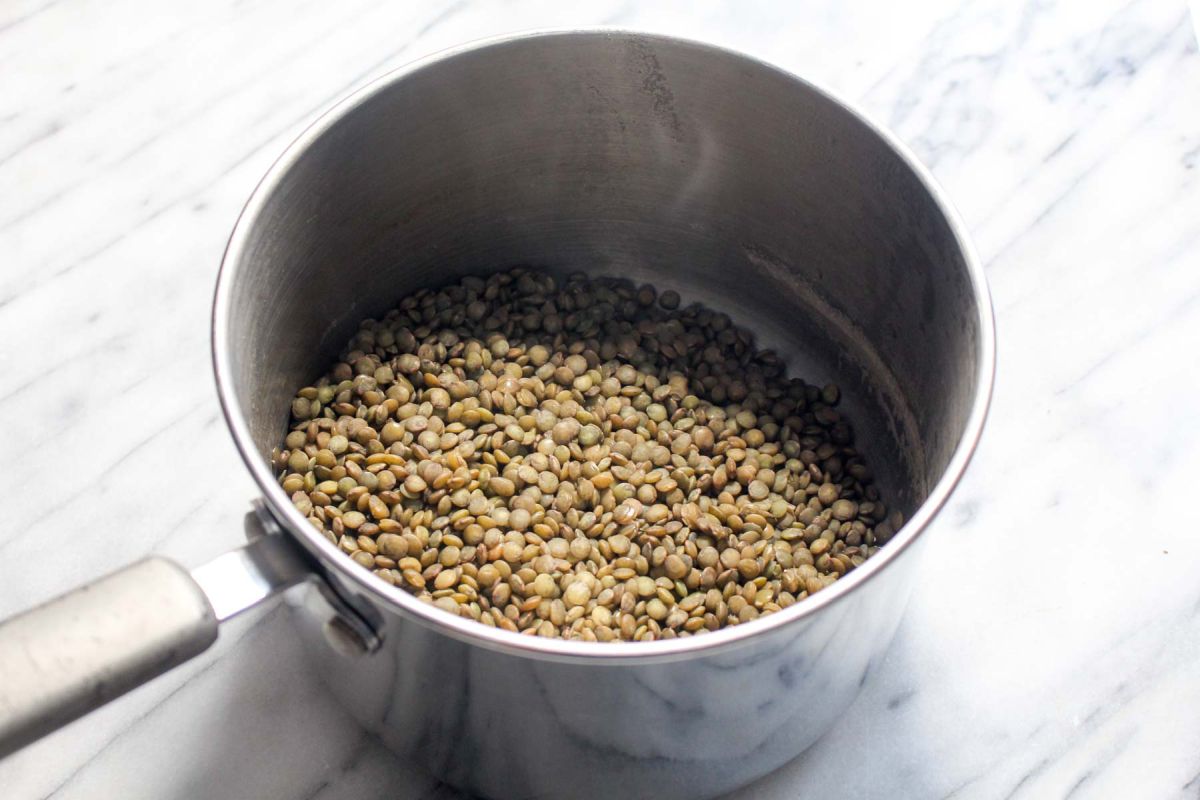 Heat the coconut oil in a large sauté pan over medium-high heat. Add in the celery, carrot, onion, salt, pepper, and allspice. Sauté until the vegetables are softened and the onions are translucent. Add in the garlic and sauté for another 30 seconds.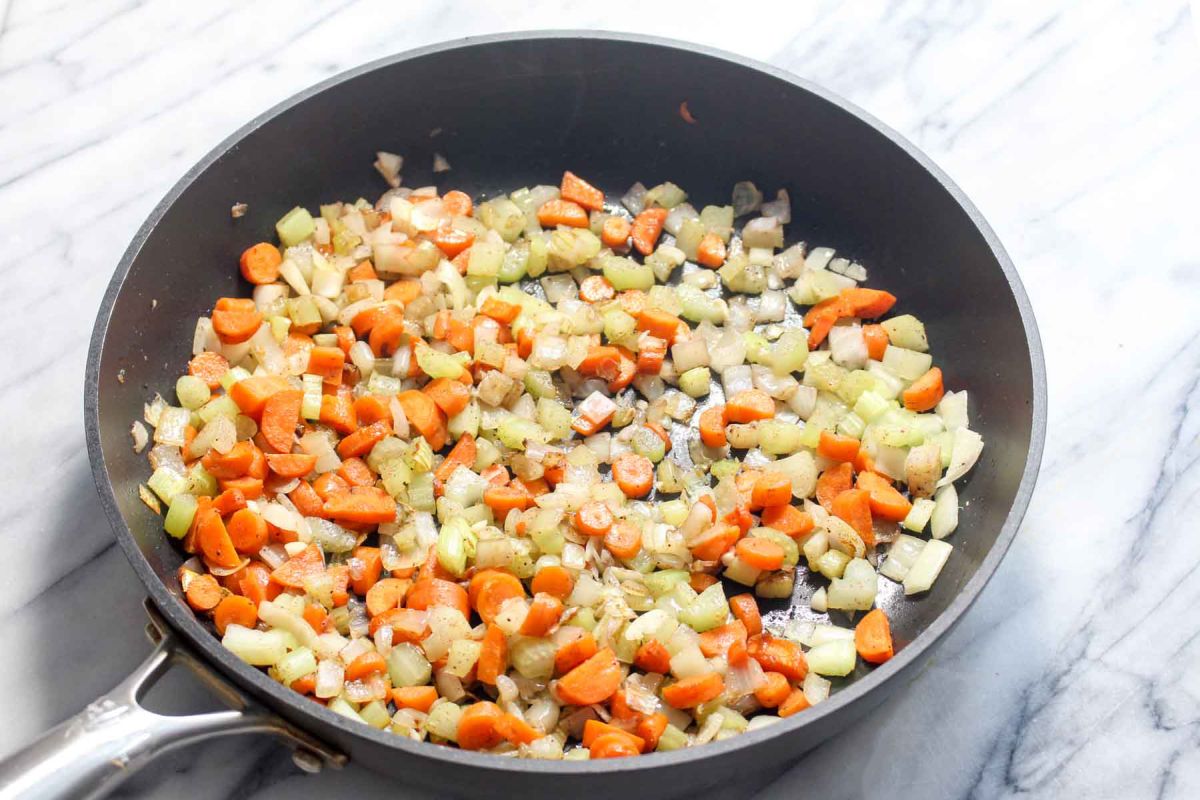 Add in the tomato paste and stir well to combine. Sauté, stirring often, until the tomato paste has darkened in color, about 2-5 minutes.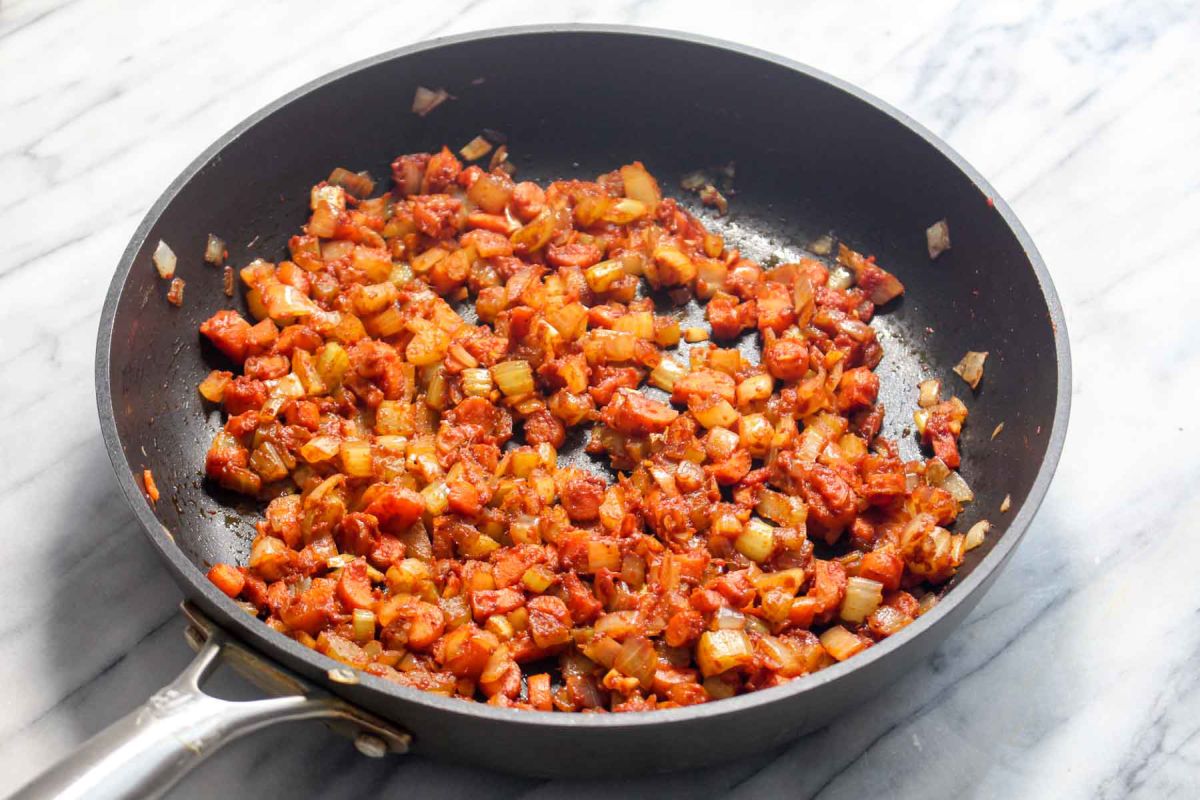 Add in the red wine and reduce until the sauce it thickened, about 2-5 minutes.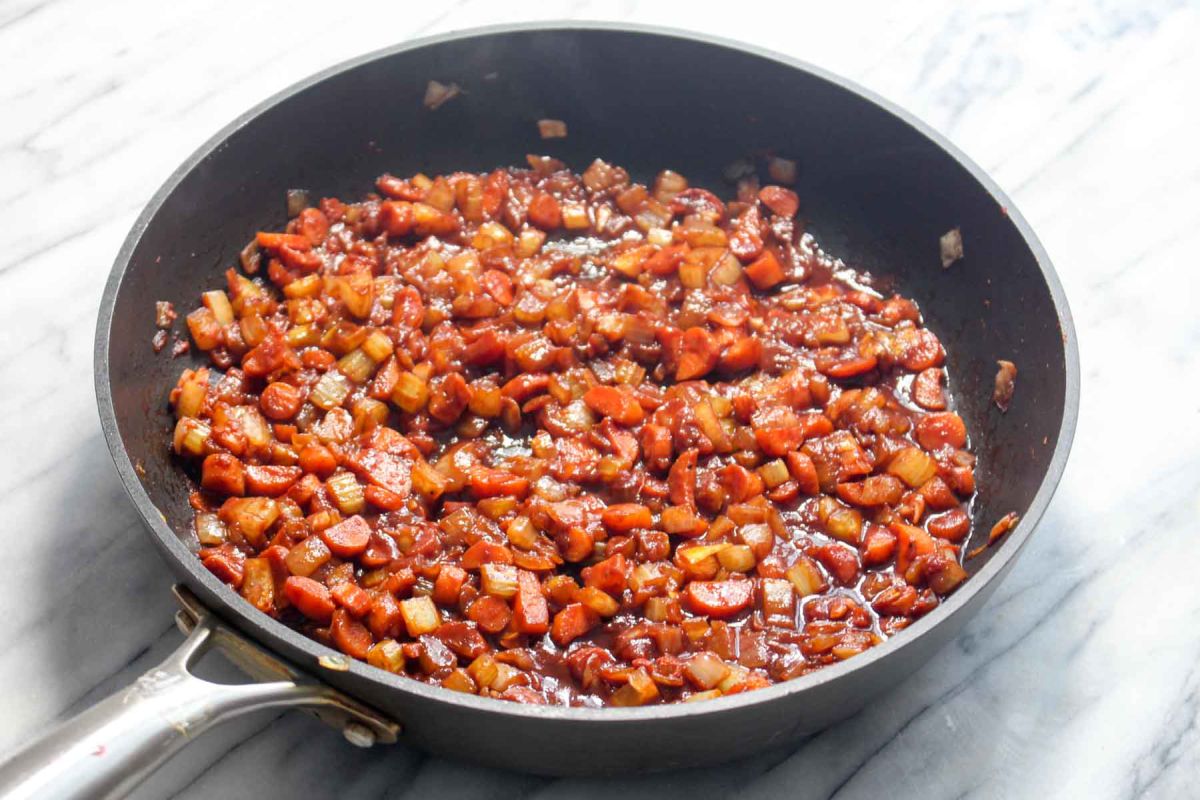 Add in the thyme, oregano, peas, corn, and vegetable broth. Stir to combine and cook until the peas and carrots are warmed through.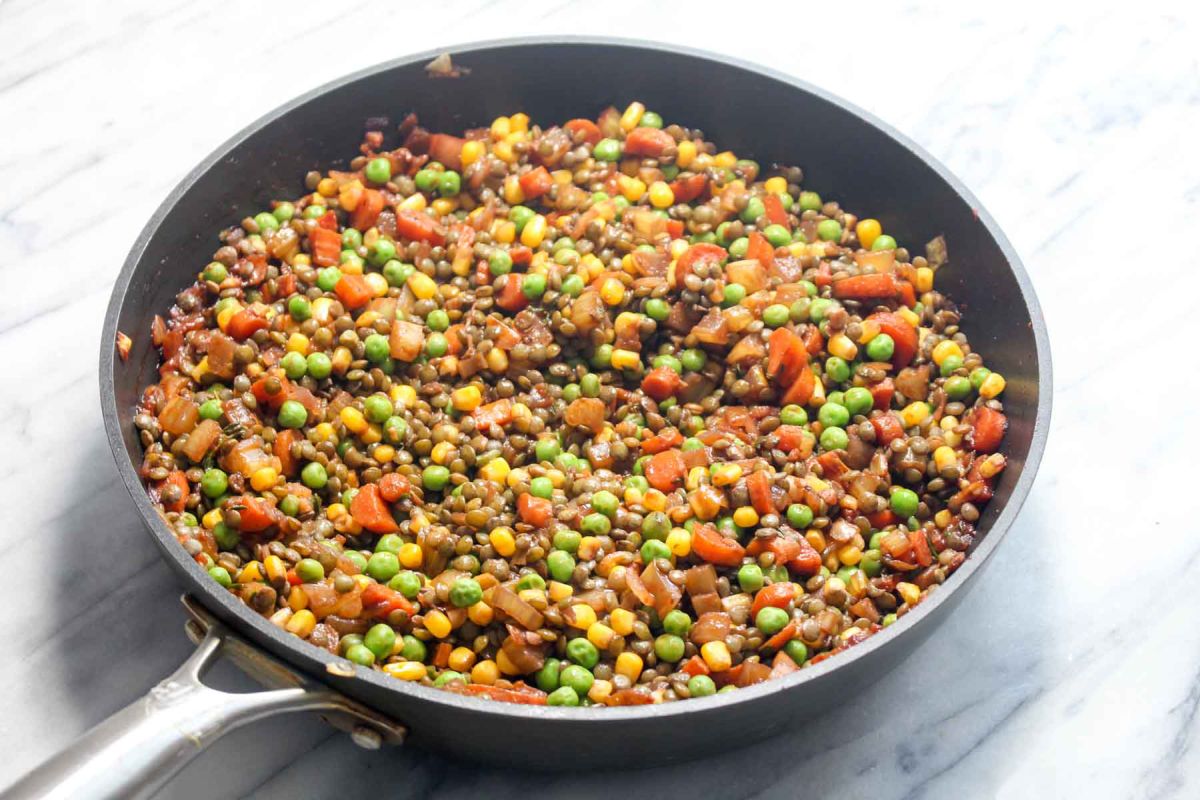 Ladle the filling into individual ramekins or one large serving dish. Set aside.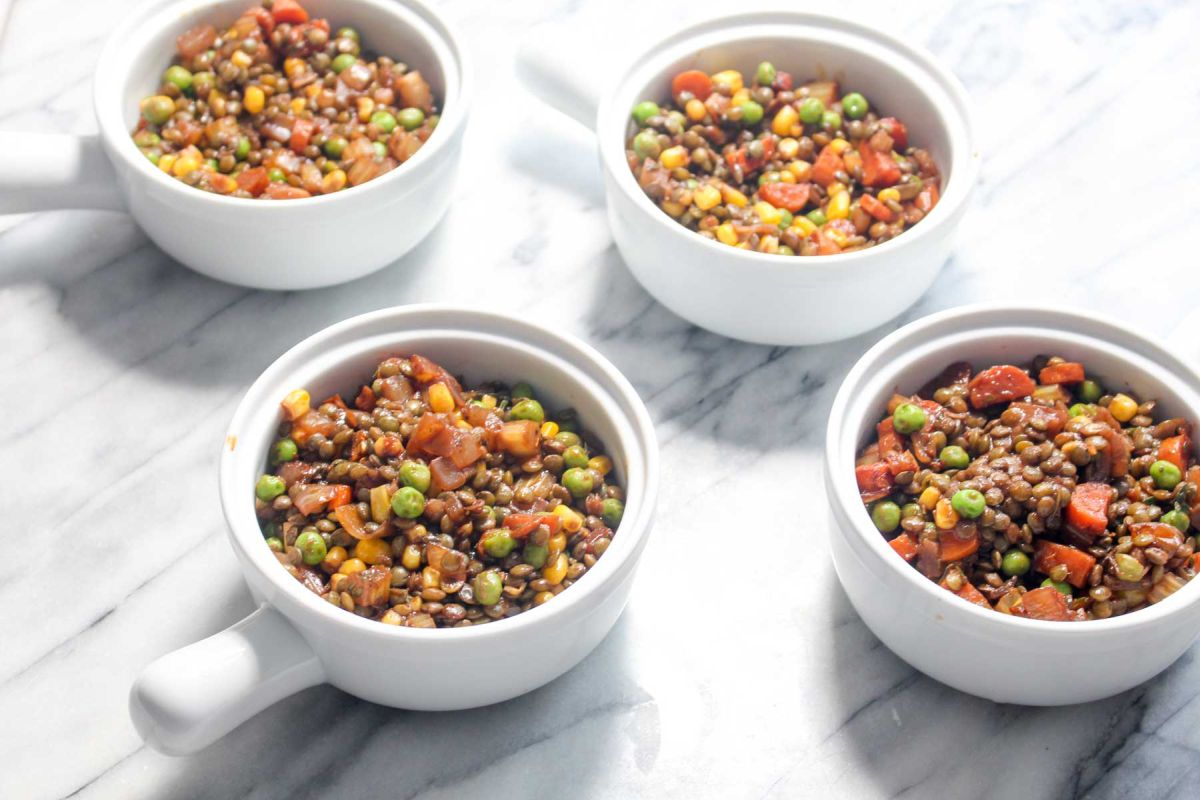 Fill a large pot with water and bring to a boil. Add in the potatoes and reduce to a simmer. Cook until fork tender, about 15-20 minutes. Drain off the water and return the potatoes to the pot.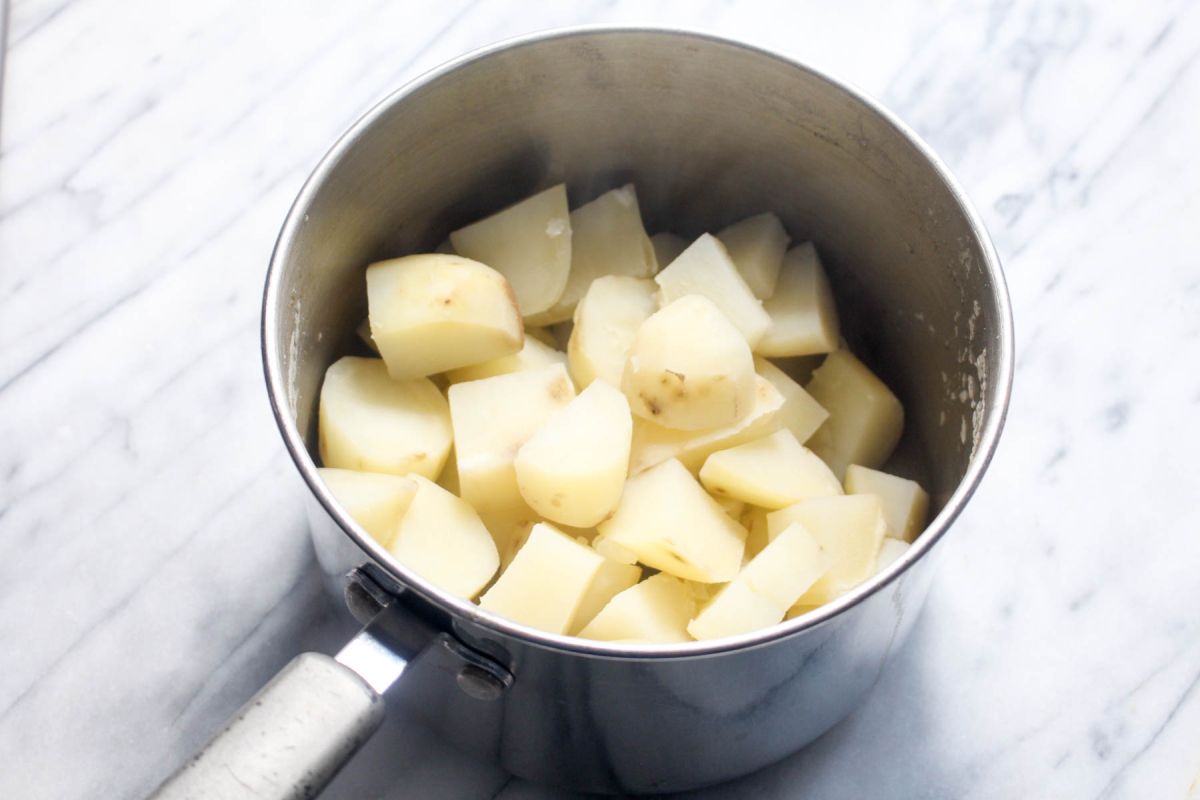 Using a potato masher, mash the potatoes with the butter and salt. Stir in the broth.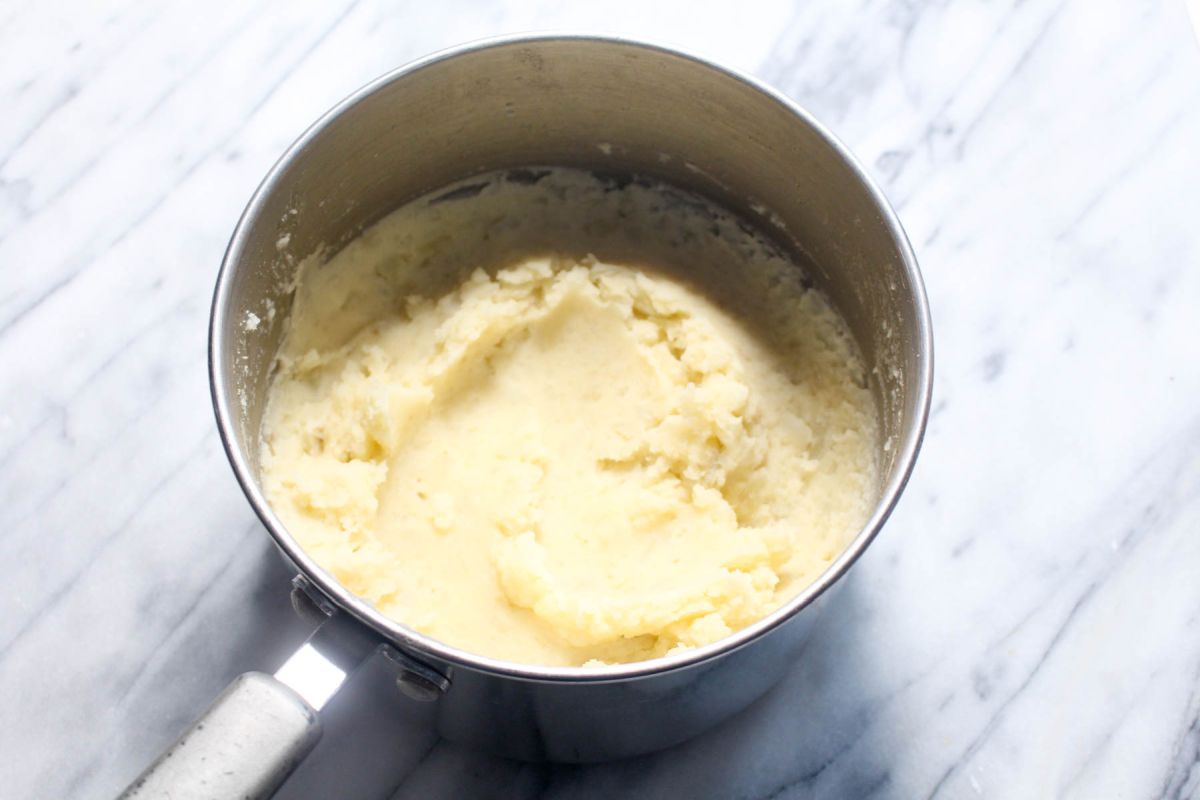 Top each of the ramekins, or large dish, with the potatoes. Using a fork, draw lines into the potatoes. Top with a pat of butter.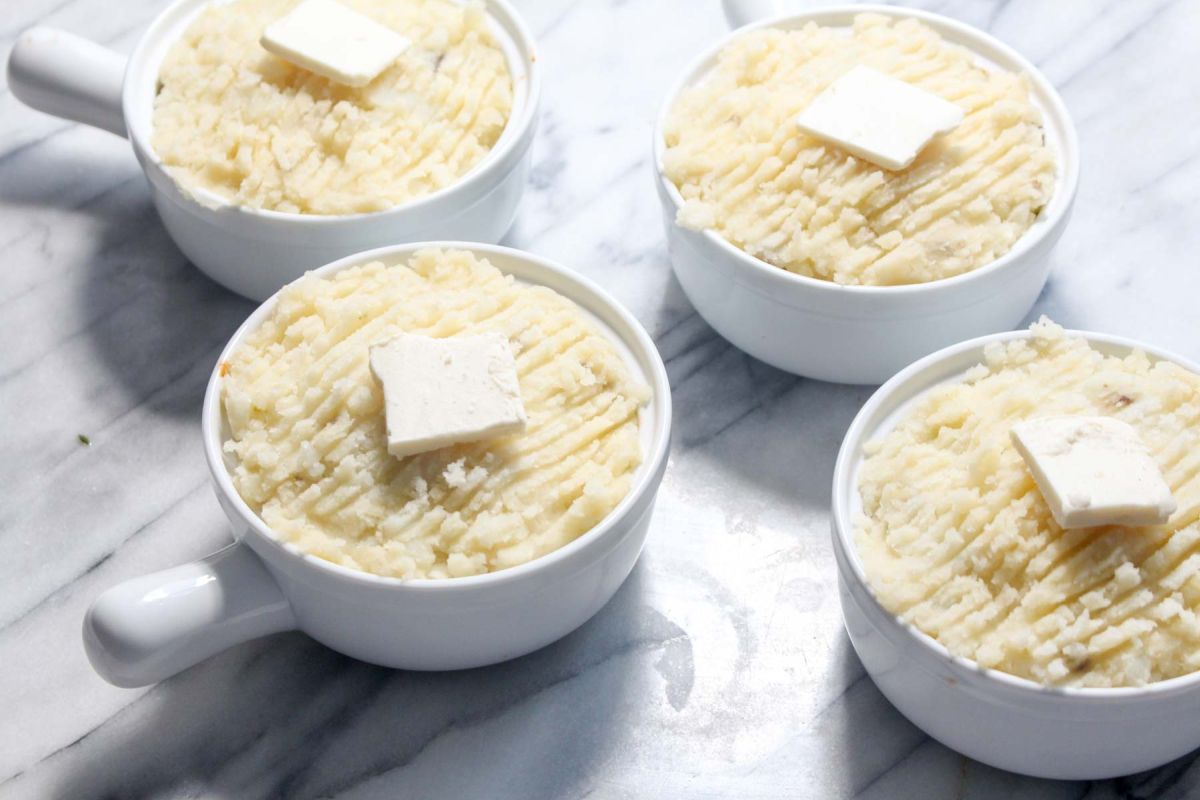 Place the ramekins onto a baking tray, and into the oven. If you are using one large dish, you can put it straight into the oven without a tray. Bake for 30 minutes. Turn the oven on broil and broil until the potatoes are golden brown. Remove from the oven and let sit for 10 minutes. Serve.