Slice Into One Of These 25 Lava Cake Recipes For Ooey Gooey Goodness
That's the best part about this kind of dessert. You slice into it and find yourself engulf in ooey gooey, warm goodness. From chocolate to fruity flavors, there are a variety of ways to whip up these sweet beauties. Take a peek at these 25 lava cake recipes and have a bite on us!
1. Dulce de Leche
Honest Cooking speaks to our sweet tooth like no other. If you're a fan of caramel deliciousness, this is the lava cake you'll want to dive into.
2. Paleo Chocolate
If you're following paleo diet or just want a healthier spin on your dessert tonight, check out this chocolate lava cake. Grab the recipe from Food Faith Fitness and indulge a bit without the guilt!
3. Mexico Hot Chocolate
Gimme Some Oven makes a Mexican "hot" chocolate lava cake that we're swooning for. And don't forget the powdered sugar on top!
4. Pumpkin Spice Chocolate
If you're a fan of pumpkin spice flavors, you'll definintely want to check out these tiny lava cakes. It's the perfect topping to a fall day. (via)
5. Chocolate Peanut Butter
Tip Hero took chocolate and peanut butter and turned it into the most perfect lava cake around. It's the perfect topping to a dinner party or at-home birthday celebration!
6. Oreo
Kirbie Cravings utilized a love for Oreos in their cake and we're in love. If you're a cookies and cream lover, you'll love slicing into this beauty.
7. Cookie Butter
If you like something a bit warm and smooth, then you'll want to try out this cookie butter lava cake from Tablespoon. Garnish and dig in!
8. Gluten-Free Nutella
For those gluten-free lovers and dieters out there, check out this special dessert from Jessica Gavin. It includes Nutella so, of course, it's delicious.
9. Mini Chocolate Strawberry
Chocolate and strawberries go together seamlessly. And these mini cakes from My Sequined Life play on that flavor pair quite nicely.
10. Flourless Chocolate
Serious Eats went with a flourless version of a chocolate molten lava cake. If you're looking for something even more moist, this is the one to try out!
11. Chocolate Hazelnut
Over at Food Network you can learn how to make this chocolate hazelnut creation. It's another great treat to serve up at your next dinner party!
12. Churro
Some churro on the outside and chocolate loveliness on the inside, Pop Sugar has one of our favorite lava cakes on the list.
13. Lemon
Show Me The Yummy went with something fruitier and more tart. Dive into this bit of lemon heaven by tonight.
14. Vegan Chocolate
If you want something that goes a lot with a vegan diet, then the Minimalist Baker has the best recipe for you. Check out this chocolate delight after the jump.
15. Salty Caramel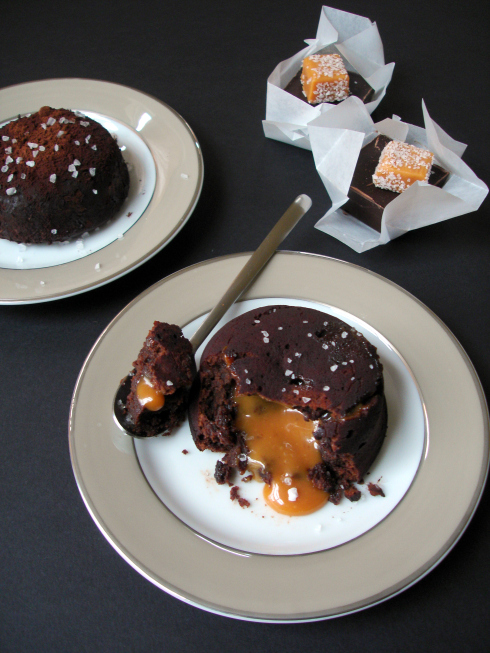 We all know that a bit of caramel and salt can make someone's taste buds quite happy. And when you add a bit of chocolate cake, they'll dance! (via)
16. Red Velvet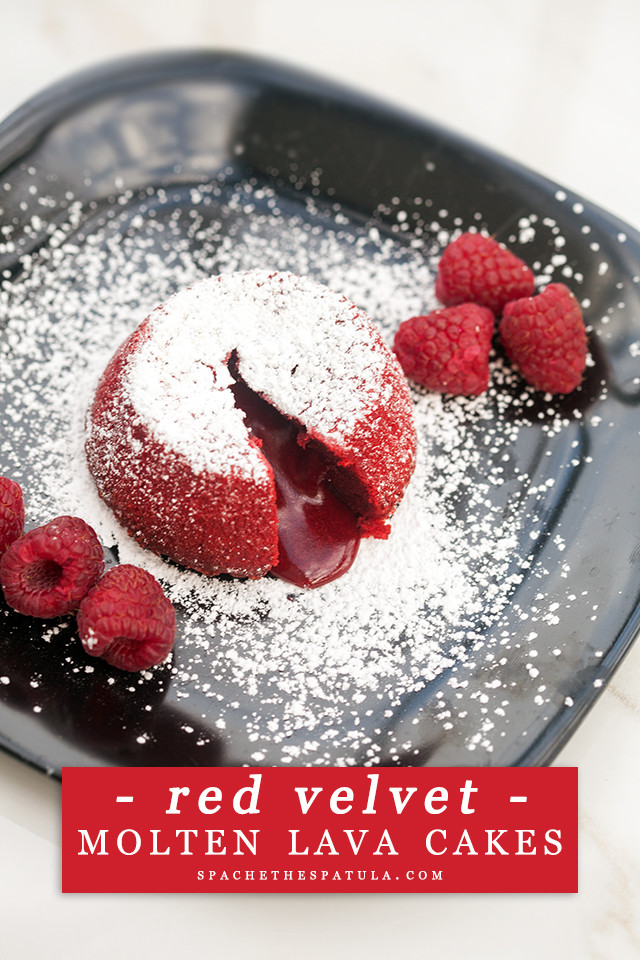 Do we have any red velvet fans out there? Serve this one up for date night with the help of Spache The Spatula.
17. White Chocolate
Chef in Training made an extra sweet white chocolate molten lava cake that made us salivate at first sight. Raspberries or even a bit of dark chocolate are the perfect garnish.
18. Matcha Green Tea
Kirbie Cravings did something incredibly unique with their lava cake creation. Check out this green Matcha dessert after the jump!
19. Caramel Pumpkin
Here's another delicious combination of flavors that will set off a beautiful fall day just right. Caramel and pumpkin can sweeten any meal. (via)
20. Mac & Cheese
She Knows went an entirely different route. With something savory on their mind, this mac and cheese lava cake knows how to satisfy.
21. Raspberry & White Chocolate
Perfect for Halloweentime but delicious anytime of the year, check out this showstopper over at The Flavor Bender. White chocolate and raspberry blends quite nicely.
22. S'mores
Everyone loves a good s'mores, right? Check out the lava cake version over at one of our favorite spots, Le Creme de la Crumb
23. Strawberry
Peas and Peonies went with all strawberry in their sweet concoction. We'd like to think a bit of chocolate drizzle would do this nicely too.
24. Eggless Chocolate

For those that can't have eggs, check out this eggless version from Homecoming Adventures. Moist and delicious, it's another perfect chocolate molten dessert!
25. Spiced Chocolate
And finally, over at Our Best Bites you'll get a spicier treat. Check out this recipe for a spiced chocolate that'll kick your tastebuds into high gear.