20 DIY Lampshades That Will Reinvent Traditional Home Lighting
Believe it or not, you can even perform some funky, do-it-yourself tricks on your lights around the house. Grab your lamps – from the bedroom or the living room and get started. Check out these 20 DIY lampshades that will reinvent traditional, home lighting and reinvigorate your own nooks and crannies.
1. Flowers
Mr. Kate made these gorgeous, floral lampshades that will make any bedroom or home office a bit more romantic and femininely-touched.
2. Chevron
Learn how to make a chevron masterpiece over at Pomp and Circumstance. It's a classic and super trendy design!
3. Ruffled Burlap
Magans Lens has a gorgeous lampshade DIY that you must take a peek at now! Make something a bit ruffled and full of rustic burlap today!
4. Sequins
Check out this YouTube video and learn how to create this fabulous, fully-sequined lampshade. Add a bit of bling to your home!
5. Doily-Covered
A Beautiful Mess gave us this fantastic, vintage DIY that we're absolutely swooning over. We love the girlish, old-age spirit of this project.
6. French Script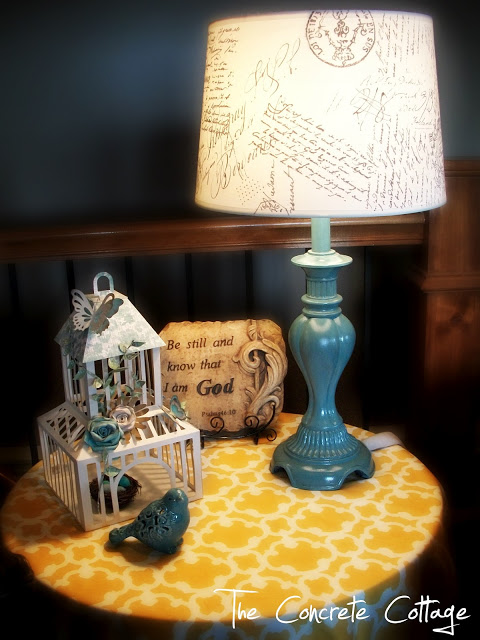 If you'd like a bit of French flair thrown into your home decor, you'll want to visit Concrete Cottage. Grab all the details after the jump!
7. Newspaper
Apartment Therapy has a lampshade that's also a funky, upcycled project. Snag some newspaper from the recycle bin and get working.
8. Photos
Snap Shot gives us another great DIY lampshade but adds some personality too. Learn how to add family photos to the mix in this awesome tutorial.
9. Twigs
Over at The Shabby Creek Cottage, you'll learn how to make the most perfect rustic addition to the home. Grab some twigs and get started!
10. Pink Flowers
Hop on over to Simply Ciani and check out this gorgeous DIY lampshade project. Inspired by a Pottery Barn design, you'll swoon.
11. Pineapple
Turn your lamp into a pineapple with the help from Craft Foxes. You need some plastic spoons to get started!
12. Pink Rosettes
For those that really love flowers, we've got another great project for you. Simply Ciani will show you how to make these beautiful rosettes!
13. Leather Mosaic
Check out this funky, leather mosaic DIY from Brit + Co. You can make this a bit more masculine or girlish depending on your tastes and vision.
14. Floral
Honestly WTF makes quite the snazzy, floral DIY lampshade. It's the perfect amount of pop for living rooms or even in the guest rooms.
15. Washi Tape
Yes, you can use washi tape here too. Give your lampshade a great makeover with this simple and easy idea from Brit + Co.
16. Rope
If you're looking for something with texture, check out this DIY from Sand and Sisal. It's gives a beachy, nautical feel that we love!
17. Upholstery
Design Sponge took some upholstery and used it to transform a classic lampshade. Check it out after the jump!
18. Ping Pongs
Poppytalk has one of the most unique and playful of the DIYs today. We love this funky and innovative technique!
19. Maps
Use maps to add some personality to those lampshades. It's perfect for guest rooms, don't you think? Check it out at Silver Boxes.
20. Blooming Rosettes
Brit + Co shows us how to make these gorgeous, blooming rosettes. And then attach them to a simple lampshade for extra style.