Adorable Knitted Baby Booties That Make Perfect Shower Gifts
Choosing what kind of baby shower gift to buy a new or expecting mom can be hard, but having DIY skills always makes things easier! Babies are always in need of new socks, shoes, and booties, but what's even better than buying the cute ones at the store? Making even cuter ones, of course!
Check out these unique knitted baby bootie patterns that your friends definitely won't find anywhere else.
1. Mary Jane booties
These little knitted booties look just like the Mary Jane style shoes a little girl might wear to her first day of Kindergarden. Until then, these knitted ones are much more baby friendly!(Source: Domestic Space)
2. Splish splash splosh booties
Okay, so these knitted rain boots won't actually withstand the rain, but Baby doesn't have to walk anywhere! They're adorable even just to look at.(Source: Lovefibres)
3. Kitten baby shoes
Even if you don't have a cute kitten button to top these booties off with, the cross over straps are enough to justify making them anyways!(Source: OasiDellaMaglia)
4. Wrap over baby shoes
Sometimes simplicity is the key when it comes to dressing babies. These little wrap booties are easy to get on and off, easy to make, and still cute.(Source: Ginx Craft)
5. Baby piggy boots
These adorable pig booties are the perfect gift for a niece or nephew whose "little piggies" you just know you'll be tickling in years to come.(Source: Mad Monkey Knits)
6. Princess Slippers
These delicate little booties with a gem-like button are perfect for your brand new little princess.(Source: Heaventoseven)
7. Fringe front sandals
Have you ever seen those adorable leather baby sandals with the fringe at the toes? They're best for kids who are already walking, but you can make Baby this knitted version in the meantime!(Source: Heavetoseven)
8. Flower sandals
The delicate green straps and the little pink flowers on these sandals look like something a little fairy might wear!(Source: Heaventoseven)
9. Baby boat shoes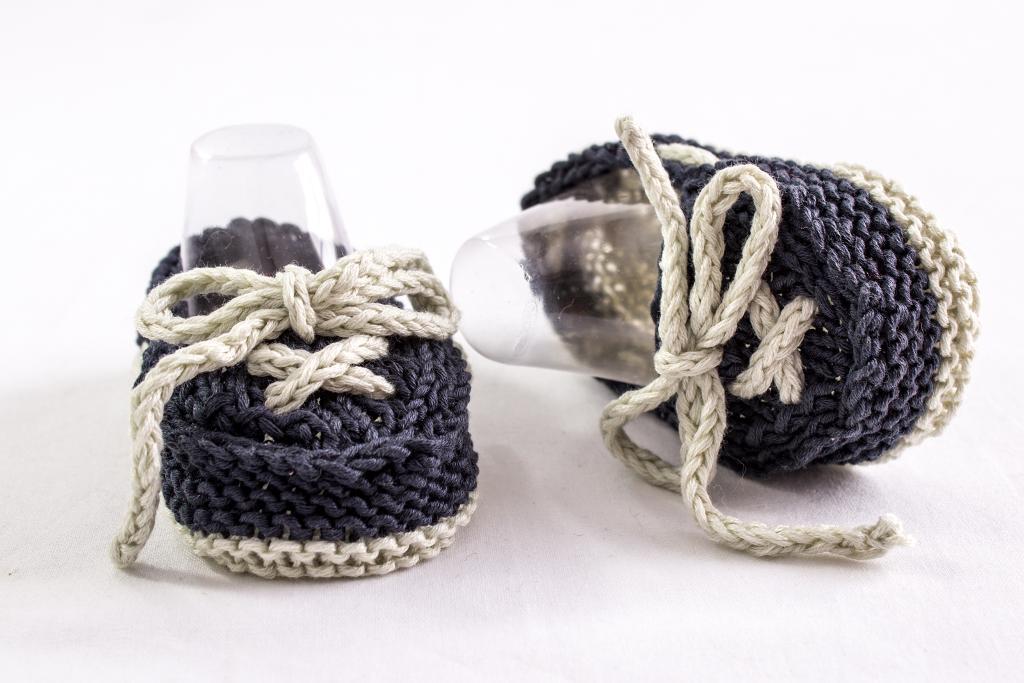 Help Baby be the height of fashion with these ultra trendy and super adorable baby boat shoes!(Source: Heaventoseven)
10. Bavarian lace up booties
Are you concerned that slip on baby booties won't stay on little kicking feet? This gorgeous pattern has laces for tying.(Source: Heaventoseven)
11. Baby chick booties
These little chicks are perfect for babies born in the springtime, just like baby chicks!(Source: Mad Monkey Knits)
12. Sneaker booties
Are you secretly hoping your niece or nephew will share your love for sports? Knit them baby bootie sneakers to set them on the right track early!(Source: Mad Monkey Knits)
13. Fur trim stripe booties
Using a light, fuzzy yarn like mohair gives these adorable striped booties a "fur lined" appearance.(Source: Mad Monkey Knits)
14. Daisy booties
Daisy shaped buttons add a little extra charm to these already adorable booties that feature t-straps to stay on.(Source: Mad Monkey Knits)
15. Easiest baby booties ever
Would you prefer to just give the new mommy simple, useful booties in as many colours as you can possibly get your hands on? Try this ultra simple pattern and get creative with colour variations instead of shapes and styles!(Source: Gina Michele)
Do you know another knitter who just adores creating hand knit baby gifts? Share this post with them for a little inspiration!