The internet is exploding with Wall hangings of all types. Downright, there is not a day that passes by without the sight of them hangings in Pinterest and Instagram. I might be late to jump the bandwagon, but don't worry there is something new in store.
Ever since, my eyes met the new nipprig Ikea collection I have been dreaming of bamboo, sisal rope and the likes of it. And that has inspired me to create a look similar to that of wall hangings which usually comes with a huge price tag and if you were to make it, I am sure unless you are passionate about it sooner or later you will lose track of it. Which is the very reason why my stash of yarn has been collecting dust.
And you know what, this project took me only 3 hrs to complete. Caution! You don't have to know weaving for making this jute wall hanging as we will be using a very easy method to make.
Let's see what we need and how we can recreate this look.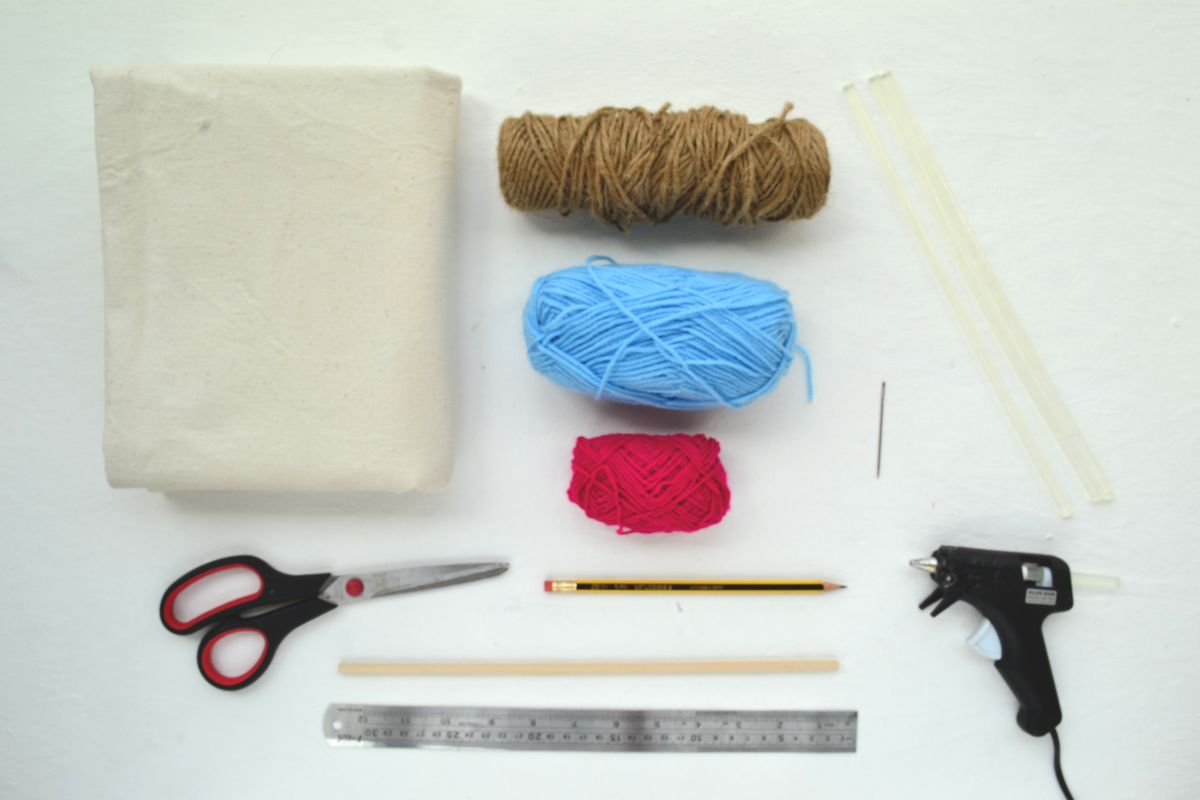 Materials:
Jute Twine
Assorted Yarn
Canvas
Dowel ( I used 12″ inch long)
Glue Gun and Glue Sticks
Scissors
Ruler
Pencil
Big eye Needle
First, we will take our canvas and draw an equilateral triangle(all sides same) of 9.8″ inch. Then by finding the midpoints of the of the sides, we will connect them to form another equilateral triangle inverted this time inside the triangle as shown.
With the help of a ruler, we measure out around 22 ft of yarn to sew the inverted triangle( I used neon pink ). Tie a chunky knot at one end and thread the other to your needle.
Following the shape of the triangle, we poke the needle from behind and finish to the other side all the while being careful of keeping the lines straight. Continue doing this until you finish the inverted triangle. See that every now and then you stretch the canvas while stitching to avoid pulling the canvas in. Ironing it later would also help to retain its shape.
Coming to the jute, we apply a generous amount of glue and secure the jute against the canvas by following the outline of the triangle. At the same time, being careful of the turning points as there lies a danger of leaving space behind that will clearly show up in your work later on. You repeat the steps to finish the other two triangles, but this time leaving space for the light blue yarn to go.
Before trimming off the excess canvas, we leave behind around 0.5″ inch at the bottom for the fringe to go. I cut around 50-60 pieces of 16″ inch jute twine for the fringe. And with the help of our glue gun we fix them fringes down.
Time for the tassels, I chose light blue yarn for the center of attraction also keeping it full and tall. And the comparatively shorter neon pink tassels by the opposing sides of the blue tassel.
In order to attach the tassel immaculately, we thread the head of the tassels and poke close to the would be position of the tassel and tie a knot at the back with the other free side. This way we tuck it behind keeping it nice and neat. Don't fret we are almost there, you just have to trim off the fringes and any piece of yarn peeking from behind.
And last but not the least, we cut a small piece of twine and glue it down to the rear side of the canvas for the dowel to go.
Yes! you can finally claim that you have fashioned a wallhanging this weekend albeit using shortcuts, at least you made it. That is all that matters, don't you think?
The smaller one that you are seeing in the above picture, I made it first to see how this seemingly crazy idea of using jute twine would fare. And boy! I love it. You can make them with any color combination and design. Round, square, triangle and multiples of them. I would recommend to choose contrasting bright colors and incorporate pastels as I did, don't worry fall is away so play to your hearts content. If your jute twine is quite stiff like mine just iron them that shall help to an extent. Also, these babies are lightweight so you can very much mount them over your wall with mounting tape, which also proves to be very dorm friendly as you don't have to hammer your wall to hang them.
What do you think is it worth your time to try this jute wall hanging or say Nah like how you have been avoiding weaving all this time.