20 Dress Tutorials and Free Sewing Patterns
Sunnies to dawn on vacation or maxis in the fall, we're here for all your sewing and styling inspiration. And today, the focus is on a piece of clothing that all women need a few of in their closet.
From more formal options to casual ones to throw on in a pinch, we've compiled some dress tutorials and free patterns that will have you practicing your sewing skills and getting creative in now time! Check out 20 of our favorite finds!
1. San Telmo Dress
Needles, Thread and Love made this adorable dress in a super simple way and makes it easy for anyone to follow along and create one for themself.
2. Sheer High-Low Dress
How can you not be in love with this gorgeous high-low dress. And you can make it yourself with the help and directions from Cotton and Curls.
3. Shift Dress
Elle Apparel shows us how to take your favorite, basic tee and turn it into a comfy, shift dress for the warmer months of the year.
4. Crochet Lace Dress
Used as a skirt or a dress, this crochet, lace piece is beautiful and you can make it! Follow the tutorial over at Lost in Paris – there's a free pattern too!
5. Pleated Fit + Flare Dress
Merrick's Art has a free pattern for this adorable and super stylish dress. We;re in love with its simplicity but also its trendiness and fun-to-style foundation.
6. Ruffled Maxi
Depending on your color and fabric choice, this maxi can be used all year round as is or layered up! Hop on over to Sugar Bee Crafts to discover the magic behind its creation.
7. Upcycled Ruffle Dress
Follow the directions over at How Joyful to create this ruffled dress with an upcycled ideas in mind. It's youthful, casual and super fun for a variety of ages.
8. Side-Slit Maxi Dress
There's another amazing tutorial over at Elle Apparel for this printed, side-slit maxi. We love its ease, versatile and the fact that a variety of ladies can make and wear this.
9. Simple Maxi
For a really simple maxi, check out this tutorial and pattern at Michael Levine, Inc. There's even an opportunity to shorten this number for an even more comfortable and casual look.
10. Lace Shift Dress
Dress this gorgeous piece up or use it on vacation for a dinnertime treat … but first, learn how to make it right at home with the help from the talented, Merrick's Art!
11. Peasant Maxi Wrap Dress
A personal favorite from the list, this maxi dress from Cotton and Curls is just too gorgeous – and versatile – to pass up. Think of all the prints you could utilize with this design!
12. Maternity Dress
The Sara Project shows us how to create a maternity dress from scratch! Use different fabrics, prints and colors to coincide with the season and give yourself something comfy and cute with a growing belly.
13. Camille Dress
This layered cutie is found on Sew Mama Sew with a PDF Pattern to grab! We love its lightness and the beautiful aqua-shade it's made in.
14. Colorblocked Cocktail Dress
We had to show off another one os Merrick's Art's pieces as this one is a bit more formal. Learn how to create a cocktail dress to remember with her easy tutorial.
15. Cut Out Back Dress
This adorable cut-out back dress is charming in the superhero print but could be even more versatile in a floral for the spring! Thanks to Instructables you can follow along and learn as you go.
16. Striped Dress
Dandelion Drift has this super simple striped dress tutorial for everyone to grab and learn from. It's an easy one to practice your sewing skills or use as a quick weekend project.
17. Day Date Dress
Elle Apparel has so many amazing ideas and we just had to feature this charming number. Slight polka-dots, beautiful blue and a sophisticated silhouette make such a great project to dive into.
18. Swing Dress
Merrick's Art has a free pattern for this gorgeous swing dress that can be used in a variety of ways all year long. We're in love with this vibrant color choice just as much as the silhouette of the dress!
19. Grecian Sundress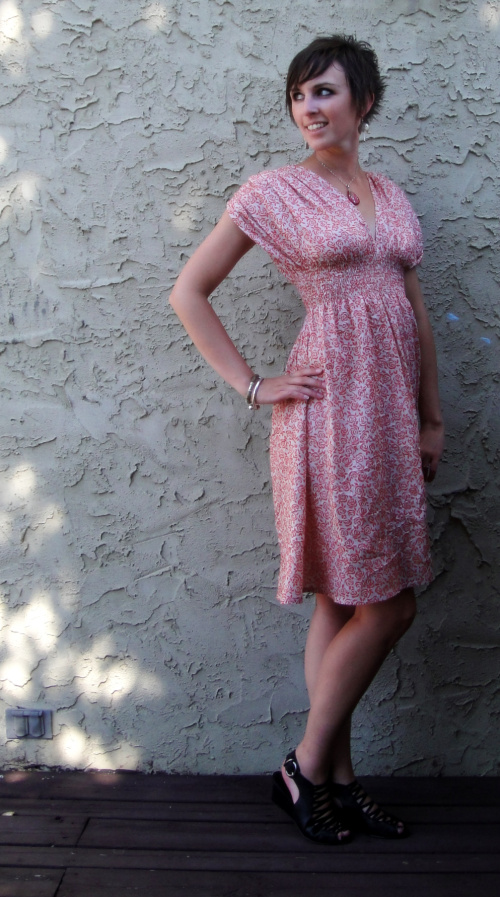 Who wouldn't want to make an easy breezy sundress to dawn throughout the warmer months. With help from Tanit-Isis Sews you'll have this Grecian-inspired cutie in a jiffy!
20. Blouse Dress
One Little Momma made this chic blouse dress and divulged the steps to make our own on the blog. Have fun with choosing your fabric, colors and prints – it doesn't matter though the silhouette will always been sleek.