Beautiful and Easy 25 IKEA Tarva Dresser Hacks
All you need is one piece of affordable furniture to get started. Starting with just one you can get a host of new things to revamp, redo and makeover. Check out and be amazed by these 25 Ikea tarva dresser hacks now! You'll be smitten with all the fun and inventive possibilities – whether it's the three, five or six-drawer model.
1. Kitchen Sideboard
All Things G&D took the 6-drawer tarva dresser and turned it into a beautiful kitchen sideboard with all the modern trimmings. Check out the tutorial after the jump.
2. Texture Panels
If you want something softer and feminine, check out this design from Centsational Girl. You'll be making fabric panels in this DIY.
3. Nursery Looks
Get inspired by this beautiful makeover for your own bedroom or even the nursery's. A pop of color and new hardware can make all the difference! (via)
4. Golden Charcoal
LoveSome made the tarva dresser over so much it truly looks like an entirely new piece of furniture. Just follow the link, grab the details and get to work!
5. Ombre Green
Hello! Upholstery took ombre vision and vintage style to create this fun little design. Starting with the tarva, you'll need a bit of this and a bit of that to get started. Grab the details after the jump.
6. Diamond Hardware
Sometimes just a bit of hardward can make the difference. Check out how easy this redo was over at Oh Lovely Day.
7. Sweet Corner
It All Started With Paint made a corner of a bedroom just a bit sweet with the 5-drawer dresser after a slight makeover. Two-tones, new hardware and the right placement really dress up the room.
8. Choose Blue
Cup Half Full took their dresser and dipped it in blue! Follow along with this tutorial and see if you get a bit of color inspiration from the idea.
9. Dock Cleat
The Happy Housie used dock cleat hardware for a nautical spin. It's so nice starting with a clean slate and being able to personalize the pieces with a bit of creativity.
10. Fabric Placement
Here's another tutorial that you'll be using fabric panels with. Ikea Hackers gives us all the details.
11. Simple Dress-Up
Design Sponge makes another simple makeover look posh and easy to recreate. All you need is the right kind of inspiration (and hardware) to get inspired.
12. New Nightstand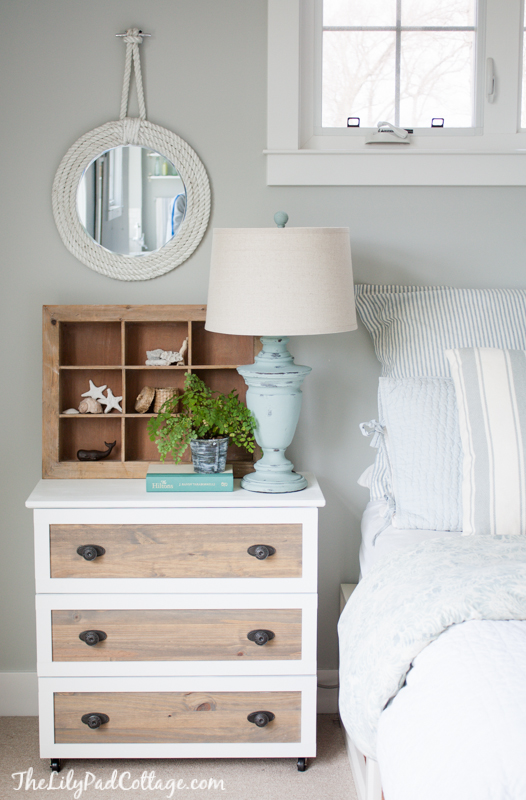 The 3-drawer tarva dresser can make the most perfect nightstand around. And over at The Lilypad Cottage you'll learn how to make it blend in with your rustic vision.
13. Pretty Pink
Or that smaller, dresser design could be transformed into something a bit more girlish and charming. Style At Home gave us this gorgeous (and pink) idea.
14. Salvaged Chic
We instantly fell in love with this salvaged design. With some paint, you too can begin to recreate this trendy look. (via)
15. Vintage Spirit
It's amazing how you can take such a simple piece and turn it into something that looks like a truly vintage, lively dresser. Just check out The Collected House for inspiration.
16. Precise Pattern
We're also swooning for this patterned design on one of the bigger tarva dressers. It's the perfect look for a nursery or guest room! (via)
17. Bar Cabinet
Addicted to DIY didn't even go with a dresser makeover. Instead, that nightstand went and became a bar cabinet overnight!
18. Coral Please
Thistlewood Farms took their tarva to the next level with a fun shade of coral and fun accents. Follow along and get inspired!
19. Bathroom Vanity
If you push your makeover into the bathroom, you can create a vanity to enjoy. Have fun shopping for the right kind of mirror! (via)
20. Gilded Glamour
Style At Home added some gilded bits to their dresser. This is just another fun way to makeover your simple purchase.
21. A Bit Stained
Cherished Bliss teaches us how to stain! Add a bit of country rustic flavor by taking part in this fun DIY project.
22. With Red
We're loving the modern innovation behind this makeover too. It's simple, it's modern and super easy to recreate. (via)
23. Apothecary Cabinet
Here's another makeover that will make you do a double take. Turn that simple tarva dresser into an apothecary cabinet with the help of Home Talk.
24. Feminine Touches
Chris Loves Julia added extra design elements to their tarva dresser. This is such a beautiful look for a nursery or master bedroom.
25. Two-Tone Style
And finally, here's some more two-tone inspiration that we fell in love with. It's combines both modern and rustic flavor and creates something trendy! (via)