DIY Decor Ideas for Black and White Bedroom
We recently moved house and, in the process, we planned a beautiful guest bedroom themed entirely in a classy, minimalist black and white colour scheme. Now that we're settled in, the primary pieces in the room are in place to set the tone, but we're convinced it could use a few extra decor pieces to really tie the aesthetic together. That's why we've been on the lookout lately for DIY black and white decor projects that might help us make the space feel complete.
Just in case you're feeling just as interested as we were, if not more, in the idea of making your own black and white home decor, here are 15 of the very best ideas, designs, and tutorials that we've come across so far in our search!
1. Cheap and easy black and white diamond canvas art
Are you the kind of budding artist who has always adored canvas art more than most other kinds of DIY decor projects? Then we have a feeling you'll really appreciate the way Holdmelike Official created this fading black and white diamond piece using a canvas, paint, and stamping techniques. This piece would look great in any colour, but we find the black and white original so classy!
2. Black and white painted pumpkins
This particular idea might only work year round for people with very specific decor tastes, but it's certainly something that suits the colour scheme in at least the fall for everyone else! Personally, we love changing out decor over as the seasons change, so we bookmarked this black and white painted pumpkin tutorial from MojisStyle so we can customize things a little when the weather starts to get chilly.
3. DIY abstract black and white art
Were you actually a huge fan of the idea of creating some kind of DIY art piece that fits the colour scheme but you're just not sure the diamond shaped stamping is quite what you had in mind? Then perhaps you'd prefer a different painting project that's a little more abstract! We're big dans of this brush strokes idea featured step by step on Homey Oh My.
4. DIY black and white throw pillows
Rather than working with paint, are you actually the kind of DIY enthusiast who would nearly always prefer to work with softer materials like fabric? In that case, we think you just might be the perfect person to give these awesome black and white throw pillows a try! Little Lessy shows you how to made the cross shape and custom fit the pillow covers.
5. DIY black and white washi tape candles
Perhaps you already have some white decor pieces that you think would work decently in the space but you can't help thinking that they'd look even better with your other decor if they had a bit of black involved too? Well, if what you've got mind is a set of candles, then we think you'll appreciate the way Refunk My Junk customized theirs by adding black stripes using washi tape.
6. Black and white painted trinket or candy dishes
Are you actually still finding yourself feeling quite intrigued indeed by the basic concept of working with black paint on a white canvas, but you're not attached to the idea of literally using a canvas, since you're also a big fan of crafting with unconventional materials? In that case, we think you might quite enjoy the way Paper n' Stitch added black detail to a set of plain white trinket and candy dishes in order to make them suit the space a little better and add some storage for small things.
7. Black and white crochet stripe blanket
Just in case we really caught your attention with this whole concept of working with softer materials rather than paint but your tool of choice is usually yarn and a hook, here's an awesome crochet blanket pattern that was specifically designed with the minimalist beauty of black and white in mind! We think the piece, featured in detail on Becoming Peculiar, would look lovely folded at the foot of the bed in case guests need another warm layer in the night.
8. Pretty black and white paper geometric ornaments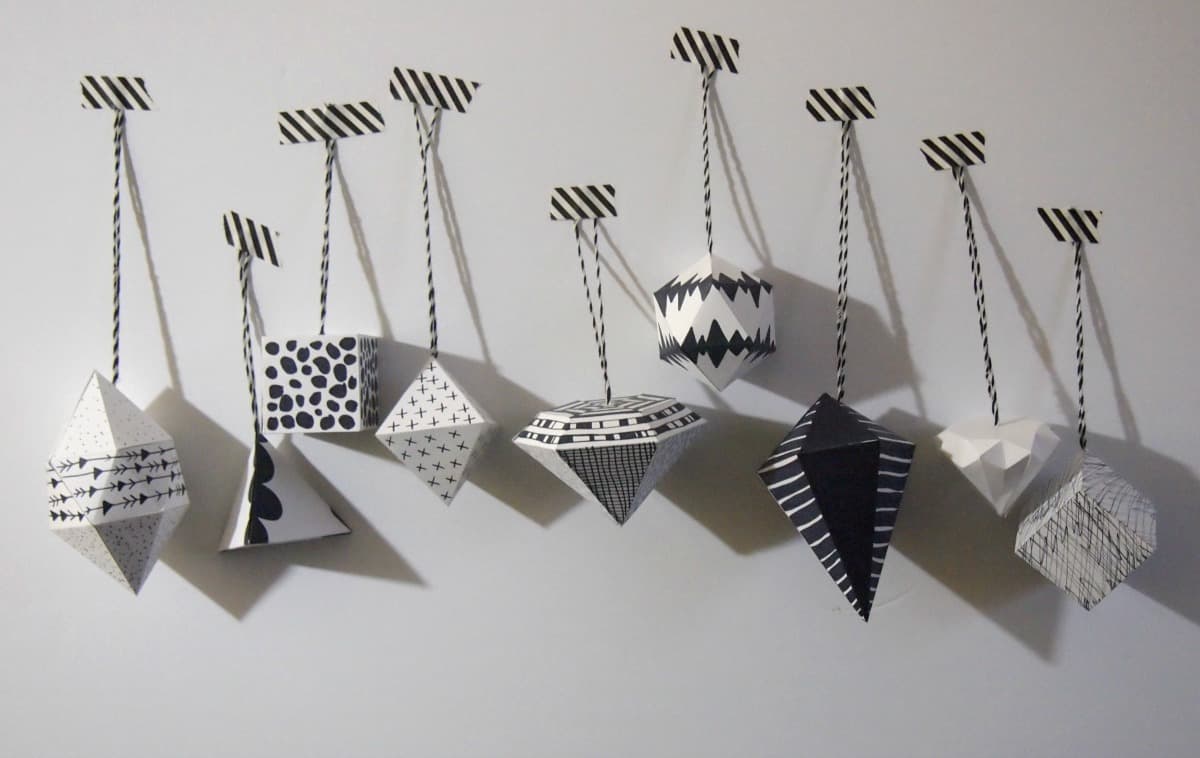 If you're going to put in all the time and effort it takes to make custom black and white decor pieces for a room, would you rather make it something you actually create yourself from scratch? Perhaps you're just hoping for something slightly more crafty and unique than these other classic decor pieces. In either case, we'd definitely suggest taking a look at how Decoist lays out the steps for making these hand detailed origami geometric ornaments that look great essentially no matter how you choose to display them.
9. Black and white DIY floor cushion
Are you feeling quite interested indeed in these comfort based pieces that are decorative and practical but you've already got several blankets the suit the room? Then perhaps you'd have a better time making a floor pillow instead! We're so in love with this tutorial from Collective Gen that outlines the steps for making a comfy black and white throw pillow that we've actually made two; one in this original scheme and one in other colours for a different room in our house.
10. Black and white mason jar desk organizers
Just in case the room you're looking to make over in black and white is also a home office, here's a fantastic way to keep things organized and decorative all at once! Take a better look at the tutorial featured in detail on It All Started With Paint to see how they used mason jars and black and white scrapbooking paper to keep their desk organized and stylish all at once.
11. DIY striped tufted bench
Are you actually the kind of home crafting enthusiast who has some experience in larger projects like reupholstering furniture, for example, so you're not afraid of the larger challenge of making more of a statement piece? In that case, we think you just might be the perfect person to give this awesome DIY tufted stool from Live Love DIY a try! Once again, this tutorial would look great in all kinds of colours and patterns, but we prefer their original black and white for how classic it looks.
12. Modern black and white succulent wreath
Just because you're building a decor scheme that centres on the combination of black and white doesn't, of course, have to mean that you can't add other accents too, especially if that colour pop is the luscious green of a few small plants! THis stunning modern succulent wreath made with embroidery hoops, fabric, and real succulents is the perfect example of what we mean. See how you can recreate the design yourself on Pretty Providence.
13. Black and white wrought iron cushioned bench
Did we actually really catch your attention when we started talking about the idea of making some kind of furniture piece for the room, and particularly a black and white bench, but you can't help thinking that something a little more vintage or old fashioned might suit the place better? Then we'd be willing to bet that you'll adore the way Dabbling & Decorating shows you the steps for creating this black and white wrought iron cushioned bench more easily than you might think.
14. Black and white vintage weathered farmhouse lamp
Just in case you're still thinking about how purposely weathered and old fashioned pieces might suit your piece best but you simply don't have the room for an entire bench, here's a smaller piece that will help you light up the room instead! Check out how Raggedy Bits made this lovely black and white lamp that has a charming farmhouse inspired aesthetic.
15. Black and white farmhouse inspired bolster cushion
Have we actually still got you thinking about the concept of making additional black and white throw pillows for the best but you've already got quite a number of the regular square shaped kind, so you've really been hoping to come across something a little different? Then we'd absolutely suggest taking a look at how Faeries and Fauna made this lovely black and white farmhouse inspired bolster cushion.
Have you made other fantastic DIY decor pieces before that were perfect for a bedroom with that colour scheme and that you felt really happy with when you were finished but that you don't see here on our list? Tell us all about what you created and how you did it or link us to photos of your finished work in the comments section!