Delicious Homemade Chocolates
Chocolate might be our very favourite treat. In fact, we love chocolate so much that even when we're eating something sweet that's not just a store bought chocolate bar, we usually pick the chocolate flavour in that as well! We'll take chocolate cake, chocolate ice cream, chocolate pie… you get the picture.
Buying chocolate at the store is nice and easy (and we do it often) but as DIY enthusiasts, we always like to try our hand at making our favourite things ourselves. That's why we've built this list of 15 awesome homemade chocolate recipes that we can't wait to try (and that we think you should too)!
1. 3 ingredient homemade chocolate
Just because you're going to make something yourself from home doesn't mean it has to be complicated! Don't let the idea of making treats "from scratch" intimidate you. Chocolate, for example, can be so easy to make that you only need three simple ingredients! Chitra's Food Book shows you how it's done in just a few simple steps.
2. Dried fruit and nut chocolate
Have your favourite chocolate treats always been the ones that have a little extra something inside? Some people like fruit cream or caramel, but others prefer a crunch or something with a little more substance to it so their chocolate becomes more of an actual snack. We love Savvy Homemade's idea of putting dried fruit and nuts in their homemade chocolate for some extra flavour.
3. Homemade chocolate creme eggs
Is your favourite kind of chocolate a seasonal treat that you can only buy in stores around a certain holiday? Ours is too and we look forward to stocking up on them every Easter! Daily Burn, however, has found away around having to wait months and months just to enjoy a good creme egg and we'll be forever grateful. Check out how you can make your own at home!
4. Chocolate dipped caramels
Have caramel covered chocolates always been your absolute favourite kind, no matter whether they're store bought or made by a "Mom and Pop" style company? We don't blame you. There's just something extra delicious about biting into a rich chocolate to find the perfect amount of gooey caramel inside. My Recipes teaches you how to make chocolate covered caramels in your very own kitchen.
5. Fruit filled chocolates
Have the other fruit options we've given you on this list so far caught your eye, but you just haven't quite seen the one for you yet? In that case, we present these awesomely fruit cream filled chocolates for your consideration! No matter which flavour you choose, we're sure you'll have no trouble making it happen if you follow the instructions on Huggies.
6. Salted coconut oil dark chocolate chunks
Maybe you're looking for something full of natural ingredients that are a little bit healthier than the average store bought chocolate bar, but you still want it to be delicious? Perhaps you're just a huge fan of dark chocolate and treats that combine sweet and salty flavours? Then this organic chocolate from Butter Believer, which is made with coconut oil and sea salt, is the perfect recipe for you!
7. Chocolate peanut fudge
Plain chocolate bars are all well and good, but sometimes you need to enjoy your chocolate in a more decadent way to really satisfy your craving! Great Party Recipes agrees entirely, so they've got an awesomely rich chocolate fudge recipe for you. As an added bonus, they show you how to make a version with peanuts for a bit of extra crunch.
8. Mint dark chocolate cups
Have you always loved Reese's Peanut Butter Cups but also wished that they came in other flavours and fillings since they're so delicious? Then you're in luck! Beautifully Nutty has a mint version for you that's absolutely mouth watering and surprisingly simple to make. This recipe shows you how to make them with dark chocolate, but substituting milk chocolate if you prefer is a simple change to make.
9. Healthy 2-ingredient dark chocolate chips
When you crave cookies, do you prefer homemade cookies above all else? Many people do, but we find that most of our friends still use store bought chocolate chips, even if they're mixing the batter themselves. Just in case you're interested in making your entire recipe from actual scratch, Amy's Healthy Baking shows you how to make your very own chocolate chips!
10. Golden chocolate candies
Do you have a friend who loves nothing more than a cute box of chocolates on their birthday? Sure, you could always buy them one, but imagine how appreciated they'll feel if you actually make them one yourself! We love that this recipe from Eat Well 101 shows you how to not only make your own one-bite chocolates but also how to give them a stylish splash of gold to make them look just as gourmet as any store brand box.
11. Homemade coconut and peanut butter eggs
Did you like the idea we talked about above of making your very own chocolate cream eggs, but your kids are actually more interested in other fillings and flavours than just the classic cream kind? Then your answer lies in this delicious chocolate egg recipe from Craftionary! They guide you through the process of making eggs that are filled with peanut butter and coconut for a bit of extra flavour.
12. Homemade Bounty bars
Have you always loved the idea of finding homemade recipes that taste just like the mainstream chocolate bars that you'd find on the shelves of your local corner store? We like that too because you can make tiny alterations that make them the treats taste even better than normal. For example, this recipe from Yummy Tummy shows you how to make your own Bounty bars, but using dark chocolate instead of milk chocolate to smother your coconut filling. They've also topped their bars with fun rainbow sprinkles!
13. Simple homemade chocolate popsicles
Maybe you're totally craving chocolate but it's a hot summer's day out and you also want something that will cool you down? Then chocolate popsicles and fudgsicles are definitely the answer to your sweet tooth's wishes. Instead of buying the watered down dollar store versions down the street, try making your own extra chocolatey frozen treats following this recipe from The Shabby Creek Cottage!
14. Homemade chocolate hazelnut spread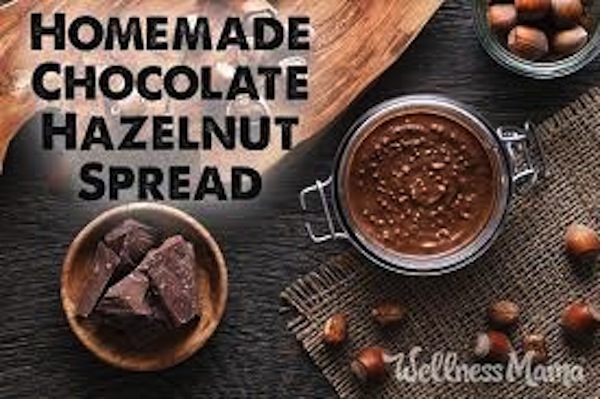 Nutella and other chocolate spreads are one of our very favourite ways to get a sugar fix because they go so well in so many different recipes and on so many treats, or even just on a plain piece of bread! Once again, though, we often take it as a challenge to make our own version of something we love at home, so hazelnut spread is no exception. We've actually tried this delicious recipe from Wellness Mama before and we assure you that it's well worth the trip to the grocery store for ingredients.
15. Homemade chocolate ice cream
Chocolate ice cream is a common flavour and a treat that you can get just about anywhere, but that's because it's such a mouthwatering classic. Just in case you're feeling like enjoying your favourite cool treat but you're also looking for a way to feel crafty today, here's a DIY chocolate ice cream recipe that's just too good not to put on our list! Check it out in detail on Eating Well.
Have you made other kinds of homemade chocolate treats and goodies before that you were very happy with but that you don't see among the recipes on our list? Tell us all about how you made them or link us to the recipe so we can check it out for ourselves!