30 Beautiful Geode Cakes And How to Make Your Own
Being the avid kitchen enthusiasts we are, it's no surprise that we've learned how to bake all manner of things in order to satisfy our own sweet tooth. One of our favourite parts of baking often is keeping up with the coolest trends in the treat world and trying them at home. That's how we found ourselves looking for tutorials and inspiration to try our hand at making beautiful geode cakes!
Geode Cake Ideas
One of the best tutorials we've found so far was this one from Tasty. They teach you, step by step, how to turn any cake flavour of your choice into a stunning piece of art inspired by precious stones.
Check out their finished product! They made a stunning white cake with a dark to light teal ombre geode section cut into the side. The surprisingly realistic texture is created using delicious, colourful rock candy!
Once you've learned the basic techniques, you can create all different variations, colours, and kinds of geode cake! Just in case you're as in love with this concept as we are, if not more, here are 30 other designs to get you feeling motivated and thinking creatively about what your own geode cake will look like.
1. White, purple, and gold geode cake
Besides building a stunning white and deep purple geode in the side of their pristinely fondant covered layer cake, Intricate Icings Cake Design used edible gold foiling techniques to add an even more precious looking element to the edges.
2. Marbled gold and blue geode cake
Just in case you're the kind of bright, eclectic person who thinks more is more and a geode section and gold foiling isn't quite enough for you, here's a tutorial from Cookies, Cupcakes, and Cardio that also shows you how to create a beautiful marbling effect across the surface of your cake!
3. Mini pink and purple geode cake
Are you actually still kind of a beginner in the baking world but you're intent on trying your hand at making a geode cake anyways? Take a look at how Tastemade made this smaller, single layered version that's totally cute.
4. Realistic geode stacked geode wedding cake
Perhaps bright colours aren't really your thing and you'd rather make something that looks a little more realistic? Check out how The Sugar Dose's wonderfully authentic looking black and white geode snakes down their layers from top to bottom.
5. Silver and blue large geo cake
Just in case the thin geode sections you've seen so far aren't for you, here's a great look at how Cake Central made a gemstone inspired detail that's much larger! We also love the way they used silver foiling instead of gold to suit the cool tones of their blue geode.
6. Gold, silver, and light pink geode cake
If you're going to use one kind of edible metallic foil, why not go all out and use both? We're completely obsessed with the beauty of this silver and gold framed white and peach geode slice from Popsugar.
7. Fully marbled cake with a smaller geo cake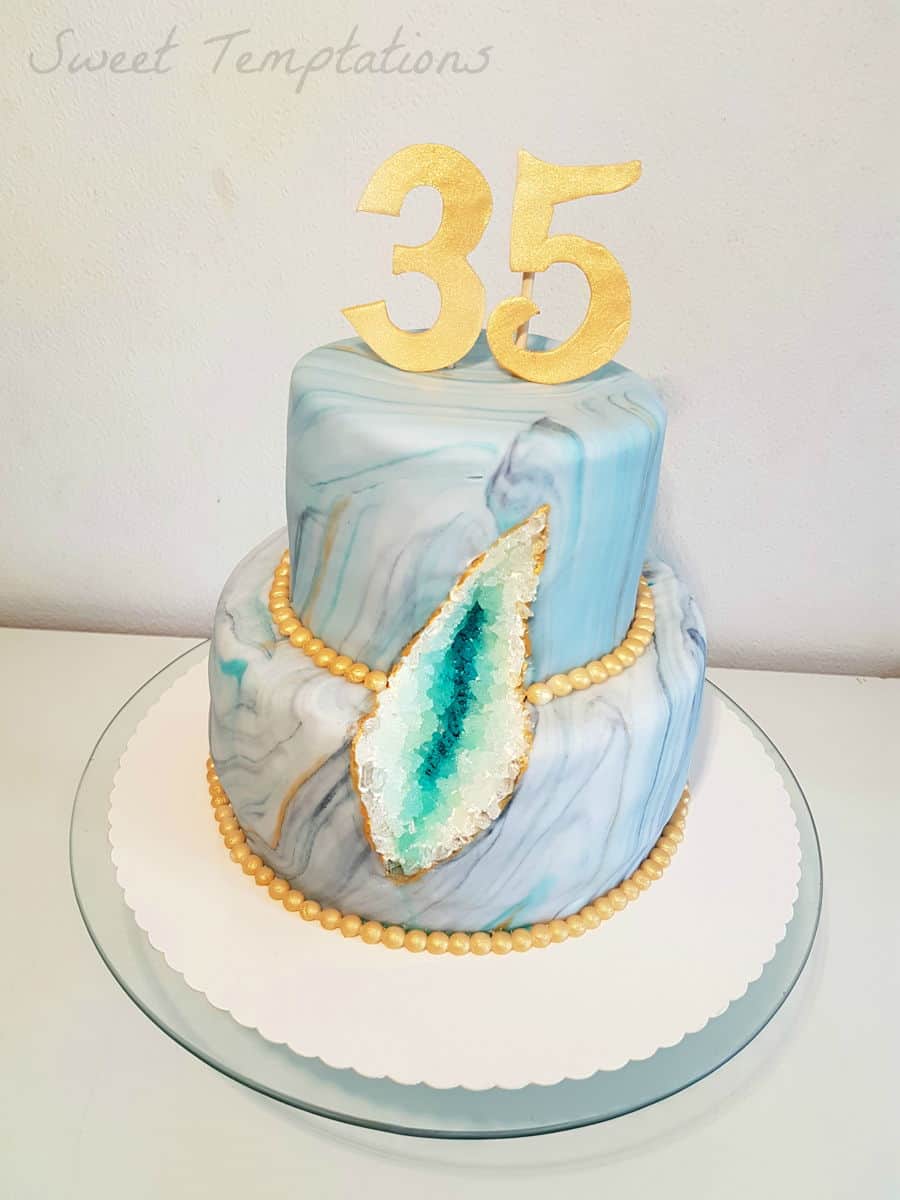 Just in case you want to see more detail on that marbling idea we showed you earlier but you're looking for a subtler finish, here's another spin on the concept from Cake Central. We love their pearled candy contrasts.
8. Metallic marbled cake with a geode topper and fully geode layer
If you're going to get into careful cake decorating techniques like marbling and geodes, would you rather take those things to a whole other level? Then we think you'll love the way Sugar Geek decorated the entire surfaced of their middle layer like the inside of a stunning white geode with a golden border.
9. Geode cake inspired donuts
Perhaps you're actually feeling a little overwhelmed by the time commitment of making full geode cakes but you still really love the aesthetic? Then maybe starting off with a smaller project, like these geode donuts from The Friendly Fig.
10. Amethyst geode cake with a gorgeous topper
Are you actually so in love with the geodes idea that you wish you could make a realistic looking topper too, rather than just doing a geode inset in the cake? Then we think you'll be pleased to see this design and guide from The Cakatier at Sugar-Daisies!
11. Mirror glaze cake with gold, pink, and blue geode
We've already shown you two kinds of marbling but, just in case your cake decorating skills are a little more advanced, here's a fantastic resource from My Little Cakes for mirroring your marble before you add your geode inset!
12. Stunning blues geode cake
Have we mentioned that we really adore blue tones and turquoise or teal colour combinations? Here's another guide from Rach489 that shows you how to colour blend properly in marbling and geode making.
13. Geode cake pops
Where there's a kind of cake, there's usually a trendy new matching cake pop hot on its heels! We were amused and intrigued to come across this cute rock candy geode cake pop recipe featured step by step on Tastemade.
14. Geode candy cupcakes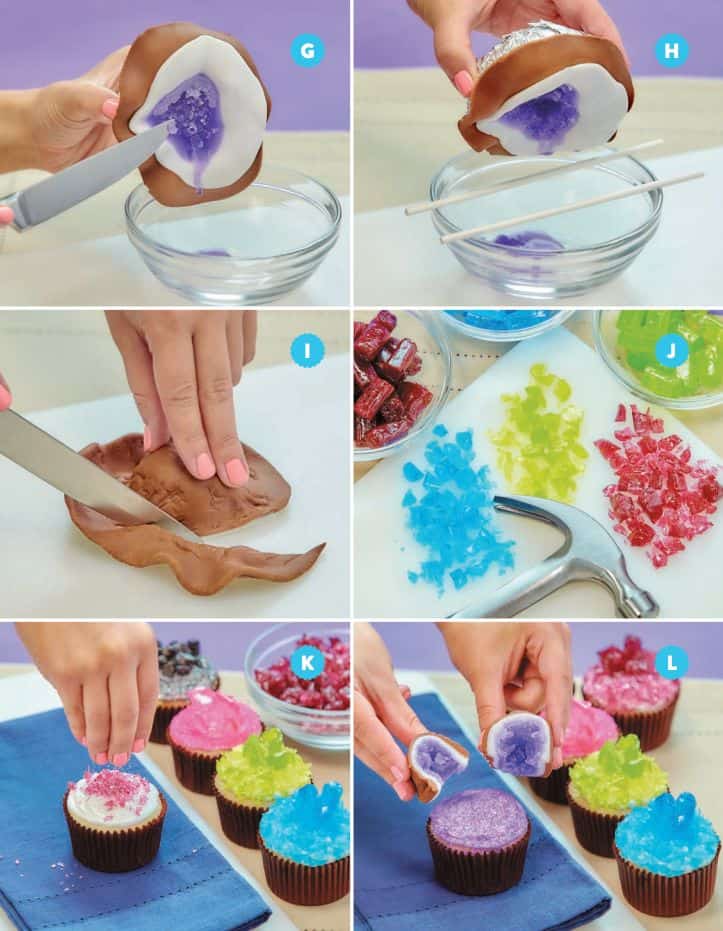 We love this tutorial from Yahoo Lifestyle because it's two fold! They show you how to decorate colourful cupcakes like individual little geode cakes but they also show you how to use chocolate, icing, and rock candy to make surprisingly realistic looking candy geode toppers too.
15. Geode rock candy cake toppers
Just in case you're enamoured with the idea of rock candy geode cake toppers but you'd like to make a version that's a little less chocolate heavy, here's an alternative metallic painted option featured on Pettinice.
16. Purple galaxy geode cake
Just in case you haven't noticed by now, we adore combining trends. That's why we thought this cake that harnesses the beauty of geodes and the awesomeness of galaxy themed things was such a good idea! Get a better look at it on The Kate Tin.
17. Heart shaped geode cake
not every geode cut out has to be realistic in its shape or size! We think this idea from Behind The Cake for making a heart shaped geode section in the side of your cake is very lovely indeed.
18. Floral geode cake
Have you finished your geode section and decided that the cake could use a little extra visual detail to take it up a notch? Check out how Sweet Chatter gave theirs more personality by adding flowers.
19. Metallic geode cake truffles
If we're going to talk about alternative baked treats that are inspired by geode cakes, like cake pops and cupcakes, we can't possibly leave out these stunning little metallic painted geode truffles created by Lauren Conrad!
20. Double geode cake
perhaps you like the idea of making smaller geode sections because they're so time consuming but you're worried your cake will look like it's lacking something if you only do one? Then follow in Butter Cream DC's footsteps and make two instead!
21. Full slice geode cake
Just in case carving out an irregular section of your cake doesn't really appeal to you, here's an awesome tutorial from Kitsch Cakes that shows you how to do your favourite detailing in a section the size of a whole slice.
22. Geode and gemstone cake
Have you actually been hoping to practice your fondant sculpting techniques alongside your geode decorating adventures? Then we definitely think you should give these awesome gemstone details from Kake By Darci a try.
23. Balanced geo sphere cake
Are you feeling up for a challenge and very confident in your skills indeed? Then perhaps you're the perfect person to try this balanced rounded geode cake from Sugar Geek that basically defies gravity!
24. Personal sized geode cake
Are you still kind of practicing and the idea of making a full sized geode detail cake still feels a bit intimidating to you right now? Then we'd suggests starting smaller with this personal sized geode cake outlined on Spoon University!
25. Realistic halved geode cake art
We mentioned chocolate and candy geodes a little earlier on our list, but they were small and quick. Here's a tutorial from How to Cook That that shows you how to make a shockingly authentic full sized version of an actual edible geode!
26. Rose gold and peach tones geode cake
Have you mastered the concept of making geode sections in your cakes but you can't stop thinking about how much you love the idea of foiling around it? Then we think you'll like this much more foiled copper and peach tones design from Mel's Amazing Cakes.
27. Black and purple geode and gem cake
Are you totally enamoured with the geode cake style but your personal colour and aesthetic preferences are usually a little darker than what you've seen so far? In that case, we'd definitely suggest taking a look at how Sugar By Tracy made this stunningly deep coloured black and purple version.
28. Kid friendly geode topped heart cakes
Did we really catch your attention when we started talking about hearts and geode cakes in one place but you'd like to take the shape idea one step further? Then we'd encourage you to take a look at how Wilton created these heart shaped cakes with rock candy tops that are easy for kids to decorate like colourful geodes!
29. Geode cake inspired macarons
Alright, we know that macarons are not technically a kind of cake, per se, but these lovely little geode inspired creations from Blue Sheep Bake Shop are so stunning that we just couldn't make ourselves leave them off the list!
30. Marbled geode diamond and agate cake
Are you a very skilled cake decorator indeed who is looking for a way to take the whole geode and gemstone idea to the next level? Then we think you'll get along very well indeed with this design from Man About Cake that combines marbling, metallic foiling, geode cut outs, and DIY agate embellishments made of sugar!
Parting Words
Have you made geode cakes before that you were very happy with indeed?
Tell us all about how you made yours or link us to photos of your finished cake in the comments section!