Fun Popsicle Themed DIY Projects
No matter what time of year it is, our kids will happily craft. They frequently as us to help them get the supplies out and make things no matter the weather, the time of year, or what we should really all be doing. Sometimes, however, we find that we can hep them feel even more motivated to get creative if we theme the craft we're helping them make after the season or something they've been really enjoying lately. That's why we've made so many crafts and DIY projects over the years that have something to do with summertime treats! Lately, our kids have loved popsicles of all kinds and flavours and even helped us make a few popsicle recipes in our freezer, so we've been looking for lots of different popsicle themed craft ideas to keep them interested and feeling sunny on rainy days.
Just in case you think your kids might enjoy making popsicles crafts just as much as ours do, if not more, here are 15 of the cutest designs, tutorials, and ideas we've come across so far!
1. Giant paper popsicle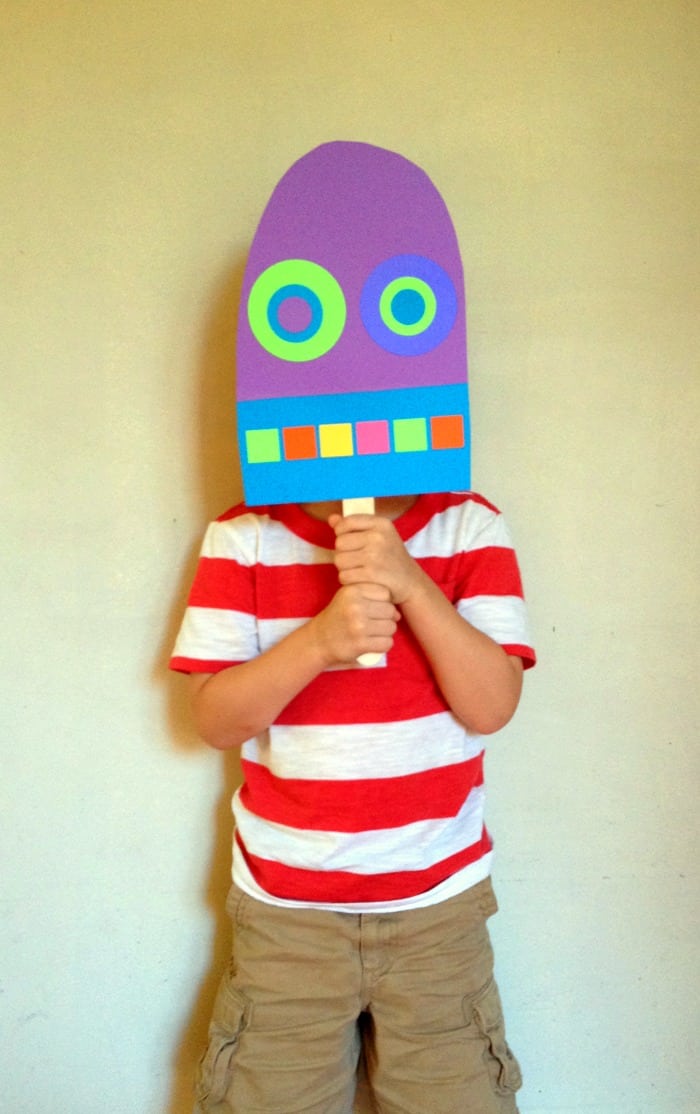 Every once in a while, we find our kids asking for crafting time on a busy, rainy day when we're low on supplies and we just don't have time to get them anything new or help them create something high maintenance and fancy. That's why we absolutely love having a few simple cut and paste style construction paper crafts on the back burner, just in case! It'll come as nor surprise, then, that we were pretty huge fans of this giant paper popsicle craft outlined on Craft Whack. You can use just about anything you've got laying around the house and free for upcycling to make the stick if you don't have a paint stirrer like theirs.
2. Geometric popsicle printables
Have you always been intrigued by paper crafts that have a little more structure and shape than the average flat cut and paste craft? Then we have a feeling you and your kids will get a huge kick out of these printable origami style popsicles provided by this fantastic crafting resource at Mr. Printables. They provide you with colourful sheets that show you on the inside precisely where to fold in order to make all kinds of fun shaped popsicles! Once you've tried it a few times, you can fold plain paper in similar ways and paint the popsicles whatever colours you please to make your own.
3. Paper popsicle memory game
Are you feeling rather intrigued by these printable ideas and paper popsicles but you can't help but feel like your kids might get more use out of them if there's some kind of incentive to keep using them at the end once they're finished making the craft itself? Then we'd absolutely suggest taking a look at how Eat Drink Chic made this fantastic popsicle memory game! This way, the project amuses the kids even longer than it takes to actually make it. We love crafts that are also games and toys!
4. Folded toilet paper roll popsicle craft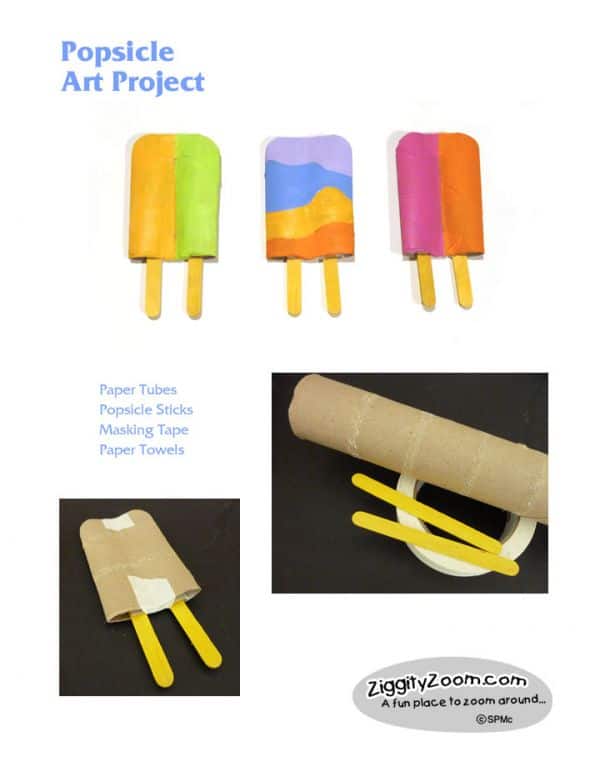 If you're going to put together a quick afternoon crafting session with your kids, would you rather make it from something that's already in your house and might be thrown out if you don't use it for making things? Then we have a feeling you probably love repurposing and upcycling craft ideas just as much as we do! That's why we're always on the lookout for new projects that use things like paper towel and toilet paper rolls for crafty purposes. These double sided toilet paper roll popsicles outlined step by step on Ziggity Zoom are the perfect example of what we mean!
5. Jumbo foam popsicle garland
Do you love the idea of crafting new things from upcycled or unconventional materials, but you'd rather create something that's a little neater looking so that perhaps you can turn it into decor for a fun pool party or summertime birthday celebration? Then we'd definitely suggest taking a look at how Oh Happy Day made a whole string of fun little popsicles using cut sections of foam pool noodles! Honestly, these summery garlands are so cute that we'd be tempted to leave them up all season, even after the party is done.
6. Popsicle stick and pom pom popsicles
Are you the kind of avid classic crafter who keeps crafternoon favourites like popsicle sticks, pipe cleaners, and pom poms around at all times, so you've actually been scrolling through hoping to find a popsicle themed craft that will let your kids use some of those things? Then we have a feeling you'll appreciate this fantastic sprinkled popsicle idea featured on Pinterest! We also kind of just get a kick out of the idea of making popsicles from the very things you'd eat a popsicle off of, if we're being honest.
7. Awesome popsicle resist art
If you and your kids have never tried "resist art" then we're sorry to tell you that you are missing out! There are a number of ways to do it, and this particular popsicle design would work with white wax crayons as well, but Fun At Home With Kids actually shows you how to create your basic shape using hot glue, filling the colours in with water colour paints and markers or felt tip pens. We love the way the finished treats look kind of pop art inspired!
8. Felt, pom pom, and glitter crafts
Have you been scrolling through our list so far and considering which craft your kids might like the process of making best and, even though you're convinced the jumbo cut and paste popsicles might be their favourite, you're still wondering whether you might help them use more interesting materials than just paper, scissors, and glue? In that case, we'd absolutely suggest taking a look at how Live, Craft, Love did something similar using brightly coloured crafting foam, pom poms, and glitter glue! You'll get a finished product that's essentially the same, but with a little more texture and detail.
9. Puffy paint and sprinkle popsicles
If you're going to help your kids make something fun from scratch, would you rather make it something really hands on, with a slightly more unconventional element that might keep them especially interested and excited to get their supplies out? Well, if your kids love getting a little messy with paint even half as much as ours do, then we have a feeling these puffy paint popsicles outlined step by step on Play Dough and Popsicles will be right up their alley. We love the texture the finished product features, as though the popsicles really have been dipped in chocolate or icing, and we're particularly huge fans of the way they made the popsicles look even more realistic by scattering them with actual sprinkles right before the paint dried!
10. Peachy Popsicles for kids
While you might well appreciate all these crafty little ideas for making creative homages to your favourite summertime treat, have you actually been thinking this whole time about the part where we said we've actually made real homemade popsicles with our kids before, wondering whether your kids might like to try that as well? In that case, we have a feeling you're going to love how simple these delicious homemade peachy popsicles from Glued to My Crafts are! Your kids will feel very accomplished indeed when they get to enjoy the yummy taste of something they helped make themselves.
11. "Cool dad" popsicle card
If you're going to make a themed craft in the first place, would you also quite prefer to include some kind of fun pun or play on words whenever possible? Then we think perhaps this "cool dad" Father's Day card might be right up your alley! Seaside Sundays shows you how to make the popsicle so it opens out like an actual card despite its fun embellishments. We also love the idea of altering the wording for any occasion; writing "cool friend" for someone's birthday, for example, would be just as fitting.
12. DIY sidewalk chalk popsicles
Are you still thinking about how much you loved the idea of helping your kids make something that's both creative and useful, letting them craft a new thing but also continue amusing themselves with that thing when it's finished? Then here's another idea for your consideration! We are absolutely in love with the way Hello Wonderful turned a set of colourfully swirling sidewalk chalks into popsicles by gluing sticks to the bottom. This way, your kids get to make popsicle crafts but they also get to draw with them whenever they please once they're finished!
13. DIY popsicle donuts
What if you're still feeling quite intrigued by the idea of getting your kids involved in making treats of their own in the kitchen, but you know they're not actually huge fans of how iced treats feel on their teeth, no matter how much they actually like the look and idea of summertime popsicles? In that case, we have a feeling you might all get along better with this awesome popsicle shaped donut design from Crafted By Jen. They show you how to bake the sweet, fluffy basic shape and then add an icing design and stick to really finish the design off.
14. 3D popsicle cake
Perhaps you're actually quite experienced in the baking department and we've really caught your attention with the idea of popsicle shaped baked goods, but you'd prefer to make something that's shareable? Then we think perhaps we've found just the the idea for you when it comes to celebrating summertime birthdays (or any special sunny day, really)! Check out how Craftsy baked a delicious cake and used fondant and baker's icing to make a giant sprinkled popsicle with a funny bite out of the top.
15. Rainbow soap pops
Have we really caught your attention the most so far with the idea of making popsicle shaped things that are useful in all kinds of other ways, no matter how realistic they look? In that case, if your kids are a little older or feeling up for a challenge, we'd suggest taking a look at how Jennifer Perkins made these awesome rainbow soaps that make fantastic summertime gifts or party favours!
Do you know someone who loves the flavour and aesthetic of popsicles just as much as we do, if not more, and who adores meeting their favourite things with their crafting skills? Share this post with them so they have all kinds of fantastic new popsicle themed crafts and DIY projects to try!