15 Creative Ways to Upcycle Gum Containers
If we're being honest, some of our very favourite crafts we've ever done have been upcycling projects. There's just something so innovative and creative about repurposing an old thing that you might have originally thrown out into something you might actually find helpful or practical and be able to use again! That's why, when the phenomenon of transforming gum containers into all kinds of different household things came about in the DIY world, we were more than intrigued. Besides, we're absolutely the kinds of people who always have gum on hand; in our purses, on our side tables, in our cars… you name it. It'll come as no surprise to you, then, that the moment we started investigating the different kinds of things you can turn bulk gum containers into, we found a whole pile of ideas that we thought were useful. We started saving the containers and crafting things out of them pretty much immediately!
Just in case you're as enamoured with the idea of making practical things out of gum containers as we were, if not more, here are 15 of the best ideas, designs, and tutorials that we've come across in our search so far.
1. Bead organizer
If you're anything like us, then you and your kids have stockpiled all kinds of craft supplies over the years, amassing spare bits like beads, crayons, ribbons, and so on that all need to be stored effectively between projects so they don't end up all over the table and floor. That's why we thought this gum container turned bead holder was such a great idea! Chica and Jo show you just how effective it can be for not only storage but also bead sorting as well.
2. Bobby pin storage
Is the area of your house that really needs some organization when it comes to the very small things actually your vanity and not your crafting cupboard? In that case, we have a feeling you might actually get along a little better with this bobby pin storage idea featured on Sincerely Peachy instead! The basic concept is much the same, but this time they suggest decorating the outside of the container with paint or nail polish so it actually adds a pop of colour to the room while it sits on your vanity where you can reach into it easily to style your hair each morning before work.
3. Cereal snack container
If you ask us, there are two key awesome features about these gum containers that all the brands have adopted now. The first is that they have great pop-tops that click together well to keep what's inside… inside. At the same time, those tops are easy to open whether you're aiming for the smaller side because you only need one or two pieces, or the bigger side because you're sharing. The second awesome feature is that they're a perfect portable size! That's why we thought this to-go children's cereal snack idea outlined by Life Aspire was such a fantastic idea. Now you'll always have something simple for your kids to munch on, right there in your purse.
4. Gum container advent calendar
Have you actually been saving up your old plastic gum containers for quite some time now and you've collected quite a few, so you're looking for an idea that will help you use several of them at once? Well, if you've ever been a fan of DIY games or novelty activities around holidays and special occasions, then we'd be willing to bet that you like advent calendars. That' means you'll probably also appreciate how Joyful Daisy decorated their old gum containers in super fun ways and used them to create a DIY advent calendar filled with all kinds of little trinket gifts and treats! Sure, advent calendars are usually used to count down to Christmas, but you could count down the days to just about any special occasion from the one month mark if you really wanted to.
5. Headphone case
The big rounded gum containers that we've shown you so far on our list aren't actually the only kinds that you might collect, depending on where you shop and which brands you buy! Instead, some brands make their plastic pop-top gum containers in a skinnier, longer, and more cylindrical shape. That's the kind that Pinterest suggests using to store your headphones or earbuds to stop them from getting tangled in your bag! The shape is a little more space efficient; you don't need all that extra space that the other, bigger gum containers give you just to wind a little cord into.
6. Button container
Are you actually scrolling through our list right now but still thinking about how useful the crafting supplies storage idea that we showed you earlier was, even though you don't currently have any beads to sort or organize? In that case, we think you'll be pleased to learn that some people keep all kinds of other things in their upcycled gum containers in a similar way! The way Chica and Jo put buttons in theirs is a perfect example of what we mean.
7. Homemade snowmen tea containers
Are you the kind of coworker or friend who loves holidays so much that you insist on making some type of little DIY gift for those around you near the holidays, just because it makes you feel good to use your crafting skills to brighten someone else's day? In that case, we think we might have found just the idea for you! We can't get over how cute these little painted snow men created by Heidi Kreider are. They used containers from a brand that ridges the outside of their packaging, making it look like the snowmen really are made of big snowballs piled one on top of the other. They filled their container snowmen with fragrant loose tea as a small holiday token, but you could fill yours with your coworkers' favourite candies instead if you prefer.
8. Bathroom supply organizers
Did we really catch your attention when we started talking about how bobby pins can be stored in old gum containers because you do, in fact, need a bit of an organizational vanity area overhaul, but now you're actually thinking about how your whole bathroom counter could benefit from a bit of small space storage as well? Then extend the container idea and put all kinds of things in them! We love the way this post on Pinterest suggests using them for cotton swabs and makeup remover pads as well. They fit perfectly!
9. Modern matchbox
Do you live out in the country or frequently visit a cottage where you actually find yourself using matches quite often, but you're always having to buy new packs or boxes because the cardboard cases don't stop the match tips from getting damp? Then Life Aspire has just the solution for you. They suggest buying a larger quantity and emptying them into a well labeled gum container so you can click the lid shut and keep the matches safe, dry, and out of the reach of kids or grandkids, while still having them at easy access for yourself.
10. DIY sugar scrub container
If you happen to be a homemade beauty products guru on top of also being a craft enthusiast, then we have no doubt that you appreciate opportunities to merge the two worlds together whenever you can, just like we do. That's why we just had to share this fantastic DIY sugar scrub storage idea from Joyful Daisy! Whether you're keeping the scrub for yourself or giving it away as favours to friends and event guests, keeping your old gum containers gives you a place to store the scrub that upcycles, doesn't cost a fortune, and will stop it from leaking and getting your vanity or the edge of your bathtub sticky.
11. Fresh limes container
Are you a huge summer person who loves to host friends and family for casual evening cocktails at your cottage, but you prefer to take everything you need for the drinks and snacks you serve outside so you're not always running in and out of the house while you try to socialize? Then we have a feeling you'll find this particular idea from Pinterest quite convenient indeed! They suggest pre-cutting your lime garnishes and putting them in a repurposed gum container so you can access them easily but pop the top closed to get them fresh and protect them from drying out between drink mixing sessions.
12. Fairy garden water bucket
If you're going to craft with upcycled materials, do you just know you're going to end up making something for your kids, as you usually do? Well, we're pretty guilty of that as well, so we certainly can't say we blame you! Recently, our little ones have been on a pretty huge fairy and woodland elf kick after reading some new fairytale stories, so this adorable fairy bucket tutorial outlined step by step on DIY and Crafts caught our eyes well! They show you how to make it happen using a repurposed gum container, some string, and some wooden kebab sticks.
13. Glitter container
Are you actually still thinking about how much you loved the earlier idea of using plastic gum containers to store crafting supplies, but you're wondering whether there might be a way to actually use the containers to make the crafting process itself easier? Well, if you're the kind of sparkle-loving crafter who enjoys using glitter bit hates getting it everywhere, then we have a feeling we've found just the idea for you. Check out how Chica and Jo sorted their glitter by colour and used the small side of the pop-top to make for easier pouring and sprinkling!
14. Gum container turned fancy pin cushion
Have you actually been starting at your saved and de-labeled gum containers for a while now and thinking about how they look like they might actually be better used as a base structure for something, rather than as a container like the things we've shown you so far? Then we have a feeling you'll appreciate this idea from Pinterest, which suggests using fabric, lace, beads, and a bit of stuffing to transform the outside of the container into a lovely looking little pin cushion for your sewing area.
15. Pourable coffee and sugar containers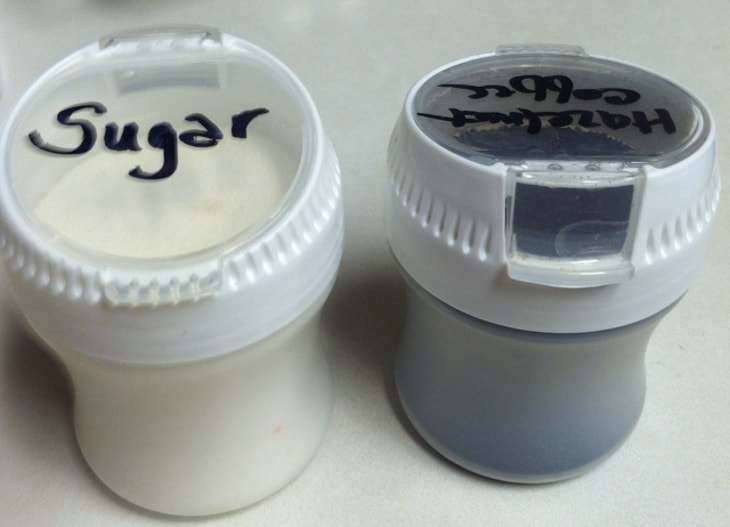 Were you quite intrigued indeed by the idea of using gum containers as storage for things that need pouring, but the glitter concept just wasn't something you think you'll need or use? Then maybe you'd prefer to transfer that basic idea to the kitchen instead! We think the way Life Aspire filled their containers with ground coffee and granulated sugar was very innovative and useful indeed.
Do you know a fellow DIY lover and crafting enthusiast who loves to upcycle anything they can get their hands on and also chews a lot of gum, just like we do? Share this post with them to give them a little bit of inspiration when it comes to making that happen!