17 Front Door Decorating Ideas That You Can DIY With No Fuss
If you're trying to find a way to bring some personality to the doorsteps of your home, look no further. We've scoured the blogs and found 17 front door decorating ideas that you can DIY with no fuss. They're also right on trend and stylishly charming too. Let us know which ones are your favorites!
1. Welcome
This front door welcome sign is one of the most charming DIYs we've ever seen. It includes florals, a warmth, and a certain rustic style that is right on trend with the rest of the design world. Check it out at Crafts by Courtney.
2. Summer Wreath
If you're looking for something specifically summertime, then visit Sarah Joy! You'll learn how to pick your materials and piece together the perfect design to pay homage to the season and welcome your guests at the front door.
3. $10 Home
Check out this "home" sign from The Little Frugal House. It's a budget-friendly idea (costing under $10 to create) and so easy to recreate as well. Choose your colors to match your vision!
4. Color Block Handles
Design Love Fest has these color blocked handles that are just too adorable! We love the surprising detail and how they make something tradition a bit more unique in a subtle way. Hop on over now to check out how to recreate it and attach them to the front door.
5. Pretty Planter
Sometimes it's nice to have things around the front door and not just on the front door. And that's where these pretty planters from Sutton Place will come in handy. Grab the materials and get to work on their creation now!
6. Real Citrus
You can make up some beautiful decor using real citrus – like this wreath for example. Camille Styles will walk you through the details. But take a close look at how great this could be for your spring or summer redo!
7. Wooden Slabs
This wooden doormat is quite the showstopper. Pick your colors, grab your wood pieces, and get it all together for this functional and creative finished product. Follow along with the instructions at One Good Thing.
8. White & Gold
At A Beautiful Mess you'll learn how to make a beautiful – yet traditional – wreath for your front door. We love these creamy shades and how it can blend with the seasons and decor all year long. This is a perfect novice project to jump into first.
9. Monogram Planter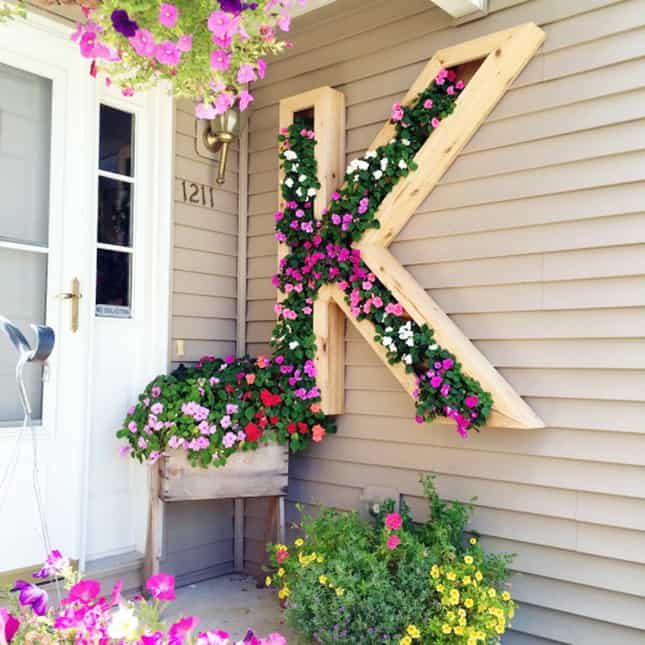 We've gushed over this monogram planter before. You can recreate it in a big or small style, of course. Just follow along as Romedelaholic and think about what kinds of flowers you'd like to showcase.
10. Brick Books
What a wonderful way to decorate those front porch steps than with some bricks painted as your favorite books! The kiddos can get involved with the painting and choosing of the stories. But just think of the curb appeal you'll get from these cuties! Check it out at KU Alumni Association.
11. Floral Monogram
Twinstripe has this wonderful door decor featured on their site. You need some faux florals, ribbon, and an idea of the family initila to get yourself started. It's a wonderful way to personalize, don't you think?
12. Succulent Pots
Turn those tiny succulent pots into a wreath! We're loving this unique idea and love how easy it is to pull off with help from Crafts by Courtney. It's right on trend and will certainly pack a punch at the front door.
13. Decals
Decals can be a great way to add a personalized charm to the front door as well. There are so many to choose from so give yourself some time to find your perfect match. We love this look we found while perusing Pinterest.
14. Personalized Doormat
House On Longwood Lane will show you how to make a personalized doormat.  This one is perfect for Halloween but you can use the instructions to create anything you may fancy – and pay homage to any holiday or season that you love the most!
15. Fall Explosion
This fall explosion is such a beautiful nod to one of our favorite seasons! Hometalk will walk you through how to outline your front door in a way that adds texture, festivity, and autumn-inspired charm. We are loving the color choices here too!
16. Make it Wooden
Did you know you can learn how to paint your front door and turn it into something that looks like a real wood door? Yes, well, you can and it's budget-friendly too. Just hop on over to this tutorial from Designing Vibes to learn how.
17. Minimal
This quick and easy DIY wreath from The Pretty Fix is perfect for the minimalistic lovers. A sweet bout of green can add a welcoming warmth to your front door. And that's exactly what you want your entrance to feel like!