26 DIY Vases That Every Nook of Your House Will Thank You For
The simplest ideas and projects are sometimes the best and when it comes to DIYing, one of the easiest to dive into come in the form of a vase. Spruce up the house, hold your fresh flowers and fill any bare nook or cranny of these house with one of the stylish and versatile pieces. And trust us, with these 26 DIY vase ideas, every nook of the house will be thanking you.
1. Glitter Vases
The Sweetest Occasion shows us how to make some beautiful, glitter vases that will give a girlish touch and charm to any table or corner you place them in. Just make sure to add some fresh florals!
2. Ombre Vases
Check out these ombre vases from Living Well Spending Less and hop on over to learn how to make them! We love their fresh look and they're perfect for springtime decorating.
3. Textured Vases
These clay, textured vases from Green Wedding Shoes are so full of style and personality! We love their funky quirkiness and we love how creative you can be while making them!
4. Confetti Vases
Ruffled made these small and sweet confetti vases that are practically swoon-worthy! And the best part is how easy and fool-proof they are to make, so they're a great DIY for novice crafters!
5. Chalkboard Vases
If you want to make something that the kiddos will enjoy or one that's a bit interactive for guests, then check out these chalkboard vases from My Third True Love!
6. Acorn Vases
One of the more unique on the list, this acorn vase from Creative in Chicago seems like a super fun project to dive into! Take a peek after the jump and grab the details!
7. Sweater Vases
The Girl by the Sea made these sweater vases and we've fallen in love with the creative idea! Recycle and upcycle bottles and sweaters with this genius project!
8. Lace Vases
Add some romance and girlish charm to the house with some lace vases like these. Grab all of the details over at Design Dining Diapers!
9. Frosted Vases
Over at Catch My Party you can learn how to create this super chic frosted vase without too much fuss! We love how you can use this year-round and it blend within the seasons too!
10. Photo Vases
Mod Podge Rocks utilized some PVC pipe and photos to make this fun idea come alive. Fill it up for family-friendly centerpieces or as a gift!
11. Duct Tape Vases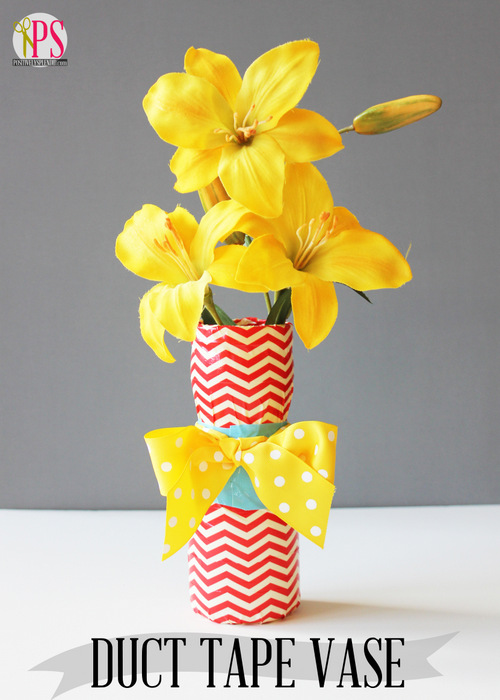 Grab some duct tape and start making these adorable vases from Positively Splendid. There are so many different ways to style and personalize them!
12. Mercury Vases
Wedding Party shows us how to make super chic and unique mercury vases to help decorate any party, event or any nook of your home! They look beautiful with some fresh flowers thrown in.
13. Weathered Vases
These weathered and distressed-style vases from Green Table Gifts can be made right in the comfort of your own home instead of your sifting through the stores to find the same style!
14. Geo Vases
Check out these modern, geo vases over at Handmade Kultur to grab all the details. Make these if you're looking for something new and contemporary to place out in the house.
15. Swirled Vases
Personally, I'm head-over-heels for these marble-dipped vases from Sugar and Cloth. The swirl effect is simple, sweet and subtle but still eclectic and fresh!
16. Thrifted Vases
It All Started With Paint shows us how to redo some thrifted vases in a pinch! Stickers, washi tape, spray paint and more can really help with the transformation.
17. Color Block Vases
We love this modernized chic style of these color block vases from Song of Style. You can personalize these with any color you'd like too!
18. Arrow Vases
Offbeat and Inspired made one of the trendier styles of the bunch. These arrows work great with easy home decor or more rustic elements as well.
19. Perfume Vases
Gather inspired from Dream, Create with these gorgeous perfume vases! A glass vase and a printer is all you need to get this one started!
20. Bark Vases
Jennifer Rizzo is where you'll find these adorable and charming birch bark vases. Learn how to make them after the jump!
21. Painted Vases
Sometimes you can do something as simple as just paint to create a new and improved version. Grab your flea market finds and paint them in whole just like these from Style Me Pretty.
22. Rope Vases
Style Me Pretty is where you'll find the 4-1-1 on these gorgeous and texturally fun rope vases. Use them for events or for your own house!
23. Metal Vases
You'll definitely want to check out these metal vases from A Beautiful Mess. Learn how to make them, style them and use them in and around your home.
24. Shell Vases
Home Life utilizes shells to make this gorgeous vase that will spruce up for summer everytime the season rolls around. And it's far easier than one may think!
25. Dipped Vases
How can you not love the ease and simplicity of these dipped vases from Wedding Bells? Perfect to recreate, grab your pinks and golds and start dipping tonight!
26. Marbled Vases
Centsational Girl shows us all the know-how for making these marbled, swirl-painted vases that are absolutely gorgeous. And when done right, they'll look fresh off the store floor and not the craft room.