15 Fantastic DIY Birthday Cards
Have you ever been slightly obsessed with something a little unexpected that people might not guess, but that's a whole of fun for both you and them? Well, we've got a couple of obsessions like that too, so we can't say we blame you! Recently, we've been completely in love with the idea and process of making our very own birthday cards. There are just so many adorable ideas and designs that make us happy while we're doing them, and brighten everyone else's day too! That's why we always have our eyes peeled for awesome DIY birthday card tutorials that we haven't tried making before.
1. Calligraphed cards on scrap wallpaper
Most of the DIY enthusiasts we know have tried calligraphy in some capacity before, but it's usually in the form of looping lettering and old fashioned writing styles. Did you know, though, that you can also create calligraphed shapes and patterns for a more illustrated visual? It's a lot easier to do than it sounds! See how these beautiful cards were made on Martha Stewart.
2. Watercolour birthday cards
Are you already a very artistic person who loves using your favourite DIY skills to add a little colour and detail to other projects you're making? In that case, we'd definitely suggest taking a look at how Big Picture Classes used their impressive watercolour painting skills, along with some stamping and some basic stitching, to create a stunningly colourful birthday card for a loved one.
3. Hand drawn white ink and chalk gems on black paper
Like us, have you always loved the way black paper makes art and illustration look but you find that you aren't always able to make the things you're designing show up very well on it? Then we have a feeling you're really going to appreciate the tutorial that goes along with this black paper, white gel ink, and chalk card idea from The Postman's Knock! They give you tips and tricks for hand drawing and lettering your own designs too.
4. DIY striped sequin shaker card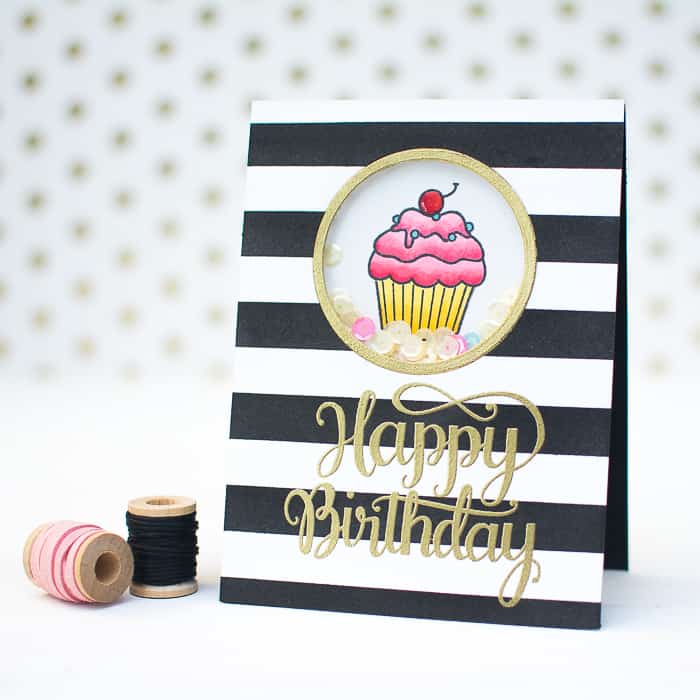 If you're going to all of the time and effort it takes to make your very own birthday cards for friends and family, would you rather create a design that has some little extra detail or appeal to it? Well, if you're a lover of all sparkly things like we are, we have a feeling you'll get along very well indeed with this DIY sequin filled shaker card outlined step by step on Mayholic Craft! You can draw whatever you like to appear in the little shaker window, but we'll admit that we're pretty partial to this colourful cupcake.
5. Pixelated woven paper card
Have you actually always been the kind of person who feels rather partial to simple, super quick paper crafts because they hearken back to your childhood crafting days, but you're also looking for a cool visual effect or a little bit of a challenge? In that case, we think you simply must take a look at the way Trend Hunter used thin strips of paper in a gradient of colours to make this pixelated looking effect from simple weaving techniques.
6. Vellum balloons card
Vellum crafts are another thing from our childhood that we still really enjoy doing even though we've grown and advanced in our skills now! There's just something so nostalgic and satisfying about trying out a good classic! That's why these awesome vellum ballon birthday cards outlined step by step on Alt E & New were such a huge hit in our house.
7. Cut, paste, and stamped donut birthday card
Maybe you really enjoyed the idea of making a simple cut and paste craft in a shape that will brighten someone's day but you also always prefer a birthday card design that has a little bit of texture to it? In that case, we have a feeling you'll really appreciate Stampin' 365's suggestion for making this funny little cut and paste donut from pieces of differently coloured foam paper.
8. DIY 3D air balloon card
Speaking of texture in birthday cards, here's an awesome cut and paste paper project that actually creates a little 3D scene for your special person's enjoyment! We're practically in love with the way Krystal's Cards and More used creative cutting, folding, and gluing techniques to make a hot air balloon that really jumps out from the front of the card!
9. 3D layered paper card
Now that we've caught your attention with the idea of making a 3D paper design that stands out and looks like something very real in miniature, are you looking to collect more ideas like that so you have lots of options? Then we'd also suggest taking a look at the way My Creative Corner made this fantastic birthday card that has a cute mail box full of envelopes on the front. We think this is a fantastic project to mail to a loved one who lives far away!
10. DIY pop-up cards
Have we perhaps completely piqued your interest with the idea of 3D paper images on birthday cards but you're not sure your card will survive in the mail in the condition you want if you put your designs on the front? In that case, we think you might get along a little better with the way Oh Happy Day made their cut and folded paper designs on the inside so that they pop up like a kids' book when you open the card!
11. Fabric scrap birthday cards
Are you a pretty regular crafting enthusiast but you find that you're usually working with softer materials like fabrics? Well, if you're a huge fan of upcycling like we are, then perhaps you'd be interested in combining what you usually do with your new passion for cards by making these lovely fabric scrap greeting cards outlined step by step on A Beautiful Mess! They might not be specifically birthday themed, but a greeting card this cute and easy to diversify can be fitting for just about any occasion.
12. DIY ATM birthday card
Did we really catch your attention when we started talking about DIY birthday cards that have an extra playful detail or feature or some kind to them but you're just not sure the shaker cards we showed you will quite appeal to the special person you have in mind? In that case, we'd absolutely suggest taking a look at how Robby Gurl's Creations made this fantastic ATM shaped card that actually dispenses dollars attached end to end when you pull!
13. Embroidered fabric flower cards
Had the idea of making birthday cards that involve using fabric actually been the thing that has appealed to you the most thus far but you're quite skilled at various types of stitching and you'd really prefer to do more than just paste your scraps to the front of your card? In that case, we'd absolutely suggest taking a look at how I'm in Haven made these embroidered layered piece cards covered in pretty flowers!
14. Recycled paper candles card
Just in case you're still as in love with the idea of doing some simple paper crafting and cut and pasting as we are, here's another idea for your list so that you have all kinds of options to choose from! We're huge fans of the way Maker's Society used scrap paper in different colours and designs to make these funny little candles, drawing their birthday message and the candle flames on by hand. You could also get a similar effect using patterned washi tape if you prefer!
15. Hand embroidered birthday cards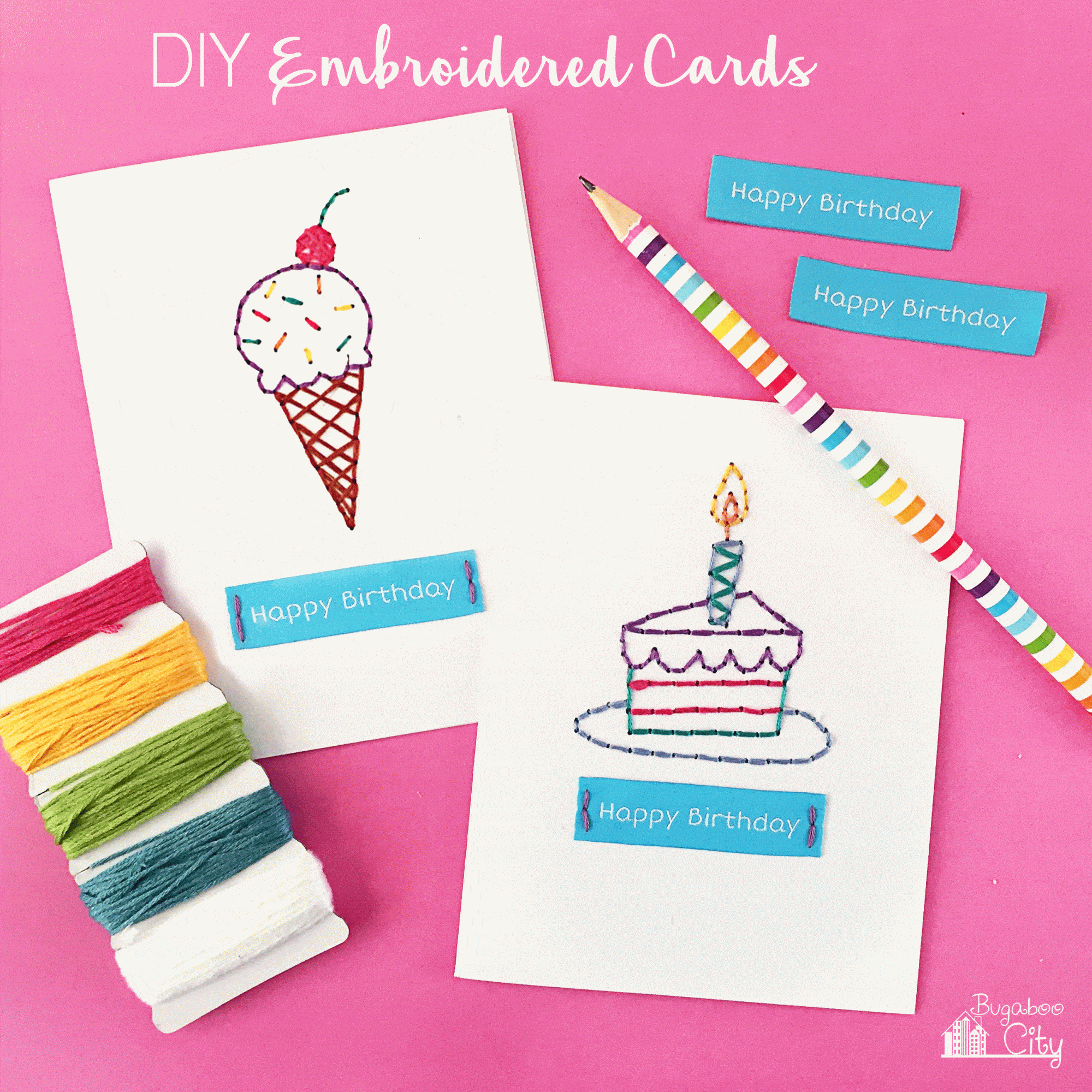 Have we actually really caught your attention with all our talk of embroidered birthday cards but you've always been more of a cross stitching and hand stitching kind of person? In that case, we have a feeling you might get along a little better with the way Bugaboo City outlines drawing the image of your choice by hand and then hand embroidering carefully along your lines in different fun colours.
Do you know another avid crafter or DIY enthusiast who loves making cards for their friends but who could use a little inspiration because you know they have lots of family and friend birthdays coming up? Share this post with them so they can try out all kinds of new techniques!