15 Fantastic DIY Birthday Cards
Have you ever been slightly obsessed with something a little unexpected that people might not guess, but that's a whole of fun for both you and them? Well, we've got a couple of obsessions like that too, so we can't say we blame you! Recently, we've been completely in love with the idea and process of making our very own DIY birthday cards. There are just so many adorable ideas and designs that make us happy while we're doing them, and brighten everyone else's day too! That's why we always have our eyes peeled for awesome DIY birthday card tutorials that we haven't tried making before.
1. Calligraphed cards on scrap wallpaper
Most of the DIY enthusiasts we know have tried calligraphy in some capacity before, but it's usually in the form of looping lettering and old fashioned writing styles. Did you know, though, that you can also create calligraphed shapes and patterns for a more illustrated visual? It's a lot easier to do than it sounds! See how these beautiful cards were made on Martha Stewart.
2. Watercolour birthday cards
Are you already a very artistic person who loves using your favourite DIY skills to add a little colour and detail to other projects you're making? In that case, we'd definitely suggest taking a look at how Big Picture Classes used their impressive watercolour painting skills, along with some stamping and some basic stitching, to create a stunningly colourful birthday card for a loved one.
3. Hand drawn white ink and chalk gems on black paper
Like us, have you always loved the way black paper makes art and illustration look but you find that you aren't always able to make the things you're designing show up very well on it? Then we have a feeling you're really going to appreciate the tutorial that goes along with this black paper, white gel ink, and chalk card idea from The Postman's Knock! They give you tips and tricks for hand drawing and lettering your own designs too.
4. DIY striped sequin shaker card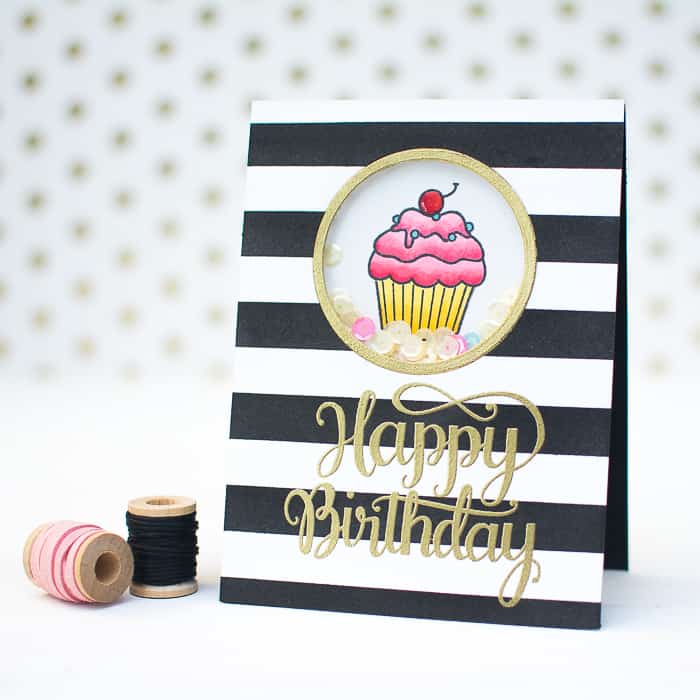 If you're going to all of the time and effort it takes to make your very own birthday cards for friends and family, would you rather create a design that has some little extra detail or appeal to it? Well, if you're a lover of all sparkly things like we are, we have a feeling you'll get along very well indeed with this DIY sequin filled shaker card outlined step by step on Mayholic Craft! You can draw whatever you like to appear in the little shaker window, but we'll admit that we're pretty partial to this colourful cupcake.
5. Pixelated woven paper card