Cute DIY Mother's Day Cards
When we were little, our moms never wanted us to buy them anything for Mother's Day. Instead, they'd ask us to make them something because they loved the idea of being able to keep things that we created ourselves throughout the years as keepsakes. As we got older, however, we saw the sentimental value in handmade and DIY gifts as well, so we never stopped making our moms lovely Mother's Day cards in all different designs.
Just in case you also love to make cards for your mom rather than buying them one at the store, here are 15 wonderfully creative Mother's Day card ideas that she'll be ecstatic to receive! The best part is you can get your kids involved on these ideas too, because Mother's Day is also a great time to celebrate Grandma.
1. Daisy chain flower pot card
Have you always loved going through old pictures and photos and using them in your crafting projects whenever you can? Then you're going to love this potted daisy chain idea from KareWares! Their tutorial shows you how to string some pretty paper flowers along a string that pops out of a little pot made form a paper pocket that says "Happy Mother's Day". What's the best part, you ask? The part where they included cute pictures in the centre of the flowers along the chain, of course!
2. Washi tape stripes card
Is your mom a huge fan of colours and patterns and you know that, given a choice, she always picks the most visually interesting option possible in just about any scenario? Then making her a card from one simple piece of paper won't necessarily be the best style option for her! Our mom has a colourful personality like that too, so we were pretty happy when we found this awesome washi tape stripes idea from Oh So Very Pretty. You might use washi tape to make yourself a cool repeating pattern down the front of the card or you might just make every single strip another awesome shade and design for maximum detail.
3. Pop-up flower card
Adding pop ups to a homemade card makes everything just a little bit more exciting no matter the occasion. We think 3D popping flowers are an especially fun thing to open a card and discover! When we were younger and still living at home, we'd get our Mom a bouquet of flowers every year on Mother's Day but now that we live in another city, it's easier to send a card that just has flowers on or in it instead. This is a great, long-lasting alternative to the real thing! Check out how the flowers are made on Martha Stewart.
4. String heart cards
Are you the kind of DIY enthusiast who really likes it when the things you make actually look and crafted and DIY rather than looking like perfect replications of things you might buy in a store? Then making your mom a Mother's Day card that involves a little bit of unique crafting skill might be a better idea than just a cut and paste project! We love the way Hello Wonderful used their embroidery skills to create an adorable woven yarn heart that was clearly made with love.
5. Pretty paper flower pot
Whenever you make someone a card yourself, do like it to be interesting to look at and uniquely shaped? In that case, we think you'll enjoy both the process of making and gifting this adorable little flower pot design from Julie Davison! The cute little lacy trimmed pot opens up into a card while the flowers just add some personality and a pop of colour. You could make them whatever colour you please!
6. Paper lace, ribbon, and faux flowers
Is your mom the girliest of girly girls and you have fond memories of her decorating your childhood home with lace doilies, fresh flower vases, and the colour pink? Then you'll love the way Crafty Sahm I Am teaches you how to make a Mother's Day card that matches her aesthetic perfectly! They've used embossed paper, paper doilies, and ribbons to complement a some stunning paper flowers that we thought were real when we first saw them.
7. Paper tulip card
Were you intrigued by the idea of substituting a bouquet of Mother's Day flowers with a cute card that heavily features stunning paper flowers instead, but you're not sure you feel like getting detailed with your scissors the way you need to in order to make the pop up flowers we showed you earlier happen? In that case, check out this adorable folded tulip idea instead! Martha Stewart has a great video that shows you exactly how to cut and fold the flower shape. We love the idea of writing your well wishes on green paper to make a leaf!
8. Silhouette pop up letters
Perhaps you're actually really into the idea of pop up cards but you're more of an artsy minimalist than a graphic floral person? Then you might have more fun making these adorable short message pop up cards featured on 1 Dog Woof! We like the idea of having the point of your card spelled out on the inside rather than on the cover and then writing your message on the outside. Putting things in cute reverse to the norm keeps them interesting!
9. I Whaley Love You card
Have you and your mom always loved a good pun and bonded over your mutual love for silly word based jokes? We don't blame you! We get a big kick out of the simplest puns in our household and we'll immediately appreciate anyone else who shares that! That's why we thought this adorable whale card featured on Crafty Morning made such a great Mother's Day idea! You could make the whale from simple construction paper like they did here or get fancy and creative and stitch on a whale cut out made of felt.
10. DIY brag book card
Do you know that your mom loves family pictures more than anything, so you'd really like to make her something photo based that she can hold onto like a keepsake to look back on, rather than just a cardboard card that she might forget about after a few weeks? In that case, try making her a "brag book" just like this one from Nalleshouse. You can certainly still write a lovely Mother's Day message inside (dating your message will only contribute to the nostalgia of the gift), but it'll make the perfect little conversation starting piece for your mom to set out on the side table and show any visitors she entertains. We love how neat and tidy their paper embroidery and accordion layout looks!
11. Water bottle and buttons card
Are you looking for cute Mother's Day card ideas that you can make with your kids but you're just not sure any of the designs we've shown you so far will quite make for the kind of crafting afternoon you had in mind? Well, here's one from Katie's Crochet Goodies that lets you use paint and upcycling techniques! Their tutorial shows you how to make a cute little daisy shape by dipping and imprinting the bottom of a water bottle onto the front of a fold paper or card. Finish of the flower's stem and leaves, write a nice message, and voila!
12. Sweet M&Ms card
Is your mom a "chocoholic" through and through and you know that her favourite thing about Mother's Day is getting to indulge in a few chocolatey treats guilt free in order to celebrate the occasion? Then help her out by making her a "card" that's also part chocolate treat! We've actually made this M&M's themed mom gift from The Pin Junkie for our own moms before and it was a huge hit. Use the printable they give you or simply borrow the concept and make your own label however you please!
13. Finger print flower cards
Are you super intrigued by the idea of making your own Mother's Day cards with your kids and you definitely want to use paint, but you know your little ones well enough to know that they're going to want to get really hands on with it rather than using a tool to make their pattern? In that case, maybe you should just dive right into some finger painted Mother's Day cards like Starking Crafty and Party did here! We love their pretty spring flowers that are made from a combination of coloured paper and pretty paint finger prints.
14. Fabric scrap bird card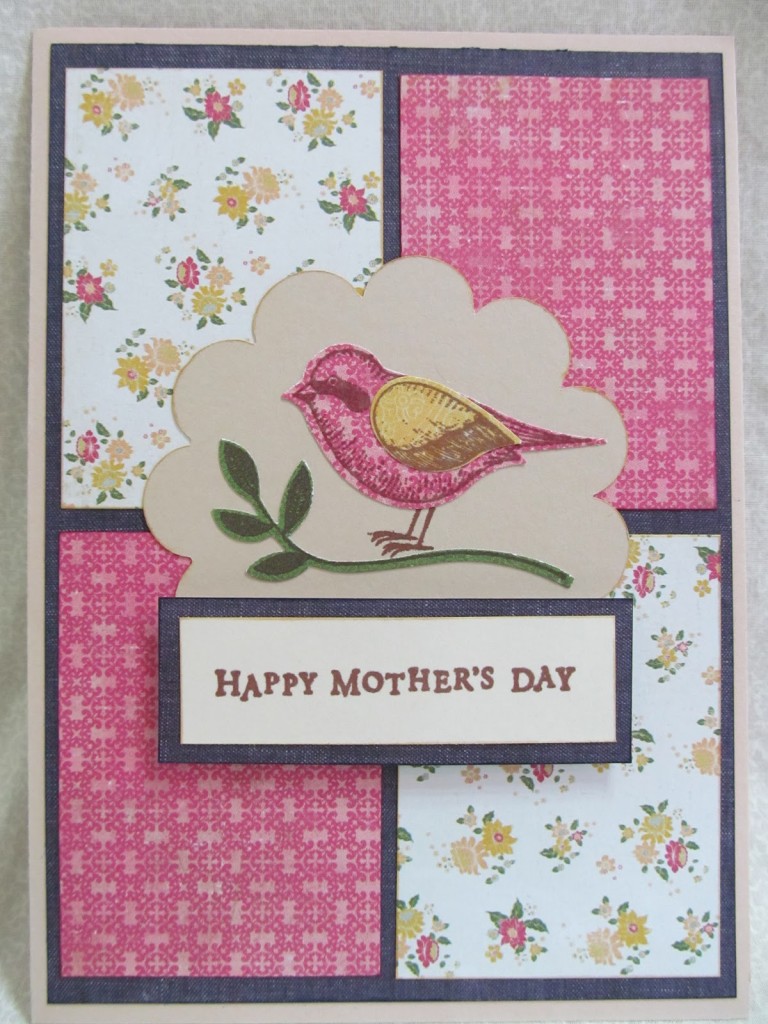 Are you a sewing enthusiast who originally bonded with your mom over your love for making things with fabric when she taught you everything you know how to do with a needle and thread? Then why not make her a card that really celebrates that shared passion? We love this little fabric scrap card idea from Savvy Handmade because beyond being totally adorable, it's also a great way to shows a bit of extra effort and use up some of your littlest fabric scraps! The bird is a fantastic added touch since Mother's Day is such a sign of spring.
15. Hand print flower pot card
We've talked about painting and we've talked about finger painting  to make a Mother's Day card with your kids, but what if your little ones are even a little bit more hands on than that? We know ours well enough to know that as soon as the idea of actually touching the paint even enters their minds, their entire hands are going in it at the first opportunity. That's why we've actually made these cute little paint hand print cards before! Treading on Lego shows you how to turn a simple paint hand print into a whole flower plant and pot complete with an adorable Mother's Day poem to go with it.
Have you and your kids made other styles of fun Mother's Day cards before that they loved creating but you don't see anything similar to what you did on our list? Tell us all about how you did it or link us to pictures of your work in the comments section!