Transform a Plain Picture Frame With Fabric!
Have you ever perused the sale section at the store to find a really cheap picture frame, but it didn't quite match the décor in your home?  I love a good deal, so this is the worst when this happens! A cheaply priced frame that just won't work in your home is a major letdown. Well, it's time to scoop up that clearance frame because you can easily update it in minutes to match your home decor!
An easy way to update a frame that just doesn't quite go with your décor is by adding fabric! That's right you can turn a plain picture frame into something amazing with a fun print fabric!  You will never have to forego that discounted, not-quite-the-right-colored-frame again!  Having the ability to create a customized piece for your home is a great feeling. The different ways to add customized pieces to any room is endless!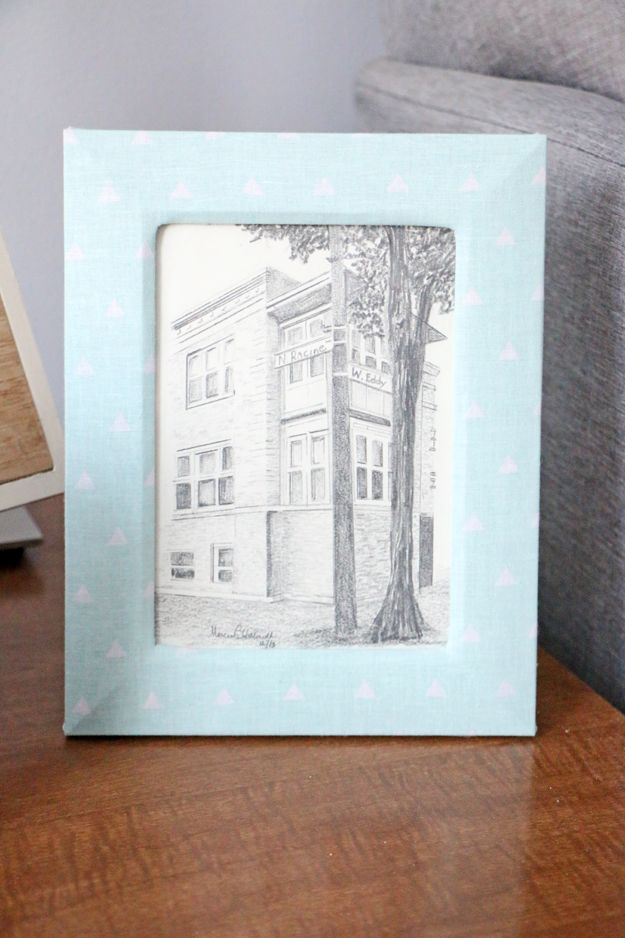 Here's what you'll need:
Picture Frame
Fabric
Scissors
Hot Glue Gun and Glue
Step 1: Lay out your fabric and place your picture frame on top of it (you will remove the glass and backing of your frame before doing this). Next, you will cut your fabric down. I allowed about two inches of fabric from the side of my frame. This will obvious depend on the size of your frame. You just want to make sure you have enough fabric to cover the front of your frame.
Step 2: Once you cut your fabric, you will want to iron it to remove any creases. After ironing your fabric, lay your frame in the center. You are going to cut the fabric at an angle on all four corners, leaving about ¼ inch from each corner.
Step 3: Place a small dab of hot glue on the corner of your frame. Pull up on your fabric, gluing it to your frame. You will repeat this step on your remaining three corners.
Step 4: Add another dab of glue to the corner of your frame. Then, pull up on the fabric on the left side, creating a fold over the fabric your just glued.  Place another dab of glue on the corner of your frame and fold up the other corner of your fabric. Repeat this step on the other three corners of your frame.
Step 5: Add glue down the side of your frame and pull your fabric up and over the back of your frame. Repeat this step on all three corners of your frame.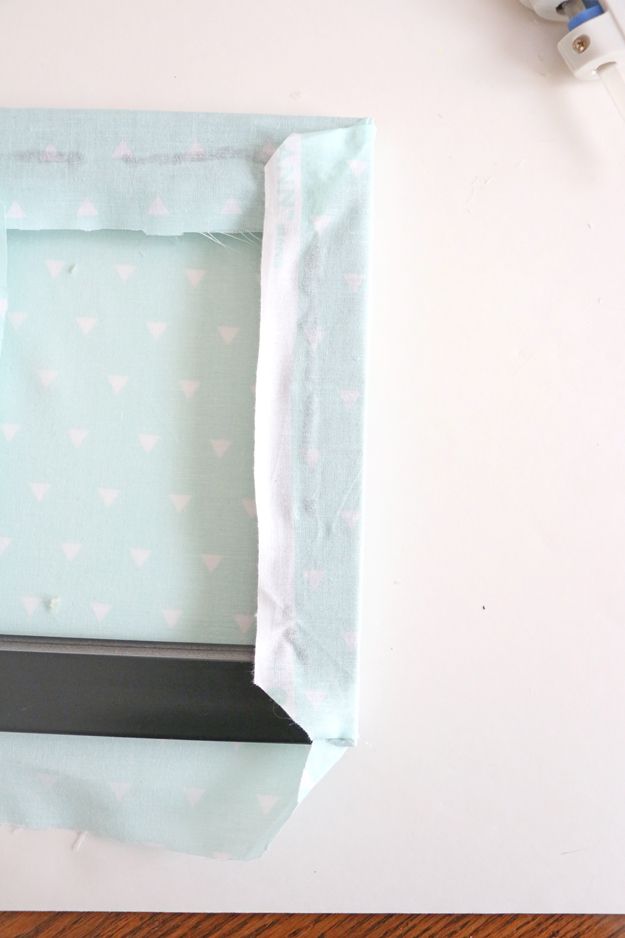 Step 6: Next, you will cut an X in the center of your frame. Start in the center of your fabric and cut up to each of the corners.
Step 7: After you cut your X, you will trim your fabric down so you have enough to wrap up and over your frame.
Step 8: Finally, go around and glue all of the center pieces of fabric to your frame with hot glue.
When you are finished gluing the rest of your fabric to your frame, you will be left with a custom, one-of-a-kind frame perfect for the special place in your home!