These 15 Entryway Ideas Will Create An Even Warmer Welcome Home
Instead of walking into your front door and being greeted by a bare, dull corners, why not add a punch or two of style to make it a cozier entrance? These 15 entryway ideas will create an even warmer welcome home. From unique wreaths on the door to console tables filled with fashion-forward home decor, there's just so many ways to personalize and decorate the foyer area. Let's have a peek at what you can do with your own two hands and your own creativity – all while organizing for the family as well!
1. Farmhouse Bench
Bentley Blonde has a DIY for a farmhouse bench that is truly the perfect addition to all kinds of entryways. From traditional homes to farmhouse-inspired, this piece will certainly help to dd a cozy flair. And it's super easy to make too!
2. Metal Organizers
We're loving this DIY organizer idea from Cherished Bliss too. The mixed material vibe is super trendy but the overall setup will help out with the family's biggest needs. Get all of that school stuff, those shoes, and the sports equipment up and off the floor of the mudroom or foyer and put them in bins instead!
3. PVC Pipe Shoe Storage
Homedit showed off this fun, DIY PVC pipe shoe organizer and we thought it was a great entryway addition as well. It's funky, it's stylish, but its super functional for the family as well. No more shoes in piles, instead, they're easy to find and not causing a ruckus.
4. Trendy & Themed Decor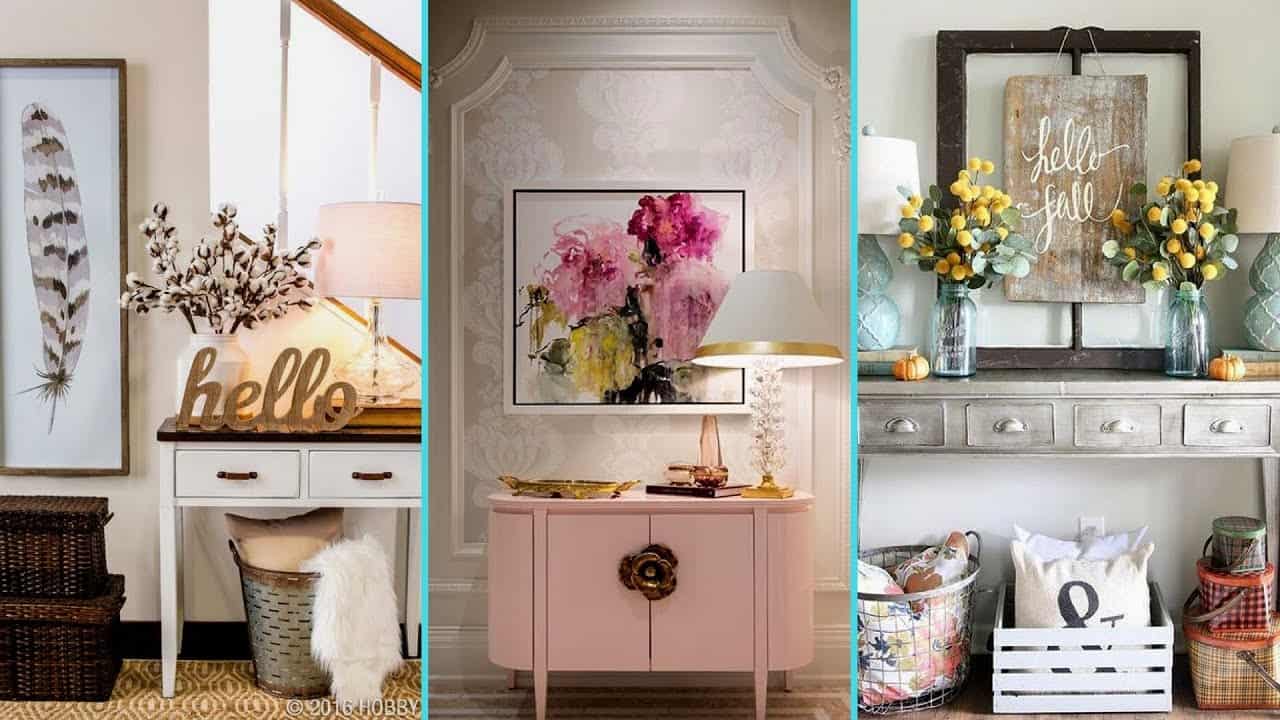 Theme your decor and have fun with it! Over at Flamingo Mango on YouTube, you'll find tons of inspiration for decorating and styling your own entryway. Personalize, make it seasonal, but do anything but keep it dull and boring.
5. Built-In Lockers
Maybe you're lucky enough to have some built-in "lockers" for your entryway – or maybe you need to DIY some for yourself – whatever the case, these are so much fun to have inside the home. Take a peek at this bit of inspiration rom Shelterness for example. Every family member can have their own space, nothing is lost, and everything is tidy.
6. Herbal Green Wreath
Part of the entryway is the door, of course. And that means it should be styled a bit as well. We love lush, green wreaths and this herbal design from Garden Therapy is one that would fit on any door – just dive in and DIY this weekend!
7. Walled Console Table
If you don't have a ton of space but need something to display this and that's, then this walled console table may be something you want make and install. You'll find all of the details at Hey, Let's Make Stuff and you don't have to be a super experienced crafter to make it happen either, so don't worry.
8. Vintage Windows
Hobby Lobby Instagram featured this beautiful setup and we fell in love. Vintage windows can do so much throughout the house and that includes styling the foyer. Grab some old pieces at the flea market and then use them in the space – just use your creativity to put your special mark on it all.
9. Mirrors
Mirror are another way to jazz up and style absolutely any space around the house. We love this nook from Three Thousand Miles and thought it was beautiful inspiration for small foyers. The mirror will add the illusion more space, extra lighting, and add a modern, feminine flair to it all as well.
10. Knob Confetti
Martha Stewart always has wonderful ideas and inspiration. We found this pretty scene there and those knobs are what stood out to us the most. Sprinkle some on the wall and use them not only as functional pieces but pops of art for the wall too!
11. Modern Touches
If you have a spacious entryway area, then take this scene from Urban Squirrel as your own bout of inspiration. We love the infusion of modern and farmhouse styles but it's that piece of art in the middle that has us falling in love. Add a piece of giant, canvas art to the mix for an unsuspecting greeting in the foyer area.
12. With Accent Chairs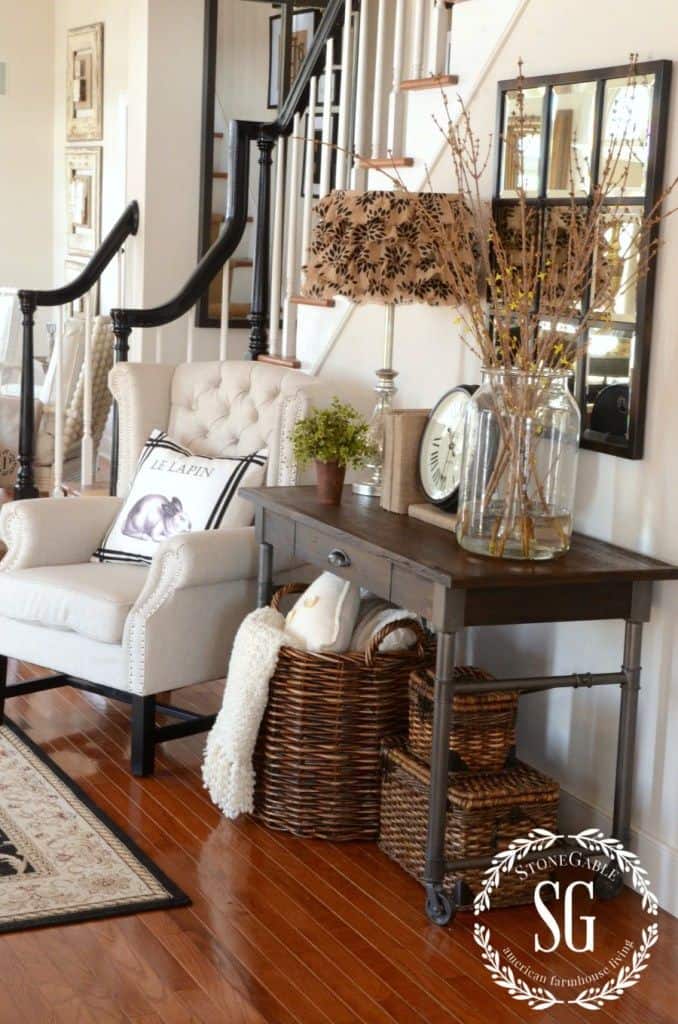 Adding an extra accent chair to your DIY scene can be helpful too. Just peek at this decor look from Hative as your example. We love all the varying textures but its that chair that adds a true cozy, comfort to it all.
13. Some Wallpaper
Wallpaper could make a big difference in the entryway's look as well. Over at A Blissful Nest, you'll learn how to make a similar situation happen for yourself. Grab some tips for using these sheets and creating your own focal point.
14. Hanger Art
Of course, your own kiddos could be your biggest bout of inspiration. We saw this hanger art setup on Pinterest and thought that this was a homey, family-oriented idea that would be a beautiful greeting for both guests and loved ones to be welcomed with. The little ones will get some extra pep in their step from its display as well.
15. Rail Rack
A rail rack can be installed for other things as well – even if you don't have kiddos' art to display Instead it creates an industrial, modern look that's functional for organizing. Take a look at similar ideas over at A Cup of Jo.