24 Thanksgiving Door Signs and Wall Art To DIY
A time to give thanks for every blessing in your life, eat great food and spend time with the family, Thanksgiving is all about being grateful. But it's also another chance to revel in fall festivity! And that includes DIYing some great pieces of decor to cultivate that holiday-feeling around the house. Take a peek at these 24 Thanksgiving door signs and wall art that can jumpstart your Turkey Day sprucing!
1. Peel-Off Quote
A Cultivated Nest took an old canvas piece of art, slapped on some letters, painted over them and then peeled them off to create this detailed and unique piece of mantle art that can be used as sprinkled decor or hung up on the wall! There are so many different ideas that can easily springboard from this idea!
2. Wood Tracing
Over at Quirk Madame you'll find out how to take a beautiful piece of wood and paint on an inspiring quote that fits right into the Thanksgiving holiday theme. Find fonts that inspire you, trace on your words and then start painting the intricate pieces right on.
3. Gold Leafing
Get a bit more precise and posh with this gold leaf project by Polkadot Chair. She'll teach you how to create something for the holiday all while learning how to work with some light leafing. We love the finished product and love how versatile this tutorial can be in the future.
4. Distressing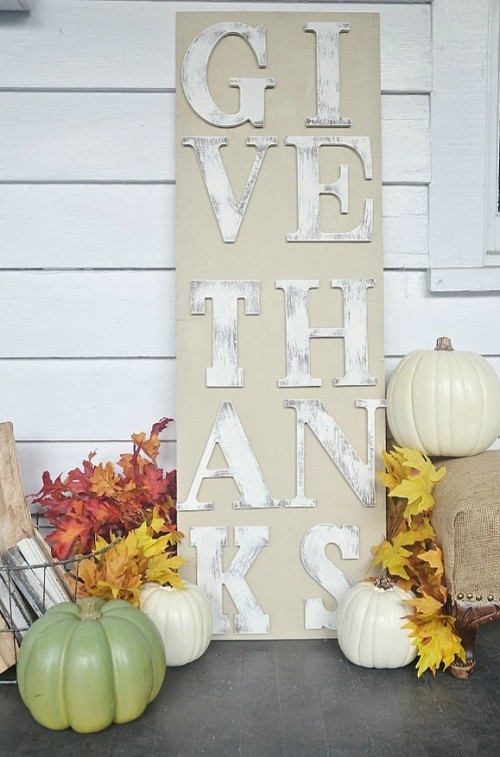 Shelterness shows us how to make this easy, distressed sign that would be perfect in a variety of homes that carry the shabby chic or cottage flair. With a bit of stain and dry brushing you'll be on your way to a new festive and versatile piece of holiday decor in no time!
5. Gobble Gobble