15 Donut Inspired DIY Crafts
Well, it might not be International Donut Day as you're reading this but, in our house, we love donuts so darn much that we might as well celebrate that every single day regardless! Of course, it's mostly the deliciously sweet taste and soft, gooey texture that we love, but we actually happen to think they're adorable too. There's just something about the shape and the different toppings and sprinkles that makes them lovely to look at, as well as to snack on. That's probably why we've caught ourselves having our eyes drawn to all kinds of donut themed crafts and DIY projects lately, and we can't pretend we're at all made about that!
Just in case you love donuts as much as we do, if not more, here are 15 of the very best ideas, designs, and tutorials for cheerful donut themed projects that we've come across so far.
1. Plush donut pillow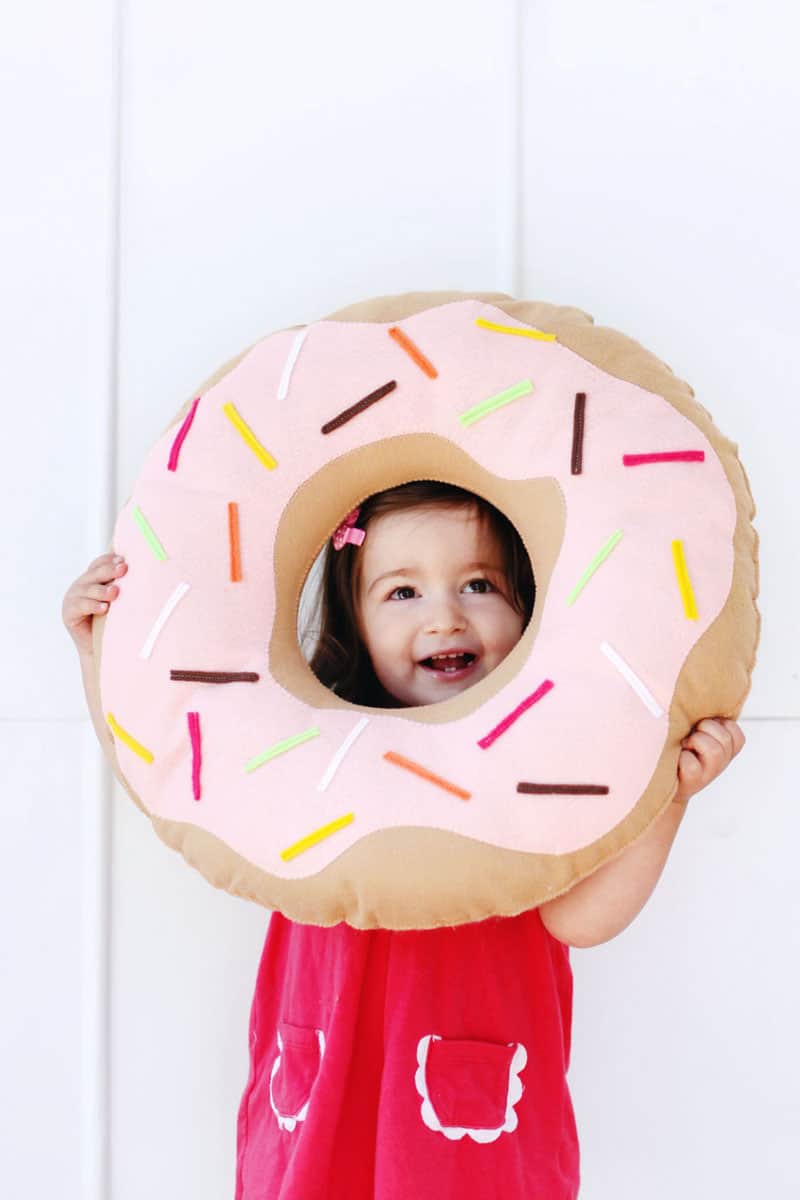 Are you not only a sewing enthusiast but also the kind of kitschy, fun home decorator who loves things like novelty throw pillows and decor pieces in super fun shapes? Then we think you might actually be the perfect person to give this homemade plush donut pillow a try! A Beautiful Mess guides you step by step through the process of measuring, cutting and sewing the pieces to make an awesome ring-shaped pillow complete with little felt sprinkles.
2. Printed donut party garland
Are you actually a little bit pressed for time and supplies but you're still feeling bitten by the creativity bug and you'd love to add a cute, simple donut element to your room? In that case, we have a feeling you might get a long a little better with something like this printable donut party garland outlined on The House That Lars Built. Sure, it might be called a party garland, but we like the design so much that we'd honestly consider leaving it up just for fun long after the guests have left.
3. Adorable DIY donut balloons
Have you always been the kind of party host who loves to customize everything down to the last detail but you often find that stores don't really sell balloons and such in the shapes or colours you were picturing in your head when you envisioned the perfect party decor scheme? Then follow in Studio DIY footsteps and make balloons of your own by embellishing simpler ones! They show you how to create donut balloons using paint and cut pieces of tissue paper streamer.
4. Nail polish donut bangle
Do you actually love donuts so much that some days, when you're feeling particularly kitschy and full of personality, you wish you could wear something sprinkled and cute with your outfit as you go about your day? Then look no further, because Kittenhood has a simple idea we think you'll really life! Check out how they made this cute chunky bangle that's "iced" and "sprinkled" like a donut. We really like that this idea is actually a more affordable DIY take on a pricier brand name accessory!
5. Little wooden donut necklace
Are you quite intrigued indeed by the idea of making yourself a donut shaped accessory or piece of jewelry but you're just not sure a bangle is the best bet for you because you wonder whether it might annoy you as you use your hands at work? In that case, perhaps this small necklace would be a better choice! Lil Blue Boo shows you how to make a ring shape from a small, circular piece of wood, as well as how to customize it with a bit or careful painting.
6. DIY mini donut pinata
If you haven't already discovered the concept of mini pinatas, then we're sorry to tell you that you've been missing out! We're also pleased, however, to be the ones to introduce you to the joys of having a miniature version of the classic party attraction, only this time sized to celebrate any small victory, whether there's an accompanying party or not. For example, we make our best friend one of these when they got a new promotion! It wasn't necessarily an occasion you'd throw an event for, but it deserved celebrating nonetheless. We doubt you'll be surprised in the least to learn that we made sure to find a donut shaped option, of course. See the whole idea in more detail on Little Inspiration.
7. DIY clay donut earrings
Are you actually still thinking, as you scroll, about how much you love the idea of making yourself donut shaped jewelry, but now you're kind of wondering whether you can find another type of accessory to really round out the completed look? Then you simply must check out how Doodle Craft used clay to create some awesome miniature donut earrings that will look simultaneously adorable and delicious dangling from your earlobes.
8. Painted wooden donuts for kids
If you're going to make some kind of super fun donut craft from scratch, would you ideally prefer to make something that your kids can get in on as well? Then we have a feeling you'll enjoy this wooden donut play food craft just as much as our family did! Any project that the kids can enjoy while they do it but also keep enjoying after, as they play with it, is a win in our books. Take a look at how iKatbag helped their kids paint all kinds of delicious looking donut-like toppings on top of wooden rings.
9. Mini donuts from cereal
Have you always been intrigued by those miniature food tutorials that have become so popular online to the point that they go viral, but you're never tried them out because they seem either rather complicated to make or not that yummy to enjoy after, depending on the kind you're watching? Well, here's an awesome way to get a fix of trying it our for yourself without having to worry about either of those things! Tablespoon shows you how easily pieces of Cheerios can be dressed up as tiny donuts using things like powdered sugar and sprinkles. Make suer you take a picture once you're done, because you'll be able to eat them in mere seconds!
10. Toy donuts from old socks
Were you actually quite interested indeed in the idea of helping your kids make DIY toy food donuts but they're young enough that you're convinced a soft or plush version would be a safer and more enjoyable idea for them? In that case, we'd absolutely suggest taking a look at how Inner Child Fun sewed this adorable little donut toy using a repurposed sock! Our kids are still too young to be sewing or working with fabrics, but we had them, help us cut out the felt icing and glue the little sprinkles on.
11. Cute hand sewn felt donut
Did the idea of sewing a plush donut catch your eye immediately but you don't really have any spare socks to work with right now and you actually prefer working with even softer fabrics like felt if you're going to be doing hand stitching? Then maybe you'd prefer this lovely little plush donut tutorial featured on Torre Adora! We absolutely adore the way they used seed beads as rainbow sprinkles.
12. Donut pin cushion with pin sprinkles
Speaking of being a sewing enthusiast, here's an idea that's very similar and will let you practice your hand stitching and plush work, but that's actually surprisingly practical for future sewing projects as well! Punk Projects guides you step by step through the process of making a similar base to the one you saw above but instead of beading, the sprinkles are actually pin heads because you've made yourself an awesome, colourful pin cushion.
13. DIY donut scented soap
Are you the kind of DIY and crafting enthusiast who prefers to work with ingredients and mixtures to make something you can use at the end, rather than doing sewing or painting projects? Then we have a feeling you night have a total blast trying your hand at soap making! Happiness is Homemade gives you a full supplies list and guides you step by step through the process of making an adorable, sweetly scented donut soap complete with fun sprinkles. This idea would make a fantastic gift as well!
14. DIY halved donut friendship necklaces
Did we really catch your attention when we started talking about how much we loved the idea of the donut shaped necklace, but your bestie actually loves donuts just as much as you do? Well, you could just make a second version of that idea so you're wearing one donut pendant each… or you could check out this adorable DIY friendship necklace idea featured on Studio DIY where each of you gets one half of the same donut, just like you share in real life on your weekly catchup dates to your favourite donut and coffee shop!
15. Cute crocheted donuts
Have you actually been scrolling through our list thinking about how there simply must be a yarn based donut craft out there, which would totally be your preference since you're an avid crochet enthusiast? Well, we're sorry we kept you waiting (although we're not sorry that you got to scroll through all these other awesome ideas), but we're happy to report that you were correct! Here's an awesome and surprisingly simple crocheted donut pattern courtesy of Hello Yellow Yarn. We love their stitched embellishments!
Do you know a fellow DIY lover and crafting enthusiast who loves donuts just as much as we do, if not more? Share this post with them so they have all kinds of creative new ways to combine their favourite things in one place!