15 Donut Inspired DIY Crafts
Well, it might not be International Donut Day as you're reading this but, in our house, we love donuts so darn much that we might as well celebrate that every single day regardless! Of course, it's mostly the deliciously sweet taste and soft, gooey texture that we love, but we actually happen to think they're adorable too. There's just something about the shape and the different toppings and sprinkles that makes them lovely to look at, as well as to snack on. That's probably why we've caught ourselves having our eyes drawn to all kinds of donut themed crafts and DIY projects lately, and we can't pretend we're at all made about that!
Just in case you love donuts as much as we do, if not more, here are 15 of the very best ideas, designs, and tutorials for cheerful donut themed projects that we've come across so far.
1. Plush donut pillow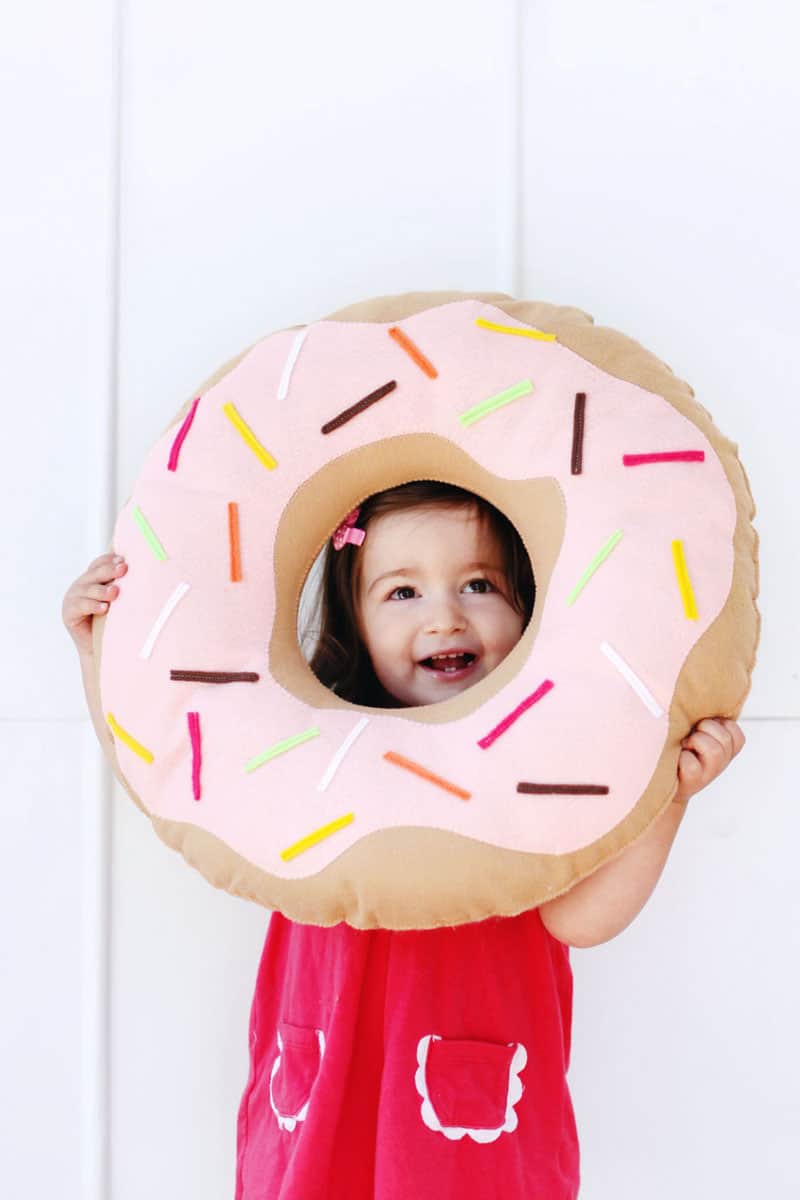 Are you not only a sewing enthusiast but also the kind of kitschy, fun home decorator who loves things like novelty throw pillows and decor pieces in super fun shapes? Then we think you might actually be the perfect person to give this homemade plush donut pillow a try! A Beautiful Mess guides you step by step through the process of measuring, cutting and sewing the pieces to make an awesome ring-shaped pillow complete with little felt sprinkles.
2. Printed donut party garland
Are you actually a little bit pressed for time and supplies but you're still feeling bitten by the creativity bug and you'd love to add a cute, simple donut element to your room? In that case, we have a feeling you might get a long a little better with something like this printable donut party garland outlined on The House That Lars Built. Sure, it might be called a party garland, but we like the design so much that we'd honestly consider leaving it up just for fun long after the guests have left.
3. Adorable DIY donut balloons
Have you always been the kind of party host who loves to customize everything down to the last detail but you often find that stores don't really sell balloons and such in the shapes or colours you were picturing in your head when you envisioned the perfect party decor scheme? Then follow in Studio DIY footsteps and make balloons of your own by embellishing simpler ones! They show you how to create donut balloons using paint and cut pieces of tissue paper streamer.
4. Nail polish donut bangle
Do you actually love donuts so much that some days, when you're feeling particularly kitschy and full of personality, you wish you could wear something sprinkled and cute with your outfit as you go about your day? Then look no further, because Kittenhood has a simple idea we think you'll really life! Check out how they made this cute chunky bangle that's "iced" and "sprinkled" like a donut. We really like that this idea is actually a more affordable DIY take on a pricier brand name accessory!