The 10 Most Affordable Sewing Machines for 2023
Whether you're just a beginner at learning how to sew, but you have a lot of determination and big plans for the future or whether you're simply in need of new hardware because your old machine is too worn, saving up to invest in a new sewing machine is an admirable go for any DIY enthusiast who intends to work with a needle and thread.
Unless you're a professionally working seamstress who produces an impressively high number of garments a week, however, you don't necessarily need to opt for the most expensive brand and model for your home, even if you still intend to make the sewing machine you purchase a good quality piece that will last you well and be a good investment. There are actually plenty of sewing machine options sold online that are both high quality and affordable! We've been thinking about investing in a new sewing machine lately, but we're definitely working on a budget.
We're the kind of budget-savvy crafters who have no problem spending on our favorite hobbies and tools where it's worth it, but who also always make sure we do as much research as we can about the different options before we make a final decision on which to purchase. That's why we made a whole list of good quality but affordable sewing machines available online, since that's how we intend to buy ours!
Editor's Choice
Premium Pick
The Best Affordable Sewing Machines
By the time we'd completed the list and made our choice, we realized we'd created a useful little resource for just about any other rafter looking to buy the same kind of thing, so we figured we might as well share our findings for everyone to see. Check out these 10 awesome affordable sewing machines that we came across so far in our search!
Besides being lightweight and affordable, this award-winning sewing machine from Brother is also sold for a reasonable price as an entire package. It comes with a varied stitch capability range of 27 different stitches (including blind hem, zigzag, and stretch stitches), a one-step automatically sized buttonhole making a feature, and six different sewing feet for different functions and effects. You'll also receive a free arm piece for adjusting the sewing platform to the needs of differently shaped garments. To make sure that you actually put all of these features to proper use and get the most out of them, the package you receive also comes with a full instructional DVD that walks you through all of the machine's features, processes, and capabilities.
This particular machine has a great range of functions for anyone doing essentially any basic sewing project, but it also has a few features in particular that make it extremely convenient to use. The whole machine is built in a lightweight fashion so that carrying the machine from place to place or simply moving it off your work surface to make space for other tasks and projects is extremely easy. The machine also boasts an automatic needle threader and an extremely simple to use a drop-in top bobbin that's specifically designed to be jam-resistant.
As if all of those features don't make the machine seem worth its cost already, the manufacturers also provide you with a generous 25-year limited warranty, with free access to professional technical support for the machine's entire lifetime.
Pros:
Great price.
Features 25 different stitches and comes with 6 feet.
Cons:
The instructions are lacking in some regards.
View price on Amazon
Are you feeling rather enthusiastic about several of the features you see on this machine we listed above, but you're a complete beginner, so you're looking for something a little simpler and more accessible since you're a first-timer to sewing machines? Then we think you might find what this model from SINGER has to offer a little more reasonable. For example, you're still getting built-in stitches, but the options are slightly more basic, making the feature slightly less overwhelming to use, especially since the dial makes them so easy to adjust. You're also still getting a free arm structure to make certain types of garment construction easier, but this time it's on a machine built with an extremely durable, heavy-duty frame that's purposely designed to stay well-anchored enough to your table that the whole machine stays very still for skip-free sewing at all times, but especially when the arm is used.
The machine's construction also held fabric feeding capability in high priority for the sake of an easier beginner's sewing experience. The bedplate of the machine is made from stainless steel, which provides a smooth surface for feeding fabric across, enabling more even stitches and fewer catches or snags. To complete the package when you purchase this machine, you'll also get several replacement needles in a range of gauges, a supply of bobbins, differently sized and shaped sewing feet to give you what most basic garments will need, and even a stitch ripper, since we all make mistakes.
Pros:
Light and compact, perfect for beginners.
Manual could be more informative.
Cons:
You may need to replace the plastic bobbins and get some sturdier needles.
View price on Amazon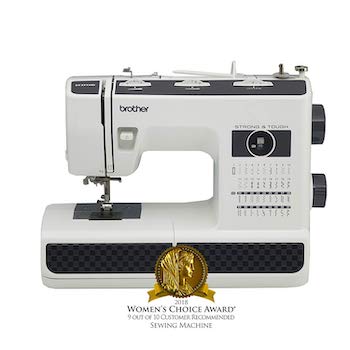 Are you actually looking for something a little more well equipped since you're not a total beginner, and you're willing t0 invest a little more money in the machine to make it worthwhile? Then you might get along a little better with something like this next design fromBrother. This machine includes the biggest range of stitches you've seen on our list so far, giving you a diverse total of 37 useful options, including an auto-size buttonhole feature that works well for most basic garments. For the sake of convenience and speed, designers also included an automatic needle threader that pushes thread through the end of the needle quickly and precisely, as well as a drop-in top bobbin that's specially built to be jam-resistant.
To complete the package when you purchase the machine, you'll also find six different sewing machine feet included, each one perfect for effectively completing a different kind or element of a basic garment. To make sure you know what each one can be used for, the manufacturers also give you not only an instructional manual but also an instructional DVD, just in case you're a visual learner.
You'll also get a detachable free arm feature which works much like the feet in that it lets you easily customize the machine slightly to make it better shaped for sewing different elements, like sleeves. Just in case you're still not feeling sold on this model, consider the rather useful fact that the machine comes with a 25-year warranty and free lifetime technical support!
Pros:
Comes with 37 built-in stitches and 6 feet.
Medium price point.
Cons:
Built-in light is not that bright.
View price on Amazon
Are you actually living in a very small space right now and, even though you're still determined to get your own sewing machine and set up your own sewing station, you're going to need a slightly smaller model? Then we think you might prefer the makeup of this alternative machine option offered byMICHLEY. The small size might not be suitable for a well-experienced professional who sews heavily every day, but it's perfect for learners, it's easy to move from place to place, and it's very simple to navigate. The size is even reflected in the price, making this model particularly affordable even compared to the others on this list.
Like most machines, this little model has a series of built-in stitch settings. This time, you're getting eight of the basics, just a diverse enough selection to have almost all of your basics covered. In fact, that machine is quite well equipped with several similar features that are all intended for simplicity and convenience. It also boasts two-speed settings, forward and reverses sewing capabilities, thread winding features, and a simple pack of supplies to get you started. Besides a simple, straightforward manual, this pack includes spare needles, two spools of thread to start you off, two bobbins, and a threader piece.
Pros:
Portable sewing machine for a really great price.
Simple and straightforward to use.
Cons:
Thread might need frequent replacing.
View price on Amazon
Have you actually been on the hunt for aneven smaller and simpler sewing machine than what you've seen so far because it's really for one of your kids who wants to learn how to sew rather than yourself, but you'll definitely still need to keep things affordable? Then we have a feeling you'll find this design fromNeala a little more along the lines of what you were looking for. Besides being adorable with its little pink accents, this machine is also built for convenience and simple learning, which is why it's designed to be so user-friendly and intuitive. Despite the aim of simplicity, it's got quite a number of features that you might expect of more advanced machines; for example, it has 12 basic stitch settings that any sewing enthusiast will need to learn.
Besides the diverse stitch settings, this machine also has several other great learning tools built into its lightweight frame. It's got a non-slip bottom pad to make sure the machine stays very still while you push the fabric through, a thread and thread cutter for an easy start, an LED lamp for good visibility, and a locking metal foot presser, so things really stay in place while you practice your basic stitches. Each of these features is constructed and placed with safety in mind as well since so many young sewing enthusiasts tend to purchase this design. Just in case it doesn't work out or damage occurs, the manufacturers offer round-the-clock support and practice reasonable return policies.
Pros:
Tiny and portable.
Super affordable price point.
Cons:
Comes with a custom spool, so it's difficult to replace.
View price on Amazon
Are you the kind of multi-crafter who loves to make all kinds of different things, but they're usually all somehow involved in the world of needle and thread? Well, if quilting has ever been in your wheelhouse, then we think you'll find this model from Brother rather appealing indeed. Although this particular machine isn't actually much more difficult to use than most of what you've seen so far, it's actually quite a bit more advanced in terms of what it's equipped with. Even just on the first view, you can see that this machine has a much larger table than some of the free arm designs. It's also got a hardcover LCD screen display that helps you navigate your settings.
Of course, those aren't the only advanced features that this still-impressively priced machine has to brag about. These things include an automatic needle threader and thread cutter, well labeled switches and dials that let you change sewing speeds and directions, as well as a great range of stitch types, and so on. Just in case you're sewing and not quilting, and you're concerned about the idea of not having a free arm for when you're sewing things like sleeves, we think you'll be pleased to hear that the wide table actually adjusts to give you precisely what you're looking for. This machine was also awarded a Women's Choice Award for its great function and intuitive use.
Pros:
Features 60 built-in stitches.
Comes with a wide table.
Cons:
If not calibrated properly, you'll end up with too much thread on the bottom of the material.
View price on Amazon
Are you actually the kind of person who finds you have to do a lot of your sewing on the go because you work at a studio or you visit clients for adjustments during fittings? Then maybe portability is almost as high a priority for you as affordability! We're pretty sure you'll love the way NEX made a machine that offers you both in one place. Besides its shockingly affordable price, this machine boasts a whole range of features that one might not expect on something so small, lightweight, portable, and, indeed, so colorful. Perhaps most notably, this little machine can actually be battery powered for use in spaces where no power source is handy, like the great outdoors!
In terms of what you'd expect in function, this machine is surprisingly well equipped in several classic manners as well. It offers a range of 12 automatic stitch patterns that are simple to navigate and activate, a convenient button that lets you swap stitch directions, and a straightforward dial for adjusting thread tension to account for what you're sewing and the materials you're using. Overall, it's a pleasantly advanced machine in the packaging of a little beginner's model.
Pros:
It's super small and portable.
Super cheap to buy.
Cons:
Only features 12 stitches.
View price on Amazon
Now, we're not going to say that the appearance of a sewing machine is the priority, since the function is clearly much more important, but you also won't catch us saying that a fun design doesn't make things a little more fun to use! If you're on the same page and you're also willing to consider renewed machines that work just as well as new but allow you to seek a more affordable price, then we're pretty sureAmazon Renewed has just what you need in this refurbished Brother model!
Besides its lovely blue and heart-designed facade, this good-as-new but affordable sewing machine boasts 17 automated stitch pattern settings, including all of the basics that learners need to know and all of the regulars that more advanced sewing enthusiasts use regularly. These are switched using a visual dial that's smooth to turn. It also has a simple switch that lets you swap sewing directions with a simple flick for convenience.
The machine also has automated buttonhole settings and a button foot (in addition to three other types of integral sewing feet that you'll get all kinds of use out of). You'll also enjoy the free arm feature, the jam-resistant bobbin system, and a tension control dial that will let you customize your sewing experience even further.
Pros:
Compact, but sturdy.
Comes at a good price.
Cons:
It only comes with 4 presser feet.
View price on Amazon
Maybe we almost caught your attention when we started talking about portability in your sewing machine design but you're feeling caught between the idea of wanting an even smaller and more portable version of what you saw before and one that has a full workspace, since you tend to work with lots of fabric at once? Then we'ddefinitely suggest taking a look at the wayKPCB Tech offers this mini sewing machine with its own wide table attachment, kind of like the kind you'd see on a quilting machine!
Because of its size, this machine iswonderfully affordable, making it the lowest-priced item on our list. Even so, it still has all kinds of things to offer that make it comparable to the others. One of the most interesting (if not integral) characteristics of this particular machine is that it's made of eco-friendly and upgraded materials. Besides giving you more workspace, the adjustable table is extremely simple to attach and disconnect, and it also stabilizes the machine as you work.
Even so, it still has a cuff groove that will help you with things like sleeves and pant legs. Beyond that, an automatic bobbin winding feature makes essentially all of your sewing processes easier and a little bit quicker. Are you atouch skeptical about the size but still interested? Then we think you'll appreciate the three-month guarantee that the company offers with their suggestion that you get to know how awesomely multi-functional the machine is before contacting their customer team for returns.
Pros:
Super small sewing machine.
Large extension table to help stabilize the machine and ease the process.
Cons:
Isn't the most versatile machine, and it knows only a few stitches.
View price on Amazon
Have wealmost got you feeling convinced with some of the simple, portable designs you've seen so far, but you're just not feeling very into the idea of the ones you've seen so far being "mini"? Then we think you might get along a little better with this alternative machine offered by SINGER instead. It's got all the features you've seen before but in a sleek, extra simple design that's still a little more reasonably sized than some of the smallest options on our list. This more traditional model gives you 19 useful automatic stitch-type settings, four snap-on presser feet, a built-in bobbin winding system, a convenient direction switch, and a dial for adjusting tension, all positioned accessibly where you can reach them while you're concentrating on your project.
Although this piece is made simply enough for beginners, it has many of the features you'd expect from a more advanced machine as well. This includes a free arm for cuffs and sleeves, storage built into the removable piece that gives you access to the arm, a range of metal sewing feet that have different functions, and buttonhole settings that help you add them to garments quickly and easily.
Pros:
Easy to use and perfect for beginners.
Comes at a great price.
Cons:
The stitch width is not adjustable for this model.
View price on Amazon
Conclusion
Do you know another DIY enthusiast who has been considering investing in a new sewing machine lately but who feels like they could use a little more guidance when it comes to options and features? Share this post with them, so they have all kinds of models, designs, brands, and price ranged machines to check out in their research!