15 Quick and Healthy Back-to-School Lunch Ideas
Parents usually feel better sending lunches off with their kiddos. You know exactly what they're eating and that they're getting enough to keep them satisfied throughout the day. First days are creeping back slowly and it'll be time to make new grocery lists soon. Take a peek at out list of 15 quick and healthy back-to-school lunch ideas that all the kids will love.
1. Monster Sandwiches
Land O' Moms starts us off with a spooky surprise. It's perfect for around Halloween or just as a fun addition to the lunchbox. Give the kiddos a scream with their fav sandwich – jazzed up just a bit.
2. Crescent Roll Hot Dogs
These are easy to whip up ahead of time and then wrap up in everyone's lunchbox. Send it off with some spicy mustard or ketchup for dipping. Check out the details by visiting Crazy Adventures in Parenting.
3. Avocado & Cream Cheese Sandwich
Sweet Potato Chronicles put together a concoction that may sound a little odd but tastes delicious and it's super kid-friendly. Avocado and cream cheese (with some added veggies for color) is a great way to get the taste buds tingling and provide something new for lunch.
4. Cold Pasta Salad
Cold pasta salad is such an easy route to take for the entire family and their meals for the week. Whip it up ahead of time and you'll have enough for everyone to enjoy. This recipe can be found at Meet the Dubiens.
5. Build-A-Taco Bento
Fun to make and fun for the kiddos to open up. Build-your-own-taco bento box will be a hit in the cafeteria. Follow along with the details at Belly Full.
6. Marbled Rainbow Toast
A Beautiful Mess takes us on a complete adventure with this marbled toast beauty. Top it with Nutella and bananas (strawberries are a yummy addition too) for a sweet surprise. They'll be showing this one off to their friends as well!
7. Strawberry & Cream Cheese Sandwich
Eating Well knows that strawberries and cream cheese go together nicely as well. If your little one likes some sweetness, you may want to try this sandwich on for size. It'll jazz up their weeks of turkey and cheese or peanut butter and jelly nicely.
8. Broccoli Pesto Pasta
Here's another pasta idea that holds well as leftovers and inside the lunchboxes. Bon Appetit will give you all the details behind this pesto creation. Hop on over now and give it a try – broccoli is included so your kids will be getting some veggies in with this one too!
9. Turkey & Cheese Croissants
Design, Dining and Diapers grabbed the crescent rolls as well. You can throw some turkey and cheese in those puppies, bake them, and have some easy main bites for lunch in about 30 minutes tops. And all the kids will love them – even the picky ones.
10. Taco Pop Tarts
Babble will guide you along and show you the ropes behind making these taco pockets. With its sweet counterpart, PopTarts, in mind, you get the conveinence of a grab-and-go food with all the Mexican flavor you love inside.
11. Veg & Hummus Wraps
Do the kids love hummus? If so, use that to your advantage. These wraps can be found over at Life Without Lemons.
12. English Muffin Pizzas
What Lisa Cooks used English muffins as their basis and pizza as the inspiration. These are easy, less messy, and healthier version of everyone's favorite Friday night dinner option.
13. Multi-Grain Waffles & Nutella
Waffles are a great option for popping in the lunchbox as well. Cover in Nutella, add some fruit and voila – delicious for the kiddos. Grab the deets by visiting Archana's Kitchen.
14. Sandwich Kabobs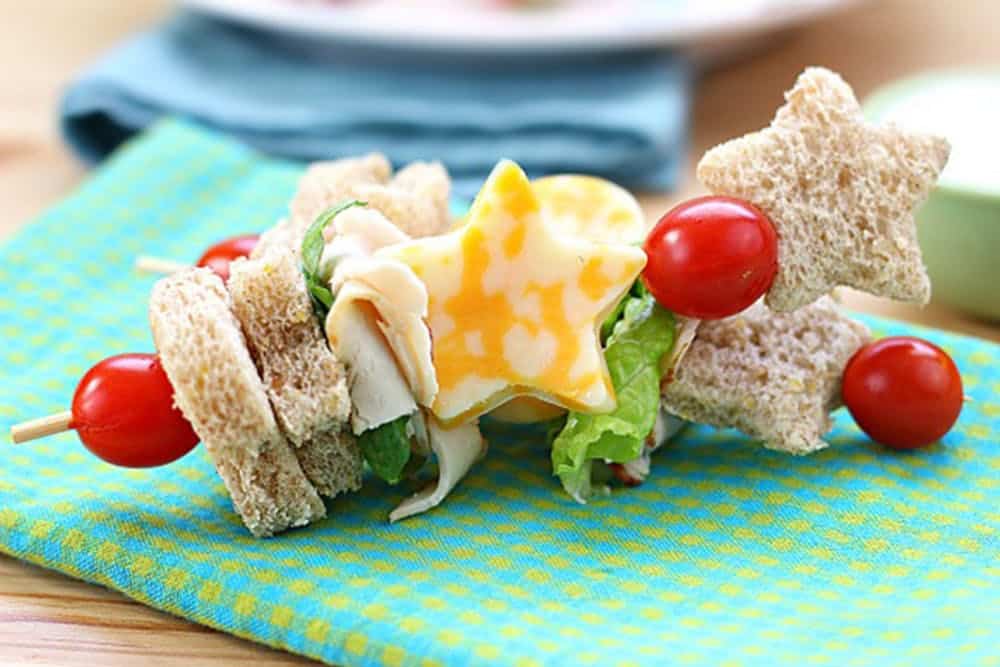 Eat. Drink. Love. went with a deconstructed sandwich vision. Take all the kiddo's favorite parts of their favorite sandwich and use them to make a kabob. Add some shapes, jazz it up, and lunch just got even better.
15. Apple PB&J Sandwiches
What's a way to take a pb&j sandwich to a new level? Add some apples of course, and nix the bread. It's a bit healthier too. Check it out at The Foodie Physician.