Cute Dollar Store Christmas Crafts
In our house, crafting is something that's really important to all members of our family. That's why we're usually willing to invest money in the supplies, so long as it means we're bonding and creating things we love. That doesn't mean, however, that we have to spend a fortune! Im fact, some of our favourite things we've ever made were done using things we got at the dollar store. We actually love dollar store shopping so much that sometimes we purposely go there just to see what we can find and make! Now that winter is on its way and fast bringing the holidays with it, we've been on the lookout for cool dollar store Christmas crafts we've never tried before so we can pick up the things we'll need on our next trip down the block.
Are you feeling just as intrigued we were are, if not more, by the idea of learning how to make some Christmas themed dollar store crafts you've never tried before? Check out these 15 fantastic ideas, designs, and tutorials that we've come across so far in our search for inspiration and guidance!
1. Vintage inspired ornamental Christmas candy jar
In addition to being a total craft lover, are you also an enthusiast of vintage styles? In that case, we just might have found the perfect idea for you right off the bat! We love the way Little House of Four guides you step by careful step through the simple process of making a vintage looked Christmas candy jar using all dollar store supplies. It would look great on an entryway table or your holiday mantel!
2. Fluffy village Christmas wreath
If you're a regular crafter who loves making new holiday decor every single time the seasons change then we'd be willing to bet that you have just as much a fondness for door wreaths as we do! Of course, you can buy all kinds of cute holiday doors wreaths in stores, but that's just never as satisfying as making one yourself. That's why we were so pleased to come across this lovely tutorial from Fynes Designs that teaches you how to use dollar store supplies in order to make this pretty, fluffy door wreath that features a little paper village in its rounded bottom.
3. Cute dollar store fishbowl snowman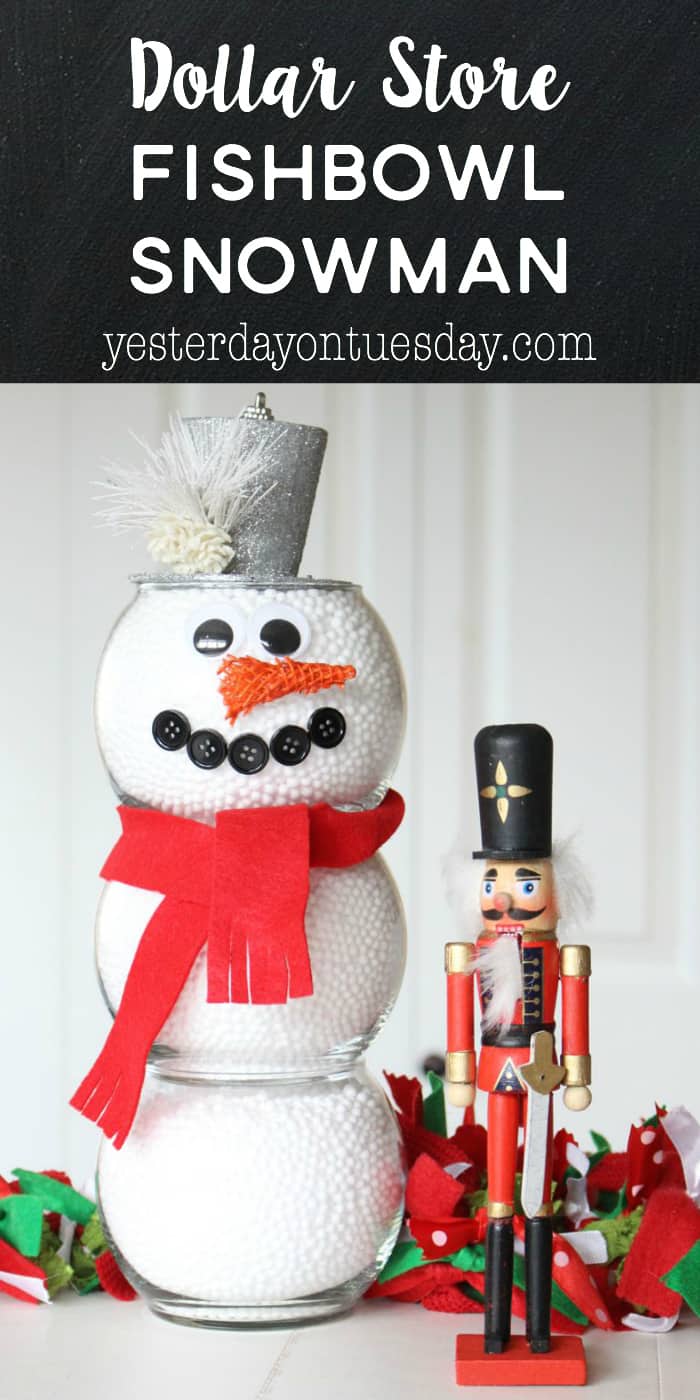 Are you feeling quite intrigued indeed by this whole idea of making some kind of cute Christmas decor piece out of the various glass jars and such that always line the dollar store shelves but the vintage candy jar idea we showed you earlier just wasn't quite character based enough for you? In that case, we have a feeling you might get along a little better with something like this funny snowman from Yesterday on Tuesday that's made from fishbowls filled with miniature foam packing balls, stacked and attached then embellished!
4. Hot glue and glitter dollar store snowflakes
Have you actually been scrolling through our list so far and hoping to come across something that looks a little more realistic and impressive despite being made of very affordable supplies indeed? In that case, we'd definitely suggest checking out how Country Design Style made these lovely, sparkly snowflakes freehand using hot glue! It's a lot easier to do than it sounds.