Cute Dollar Store Christmas Crafts
In our house, crafting is something that's really important to all members of our family. That's why we're usually willing to invest money in the supplies, so long as it means we're bonding and creating things we love. That doesn't mean, however, that we have to spend a fortune! Im fact, some of our favourite things we've ever made were done using things we got at the dollar store. We actually love dollar store shopping so much that sometimes we purposely go there just to see what we can find and make! Now that winter is on its way and fast bringing the holidays with it, we've been on the lookout for cool dollar store Christmas crafts we've never tried before so we can pick up the things we'll need on our next trip down the block.
Are you feeling just as intrigued we were are, if not more, by the idea of learning how to make some Christmas themed dollar store crafts you've never tried before? Check out these 15 fantastic ideas, designs, and tutorials that we've come across so far in our search for inspiration and guidance!
1. Vintage inspired ornamental Christmas candy jar
In addition to being a total craft lover, are you also an enthusiast of vintage styles? In that case, we just might have found the perfect idea for you right off the bat! We love the way Little House of Four guides you step by careful step through the simple process of making a vintage looked Christmas candy jar using all dollar store supplies. It would look great on an entryway table or your holiday mantel!
2. Fluffy village Christmas wreath
If you're a regular crafter who loves making new holiday decor every single time the seasons change then we'd be willing to bet that you have just as much a fondness for door wreaths as we do! Of course, you can buy all kinds of cute holiday doors wreaths in stores, but that's just never as satisfying as making one yourself. That's why we were so pleased to come across this lovely tutorial from Fynes Designs that teaches you how to use dollar store supplies in order to make this pretty, fluffy door wreath that features a little paper village in its rounded bottom.
3. Cute dollar store fishbowl snowman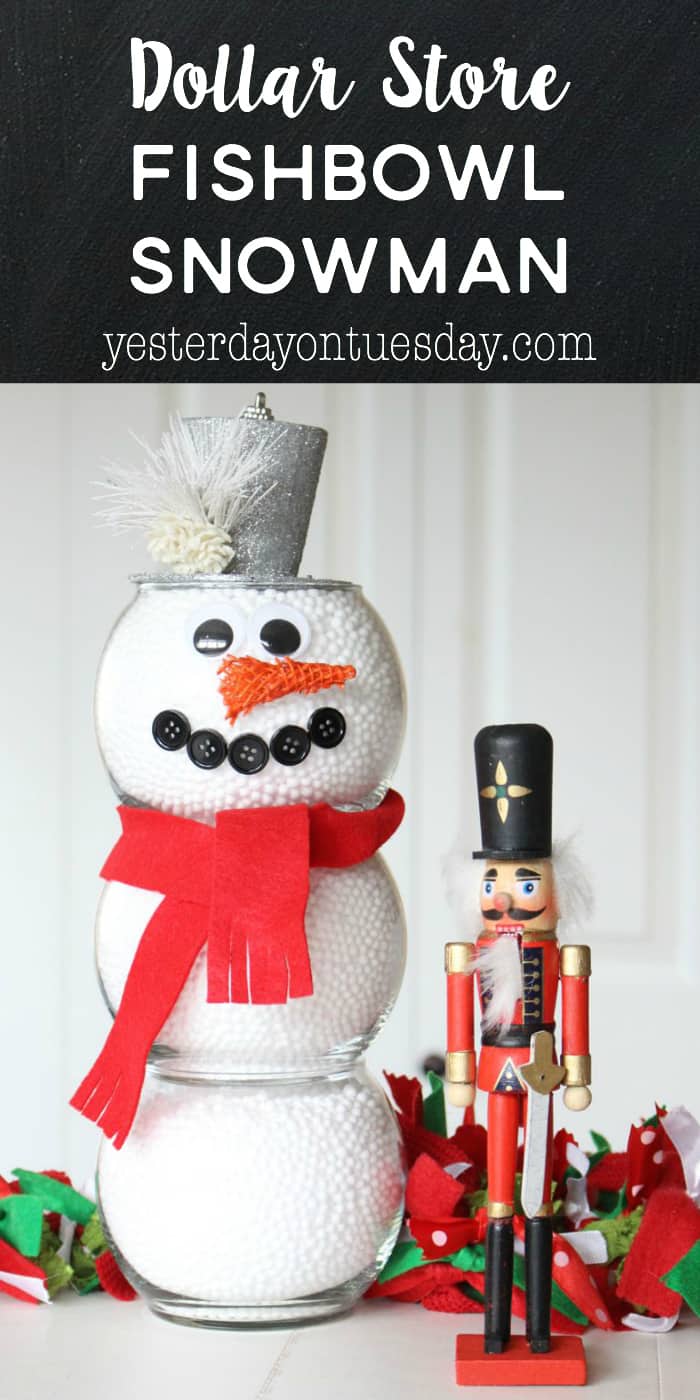 Are you feeling quite intrigued indeed by this whole idea of making some kind of cute Christmas decor piece out of the various glass jars and such that always line the dollar store shelves but the vintage candy jar idea we showed you earlier just wasn't quite character based enough for you? In that case, we have a feeling you might get along a little better with something like this funny snowman from Yesterday on Tuesday that's made from fishbowls filled with miniature foam packing balls, stacked and attached then embellished!
4. Hot glue and glitter dollar store snowflakes
Have you actually been scrolling through our list so far and hoping to come across something that looks a little more realistic and impressive despite being made of very affordable supplies indeed? In that case, we'd definitely suggest checking out how Country Design Style made these lovely, sparkly snowflakes freehand using hot glue! It's a lot easier to do than it sounds.
5. DIY winter berries wreath
Have you ever walked into a dollar store, turned a corner, and found yourself practically enveloped in a whole aisle of fake flowers, plants, berries, and leaves? That aisle alone is just about enough to make us want to make dollar store crafts just about every day. That's why we were so pleased to come across this fantastic DIY Christmas berry door wreath outlined nice and simply on That's What Che Said.
6. Easy gem icicle ornaments
Did you actually really enjoy the whole concept of making something very snowy and quite realistic looking but you're also the kind of person who loves using DIY projects to glam your space up a little whenever you possibly can? In that case, we think you just might be the perfect person to give these amazing dollar store gemstone icicles featured in detail on Mad in Crafts a try!
7. Ho Ho Ho Christmas signs
Like us, are you a total sucker for a decorative seasonal sign, especially if there's some kind of pieced together or noise-making element involved? Well, those are actually some of our favourite kinds of crafts, so we can't say we blame you! We'd also absolutely suggest taking a look at how The Navage Patch made this three piece "Ho Ho Ho" sign where the O's on each one are replaced with cute Christmas bells!
8. Glass bauble Merry sign
Did we actually really catch your attention when we started talking about the idea of making cute, decorative holiday signs but you'd rather create a piece that adds a little more shine to your room, rather than being quite as farmhouse chic as the previous idea? Then we think you'll really appreciate the way Homey Oh My shows you how to use dollar store Christmas baubles (they chose a nice shining gold, but you could do whatever colour you please) to fill DIY boxed letter frames that spell out "Merry".
9. Dollar store wooden spoon snowman
In our house, some of the most popular things we make with our kids involve transforming simple household items into cute, decorative things or seasonal characters. These funny wooden spoon snowmen are the perfect example of what we mean! Check out the tutorial on Eyeballs by Day, Crafts by Night to see how they made it happen with some affordable spoons they picked up in the kitchenwares section of the dollar store.
10. Faux chinoiserie Christmas ornaments
Have you always been a huge fan of the delicate, impressive aesthetic that classic home pieces like fine china establish but you've just never had the budget to purchase the real thing? Well, that doesn't mean you can't still get the look with a little bit of creativity! Monica Wants It happens to agree, so they outlined the simple process of using your paper decoupage skills and some blue and white floral napkins in order to transform some dollar store Christmas baubles into faux chinoiserie.
11. Gift bag framed wall art
Have you ever walked down the gift bag aisle at the dollar store looking at the designs on the fronts of the bags and realized that some of them are actually very pretty, and you can't help feeling as though you'd like to keep them rather than giving them away? Then we'd absolutely suggest taking a look at how The Crazy Craft Lady made this adorable Christmas wall art that involves framing the front of a gift bag just like that!
12. Winter vases with snow texture
By now, you probably have a pretty good sense of just how much we love making lovely decor pieces from glass jars and containers. We doubt it'll surprise anyone, then, to learn that we actually made this next project in real life last Christmas! Check out the tutorial on Taryn Whitaker to see how they not only filled their vases with ornaments for a cute side table decor piece, but also added some wintery looking texture to the outside that resembles snow.
13. Colourful dollar store ornaments wreath
At this point, we've talked a lot about the different things you can do with the rounded glass and plastic bauble style ornaments you can easily find in dollar stores around Christmas time, but what bout the other cute little shapes and trinkets they sell for hanging on your tree? If you like the idea of using those too then we'd definitely suggest taking a look at how Cmon, Get Crafty made this super fun and brightly coloured door wreath that's made entirely of dollar store Christmas ornaments!
14. Dollar store Christmas village
Has it always caught your eye that your local dollar store sells little porcelain trinkets and decor pieces that resemble the kind of thing your grandma might have collected once upon a time? We'll fully admit that we've always had a little bit of a fascination with those, so we're sure you can imagine our excitement when we came across this tutorial from The 36th Avenue that teaches you how to give those very houses we're talking about a frosty coat of paint and some detailing, turning them into an adorable Christmas village for your own mantel or side table.
15. Sparkly plastic spoon Christmas tree
Do we actually still have your feeling quite enamoured with the whole concept of turning some kind of regular household item into something new and decorative, just like you saw with the wooden spoons, but you're also the kind of crafter who prefers building and constructing things rather than just painting them? In that case, we have a feeling something like this Christmas tree decor piece made out of glittered plastic spoons might be a little more up your alley. Get the full details for making one of your own on Heathered Nest.
Have you made other kinds of fantastic DIY Christmas decor pieces using dollar store supplies before that you really enjoyed but that you don't see here on our list? Tell us all about what you made and how you did it or link us to photos of your finished work in the comments section!