Adorable DIY Dog Collars to Make Walk Time Extra Stylish
When it comes to our pets, we fully admit that we're those nerdy pet owners who probably go more out of the way to make our pets feel and look good than some people might for their kids. The animals in our house are totally spoiled, but they're so well behaved and loving that we just feel they've earned a bit of special treatment! That's why no one in our lives will be surprised to learn that we often craft for our dogs. We've made them all kinds of things throughout the years but possibly one of our favourite things to make and remake so that they have all kinds of styles and options is their collars! There's just something about a cute, customized collar that's way more fun to use with your dog at walk time than one that you've simply picked out and purchased at a store. That's why we've got a whole list of awesome DIY tutorials and collar ideas bookmarked in our browser, ready to be tried out any time we get bored of the ones our dogs are wearing or burn through one we made a long time ago.
Just in case you're as intrigued by the idea of making your dogs fun DIY collars in unique styles as we were, if not more, here are 15 of the best designs, ideas, and tutorials we've come across in our search so far!
1. Sparkly dog collar from a fashionable belt
Whenever we possibly can, we try to make a large portion of the crafts we make for ourselves and others from things that are already around our house. That way, things get reused and upcycled rather than being thrown out or left to clutter our space up! That's why we thought this sparkly belt to dog collar outlined in just a few simple steps on Rodney Habib was such a good idea.
2. DIY dog collar from a shirt collar
Do you have a dog who is very well behaved indeed and you think the idea of him looking as prim and proper as he acts is just completely hilarious? Then we have a feeling you'll get a total kick out of the way Way Groovy created a funny little dog collar that actually looks like a fashionable shirt collar… because that's exactly what it's made from! This project is a great way to reuse some of those old buttoned shirts that have been sitting around unworn since last year.
3. Friendship bracelet knotted dog collar
If you're going to make your dog an awesome DIY collar, would you actually prefer that it be a craft your kids can help you with? Well, as long as they've already learned how to make summertime style friendship bracelets like the kind you probably created at camp when you were a kid, they'll totally already have the skills they'll need to make these adorable knotted dog collars featured on Everyday Dishes! The technique for the band of the collar is basically the same until it's time to attach the buckle and tag.
4. Lace trim and pearls fashionista dog collar
Have you actually been scrolling through our list so far and thinking about how your prissy little pooch might look best in something frilly, lacy, and adorable to match her funny personality and fluffy appearance? Then maybe you'd prefer a look that's a little more "high fashion" instead! We completely adore the way Fashionista Chicago created their unique collar out of fabric trim, lace, and even a string of pearls.
5. Classy bowtie dog collar
Were you quite intrigued by the idea of making your dog a preppy style collar that will make him look very fashionable indeed but you wonder whether you might even make the piece even more proper looking than what we've already shown you because you think it'll be cute to put it on him for special occasions? Then we'd absolutely suggest taking a look at how Dalmation DIY created an adorable little doggie bowtie that slides right onto a collar they already have.
6. Embroidered and leather dog collars
Have you ever bought your dog a collar that you think is really nice but you just can't help but feel that, even though it's great, it could possibly use just a little more personality? Well, you've ever done anything akin to hand embroidery before, then we have a feeling you're going to appreciate the way Ike & Stella jazzed their collars up a little. Check out how they used scraps of pattern fabric and brightly coloured threads following those patterns to make a really neat, attention grabbing effect.
7. DIY dog collar slip cover
Are you actually quite intrigued by the idea of making things to slide onto your dog's collar because that way you can use the perfectly good collar you already have as a base and just change the way it looks whenever you please? Then you sound like the perfect person to be making something like these super fun slip-on collar covers outlined on Bitesized Biggie. We actually made these for our dogs and our cats in a whole range of patterns and colours and now we have an array of fun looks to choose from even though each animal only actually has one collar!
8. No-sew pet bandana dog collars
Are you completely enamoured with the idea of making your dog some kind of neck accessory to wear like a funny, furry little person but you're convinced that a bowtie just doesn't really suit his personality? Then maybe a bandana would be a better idea for the two of you instead! We love the way Crafts Unleashed created wonderfully patterned clipping dog collars but then also sewed sliding triangular pieces that look just like a tied on bandana but can be put on and taken off the collar whenever you please.
9. Colour blocked embroidery wrapped dog collars
Are you actually still thinking about how much you loved the embroidered collar ideas we've shown you so far but you're feeling a little bit wary because you've never actually tried embroidery before and you're worried it might be too much of a challenge? Then maybe you'd prefer taking a shot at this much simpler project that still lets you use coloured embroidery thread first! The Broke Dog guides you through the process of floss wrapping colour blocked sections down the length of your dogs collar for a very neat, mod looking effect.
10. Matching DIY bracelet and dog collar set
Have you actually been scrolling through our list quite casually even though you're convinced that you'll probably make your dog a friendship bracelet style knotted collar, just to make sure you see lots of different ideas and consider new things? Well, we can't say we blame you for sticking to a classic, which is part of the reason we thought this coordinated collar and friendship bracelet idea featured on Family Love in My City was so darn cute! Check out how they made a matching set for their "best friend".
11. DIY adjustable scrap fabric dog collar
Are you actually enough of a sewing enthusiast that you have no problem at all tackling simple fabric construction projects? Then we'd absolutely suggest taking a look at how Halifax Dogventures created an adjustable collar from scratch using just some scrap fabric they had lying around their crafting room! We've made collars following this tutorial before and we actually found that they were sturdier and easier to adjust than a lot of the ones we've purchased from stores in the past. We also love getting to choose the pattern and colour in a more customized way!
12. Flower dog collar for special occasions
Every once in a while, we just can't resist creating something for our pets that we know is totally impractical but that we just think looks really fun for a moment, even if it's just long enough to snap a picture or have them make an adorable novelty appearance at a family gathering or special occasion. That's why we actually made our two dogs, one very big and one very small, adorable flower collars just like the ones you'll see on Stars for Streetlights for our sister's wedding shower! They were a huge hit with our guests, even if they wouldn't exactly work for walk time.
13. Rolled flower dog collar
Perhaps you actually quite enjoyed the idea of creating a floral collar for your dog but you'd much rather use materials that you already have sitting around your crafting space? Maybe you'd actually just prefer a floral embellishment that you can slide on and off the collar rather than making a whole separate piece for your dog to wear. In that case, here's another fabric crafted option for your consideration! Check out how Res Magazine made these fantastic rolled flowers all in a bunch.
14. Carefully beaded dog collar
Are you actually the kind of skilled DIY enthusiast who has lots of experience with things like embroidery and needle work, and then some? Then maybe a hand beading project is just the thing for you! We can's get over how delicate and lovely this beaded piece outlined step by step on The Drop Stitch looks and, even though we know it's a lot of work for something your pet might damage while they're running around, we're so impressed with the idea that we think it's completely worth the patience it takes to create such a lovely pattern.
15. Nautical inspired DIY rope collars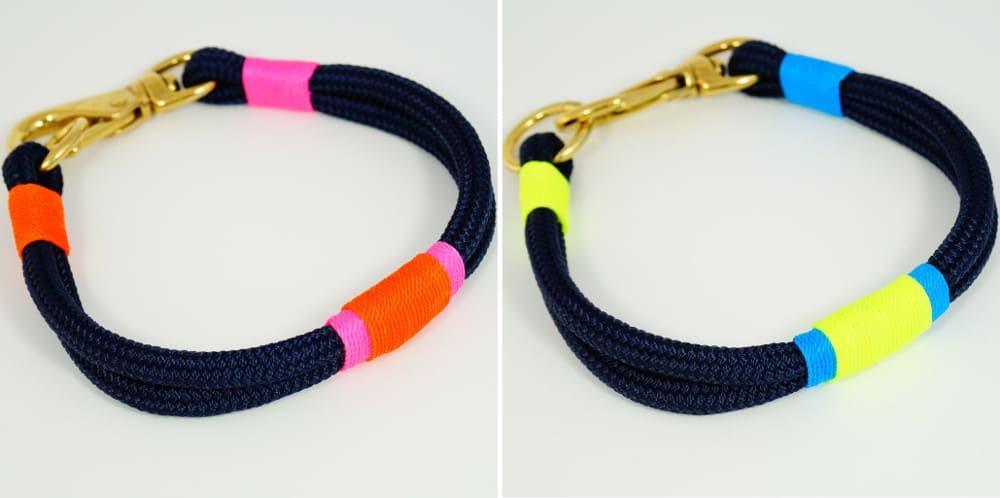 Have you actually just been scrolling through our list hoping to find something a little more unique that you can create completely from scratch, with bonus points if it's made from unconventional materials? In that case, we'd certainly urge you to consider making this awesome DIY collar from Dog Milk that's nautical inspired in its construction but much brighter and more exciting looking in its black and neon colour scheme.
Do you know a fellow DIY and crafting enthusiast who loves making new things for their dog and is always on the lookout for unique, fun ideas? Share this post with them to give them all kinds of super fun options for their furry best friend!