15 DIY Wedding Centerpieces That You Can Pull Off Yourself
There are plenty of ways to keep your budget intact when it comes to the wedding day and that goes for the floral (or alternative) arrangements at the tables. You can get your gals together and have a night creating some extra special and personalized magic for the reception with some help from the blogosphere. Check out these 15 DIY wedding centerpieces you can totally pull off yourself!
1. Sequins Numbers
You can cover your table numbers in sequins as well. It may take a bit of time but even the most novice of crafters can grab a glue gun and transform them within the weekend. Check out more inspiration like this by visiting our friends at Style Me Pretty.
2. Winter Cottons
If you're looking for something to an alternative or within a floral arrangement think about incorporating other pieces of texture. We're used to seeing winter berries, but what about using winter cottons? Is this not a gorgeous setup from Ruffled for your holiday affair?
3. Succulent Cups
You can plant some of your own succulents and provide extra eclectic texture to your tables as well. This scene from Willard and May works well for contemporary weddings and makes it easy to create a similar tablescape. Wooden trays, rock fillers, and some tin cans!
4. Tea Tins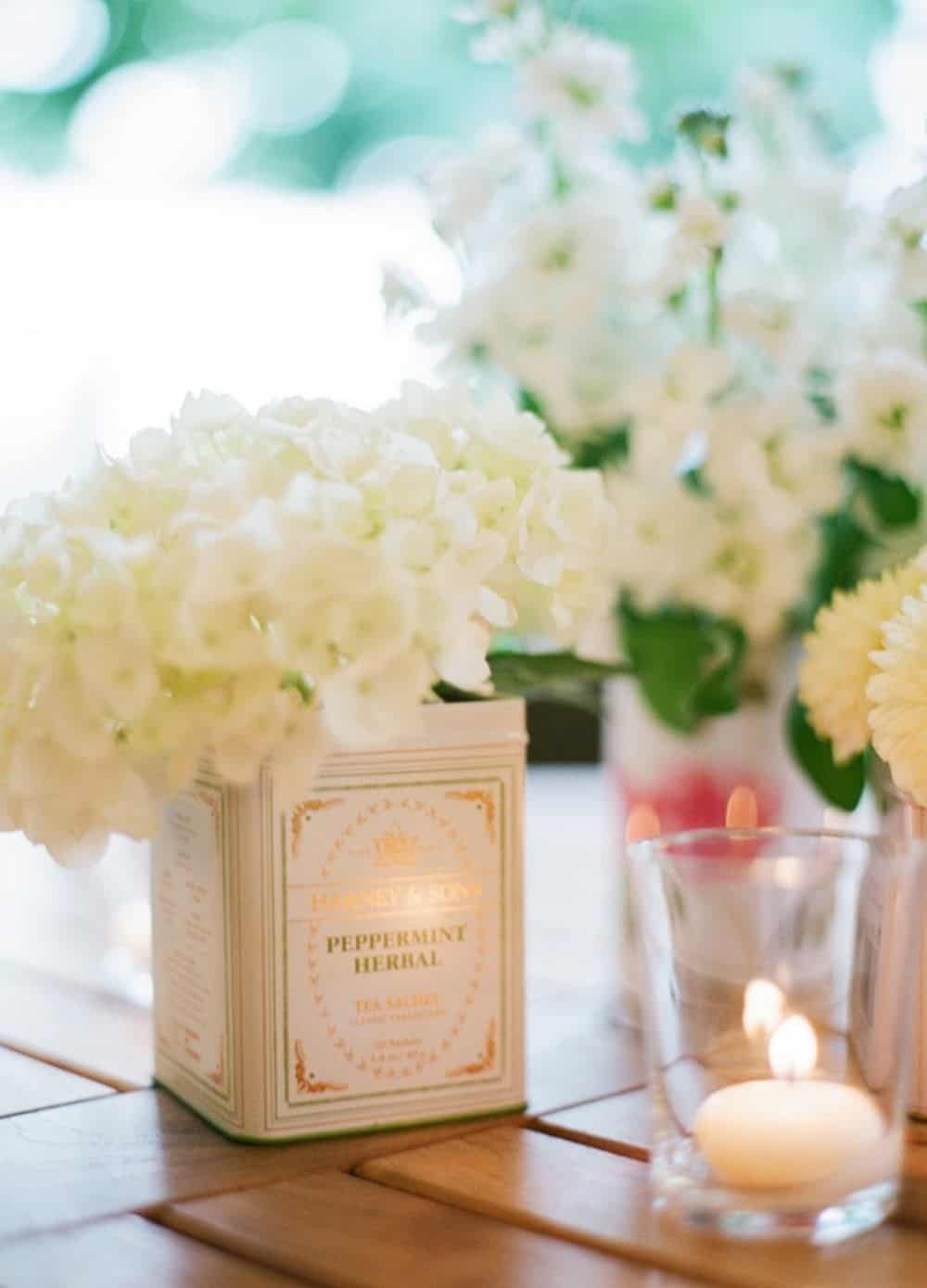 We found some more inspiration over at Style Me Pretty with this cottage-flavored scene. Tea tins can act as such a fun holder for our florals and providing a romantic, vintage style to the entire scene. Mix and match with other materials like glass and wood.
5. Antlers
Here's another alternative to flowers centerpiece idea and we found it at Oh Lovely Day. Instead of florals, why not add some antlers to the party for your farmhouse-inspired wedding day? It's right on trend and memorable!
6. Vintage Compilation
At Rock N Roll Bride, you'll find some inspiration around vintage styles for the tables. Gather fun bits and pieces like antique books and teacups – top off with a petal or two – and create a personalized look for each of your guests' resting spots. It's such a unique way to break tradition.
7. Glass Domes
To set a woodland wonderland theme, think about using glass domes in your arrangements. Liven up your lush greens and florals even more so with their additions. Thanks for the inspo Ryon:Lockhart Photography!
8. Wooden Blocks
Some wooden blocks with your floral arrangements will help to create a more bohemian or youthful connection to your event. Ruffled gave us this view and we fell in love with the mixture of delicacy from the petals and more edge from the wood. You can decorate them however you see fit!
9. Tasseled Balloons
These tasseled balloons from Jordan McBride show us that not all centerpieces have to be on the tables. Instead, we can create focal points that draw the eye up instead.
10. Painted Pumpkins
These painted pumpkins at A Practical Wedding are so charming and so easy to make at home. Grab a bout of pumpkins and then paint them to match your vision for the day. Use them as centerpieces (or garland arrangements) for the table.
11. Goldfish Bowls
If you really want to knock the socks off of your guests and give them a surprise, go with this idea from DIY Network. Bowls of goldfish at the table will bring smiles, good luck, and provide a funky party favor to your loved ones as well.
12. Gold Bottles
Over at The Wedding Chicks, we caught of a glimpse of these gorgeous gold bottles that you can dip yourself. This is a super easy DIY that looks beautifully polished by the end. All you have to do is add some fresh stems to finish it off.
13. Terrarium Creations
Love By Serena has some gorgeous glass terrariums creations featured and they're the perfect kind of inspiration for a modern, bohemian wedding. This trend falls right in line within the wedding world as well. And you could definitely personalize each table as well.
14.  Pom Poms
For a creative and festive feel, you can create one of these centerpieces. Mokkasin will walk you through the process but we feel as though you can bend and mold this idea in a variety of ways. Even if you just use it on the card table or with the sweets, it'll be a beautiful (and unique) focal point of the party.
15. Filled Birdcage
Floret Cadet inspired us with these birdcage creations. Grab some vintage designs or in bulk online, and then fill up those dainty birdcages with petals of your choice. It's textural, it's fun, and it's the perfect way to top off a garden or spring-inspired wedding day.