15 Homemade Dog Treat Recipes for Your Best Furry Friend
Just like we occasionally enjoy using our kitchen based DIY skills to treat ourselves, we also adore doing so for our furry friends! Our dogs, in particular, are always huge fans of whatever homemade dog treats we whip up. We started making our own when one of our pups was being tested for food allergies but, because they seemed to like the treats we made at home so much more than the store bought ones, we kept on making them even after that theory was disproved! Now, we just keep our eyes peeled for homemade dog treats we haven't tried yet so we can switching things up sometimes and keep our canine pals interested.
1. No-bake oat treats
Are you the kind of person who loves working in the kitchen but will still always choose a nice, quick no-bake recipe over anything else whenever you're able to? Well, we're also always in a hurry, so we can't say we blame you! Take a look at how Show Me The Yummy outlines the process for doing just that in this recipe for no-bake oat treats.
2. Homemade peanut butter bacon treats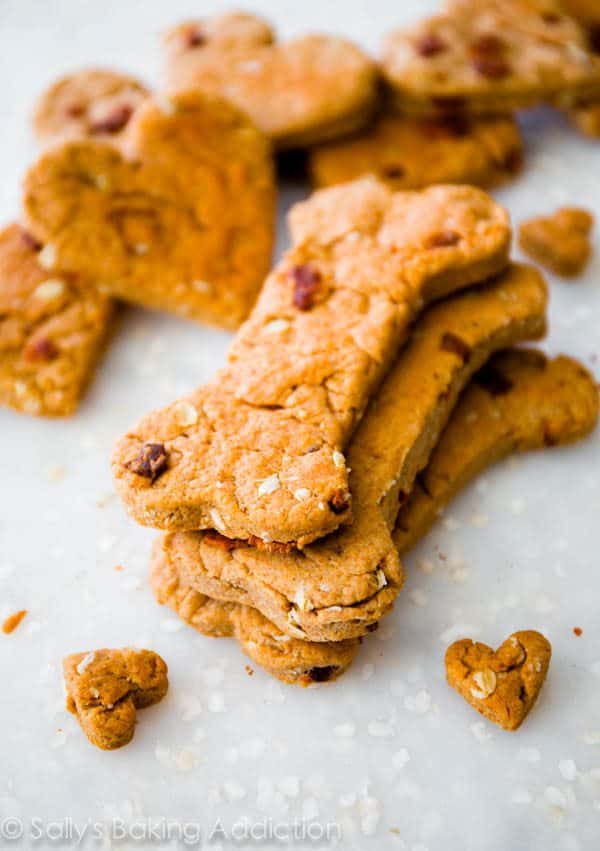 If you're going to put in the time and effort it takes to make your best furry friend a really great treat, would you prefer to make sure their very favourite things are involved? Well, you might not be the biggest fan of feeding your dog all kinds of human food regularly, but that doesn't mean you can't make them a treat that at least tastes like those things! These homemade peanut butter bacon treats by Sally's Baking Addiction are the perfect example of what we mean.
3. Simple dog cookies with bacon glaze
Do you love the idea of including some kind of bacon flavouring in your recipe because your dogs really do go wild for it but you're also not sure you want to get very complicated with the ingredients in your first few tries? In that case, we think you might prefer the way Pinch of Yum made these very simple dog cookies but dressed them up with a little bit of bacon glaze!
4. 3-ingredient chicken dog biscuits
Is it actually another kind of meat that really drives your dog wild, so you're looking for an alternative recipe to all of those involving bacon? Well, if chicken is the one for them, then we think you'll really appreciate the way The Midnight Baker made these particular dog biscuits that taste just like chicken and only take 3 ingredients to make!
5. Sweet potato dog treats
Perhaps your dog could use some fibre rather than just another meat based treat and you've read, just like we have, that one of the best and most delicious sources for a dog is either pumpkin or sweet potato? Well, if your dog happens to prefer sweet potato then we have a feeling you'll be making a lot of these super easy sweet potato dog treats outlined on Wild, Wild Whisk in the near future!
6. Yogurt peanut butter dog treats
Not all treats that you make have to be large biscuits that smell like meat or veggies and get crumbs everywhere. Just in case you want something small and easy that you can fit in your pocket for walks or training sessions, here's a cute alternative from Cooking With Janica! They show you not only how to make the treats from yogurt and peanut butter, but also how to mould them into a cute paw shape.
7. Apple carrot dog biscuits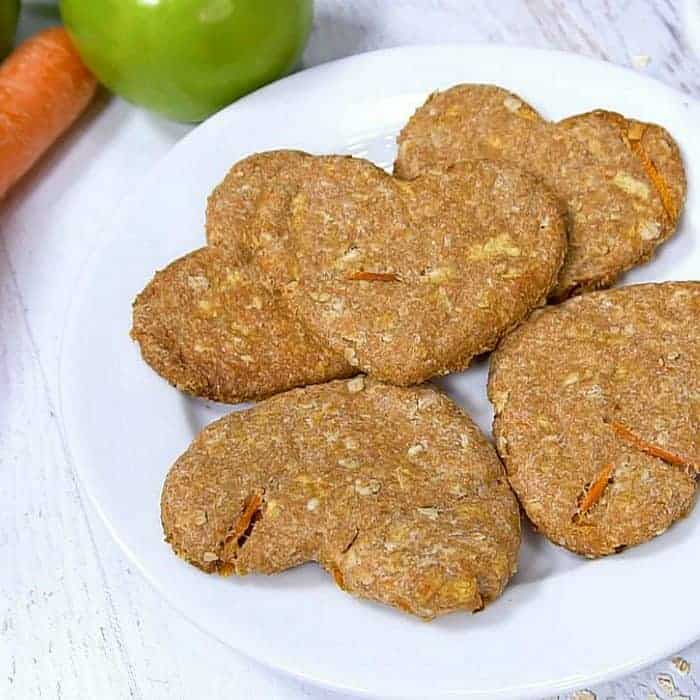 Just in case your doggie is on a little bit of a diet and needs something a little healthier, heres an option that will give them all the nutritional value you're looking for but also still taste like a nice treat to them! Take a closer look at Reluctant Entertainer to see how these apple and carrot dog biscuits were made quickly and easily.
8. Turmeric dog biscuits
Besides being fragrant and tasty for both dogs and humans, turmeric is a spice that also has several health benefits for your pup's stomach! Because of its anti-inflammatory properties, it tends to help with digestion very well indeed. See how these were made in a few simple steps on Lola The Pitty. The fun bright yellow colour is an added bonus!
9. Peanut butter dog donuts
Do you actually spend so much time doling out dog treats to your pack that you'd kind of like to take the opportunity of making some at home to have a bit of fun for yourself too? Well, especially if you're thinking of getting your kids involved in the process, we have a feeling you'll get a real kick out of the way The Worktop made and hand decorated these awesome doggie donuts!
10. Grain free peanut butter dog treats
Perhaps your dogs had the same good allergy test that our poor pooch did but one of yours actually did come us as being sensitive to certain grains? In that case, we have a feeling you'll really appreciate the way Simply Quinoa made these peanut butter dog treats that will drive your dogs wild with their taste but are safe to eat because they're completely grain free!
11. Pumpkin dog treats
Did we really catch your attention earlier because we were talking about different vegetables that are popular with dogs and your pups happen to adore pumpkin? In that case, we have a feeling you'll have a lot of success making these delicious homemade pumpkin dog cookies that smell just as good as your dogs will think they taste. Get the full details for making them on Spend With Pennies.
12. Sweet potato dog chews
Rather than simply handing your dogs a cookie style snack, have you actually been wondering whether or not you might make a homemade version of the chews you can buy in stores that keep them busy for a while and clean their teeth while they're at it? Well, we're pleased to inform you that the search is over! Take a better look at Platings and Pairings to see how these super simpler sweet potato dog chews were made.
13. Spinach, carrot, and zucchini dog treats
Are you still trying to up your dog's vegetable intake for diet purposes, vitamin value, and gut health but you like to make more than one kind rather than the same ones all the time so that they stay excited and actually feel rewarded? Then here's another one for your list! Take a look at how Damn Delicious made these biscuits from spinach, carrot, and zucchini.
14. Homemade peanut butter banana treats
Sometimes combining the peanut butter flavours you give your dog with something else can be even more of a treat because it changes how their favourite thing tastes just a little bit, giving them something new but slightly familiar all at once. That's why we bookmarked this nice, easy peanut butter banana biscuit recipe from Mac and Molly right away!
15. Banana oatmeal treats
Are you absolutely settled on the idea of making your dog some kind of banana treat because that's one of their favourite snacks but you're also intent on helping them get enough fibre and regularity in their diet? Then we're pretty sure Dogvills has precisely what you're looking for! Take a better look at their tutorial to see precisely how it's done in just a few simple steps.
Have you made other kinds of dog treats before that you don't see on our list but that your dogs absolutely adore? Tell us all about it or link us to the recipe in the comments section so we can try it for our furry friends too!