15 Homemade Dog Treat Recipes for Your Best Furry Friend
Just like we occasionally enjoy using our kitchen based DIY skills to treat ourselves, we also adore doing so for our furry friends! Our dogs, in particular, are always huge fans of whatever homemade dog treats we whip up. We started making our own when one of our pups was being tested for food allergies but, because they seemed to like the treats we made at home so much more than the store bought ones, we kept on making them even after that theory was disproved! Now, we just keep our eyes peeled for homemade dog treats we haven't tried yet so we can switching things up sometimes and keep our canine pals interested.
1. No-bake oat treats
Are you the kind of person who loves working in the kitchen but will still always choose a nice, quick no-bake recipe over anything else whenever you're able to? Well, we're also always in a hurry, so we can't say we blame you! Take a look at how Show Me The Yummy outlines the process for doing just that in this recipe for no-bake oat treats.
2. Homemade peanut butter bacon treats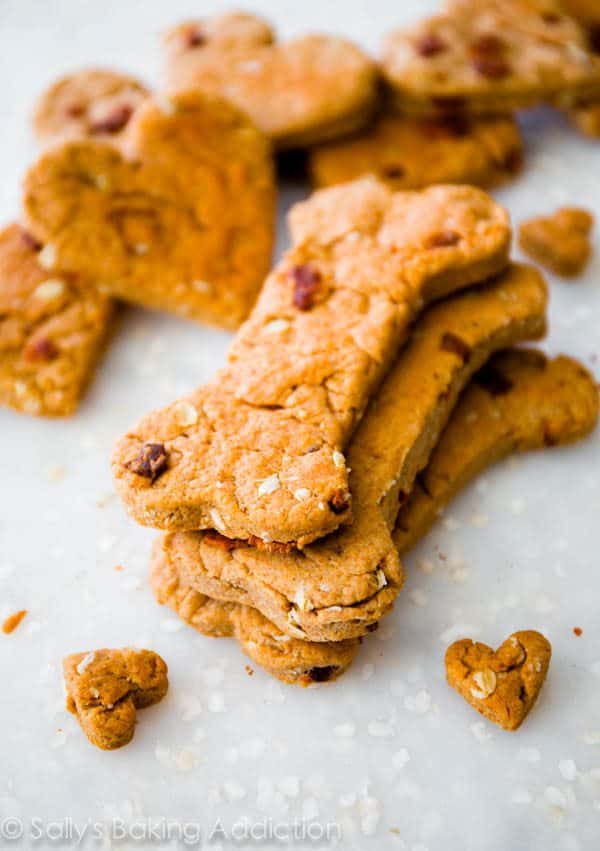 If you're going to put in the time and effort it takes to make your best furry friend a really great treat, would you prefer to make sure their very favourite things are involved? Well, you might not be the biggest fan of feeding your dog all kinds of human food regularly, but that doesn't mean you can't make them a treat that at least tastes like those things! These homemade peanut butter bacon treats by Sally's Baking Addiction are the perfect example of what we mean.
3. Simple dog cookies with bacon glaze
Do you love the idea of including some kind of bacon flavouring in your recipe because your dogs really do go wild for it but you're also not sure you want to get very complicated with the ingredients in your first few tries? In that case, we think you might prefer the way Pinch of Yum made these very simple dog cookies but dressed them up with a little bit of bacon glaze!
4. 3-ingredient chicken dog biscuits
Is it actually another kind of meat that really drives your dog wild, so you're looking for an alternative recipe to all of those involving bacon? Well, if chicken is the one for them, then we think you'll really appreciate the way The Midnight Baker made these particular dog biscuits that taste just like chicken and only take 3 ingredients to make!
5. Sweet potato dog treats