Unique DIY Wall Shelves For Home
In our house, we're all big fans of two things (besides crafting, of course); decor and organization! We're sure it'll come as no surprise to you, then, that our house is fulled of unique shelving options that help us…well… keep our decor pieces organized, among other things. Lately, we've seen a few spots on various walls that could really use a new shelf for one or the other, so we've had our eyes peeled for new DIY shelving ideas we've never tried before and could build in those empty spots!
Are you feeling just as enthusiastic as we are, if not more, about the concept of building unique DIY shelves for your home? Check out these 15 lovely ideas, designs, and tutorials that we've come across so far in our search for inspiration and guidance!
1. Wall shelves with hidden inner frames
Are you the kind of very neat person who might be called a perfectionist by some, but who mostly just loves a good line and neat detail? In that case, we think you might appreciate the way these homemade shelves outlined step by careful step on Shades of Blue Interiors feature their support frames completely inside, so that the outside is nothing but sleek and even!
2. Rustic wooden floating wall shelves
Do you love the slightly boxy, rectangular aesthetic of the shelves above but they're a little too start white for your liking? Well, if you're going for a more weathered wood aesthetic to suit your rustic decor scheme, then we'd definitely suggest taking a look at these chunky wooden shelves outlined on Shanty 2 Chic instead!
3. Faux vintage weathered crate shelves
Do you really like the idea of making rustic chic shelves but you're also a big fan of that particular style where you can tell something has been beautifully upcycled and transformed into something else? Then we think you just might be the perfect person to give these lovely painted and wall mounted crate shelves outlined step by step on Soul Style a try!
4. Hanging wall pallet shelf
Like most of the world, are you totally in love with the way upcycled pallets have been trending in DIY lately? Well, we're not exception, so we can't say we blame you! That's probably why this stunning shelving idea featured in detail on Domestic Doozie caught our eye so well. They teach you how to stain and mount the whole pallet such that the supports on the underside turn into shelves!
5. Rustic shelves with angled brackets
Just in case you're totally still aiming for that rustic wooden look but you just haven't quite seen that one idea that makes you feel convinced, here's another design for your consideration. Check out this great, straight forward tutorial on Our Vintage Home Love to see how these chunky wooden shelves with black metal brackets for good contrast were cut and mounted!
6. Faux vintage books wall shelf
Have you ever found a box of old books at a garage sale that were too damaged to read or missing pages but that you just couldn't bring yourself to throw out? Well, we'd suggest fishing through the hard cover ones and then taking a look at how A Piece of Rainbow got creative in positing them on some wall brackets to make the books look like they form a whole shelf on their own! It's a really neat trick and the shelves themselves are nice and sturdy.
7. Industrial wood and pipe shelving
Has all this talk about rustic aesthetics actually made you start thinking of the different directions that overarching theme can be taken in, and now you're convinced that the look you're really aiming for is old fashioned industrial chic? In that case, we're convinced that this fantastic wooden shelf and metal painted pipe bracket concept outlined in detail on Over the Big Moon is precisely the kind of project you've been hoping to find.
8. DIY rope shelf
If you're going to put in all the time and effort it takes to make your own DIY shelf, would you actually rather create something very unique indeed, that you know will catch people's eye for its decorative value as well as its function? In that case, we think you simply must take a look at how A Piece of Rainbow made these painted wood and rope shelves that are very sturdy thanks to the way they hang against the wall, but look like a bit of an illusion.
9. DIY picture ledges
Are you actually working with a rather limited space indeed and you're feeling in need of the most space efficient way you could possible display multiple photos and works of art all in once place? In that case, we'd absolutely suggest taking a look at how quickly and easily Homedit made these shallow picture ledges that let frames and canvases lean against the wall quite nicely.
10. Geometric stained scrap wood display shelf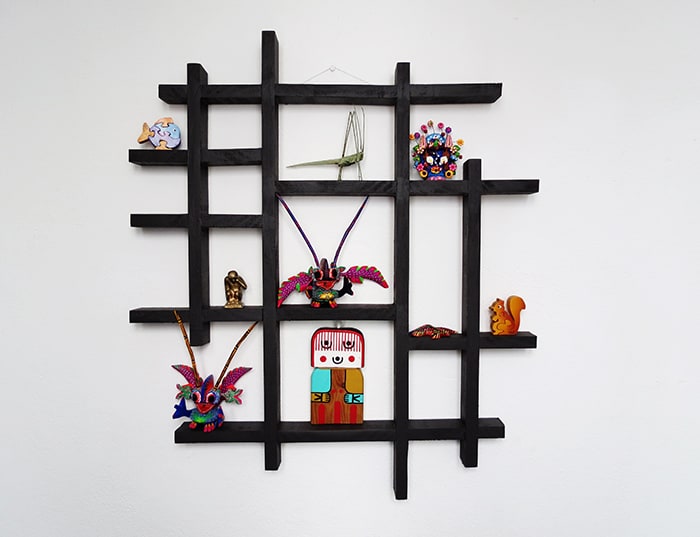 Are you actually a bit of a novice when it comes to make things from wood but you're not afraid to put those beginner's skills to good use? In that case, we think you just might have a blast making something like this geometric scrap wood shelf that's perfect for displaying small trinkets on! We like the way Oh Oh Deco shows you how to stain or paint the wood first. It's even a design you could expand on and customize to make larger later!
11. Acrylic shelves inset in window frames
Perhaps you're living in a very small space indeed and you actually have essentially no wall space for shelves at all, but there are still a few trinkets or plants that you're feeling determined to put on display? In that case, we think you just might be the ideal candidate for this acrylic window shelf idea featured in great detail on Homedit! They show you how to install the shelves inset into the window frame, and they also explain why clear acrylic shelves are best so they don't block the sun streaming in the window and create chunky shadows in the room beyond.
12. Modern square and circle trinket shelf
If you're going to create some kind of small trinket shelf, would you actually prefer to make it something that is, in itself, almost a piece of decor? Well, particularly if you like modern looking pieces and minimalist lines, then we have a strong feeling you'll get along very well with this concept from Oh Oh Deco uses squared off wooden dowels and a deconstructed embroidery hook to make a frame shelf with circles inside squares.
13. Folded half circle shelves
Have we actually really caught your attention quite well with this idea of manipulating circular shapes in unique ways to create unique and interesting looking shelves, but you're just not sure the design above is quite your style? In that case, we're convinced you'll get along a little better with something like these "folded" looking half circle pieces that Paper n' Stitch show you how to cut, attach, and paint in a way that's a lot easier than it looks.
14. DIY drop shaped shelf
While we're talking about simple woodworking and unique hanging shelf ideas, here's an alternative in case the rope shelve we showed you earlier is just a little bigger than what you're in need of! Instead, check out the simple step by step guide on Oh Oh Deco to learn how these lovely (and quite easily cut) drop shaped sting hanging shelve were made.
15. House shaped trinket shelf
If you're going to make a trinket shelf, and more particularly a minimalist one, would you actually rather simplify the idea a little and keep it to just one more streamlined shape? Then we're fairly convinced that this lovely little shelf that's shaped like the outer frame of a house and painted a fresh white (although it'll look beautiful in whatever colour you please) will be a little more on your wavelength. Get the full details for trying it out yourself on Burkatron!
Have you made other kinds of fantastically unique DIY shelves before that you were very happy with indeed but that you don't see here on our list? Tell us all about what you created and how you did it or link us to photos of your finished work in the comments section!