10 of The Best Sewing Machines to Help With All of Your DIY Needs
Are you an avid sewer? Do you love to design your own goods for the house and for the kids? Or maybe you're just getting started in the do-it-yourself world and need a machine that you can count on. Whatever the case, we've rounded up the 10 of the best sewing machines to help with all of your DIY needs – all available through Amazon! Take a look!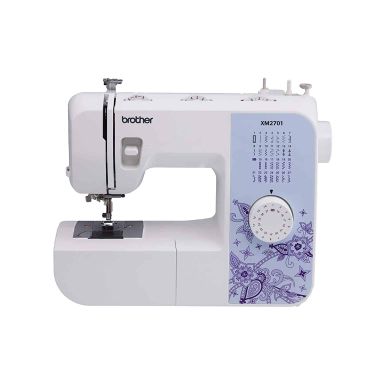 The Brother Sewing Machine XM2701 comes from one of the most trusted and top brands in terms of sewing machines. This particular design is a versatile free arm machine which is perfect for a wide-range of everyday sewing projects. It's also a great choice for all kinds of users – from newbies or veterans.
There are 27 stitches includes with this machine including: decorative, blind hem, zigzag, and stretch. It's jam resistant, there's a 25-year warranty included with purchase, and there are 6 quick change sewing feet included. Another plus to this option is it's super easy in terms of portability.
View price on Amazon
For even more stitch options and feet, check out the Brother Sewing Machine XR3774. This one too works for a variety of everyday sewing projects and it has a really accessible price point. It also includes a table for larger projects such a quilts.
There are 74 total stitch functions and an auto-see button holer! For those without too much experience, there's a built-in need threader and jam resistance included. Your purchase here also includes a 25-year warranty and an instructional DVD.
View price on Amazon
Used for both sewing and quilting, the Brother Sewing & Quilting Machine CS6000i is incredibly user-friendly and the price can't be beat either for the quality and function that you'll be receiving! The design features: an automatic needle threader, adjustable sewing speed, and an extra wide table.
There's also a built-in free arm for doing more intricate projects and easy ways to create buttonholes for any piece you may need them for. Create quilts, re-fashion the clothes in your closet, built new pieces for your baby from scratch or decor for your home- the possibilities are endless here.
The Singer Heavy Duty 4452 Sewing Machine has a lot of incredible features up its sleeve. From the 32 built-in stitches, automatic button holer, high-speed sewing, and tons of accessories – you'll feel like you've definitely hit the jackpot with this design.
It's actually the best-selling, new machine on the market and Amazon's choice for buyers. Featuring a stainless steel bedplate that enable smooth fabric flower and heavy duty interior metal frame making skip-free sewing possible, this is a veteran's perfect choice.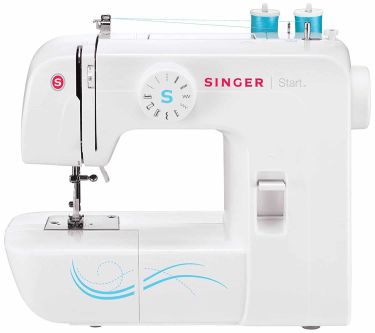 If you're on the hunt for the perfect beginner's machine, this is your pick! The Singer Start 1304 is incredibly budget-friendly with the same quality of some of the more expensive designs such as the heavy duty metal frame and bedplate.
It's important to note that this machine is incredibly lightweight and easy to store – also a plus for when it's time to clean up the mess from an afternoon of creating. And according to the reviews, it is a great purchase for the little ones who want to give sewing a try!
One of the more long-lasting purchases is the Singer Heavy Duty 4432 Sewing Machine. It's also one of the most durable designs on the list with its metal frame and various warranties to cover all the odds and ends of its features. Accessories included: all-purpose foot, zipper foot, buttonhole foot, needles, bobbins, screwdriver, auxiliary spool pin, a soft-sided dust cover, and a lot more.
A really great benefit of this particular sewing machine is that it has a reverse option – you can literally sew in reverse to reinforce your stitches. It also has a motor that's known to be 60% stronger than other machines with speed up to 1,100 stitches per minute.
You'll love more than just the gorgeous color that the Janome Arctic Crystal Sewing Machine comes in. You'll also love the affordable price, its easy-to-use functions, and its 25-year warranty includes with purchase. The features include: 15 Built-In Stitches, 4-Step Buttonhole, Front-Loading Bobbin System, Heavy Duty Interior Metal Frame.
There are some customizable features such as the darning plate and convenience features such as the removable free arm. But it doesn't stop there. There are also tutorial videos and a quick start guide included.
We're leveling up the functions with the Janome 3160QDC Computerized Sewing Machine. It's a bit more expensive than some of the previous machines on the list because of the computerized system that's included. And there's just to0 many different features and accessories to list off instead we'll name just a few: 60 stitch options, jam proof set-up, needle threader, LCD computer panel, thread cutter button, hard cover, extension table, and spool holders.
This machine is made for all the work – even outside of everyday home projects. From interior design projects to high fashion pieces, it can do it all and do it with all the luxurious found inside a lightweight design.
With an aluminum frame and convenience features, Janome Industrial-Grade HD1000 Sewing Machine is the only "industrial" grade on the list. It has easy threading options, front-loading bobbin system, 14 stitch options, and a 4-step buttonhole.
This machine has quilting features too for those that want to make something a bit bigger. It's also important to note that a hard cover case is available making storage a lot less of a hassle and a worry.
View price on Amazon
We leave off with another computerized Janome DC3050 Computerized Sewing Machine. It's a bit more on the splurge side based on the price but just think about what you're getting within it! Features include: 50 stitches, including 3 buttonholes, 24 Heirloom stitches, 6 Satin Decorative stitches, bi-directional blanket stitch, up and down button stop, jam resistant, among more!
View price on Amazon
Conclusion
Create custom pillow covers, curtains, clothes, and more with this Janome machine. Check out some of the customer reviews as well which give you a great insider's look at how it's used.