DIY Projects for Baby Girl Nurseries
If you ask us, the springtime is the perfect time to start preparing a lovely little nursery space for a new baby girl. That's why we've felt so much like nesting lately in preparation for our own bundle of joy! Of course, there are plenty of cute decorative things we could purchase in stores to make the place look as nice as possible before she arrives, but we find we always feel the most satisfied when we've made something ourselves. That's why we've been keeping our eyes peeled so intently for DIY projects that will really suit a baby girl's nursery.
Just in case you love the idea of making your very own DIY decor pieces for your new baby girl just as much as we do, if not more, here are 15 of the very best ideas, designs, and tutorials that we've come across so far in our search for inspiration and guidance!
1. Wood mounted floral monogram
Are you a p art of the kind of outdoorsy family who always wants to bring little pieces of the natural world inside so you can feel at one with your environment and really appreciate the world around you? In that case, we'd absolutely suggest taking a look at the way Southern Girl, City Mom created a simple but stunning monogram using a wooden base and fabric flowers for the initial.
2. Crate and fun fabric toy box on wheels
If you're going to put in the time and effort it takes to make something customized from scratch for your little girl's nursery, would you actually prefer to create something that has a bit of practical function to it as well? In that case, we'd definitely take a look at the way This Little Street made this lovely fabric topped, crate style toy box on wheels, which make it wonderfully easy to move around the room!
3. Hand painted seashell growth chart
Of all of your best DIY and crafting skills, are you perhaps most experienced and confident feeling in your hand painting techniques, so you've been kind of hoping you'll find a way to put them to good use in the nursery in question? Then we'd definitely suggest taking a look at the way Spot of Tea Designs created a lovely height measuring chart for their nursery wall but painted it with lovely seashell shapes alongside the increments.
4. DIY yarn and felt dream catchers
Perhaps you actually already have some little kids who are also eagerly awaiting the arrival of their baby sister and you know they'd love nothing more than to get in on the crafting process in order to decorate the nursery and make Baby feel more welcome? Then we think you'll get a kick out of the kid-friendly way that Petite Party Studio created some super fun looking and quite girly dream catchers using yarn and felt.
5. Pretty hanging paper mobile
If you ask us, one of the best parts of having a nursery is getting to choose which kind of absolutely stunning mobile you hang over the baby's bed, since there are so many whimsical, cheerful, and beautiful looking kinds! We've been feeling pretty enthusiastic about paper crafts lately elsewhere in our lives, so we're sure it only makes sense that we've be huge fans of the way The Crafty Blog Stalker made a beautiful hanging paper mobile using strips of differently coloured and patterned paper.
6. Pretty felt ball rug
Have you actually found yourself feeling just as intrigued by this whole needle felting trend as we have been, if not more, and now you can't help wondering whether you might put the skills you've started honing in there into good use in the nursery as well? In that case, we think you just might be the perfect person to give this lovely needle felted ball rug outlined step by step on Catherine Grace a try!
7. Framed heart baby card art
Have you already started receiving all kinds of lovely cards and greetings to celebrate the arrival of your new baby girl but you don't have the space to keep them all and, at the same time, you can't bear the thought of simply throwing them out all together? In that case, we're convinced you'll really appreciate the way Veronika's Blushing cut heart shapes out of the fronts of all their baby cards and arranged them in a grid to be framed where their colours and designs can be enjoyed for years to come.
8. Map letter and wood quote art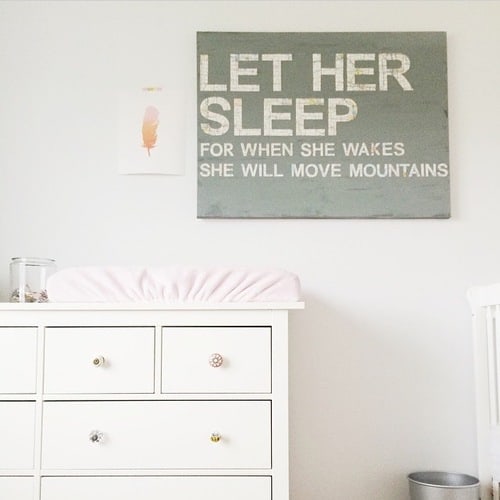 Perhaps your favourite kind of DIY decor has actually always been simple canvas crafting because there are just so many different ways you can customize a canvas that you just can't get enough of them? Then we don't see a reason for the nursery to be any exception! Particularly if you come from a family that likes travel, we think you'll get a kick out of the way Snappy Casual positioned a map as the background for a motivational quote, letting it peak through the negative space letters.
9. DIY tissue paper pom poms
If you're going to start getting crafty with the decor scheme in your baby girl's room, would you actually prefer to make it as whimsical and feminine looking as possible? Well, we can't say we blame you there, because our own daughter's nursery is just about he girliest, ruffliest thing we've ever seen in our lives. We doubt you'll be surprised to learn, then, that these voluminous tissue paper pom poms outlined step by step on Big DIY Ideas are something we actually did make and put up in the room in question.
10. Family handprints framed art
If you're going to put in the time and effort that it takes to make something lovely from scratch, would you actually prefer to make it something nostalgic and memory keeping whenever possible? In that case, we'd absolutely suggest taking a look at the way DIY Fun Ideas created this adorable framed handprint art by printing both parents hands on some mounting paper in layers and then adding Baby's hand as the last step before framing once she's arrived.
11. Lace doily rounded pendant lamp
Did we really catch your attention when we started talking about delicate and feminine looking projects but you're just not sure you've quite seen anything with the specific vintage chic inspired look you love so much? Then we're pleased to tell you that patience pays off, because Emmmy Lizzzy just might have what you're looking for in the form of these breathtakingly pretty lace pendant lamps that provide a relaxing flow and gorgeous silhouette against the wall when you wake up with Baby in the night.
12. Yarn wrapped ombre monogram
Are you actually still thinking about how much you really loved the idea of making some kind of initial or monogram art because you've always just loved the way that adding familial letters to a room personalized the space, but you're not sure you want to work with quite so many flowers as you saw in our previous monogram project suggestion? In that case, we've definitely suggest taking a look at how Catch My Party made this version by getting creative with their colourful yarn wrapping techniques.
13. Sewn owl nursery mobile
Have you actually been scrolling through our list and thinking about how you can't help wondering  whether you might put your sewing and stitching skills to good use in your baby girl's nursery because those are the skills that you actually feel the most confident in? Then we have this simple feeling that you're going to adore this hanging wall mobile from Craft Passion that features carefully embellished plush owls and even a little tree for them to live in.
14. Pretty pom pom garland
Are you actually looking for something way simpler and quicker to do in your nursery because you know you don't have much time left before Baby's arrival to start customizing the space? Perhaps you're actually just a huge fan of the way this idea really makes the place feel like it's time for a party! In any case, we'd absolutely suggest taking a look at the way Tara Dennis made this simple but cheerful DIY yarn pom pom garland.
15. Jumbo button wall art
Jus in case you're looking for something unique and visually shape based to make and include in your baby girl's nursery without going to too much trouble for the sake of kitsch, here's a stunning project from Decor and The Dog that shows you how to make a magical looking for of jumbo painted button collage right there on your nursery wall.
Have you made other lovely, girly homemade nursery decor pieces before that you were very happy with indeed but that you don't see anything quite similar to on our list? Tell us all about what you made and how you created it or link us to photos of your finished work in the comments section!