DIY Projects for Baby Boy Nurseries
When it comes to decorating our home for Baby, we're completely obsessed. There are no expenses we won't spare but, at the same time, we still find that we're getting the most satisfaction out of making small things ourselves. This is a common theme for us, especially in the world of decor,  so we've been keeping our eyes peeled for all kinds of DIY things we could make for our baby boy's birthday before his arrival!
Just in case you love the idea of making some lovely DIY decor pieces and things for your baby boy's nursery just as much as we do, if not more, here are 15 of the very best ideas, designs, and tutorials that we've come across so far in our search for inspiration.
1. Hand lettered map canvas
Do you come from a whole family of people with wanderlust and you fully expect that your little boy will want to join in your adventures far and wide the moment he's old enough? Then we have a feeling you'll really appreciate the way Homemade Ginger created this canvas art that uses a map to make a fantastic quote background.
2. Hand painted vertical wooden letter hanger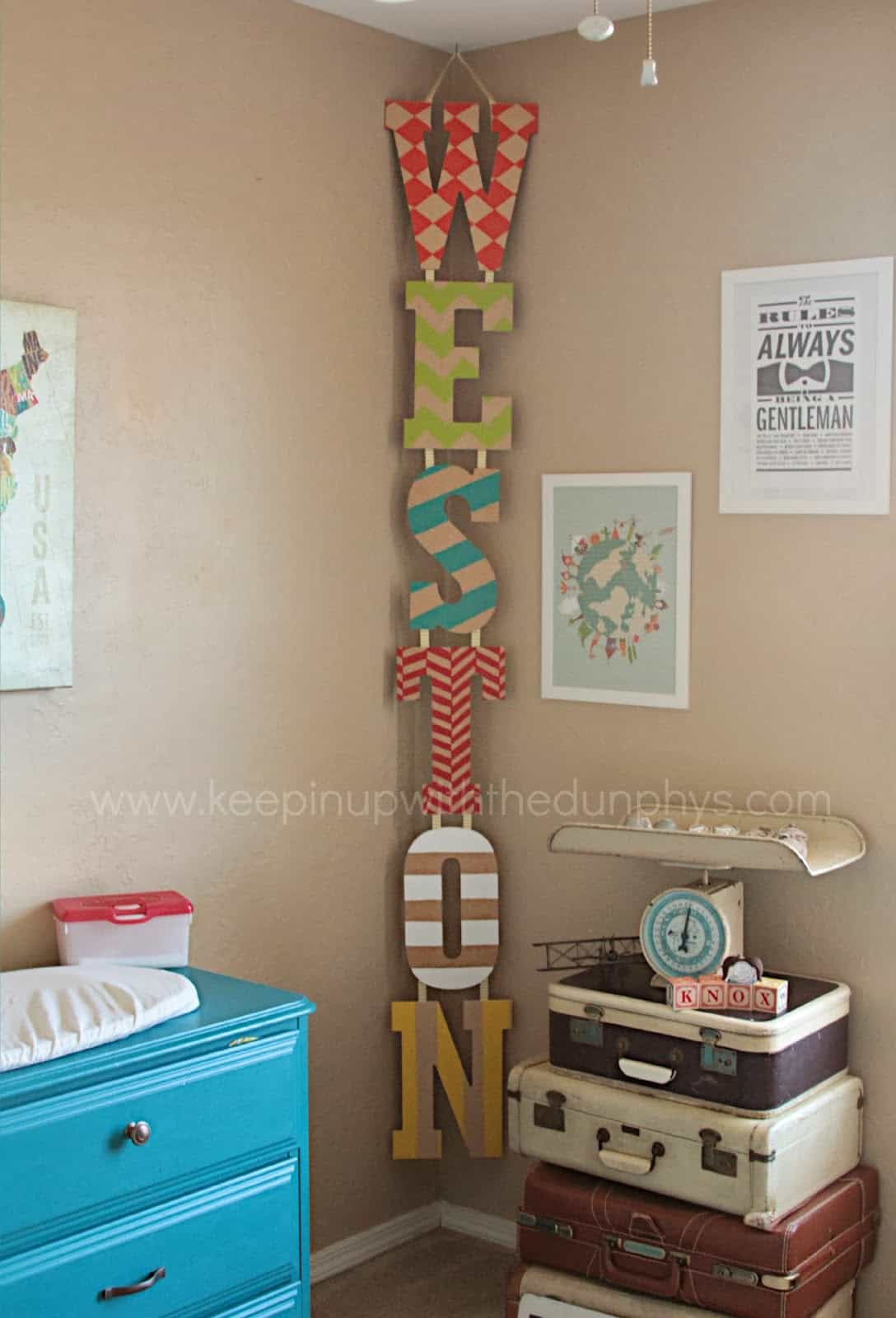 There's just something about the idea of making art out of our baby's name that has always really appealed to us, so we're sure it'll come as no surprise to you that we actually did follow this tutorial from Keepin' Up With the Dunphys and make this jumbo letter vertical piece to hang in the corner of our own nursery! We love the customizability of being able to paint the letters however you please.
3. Painted and glittered animal canvases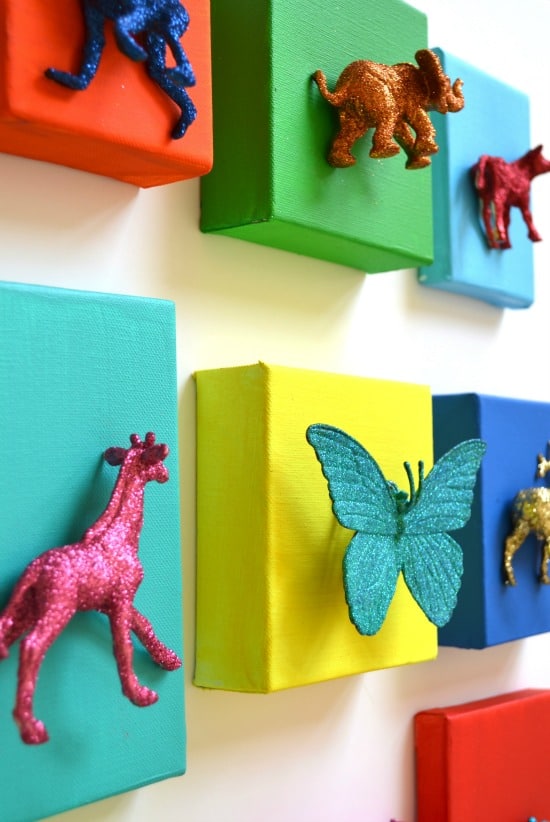 Perhaps you're actually looking for something that's a little more mod looking and exciting because, so far, the main theme of the nursery is simply to include as much colour as humanly possible? In that case, we have a feeling you'll get a real kick out of the way Papery and Cakery used miniature canvases, plastic toy animals, paint, and glitter, to create wall art that might even be used as a learning tool later on when your little boy starts to learn the names of his favourite creatures.
4. Paint stencilled clouds
If you're going to put in the time and effort it takes to create something lovely, custom, and fully DIY would you rather make it something recognizable that visitors will be very impressed by seeing? Then we have a sneaking suspicion that you'll really appreciate the way this play blocks name sign by Living Lullaby Design was made, especially if you're a big fan of movies! This particular tutorial shows you specifically how to make your blocks look like those in the classic Disney movie Toy Story.
5. Paper lantern balloon lights
Perhaps you're looking to make something that involves a little bit of light because you want to give the nursery a relaxing glow for when you wake up with Baby in the night? Then perhaps you'll get along quite well with the way Alina Kelo outlines the process of making these adorable hanging hot air balloon lamps.
6. DIY twig letters
Are you actually part of a very outdoorsy family and thinking that you'd prefer to make something that brings a bit of nature into the nursery, maybe with a slightly woodland aesthetic? Then we have a feeling you'll get along a little better with something like this fantastic twig monogram outlined step by step on The Happy Housie.
7. Rustic image transfer clothing hanger
If you're going to make yourself something custom to put in the nursery, would you rather make it something that has a bit of a practical function so you can actually use it? Then why not give yourself some wall hangers so you have lots of ways to keep clothes, towels, and other baby supplies up off the floor? In that case, we'd absolutely suggest taking a look at the way Modified Tot created this wooden photo transfer wall hanger that has a sort of cute vintage feel to it.
8. DIY mountain wall mural
Just because you're looking to get crafty with your nursery space doesn't mean that you actually have to create something separate to add to the walls, especially if you're quite talented at painting! Instead, why not apply your artistic skills right to the room itself? If you're a wilderness lover who plans to take your baby exploring the great outdoors with you, we'd definitely suggest taking a look at how Will's Casa made this stunning mountain themed painted wall mural.
9. Colourful giraffe silhouette art
Did we really catch your attention when we started talking about different DIY nursery decor ideas that involve animals but you're also still intent on putting your hand painting skills to good use? Then we think perhaps you might get along a little better with this fantastic giraffe themed tall canvas tutorial outlined step by colourful step on Make it, Love it.
10. DIY cloud garland
If you're going to make something by hand for your baby's nursery, would you rather put your sewing or stitching skills to good use, since those are the ones you feel the most confident in? Then we have a feeling this next tutorial from Landon and Tamara just might be the one for you! Take a better look at their tutorial to see how this adorable plush cloud garland was made in just a few simple steps.
11. Framed crayon letter
Have you actually been scrolling through our list and thinking about whether you might be able to find some crafty way to incorporate classic childhood things in your nursery decor? In that case, we have a feeling you're really going to appreciate the way The Gilberston Family made this framed monogram by cutting crayons into sections to form the initial.
12. Car cutout framed art
If you're going to establish a theme in your little boy's nursery, would you rather steer things in the direction of vehicles and cars, since that's a passion that runs in the family? In that case, we have a feeling you'll get a real kick out of the way Craftstorming used colourful paper to make a neatly lined collage of car silhouettes in a frame.
13. Deer themed stretched fabric canvas
Are you actually still thinking about how much you love the woodland sort of theme we talked about earlier but you're not as confident in things like hand painting or sewing like we've mentioned above? Then maybe you'd have an easier time doing a bit of fabric stretching, just like you see here on Melanie Ham! They show you how to smooth your chosen fabric over your canvas and pin it well.
14. Paper ship and stuffed whale
Maybe you're actually so intent on establishing a theme in your nursery that you'd like to make a small set of things that really go well together, like they just popped out of a storybook? Well, if you're the kind of crafter who likes making things with different mediums, then we'd definitely suggest taking a look at how The House That Lars Built created a lovely hanging paper mobile but also sewed themselves a plush whale that might give the ship a run for its money.
15. Modern shaped popsicle stick bunny
Did we really catch your attention when we started talking about nursery decor pieces that use classic creative kids' things in their process but you'd still rather make something themed after animals instead of a monogram? Then maybe you'd have a better time creating this lovely popsicle stick bunny rabbit! Make and Do Crew shows you how to make it happen by stacking them in the right shape.
Have you made other kinds of fantastic homemade baby boy nursery pieces before that you were very pleased with indeed but that you don't see here on our list? Tell us all about what you created and how you did it or link us to photos of your finished work in the comments section!