DIY Kitchen Tables for Budget Friendly Remodel
When it comes to large home decor pieces, we find that we have trouble finding exactly what we're looking for or what we pictured in the space in our minds eye when we visit mainstream stores. That's why we've started trying to make our own furniture! Our current biggest goal is to make ourselves a kitchen table, so we've been searching far and wide for info and inspiration as of late.
Just in case you'd love to try your hand at making a homemade kitchen table of your own as well, here are 15 of the very best ideas, designs, and tutorials that we've come across so far in our research journey!
1. Hardwood floor topped kitchen table
If you're going to put in all the effort and time that it takes to make something as big as a kitchen table from scratch, would you also like to take that opportunity to make it an upcycling project if you can? Then we might have found the perfect project for you right off the bat! Check out how Baby Rabies made this fantastic wooden family-sized table from repurposed wood flooring.
2.  DIY plumbing pipe table
Maybe you're okay with the idea of having a wooden tabletop but you're just not so sure that you want a fully wooden look? Well, if you've ever liked industrial influence aesthetics, then we think 4 Men, 1 Lady might have just the kind of thing you're looking for! Take a look at their tutorial to see how they used painted copper piping as table legs.
3. DIY breakfast bar table
Are you the kind of busy household where the family members are often eating at all different times because they have so much to do but you still like to spend time together in a common area whenever you can? Then perhaps you'd get along a little better making something like this breakfast bar kitchen island with custom stools! Get the full details for making one of your own on Kammy's Korner. It's a bit more of a challenge, but it's worth it!
4. DIY octagon table
Here's another fantastic kitchen table idea for a big family, especially if you prefer all facing each other for conversation rather than sitting side by side half the people in your household but not being able to look at them when they're talking. Make It, Love It walks you step by step through the process of making your very own octagon shaped table that will comfortably seat the whole family and then some.
5. Upcycled door table
Just in case you're still feeling really enthusiastic about the idea of making yourself a new kitchen table from something upcycled, here's an awesome concept that's much simpler than a lot of what you've seen so far but makes for the perfect rustic chic piece! Check out how The Handmade Home found a weathered door roughly the same shape as an old wooden table, laid it on top, and fit a perfectly sized piece of glass on top so dishes will sit evenly.
6. Upyclced pallet table
Just in case you're still looking for an upcycled kitchen table idea and you're thinking that a wooden design might be the best thing for you, here's another wonderfully and stylishly weathered looking concept for your consideration! Take a look at the tutorial on Lana Red Studio to see how they made this fantastic slatted together table from reclaimed pallet wood.
7. Cut circular table top
Were you totally enamoured with the idea of making a table that your whole family can actually sit around facing each other but you're just not sure the octagon design will suit your space? Then we'd suggest taking a look at how Rogue Engineer made this circular table instead! Rather than being a whole piece, this one's made from slats affixed together and cut circularly, so it's a little easier to do.
8.  Triangle stencilled table
Maybe you actually already have a kitchen table that you're quite happy with the size and function of but you just can't help feeling like it could use a bit of a facelift or a pop of colour to jazz it up a bit? In that case, you might get along a little better with something like this stencilled triangles tutorial outlined step by step on Nine Red!
9. Zinc table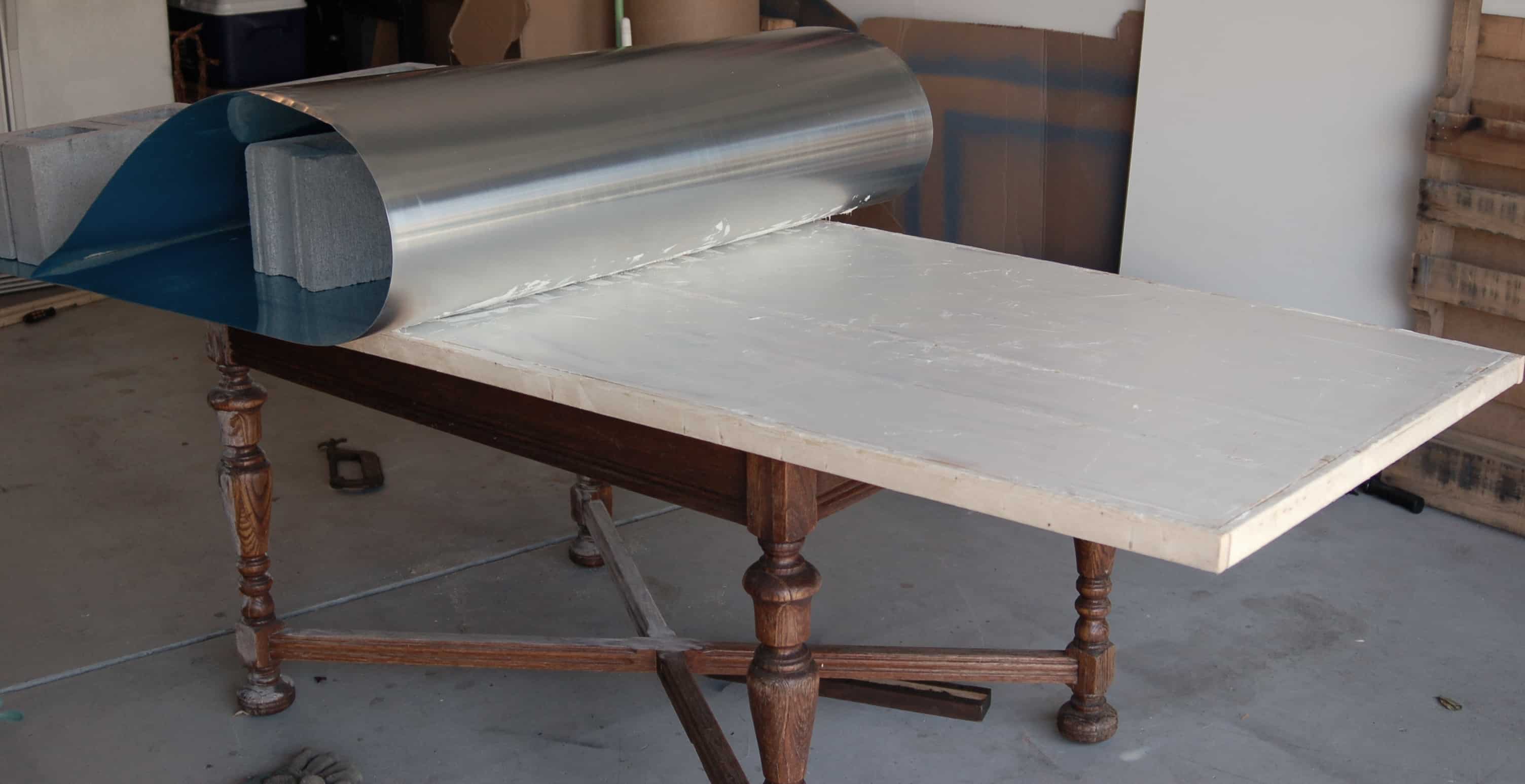 Are you feeling very intrigued indeed by this concept of embellishing the tops of old tables with fun, eye catching patterns or finishes but the geometric triangles just weren't really your thing? Well, if metallic sheens and silver finished have ever been your thing, then we'd definitely suggest taking a look at how Unexpected Elegance created this breathtaking zinc table.
10. Vintage suitcase bar table
Okay, we know we said this post would be all about kitchen tables, but this alternative DIY table (that might also be useful in your kitchen) was just so neat that we couldn't resist including it anyways! Check out how Made in A Day created an awesome bar table where the top layer is made from a vintage suitcase.
11. Piled 2×4 coffee table
If you're going to put your handiest skills to good use, would you actually quite like it to be visible and obvious to visitors and guests that you made this project yourself? Well, that's exactly what A Beautiful Mess did here with this fantastic piled 2×4 table idea! They show you how it's done in surprisingly few simple steps in their tutorial.
12. DIY marble table
Now, we understand that the particular table in this photo is actually a coffee table, but the techniques that Poppytalk used to make it are ones that you could alter and customize to stand a little higher and actually work as a kitchen table. We love the way they used a smooth marble finish to complement the clean, white surfaces in the rest of their home and we could picture it perfectly in a shining new kitchen.
13. Book side table
Now, once again, we know that this isn't actually, explicitly a kitchen table as you see it in the photo. We're convinced, however, that the idea could be translated into a kitchen table as well for a look that people will hardly be able to look away from. Whimsically Homemade shows you how to make a table stand from a pile of books that's actually solid, and you could make four of them and then add a proper wooden tabletop since there isn't a book in the world that's large enough to use as a kitchen table!
14. Table from an old window
With this idea, we know that Cut Out + Keep intended to use this small version as an adorable side table, so they only used one window. If you follow their instructions and repeat them, you could very easily create a larger version put together like a collage of rustic glass windows like a larger table that would be more useful in a kitchen.
15. Embedded old door table
Have you actually been scrolling through our list thinking about how much you loved the idea of making a table from an old door but you wish the door was actually built into the table instead of just being set on top? Then you're going to love the way DIY & Crafts framed their door in the same newer wood as the legs of their new table (and also still placed glass on top to make the surface even for setting things on).
Do you know a fellow DIY enthusiast and avid crafter who has been interested in the idea of making their very own kitchen table but who you know could use a bit of inspiration and guidance? Share this post with them so they have all kinds of idea and resources to look through!